Every time I ask for Blog suggestions I get one in particular.  I haven't written about this before because most of us would never consider it.  But for those of you who have been asking here it is.  How to wear only black all the time.
It certainly would be easier to get dressed every morning if your wardrobe was all one color story.  When I worked for Mr. Jax they debuted a high-end line call Black and every piece was black and beautifully crafted.  I think I just sold the last piece I had from that collection this fall, but it was 21 years ago.  The collection was well received the first fall and spring season but after that it wasn't so fresh anymore.  That story would happen to your wardrobe too, it would be fantastic at first but after a while you may start to crave a bit of color.
I have often said that Black is my favorite color and it still is.  It goes absolutely everywhere and looks good on everyone (with the right make up).  Black can up lift your wardrobe and make any item instantly more classic.  As much as I love black, I just don't think I could live in it 24/7, I do also love Burgundy and Grey and Red and some prints. And in my wardrobe pretty much everything does go back to black. I just don't want to spend everyday in all black.
But for you die hards here is how I would put together an all black capsule wardrobe.
The first thing we always start with is bottoms.
Where I would start with is the following combination of pants.  A great pair of black jeans, a pair of ankle length black ponte knit pants, a great fitting pair of black trousers, and either 2 pairs of black leggings or 1 pair of black leggings and 1 pair of black skinny stretch pants.
For jeans, you need to pick the brand and pair that fits your body best.  I love Eileen Fisher jeans.  So my go to would be
Eileen Fisher's stretch organic cotton skinny jean. 
Or find a pair from your favorite label.  These are from Paige, their high-rise skinny jean.  Good American also has great black jeans that really fit well.  You can find all these at Nordstrom.  Make sure your black is black and not faded.  If you want a pair of faded black jeans or boyfriend jeans faded black, then add that as a second pair.
Ponte knit pants are everywhere right now.  The pair I wear that I love is from NYDJ. But they are already 2 years old.  So if you need to buy a pair check out
a pair like these ankle pants from Vince Camuto at Nordstrom.  They would work great with booties, and shoes and both office and casual.
For trousers you need to be picky.  Find a pair that really makes you look taller and thinner.
It may not be your favorite store, but I think Talbots seasonless wool Barely Bootcut pants are great.  They come in regular and curvy fits so you are sure to find what works.  And they come in petite, women's and women's petites so they will fit not matter what size you wear.
Leggings to me are something that you can pick up anywhere.  You just want them to be thick enough so they are not see through. 
You don't need to spend a ton on them either.  These are the kind of things you can replace every season.  The leggings above are from Halogen, they are a seamed knit legging.  You can find it at Nordstrom.
I have 2 pairs of Eileen Fisher crepe system pants and I live in them.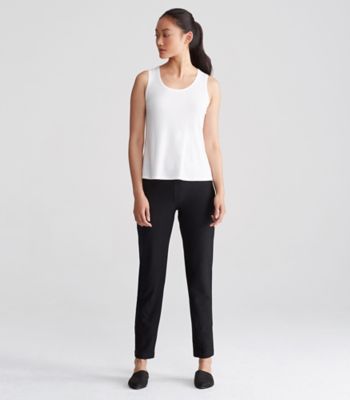 I have one pair in a petite so it fits like an ankle pant and 1 pair in regular, which is full length.  I know they are expensive but they look great on everyone and they wash and wear wonderfully!
And what about skirts!? Everyone needs at least one great black skirt.  Of course my favorite black skirt right now is one that has a bit of flare to it and it seems to go with absolutely everything.   And it is also from Eileen Fisher.  But I would recommend one short skirt (and I am talking knee-length no higher) and of course one maxi skirt or midi skirt.  The short skirt you can wear for work or casually. 
This CeCe crepe A line Skirt from Nordstrom is almost the same as mine from Eileen Fisher (mine is 4 years old so not available anymore).  You can also go with a classic pencil skirt.
Halogen makes a fabulous ponte pencil skirt.  Either one of these would look fabulous with high or low boots, pumps, dressy heels and sandals.  I prefer something you could wear all year round and a crepe is just that.  The other skirt you should have in your all black wardrobe is a maxi or midi skirt. 
So for your maxi, try a knit maxi like this one from Karen Kane.  It's knit so it can be worn casual or dressy and all year round.  A great maxi can take you anywhere, girls weekend, date night and summer barbecue.  Just pair it with the correct shoes and accessories. If you don't want a basic maxi then go for something a little more modern with an edge to it.  A Midi skirt with a ruffle or pleat can work great.
Something like this Ruffle Midi from Halogen would be fantastic with boots and a sweater in the winter and a t-shirt and sandals.  Or my favorite new silhouette is a
midi skirt with thin pleats.  They were great for fall and holiday and really do work with every body type.  This one is from Nic and Zoe, it has a great metallic thread going through it and you could really make this skirt work for every occasion.
If you are a short wearer add a pair of shorts.  I am not, so a maxi skirt would serve me very well.
The only other bottom I would add to your all black bottom wardrobe is a great pair of blue jeans.  Dark wash and something that you could wear with all your black just to break things up for a change.
Pick one pair that is dark wash and skinny like these from KUT from the KLOTH.  You will not be sorry.
What else do you need?? Two black dresses would be what you want.  One casual or work style dress and one dressy one, of course.
If you are only going with two black dresses for your wardrobe (I would have way more) your casual/work dress should be something simple like this Eileen Fisher Merino Wool Sheath dress.  You can literally do almost anything with a dress like this.  Just change the accessories and shoes to change the feel.  For your dressy dress, and if you are buying only one, go for the most universal one you could get.
Pick something like this Michael Kors Stretch Boucle Sheath dress.  It hits right below your knees, has the beautiful fit and fabric and is a dress you could reinvent over and over again.  I know it's simplistic, but sometimes an expensive simple dress speaks very loudly.
Black dresses are everywhere.  If you need or what ones with more detail, you could likely have 3 for each season in an all black wardrobe, especially if you need dresses for work.  I am basing this capsule wardrobe on a more casual wardrobe, not a working wardrobe.
Tops will be a bit of everything in an all black wardrobe.  In a capsule wardrobe you would need 1 black t-shirt, 1 black blouse, 1 black turtleneck and 1 black V Neck or Crew Neck sweater.  This would be a base for tops.  You really would need to add in a couple of other t-shirts in colors.  But if you are a die-hard all black fan then add 1 white t-shirt and 1 grey t-shirt.
For the black shirt you could get very creative.  We stayed fairly classic for the bottoms and dresses, so here is where you would add creativity.
I would make sure that my black tops had style and current details, like this Leith Baloon Sleeve Choker top at Nordstrom.
Or do something with a bell sleeve like this blouse from Michael Kors.
Or if you wanted to add a piece to accent all the other black you are wearing, try a print blouse like this one from Chelsea28. The floral print is light black, grey and cream.  So sticking with your accent colors to your all black wardrobe.
To me shirts and blouses are interchangeable.  A shirt is maybe more classic and sort of men's wear. If you want to do two blouses in stead of a shirt go ahead, or go to a line like Equipment and get a beautiful shirt.
Both of these shirts are from Equipment and both are made of silk.   Either one would be perfect as your shirt in your all black wardrobe.
For a black turtleneck, I would stick with a classic black cashmere one. 
Nordstrom Signature black cashmere turtleneck is perfect.  It is a beautiful cashmere heavy enough not to see through without being so heavy that you boil when you are wearing it.  This would be beautiful head to toe with your skirts or pants.
For your other black sweater maybe go a bit lighter than cashmere.
Halogen has a great crew neck black sweater with a bow back detailing.  This would be a fun sweater to have in your closet.
Or if you don't so a bell sleeve in your blouses, then maybe pick up a sweater with a bell sleeve, like this one from Leith.  You can go basic with a plain crew or v neck, but since you are all one color head to toe or with denim, try adding something to draw the eye too.
And of course you would need a black t-shirt.  My favorite t-shirts are from Eileen Fisher.  They are extremely good quality and last for more than one season.  If I were putting together an all black capsule wardrobe I would add both a long sleeve (or 3/4 sleeve length) t-shirt and a short sleeve one.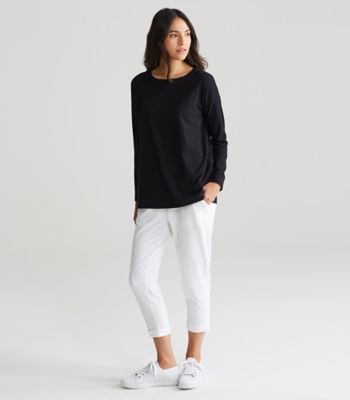 This one is Eileen Fisher's organic stretch cotton jersey top.  And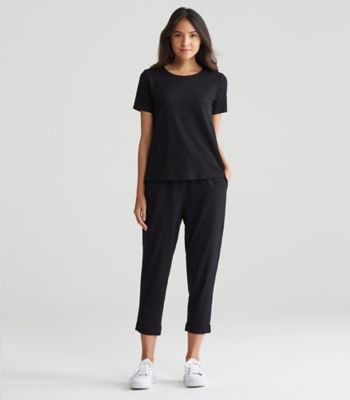 I would also buy their Organic Stretch Jersey A line t-shirt as well.  This t-shirt also comes in white, navy and grey; so I would also pick up a white one and grey one as well.
So that is all your clothing, but you would need shoes and accessories too.  Here is where I would add color. I of course would do one pair of black boots and booties.  But I would make sure they had some detail.
So my high boots would have color or a metallic detail on them, these boots were from Anthropologie's fall collection.  And the same would go for my booties
this season it wouldn't be hard, patterned booties are everywhere.  These are by Vince Camuto.
Both of these would work with your all black wardrobe.  The patent booties by Aquaitalia would be great for a bit of shine and trend or go all out with the metallic detail by Vince Camuto.  Those would be great too!
The other shoes you would add would depend on your life style.  But for sure you could add one pair of dressy shoes, one classic pair of pumps and a sneaker.
For the pump I would even go away from all black and do a leopard print.
A classic pump like this one from Ron White would totally work or
go for a loafer style of pump from Ann Taylor with a bit of gold detailing as well.
For your dressy shoe
either try something all black but very detailed like Club Nico Marcela's cut out laser sandal or go away from black and go for a print shoe
like this one from Sam Edelman that has a pattern that would look good with black.
For sneakers the obvious color would be white.
These platform sneakers from Converse are adorable.  But sneakers now come in almost every color under the sun, so here is where you could get creative.   You could go metallic
like these from Naturalizer, still classic with a bit of trend.  Or you could go floral
like these from Halogen, they would also add trend to your all black wardrobe.
Or add a bold color to keep things lively! These red sneakers are from Steve Madden!
For accessories you can do multiple layer necklaces in both silver and gold tones.
Like this one from Treasure and Bond at Nordstrom.
Or this one from CRISTABELLE.  You want to make sure your necklace is bold enough if your outfit is all one color.  Same with earrings, bold is great. 
Chunky hoops like these from Melanie Auld come in gold as well.  These are modern and fresh and will give you outfits a clean, modern look.
Spring is going to bring with it lots of color.  But for those of you who want to live in black now you have an idea what to put in your capsule wardrobe.  To me this is the kind of wardrobe I would put together if I was travelling for a month somewhere and just bring one of each thing with me.
I hope you enjoyed the holiday season and had a very happy new year.  Blogs are back from now until mid March when we take a week break and then until the end of June.  I welcome your comments and suggestions.  I am also booking spring styling and wardrobing appointments.  Now is a great time to clean out your closet before all the great spring clothes hit the stores next month.  I am happy to do it with you. Email me at Suethefashionista@gmail.com for comments, suggestions and appointments.
Until next time…