Hi everyone.  I don't sit still very well, it's after Xmas and I have watched all my episodes on PVR, finished my book, shopped on Boxing Day and now I need something to keep me flowing.  And since my trainer is away this week I decided to write a bonus blog (it's as good as a workout isn't it??)
One of the things that women often wonder about is New Year's Eve.  Most of us have some kind of plans for the evening.  And they usually run the gamut of friends getting together at someone's home, going out with friends (and or family) to a roaring NYE eve bash.  I'd like to go through each scenario and suggest some outfit options.  For accessories and make up I will have you refer back to the last two blogs of this month.  I have tried all of Tasleem and Luc's make up suggestions personally and they all work and you know I am a huge fan of ShokDesigns jewellery. So I encourage you to read them again and pair what they said with what I am going to tell you.
The Casual New Year's Eve
A casual NYE can mean anything from just a small gathering with friends, to a casual party at a bar or even at your hotel or lodge on vacation.  Especially if you are travelling you likely didn't bring your formal wear, so no one expects too much flash.  What everyone needs to do and should do is dress with style.
Let's start with your jeans.  I don't care where you go, chances are you took a pair of jeans with you.  Hopefully they are dark and skinny, if not I will give alternative ways to wear boyfriends and bootcut.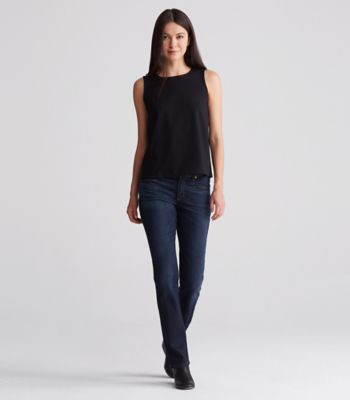 For this blogs purposes our basic jean is the Eileen Fisher Organic cotton straight jean.  If you have skinnier jeans great or even black ones work.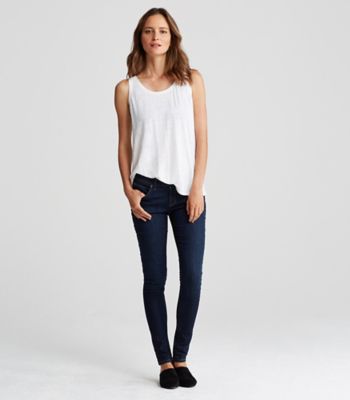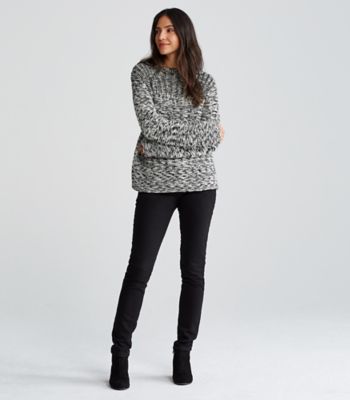 Eileen Fisher has those as well.  Right now the Eileen Fisher store and website have 25% off sale items until Jan. 2.  That store was my first stop on Boxing day.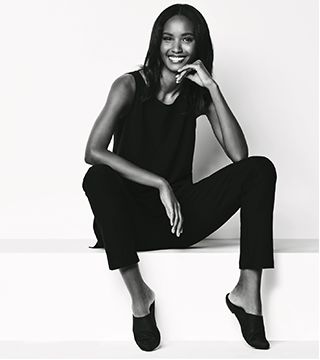 If you are like me and many of the women I know you can also substitute the Eileen Fisher crepe system slim pant, or any slim fitting black pant that looks flawless. These never go on sale, but they are totally worth buying, I live in mine.
Ok so bottoms are set.  Now depending on how much you want to dress up you choose your top.
For the most casual look pick a jersey knit top with either a floral or other print that compliments your skin tone.  Pair with your jeans, great black booties
either a fabulous pair of suede block heel Vince Camuto booties from Nordstrom or go 
a little more glam with these pointy toe boots from Halogen, also at Nordstrom. These happen to be 50% off right now and come in lots of colors.  A basic black bootie will work across all the looks so it's great if you already have one, or go grab one on sale.
If you want to take the jeans and black boots up a notch, try a top with of sheerness to it
this floral henley top from Anthro has sheerness through the yoke and sleeves.  It is subtly dressy.  You can find this type of top all over.  I have seen them at Ann Taylor, Banana Republic etc.  If you are looking for a top like this buy one on sale.  Sheer blouses in any color work to make things a bit dressier.  This with skinny dark jeans, booties and the right accessories and you are set.
Last place we are going to go is when you really want a dressy top but will tone it down by wearing it with your jeans.  This look is super trendy right now so if you want to do this for NYE this is the season to do it!
A sequin T or lace top or even velvet burn out tank can all work with your dark jeans or black skinny pants to create a casually dress look.  The swing lace top would work great with your boyfriend jeans and block heel sandals too.
NYE in a Restaurant
We seem to spend NYE in a restaurant most years.  Either in Vancouver or Phoenix, and because I have all boys in my family it's mostly a steakhouse.  You see the everything in this type of situation.  From the casual elegant outfits above to the glitzy cocktail dresses.  But my best suggestion is to not go over the top.  Remember you will be eating and drinking so choose something that still looks good when you are finished dinner. I have tried the glitzy glam look in some of the restaurants and I always wish I was wearing something more comfortable.   So here are my suggestions.
First of all you can either go with a great pair of pants or a dress or skirt.  You can totally go back to basics and wear our good old lace pencil skirt and either a black turtleneck or white blouse and boots or booties.  When in doubt go with the classics.  But this year why not try to put a new twist on the classic.
Maybe try a tiered lace skirt like this Chelsea28 one from Nordstrom or 
try a tube skirt to accentuate your curves from City Chic Plus Size.  Or really deviate and go with one of the new pleated skirts
either in velvet from Halogen or
metallic from Trouve.  Both work with your black turtleneck and white blouse too.  And they would be great with boots!
I wear my Stuart Weitzman Alljill boots with everything.  Right now online they are half price!
But what about dresses.  What kind of dress would you wear to a restaurant with family or friends without going all out glitzy.
One of my favorite places to buy dresses is Ann Taylor.  They always have a dress that works a million ways and you can wear everywhere for a decent price.  This Cascading Ruffle sleeve dress is just that. 
Or try their Bell Sleeve Flare dress, I have last year's version and it is fabulous.  Both of these dresses can take you out to dinner, to a meeting or even to a wedding or party.  You just change the accessories and shoes depending on where you are going.  They also both come in other colors, but in my opinion black is the best because it never goes out of style! A great fitting black dress will last year's in your closet.  Then next year you won't have to worry what to wear for that holiday party, you will already have it!
You can go with pants for this type event as well. My suggestion for pants is to keep them dark and detailed.  So either something with lace
like these cropped hem lace pants from AT. Or go for all lace
with Talbots lace ankle pant. Or just do a small detail
AT has a fabulous ruffle hem pant that will go with any top.  I have seen them other place like Banana Republic as well. Because ruffles are so strong this year, this is a great alternative.
If you really want to go all out, I am going to suggest a velvet jumpsuit.  It is still a bit understated while being very dressy.
The kind of tops you wear with these bottoms can be almost anything. 
My favorite tops with skinny ankle, lace or detailed pants is something solid and satin. This Bobeau satin sleeve ruffle top comes in 5 colors and works with all the pants and skirts above.
You can wear sequins if you so desire, I don't find them as comfortable as some of the other fabrics, but hey it's NYE.
City Chic Plus Size does a fabulous draped top that would look great with that tube skirt above. All of these can be round at Nordstrom.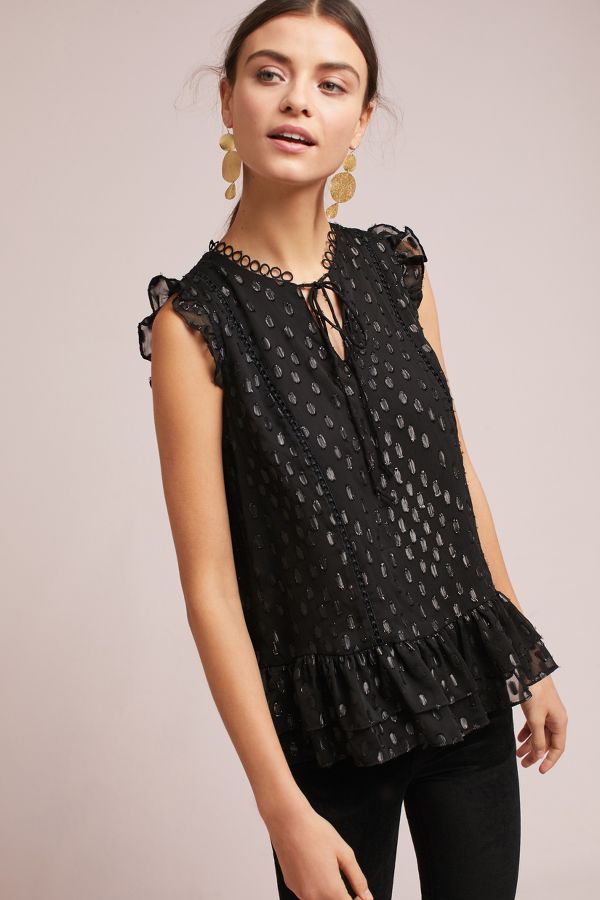 Or go with this metallic Polka Dot top from Anthro. It would look fabulous with any pant or skirt above.
Almost every website has NYE outfit suggestions.  Just remember to wear what looks good on you.  If you feel a tulle skirt and t-shirt isn't working, then trust your instincts because it's not.  If you want to feel your best, a little understated but still dressed up always works.
For these looks dressy booties or boots or stacked heel sandals all work.
The Huge NYE Bash!
These parties are the ones that are usually at clubs and hotels.  Sometimes even on a cruise ship.  This is the place where you can get dressed up to the max.  A lot of the outfits from the category above can work here too.  But why not take the opportunity to go all out.
You can never go wrong with an elegant black dress and heels. This one is from Eliza J.   Glitz up your bag and accessories.
A lace dress, especially one as form-fitting as this one can work all the time. It's sophisticated and elegant as lace always is. This dress is the Bardot Lace Sheath dress at Nordstrom.
Or go with sequins!  I love this dress.  It's by Dress the Population at Nordstrom and it comes in 5 different combination of Ombre sequin tones.  Simple heels and accessories and you are set with this dress. Most of the time you don't need to go formal for NYE but if you do
Whitehouse Blackmarket has some fabulous long dresses like this beautiful mock neck gown from Vera Wang you should check out.  They have simple elegant long dresses that won't break the bank and if you buy one in a solid color or lace, you can wear it again.
The last thing I am going to talk about for the dressiest of parties is a jumpsuit.  WHBM has a few that would be fantastic.
This black overlay jumpsuit is fabulous with its chiffon layers or
an elegant Adrienna Pappel would be great on almost everyone.  Both of these jumpsuits have layers that hide a bit of a tummy so if that is your worry about a jumpsuit ( I know it's mine) these two will work.  I like dressy sandals or open toe shoes with all these looks.  If you are going black tie, boots really don't work here.  NYE is still a few days away, you have time for a pedicure if you need one.
What ever you choose to do for NYE I hope you ring in the new year happily.  Thank you all for following along with my blog.  I will be back January 17 with some more blogs.  I would love to hear of any suggestions you may want to hear about.  I have had a couple already but would love more.  If you want to know what to buy when shopping the after Xmas sales, I wrote that blog last year so please just refer back.
Happy New Year!!
Until next time!