I know I said this week would be fall denim, but since we had our first bit of snow in Vancouver this week I decided the fall and winter outerwear blog would be more timely. Denim next week!
I always talk about the 3 basic coat styles everyone needs.  These 3 styles work for everyone, men included.  Let's go over them, working in the new trends in each of these 3 categories to insert freshness into your winter wear.
The Puffy Coat
If you live in the northern US or in Canada you can't get though winter without a really good puffer coat.  If you are south of where the cold is you may still want a warm coat for cold nights but you have more leeway.
This season's puffers are a bit more detailed than the classic puffer ( which never goes out of style).  Look for either a faux fur trim or shearling detail on the coat.
Sometimes if you wait a little into the fall you can get a great deal at Nordstrom Rack or Hautelook.  This Kenneth Cole puffer is faux fur trim and satin and retails under $70, reg priced over $200.  So if you can find something like this in your size grab it.  Go for color, like white or red or go for a metallic.
This Cole Haan Faux Fur down parka from Nordstrom will not only keep you warm but will also be in style next year and the year after because the metallic is this beautiful subtle bronze.   Shearling and faux fur are super trendy in coats this season.  If you already have a classic puffer style ( I have 3) then grab a faux fur scarf or velvet one to add a bit of Fall 2017 to it.  If your coat is black like mine, then add a colorful velvet scarf or light-colored faux fur scarf.  So for this category of Puffer/ warm coat you could substitute something different but in the same kind of wintry style.
I love this London Fog Duffle style with the faux shearling trimmed hood.  An updated duffel is a great style for fall 2017 and you can find this style at Nordstrom Rack for half price while quantities last.
I have a thing about buying all my casual coats with hoods.  I think it's because living in Vancouver I need to be constantly prepared for precipitation. So perhaps add a waterproof style to this puffer/warm collection.
I bought this French Connection that is completely waterproof, lined and hooded for those rainy cold Vancouver days.  It comes in Navy, Hunter Green and Black, and it is really warm.
There are lots of puffer coats out there.  One of the best ones I have seen this season was hanging at my gym the other day.  It was a floral puffer with a lace over top. I didn't recognize the label and have never seen anything like it. Nor can I find a picture to illustrate what I mean.  So maybe just try something a little different, like a velvet puffer
Nordstrom has one in their BP dept. Or a interesting color.
The Good Coat
When I say good coat I mean the kind of coat your would wear when you need to dress up a bit or you want to wear a coat that has style.  A great wool coat can last for years in your closet.  Try and stay away from something too trendy, but do follow a silhouette that is current and is right for you. These coats can be extremely expensive.  The best way to buy one is to look at places like Nordstrom Rack or wait until they go on sale.  Right now on Nordstrom Rack you can get a beautiful cashmere and wool Fluerette for less than half the original price.
I love this 3/4 length one with the plaid lining. This season the wide collar wrapped coat is very fresh, Nordstrom Rack has Diane Von Furstenberg's version
in a two-tone version and solid version.  Both versions less than half price.
You could go bolder with color this season, like this Fluerette notched collar coat.  But if you want to buy it for a few seasons, stick with black, camel and navy.
J.crew's top selling coat is their Lodge coat in Italian wool.  Of course it comes in navy, black and camel but you can also go for the trend and buy it in red, bright yellow and light blue. This funnel neck almost cocoon style could be a good alternative for the classic coat.
Last year's new style of the A line coat is still wearable, but if you want something new do the wide collar wrap version and the classic collared and funnel neck coats never go out of style.  Again to make coats you already own look like this season's trends just put scarves and wraps around them that echo the trend you want.
The Jacket
Jackets change more than any other style of coat.  Of course the classic leather or suede jacket gets reinvented every season.  A great leather jacket is something you can wear almost everywhere and with everything.
Talbot's Peplum leather jacket is one of those.  The peplum is subtle enough that you can wear it for years.  This jacket would be fantastic with skirts, over dresses and great with jeans. I have a classic moto style that I wear constantly.
The newest styles of jackets are ones that have the trends of this fall built right into them.  Like the bomber jacket, we are seeing it in all fabrics and prints this season.
Nordstrom has this Bernardo quilted velvet bomber jacket, which would be a great change-up.
Ann Taylor has this faux fur hooded leopard print jacket. Which hits trend and looks fabulous with denim and black.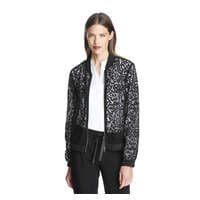 And if you want to get something stylish and not spend a lot, look at Joe Fresh.  Their lace jacket, just like all their other bomber jackets are cheap and cheerful and trendy.
Keep your jackets fun for now.  Faux fur is a great way to wear a jacket and so is velvet or a great dark floral print or plaid.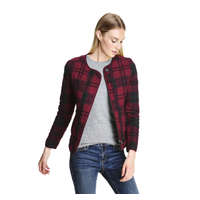 They are not hard to find and a lot of them are not too expensive, just look at Joe Fresh for example.
There is one more category of jacket that is not part of the 3 main ones we look at every season and that is the Novelty Jacket or Coat. A Novelty piece is one of those that is specific to the trends of this season.  And this fall there are lots and lots.
Fun faux fur goes into this category. This faux fur color block coat is from Molliolli at Anthropology.  It's fun and it will keep you warm and trendy.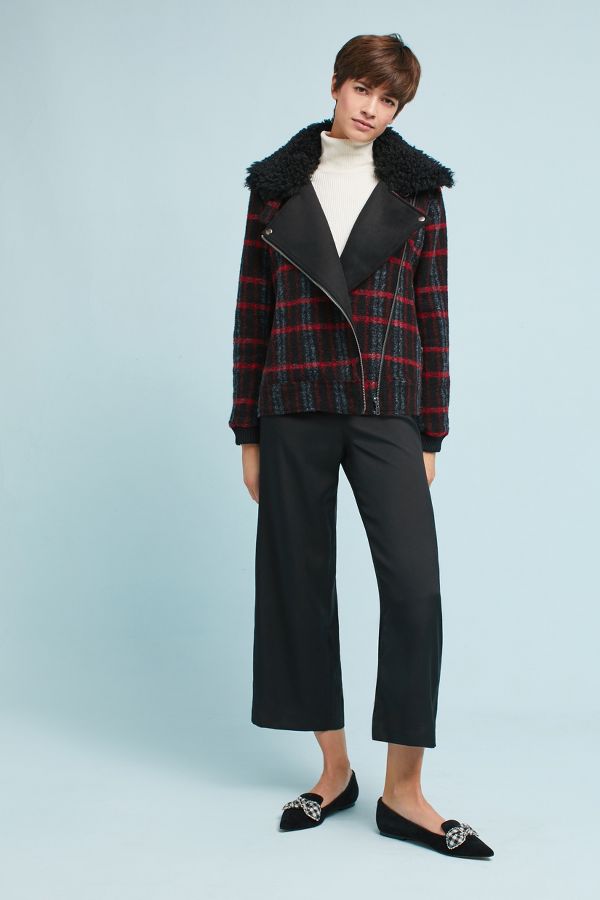 And what about a Plaid Shearling trimmed Moto jacket?  Anthro has you covered there as well. It's by Greylin and would be fabulous with all the dark denim this fall. Or great with a pleated midi skirt.
And you can never go wrong this season with a floral print bomber.  This one is from Free People at Nordstrom.  Wear it with any solid color and it will look great and stylish.
The trends that are the most important in outerwear this season are: faux fur, shearling, velvet and dark floral prints.  Stick with any of those and you will be golden.  Or just add scarves with those trends to your classic coats and make them look new.
If you wait another month a lot of the winter coats will be on sale before Christmas and if you can wait until after Christmas then they will be 50% off or more.  That is the best time to pick up something that you can wear the rest of this season and all next winter.
Coats confusing you?  Or you just don't know what to wear for outerwear?  Just email me for a styling appointment. Email me at Suethefashionista@gmail.com for any styling or wardrobing needs you have.
Next week I will for sure blog about fall denim.  I just wanted to talk about outerwear since the weather is directing us to wear warm coats.
Until next time…