Even though the weather is unpredictable these days the one thing that is certain if you live in the Northern US or Canada, it's going to get cold.  Even in some of the southern states like Arizona and Louisiana, I have been there when I wished for some of my winter wear.  Because from November to March you need to be ready for everything.
In the summer and spring we wear hats and scarves to make a fashion statement or just to compliment an outfit.  In the winter we wear them to keep warm, well why can't we make a fashion statement at the same time?
Fall hats and Scarves can be traditional or trendy.  It's up to you what you want.  My favorite fall hat is the beret.
The ones I keep in my closet for years are simple like this one from Talbots and I have black, grey and red.  They always work in a pinch and look great with whatever I am wearing.  But this season it's all about detail, so why not get one
that makes the right statement with pearl detail or any detail. This is the Berry embellished Beret at Nordstrom, it also comes in pink.  If you like this style try a strong color or an embellishment to make it a bit more trendy than classic.
The beanie hat and the slouchy beanie are everywhere this fall.  I am going advocate a bit of caution when wearing this look because all I see is 20 year olds wearing it.  But it can be brought up in sophistication for women our age. Stay away from the ones with cat ears or that are super slouchy.  Try something in cashmere or like
this beauty from Kate Spade (Nordstrom) with an elegant gross grain bow.
Or try Micheal Kors genuine rabbit fur pom beanie.  These last two from Nordstrom will cost more than the trendy junior ones, but will look age appropriate and sophisticated.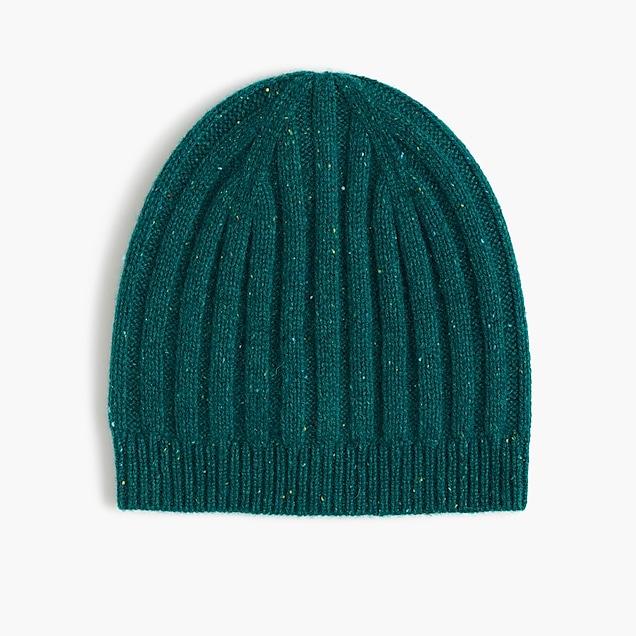 Last beanie I am going to show is J. Crew's Ribbed cashmere everyday hat.  When it gets cold it will keep you warm and it comes in 5 colors so you can pick the one that suits you.
The other hat that I am seeing a lot of this season is the newsboy cap.  It is kind of like a refined baseball cap.
I don't love it, to me when you wear this style of hat you might as well wear a fabulous beret.  But some women look fantastic in them.  So try it on when you see one and see if it's for you.
Of course Fedora's never go out of style.  And most of us have some.  If you are looking for something new definitely try a new fall color.
Like this fabulous Helen Berman PomPom wool Fedora from Nordstrom.
With hats you need to make sure the style fits you and suits your hair length and face shape.  A fedora is pretty much universal, but with some of the other ones you need to try them on and see if they are right for you.
Scarves are fabulous for fall! With all the new colors, fabrics and textures here is where you can really go to town when accessorizing.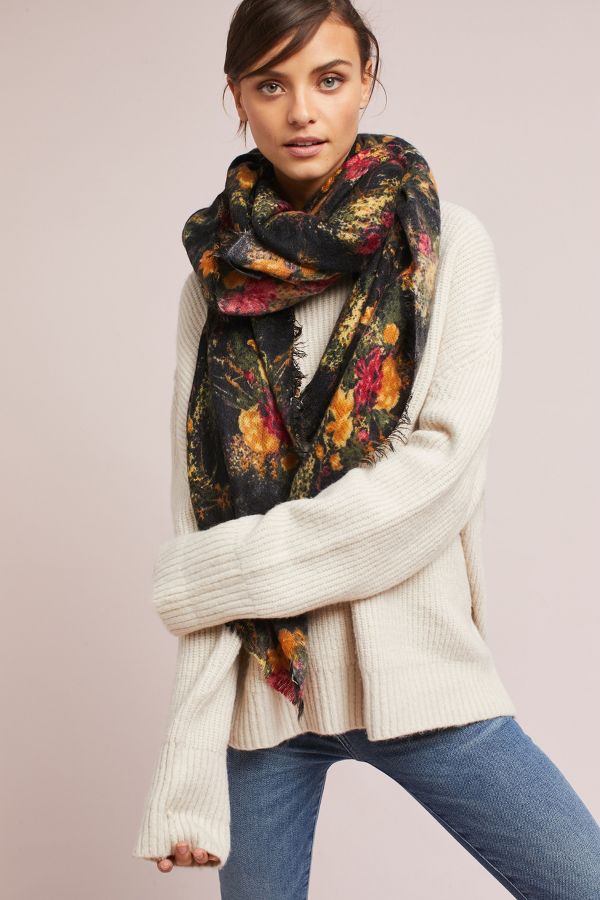 Dark Florals are key this fall, so perhaps buy a scarf that echos that. This cozy carnation scarf is from Anthropologie and online they have a great collection of fun scarves that won't overwhelm you.
Talbots is a great place to buy a cashmere scarf. Their cashmere cable scarf is available online in 8 colors and in stores in 4. If you wait until they have a 50% off coupon or a promotion you can pick it up.  And they have a sale like that every other week!
J.Crew on line is another great place to search for just the right scarf. They have great styles and prints.  I just love this Italian wool blend scarf in Leopard!  This may be my new purchase for fall.
Scarves can be long and wrap around you as well as just wrap around your neck. I like to have a few of those handy because my husband is always hot and I am always cold. So I wear them like sweaters sometime.
Find something like J. Crew's plaid cape-scarf if you want to wear your scarf.
Or pick up a Ruana, which is a combination cape and scarf and you can scrunch it up and wear it like a scarf or let it hang like a cape.  This one is from Nordstrom and it's Halogen's reversible Ruana and comes in 4 color combinations.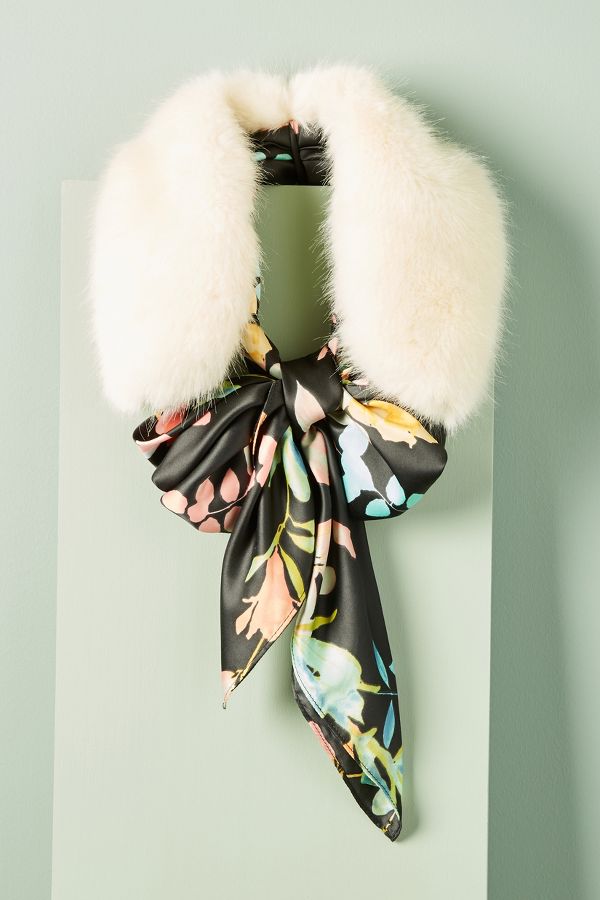 If you want to try something really unique, this combo 2 in 1 Ascot scarf from Anthro is perfect.  Faux fur is huge in trim and accessories for fall and the floral print works great to tie a lot of colors together.
Capes and Ponchos can be worn like coats or instead of coats. In Vancouver you can get away wearing them instead of coats until it really starts raining.  In other cities you just need watch the weather.
I love this Parkhurst Olivia Fur trim cape.  To me, it is the perfect cape for the season.  I have seen it at the Bay and Nordstrom.  Eileen Fisher has fabulous ponchos and they always are in great colors.
This fine merino wool links poncho is light enough to wear indoors and scrunch as a scarf with a coat.  You can find it at Eileen Fisher stores or at Nordstrom. And of course Anthropologie has fabulous Ponchos that just work all the time.
I love this hooded ruffle poncho and the wonderful cedar color it comes in.
I find the best way to buy good quality scarves, wraps and ponchos is to buy them on sale when you see them.  If you buy good quality that is not ridiculously trendy they will last for years.  In November you will start to see some of the early fall things go on sale, this is when to pounce on something you love.
Fall bags and purses are very trend oriented this season.  But that doesn't mean you have to toss your classics.  I will tell you how you can make your most classic bag a little trend worthy this season.  But let's put a pin in that and talk about what is new first.
One of the newest styles of cross body bags is the round purse
this style comes in and out about every 10 years.  Now it is in again. This is the Carolena Circular cross body bag from Anthro.  If you own one, bring it out.  If not and you love it, try it now and then put it away until it comes back.  The trendiest bags are in velvet, fur and print.
Anthro has this adorable Pertegaz Shearling Tote bag that will take you everywhere.
Definitely pick up something in velvet.  This Belinda Clutch at Anthro comes in 4 colors and is the perfect evening look or dressy day look.  Or go for something print.  Camera bags are the new style of small bags.  Trendy are the bags with chain straps like
this Ted Baker Sunshine quilted leather bag.  Chances are you already have a bag with a chain strap somewhere in your closet, just pull that one out if you like.  I do like this new camera bag style but if I were to get one
I would do a more classic style like J.Crew's signet bag ( in 4 of colors) and add trend instead of buying one with trend.
How do you add a trend to a classic bag? Well first of all try adding a scarf around the handles of your doctor bag or satchel.
I showed this image a couple of weeks ago when we were talking about animal print.  You can do this with any print scarf you own, floral would be great too.  And it totally changes the look of the bag. Rebecca Minkoff ( at Nordstrom) as different straps you can change on your own handbag
this could add some great detail to a classic bag. Or you can add charms. 
Go to Nordstrom online and peruse their charm collection, they have lots like this Kate Spade Faux Fur Pom Pom charm that you can attach temporarily to your classic bags.
You can also find things like permanent stickers ( Kate Spade) or
add on faux fronts for your bags ( Kate Spade).  I would be careful with stickers.  I spend too much on my handbags to permanently attach something trendy to it.  Personally the trend I love the best is the animal print bags.
A simple fold over clutch like this one from Ann Taylor will always be in style.  If you want trend add a scarf or charm to your classic ones, just be careful with buying super trendy bags, they will go out of style, so don't break the bank on them.
Gloves are great! Who doesn't love a great pair of gloves to wear out when it's cold.  We all own some great leather and wool gloves.  This season if you are picking up a new pair try a trend or strong color.  Or try a less obvious trend and grab a pair with faux fur trim like this pair from Ugg at Nordstrom.
Waterproof and warm, they are both trend and function. 
You can never go wrong with a great pair of animal print gloves.  These are Italian leather calf hair tech gloves from J. Crew.
Or pick up a fun pair that aren't too expensive, like these Parkhurst pompom gloves at Anthro.  They come in 4 colors!
I like to see bright gloves and there are lots out there.  Or pick a trend like animal or floral.  You can pull them out every time the trend comes back.
So that is a brief synopsis of what is new and wearable for winter in accessories.  I didn't touch on jewellery because our accessories professional Shoshana Lewis will be talking about that for us this month.
If you need help finding the perfect accessory or want a styling appointment email me at Suethefashionista@gmail.com I am taking appointments up until the end of November.
Until next time…