There are two trends for fall that are kind of interchangeable, actually there are 4 that could be combined all under the title of "Romantic Glamour" but my blog would take you two days to read, so I am going to combine these two trends and then give you a seperate blog for Dark Romance and an entire blog about wearing and buying animal prints.
So far, except for suiting, we have seen quite a casual side of fall. These two trends add the dramatic to fall. Fringe, sequins, velvets are so big this year and the colors of red, burgundy, various greens and navys all really play into the glamorous mode.  And let's face it, those of us who remember disco in its hey day ( even though I was only a young child), remember how glamourous it was.  Margaret Trudeau dancing at Studio 54 in New York, the most glamourous Canadian at the most glamourous disco!!
So how do you even start? Well the first step would be to find things that make you feel Glamorous and echo a bit of modern disco. One of the pieces that speaks to me the most for women of our age group, that is flattering and timeless, but works here so well is the mid length pleated skirt.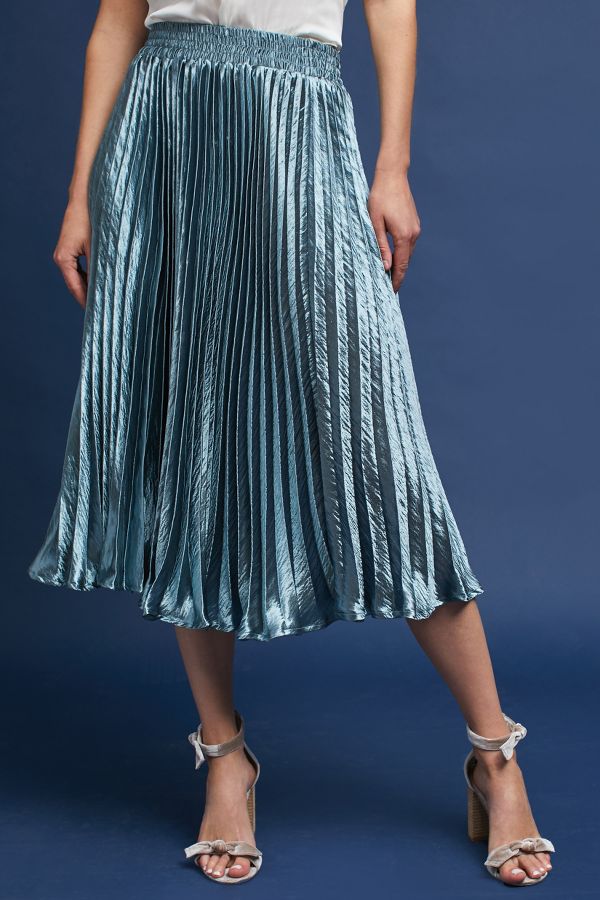 You can find them at almost every store and at every price point.  This one is the Gemma pleated skirt from Anthropologie. It comes in this Carbon color and a bright blue.
They come in all sorts of metallic colors. This one is from Halogen at Nordstrom and comes in comes in a pink foil or grey foil (that could pass for black).  My advice is to get one in either one of these tones or a silver or gold. 
Ann Taylor has the perfect golden metallic that you can wear with everything! A couple of the things I love about this style of skirt are 1) it really echos what we expect glamour to look like and 2) this style looks good on almost every body type, especially the ones with elasticized waist bands.  And I think this skirt works for both daytime and night-time, paired with the right complimentary pieces.
The next piece that is a modernized version of disco glamour is a dressy pant. You can go a number of ways here.
You could do a wide leg pant, this one in velvet and is from Anthro again and I love the silhouette of a wider pant with a fitted modern top.
Or do your velvet pant is a cropped slimmer version, also at Anthro.  Velvet is important this year so it is easy to find. Your pants don't have to be velvet but do stick to a pant, for this trend, that has a glamorous edge to it.  So a lace pant
like this pair of St. John's at Nordstrom will work in this trend.  You don't have to break the bank to find lace pants. If you wait until November the stores will have them.  I bought mine ( which are cut like classic trousers) last year at Ann Taylor right before Christmas.  Or if you live a more casual lifestyle like most of us do these days
do a pant with lace trim like these from J. Brand or
these from Leith, both pairs available at Nordstrom.  A lot of jeans and pants have a special detail this season without being velvet or lace, and that works well with this trend too.
A pair of cropped flares, like these from Anthro, paired with a shiny, metallic or velvet top would work. Or even let your jeans make the statement you want
like both of these from Anthro do. Sometimes for women who want to echo a particular trend but don't want overkill, less is more.  So a jean with hem detailing and a velvet top will speak volumes.
Speaking of tops, what kind of tops do you want to wear with these bottoms to make the trend come alive.
Of course lace works here.  I love tops with a sleeve or collar detail, both important in this trend. This lace bell sleeve top is from Akemi+Kim and is available at Anthro.
This velvet burnout top works here as glamour and later as dark and romantic.  It is also at Anthro.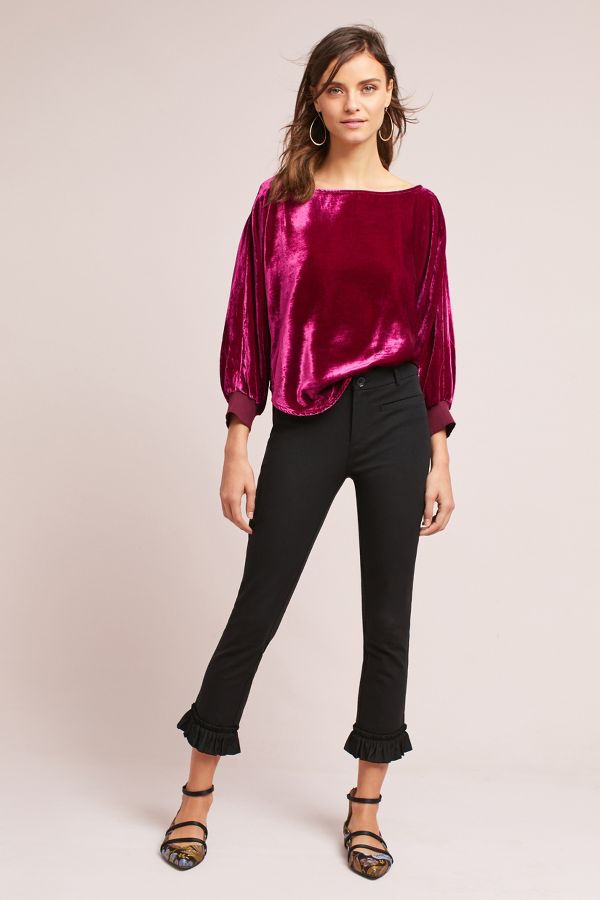 Or do something basic, but not basic, and do a simple velvet top with your detailed jeans or pants. I love the bright color of this Carmen Velvet top from Anthro. It could be worn so many ways, casual with denim, to the office with trousers and subdued accessories and a little dressier with the right bottom. The look in the picture above echos the new modern glamorous disco look we all want to own.
I like any top that has a bit of detail, doesn't have to be velvet.  It could have sequins or be satin or lace.
A bright satin top like this one from Treasure and Bond at Nordstrom is a tunic top with a tie back that you could wear with a pair of jeans or ponte pants and it would make your outfit feel both disco and glamour. The right top can do that.
Vince Camuto, available at Nordstrom, shows you how a top can make this look work for an office environment. The burgundy color worn head to toe, sweater with sleeve detail on top and pleated metallic burgundy skirt on the bottom when paired with a neutral short bootie or chunky heel can work for your office look.
Or go back to satin from Treasure and Bond again, just with a lot of detail and let this top make your jeans into your disco pants. And of course any bell sleeve solid top in a rich color or black can work with your velvet or lace pants to make the glamour come into effect. 
Most of us already own a top like this one, from Vince Camuto at Nordstrom, so pull it out and re work it to make the glamorous disco trend from your own closet.
The other things that I think of when I think of Maggy Trudeau in Studio 54 are dresses and jumpsuits.  To me the modern version of the classic disco dress is something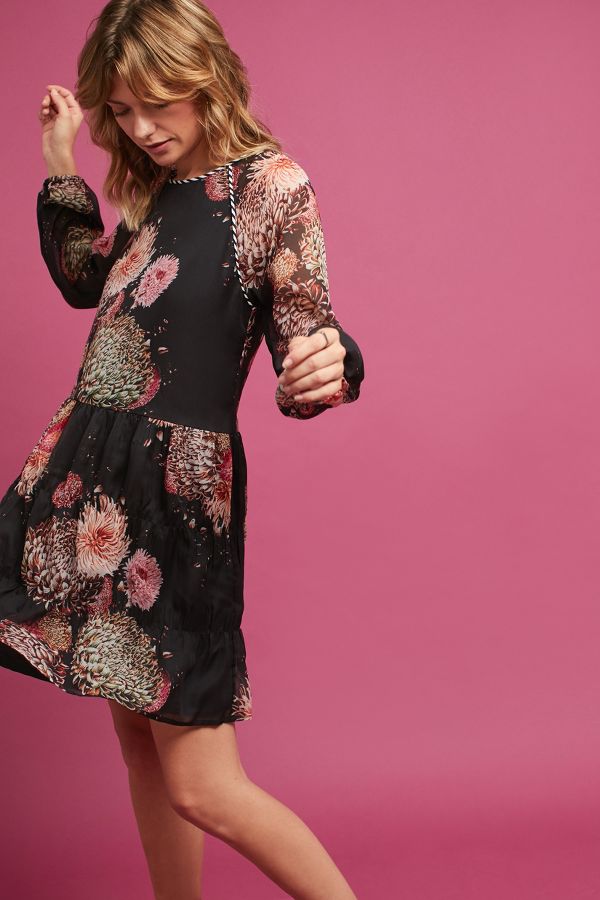 that comes in a satin fabric but has modernized details like printed drop waist dress at Anthro.
Echoing a true disco is the wrap dress.  Remember how many wrap dresses there were in the disco age? Well you can do them again in satin or velvet. This black version is from Yumi Kim at Anthro.
And let's not leave out all the choker dresses, tops and jumpsuits, they all echo the disco trend.  This dress is from Ann Taylor.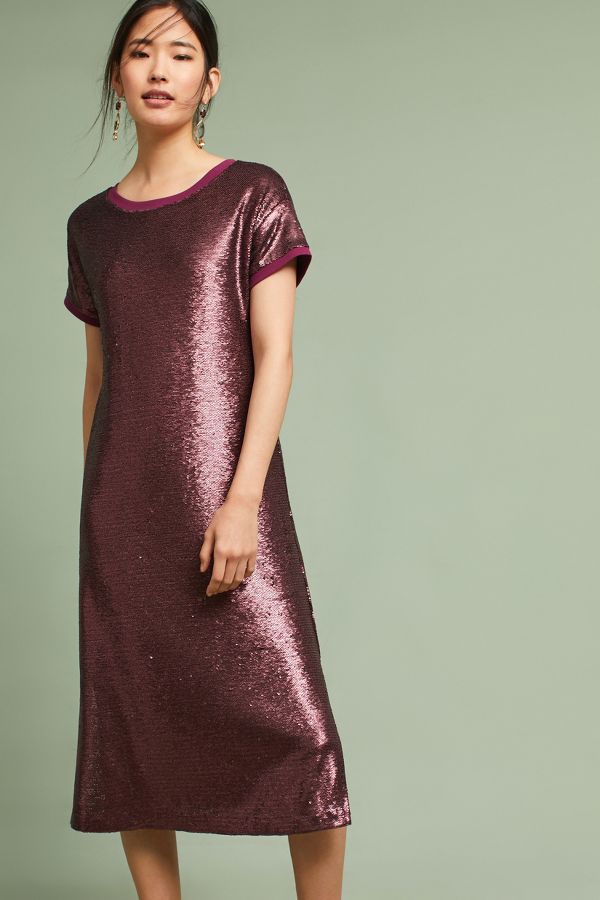 You can also modernize the disco look by wearing a modern shift in the right fabric like this Interstellar dress from Anthro.
But the quintessential dresses that will make you feel glamourous and in the disco vein are the velvet or burn out velvet dresses in solids or tone on tone prints.
This Ali & Jay Queen of the Disco dress at Nordstrom has the authentic feel.
As does this velvet wrap midi dress from Anthro.
Jumpsuits are also plentiful right now. And they are also the quintessential thing that women wore in the disco age.
You could start with a basic jumpsuit like this one from Vince Camuto at Nordstrom and layer a top like 

this once from INC at Macy's over top. Or do the look as one piece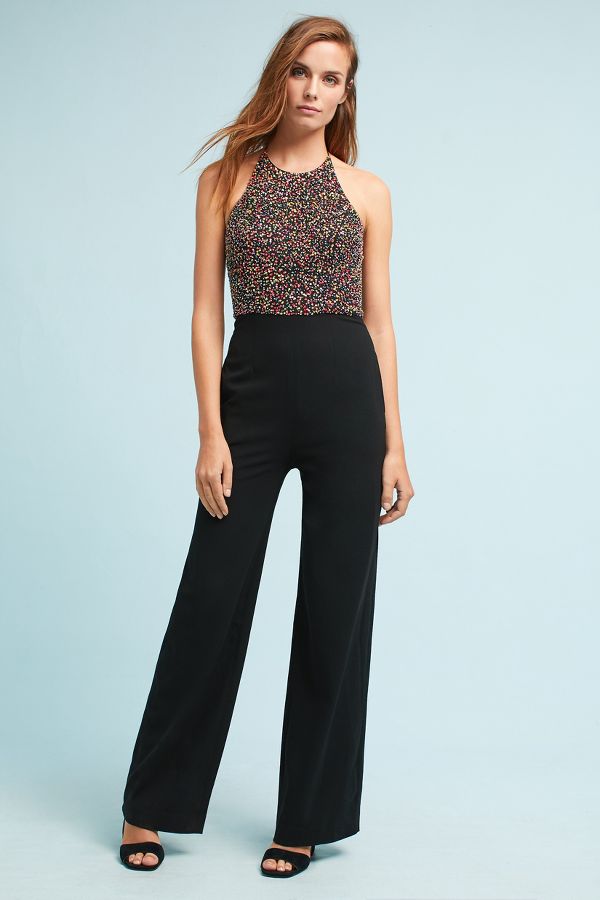 This ML Monique Lhuillier sequin top jumpsuit is from Anthro.
But the simplest way to get the glamorous disco look when going out for an evening is by wearing a wide leg pair of black pants
like this very classic pair from Emerson Rose at Nordstrom and then put any metallic top with it.
I think this metallic colored velour top by Leith would be perfect. And you can find it at Nordstrom.
What can also make your outfit glamourous or disco is the type of accessories you pair with it.  For shoes we all know what that means.
It means strappy and platform.  These Vince Camuto heels in velvet are perfect with your disco outfit. They come in 5 colors including black lace!
Or go metallic on the bottom like this pair of platforms from Adrianna Pappell.  Both available at Nordstrom.
If you want a more modern look that is less disco and more glamour, try a detailed flat like these from Sam Edelman at Anthro.
And of course you can do velvet ankle booties.  These blue ones would be fab with a metallic pleated skirt.  They can also be found at Anthro.
Glittering heels are the last pair I am going to show.  These are more modern and can work with all the disco and glamour looks above.
Accessories echo the same feel as the shoes. Stick to things that are metallic, sequin or ornate in some way.
A velvet clutch on a chain or
a metallic back pack or even
go all sequin in your shoulder bag.  All of these different styles come from Nordstrom.
You jewellery can echo the disco trend.
Wide cuffs on your wrist and
bold glittery drop earrings are things that can pair with any of the looks above.  My personal preference is to not wear a necklace with bold earrings.  A lot of the disco looks had big earrings and no necklace.  But if you prefer to have your statement around your neck than do that.
Pick something bold and shiny that will take your outfit to the next level and do a simple earring.
This trend is supposed to make you feel glamourous.  So wear what you feel the most glamourous in and maybe pair one piece that echos disco with it.  I love the metallic and velvet tops and the metallic pleated skirts. Use one piece as your muse.  You won't need a a lot of clothes to hit this trend right.  Buy one new piece, like the pleated skirt, and work items you already own with it.
Do you need help figuring out how to wear this look? I am still booking styling appointments for fall and holiday.  Just email me to set up an appointment for October or November.  I hope you are having fun wearing fall clothes again.  This season has so many great trends that you are sure to find one that fits your lifestyle.  Thanks for following along my blog.  We will finish the fall trends by the middle to the end of October and then go into accessories and some make up trends that work for fall and holiday before getting into holiday dressing.  We will break in December and then in January talk about sale shopping and how to buy things for a great price that you can tuck away until next fall.   So please email me if there is something specific you want to hear about.  I had some great suggestions last spring and if there is anything that perplexes you, I am here to try and help. My email is Suethefashionista@gmail.com that email works for suggestions and setting up styling appointments.
Until next time…