I really didn't know what to call this trend this year.  It's almost Boho reinvented yet again.  I am going to tell you right now that this is kind of a sub trend this season.  What I mean by that is that this trend will pair so well with Sporty Schoolgirl and some of the others that you will think it is really part of those trends.
Those of us born in the 60's and 70's understand that Americana is all about dusty shades and the influence of western wear. But denim is playing a huge roll this season in everything aside from jeans and this is where you find that.  I also think it is a dressed up version of what we expect it to be mostly because it is such a strong season for ruffles and sleeve details.  Yesterday I ended up wearing my top layer being a vintage beige poncho that I can dress up and down.  I wore it with a skirt and booties.  I was trying to define my style and now that I am writing this blog I can call it sophisticated Americana.
Let's explore this trend and how to wear it at our age.  There are tons of options so you don't look like you are trying to emulate your 20-year-old daughter or niece.
Denim and Chambray are a huge part of this trend.  Remember when I told you all that dark denim us huge for fall.  Dark denim is featured in this trend and almost in all others, so if you don't have a few non jean dark denim pieces you may want to get some. The key here is not wearing denim head to toe, although you certainly can.  The key is to use your dark denim piece as your neutral.  Let's go through Americana styles you can find in stores and how to wear them.  There is a lot more to this trend than denim and chambray but they will pop up with everything.
One of my favorite new pieces that you can see in stores is the dark denim jacket with a ruffle in front.
Talbots has a great one, in regular, petite and plus.  It's dark enough that you can wear it anywhere, even with a lace skirt and casual enough to top any pant style. 
Ann Taylor doesn't so a denim jacket this season but has great casual jackets like this one for you to pair with your bottoms.  If you want to try wearing this trend to the office then choose a jacket that either has details like above or
is a refined Moto style jacket. This jacket works great with a pencil skirt from the office and then with your dark denim on the weekends.
Another huge trend in jackets is embroidery, we saw the trend start last season on denim bottoms, now it has taken to the tops.
This Billy T embroidered utility jacket is perfect for the days when you want to really feel boho. Wear it with dark denim on the bottom or a neutral colored suede skirt would be fabulous with this jacket.
A lot of the jackets that work with this trend we know from the past few seasons.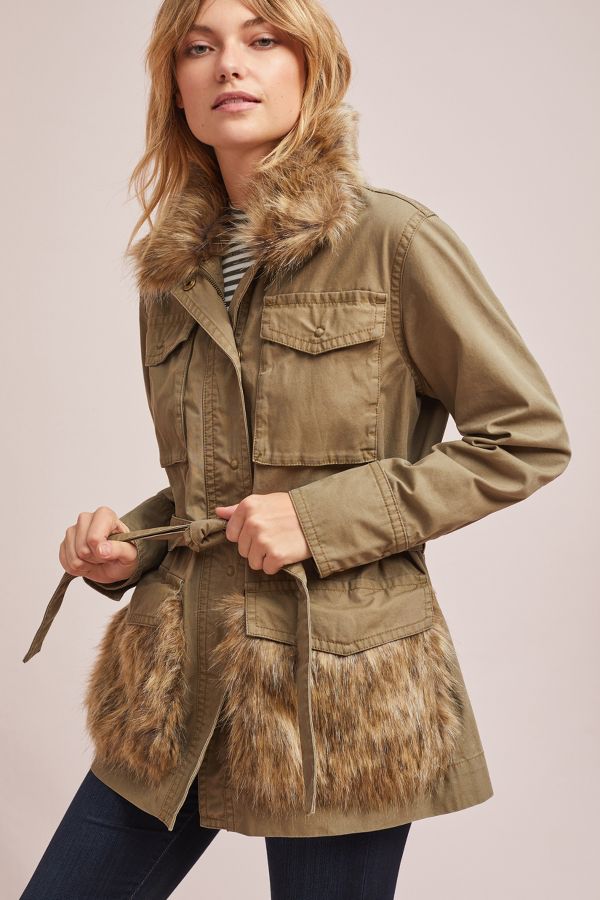 Utility jackets work really well, even better if they have a little detail and interest like this Faux Fur-Trimmed Field Parka at Anthropologie.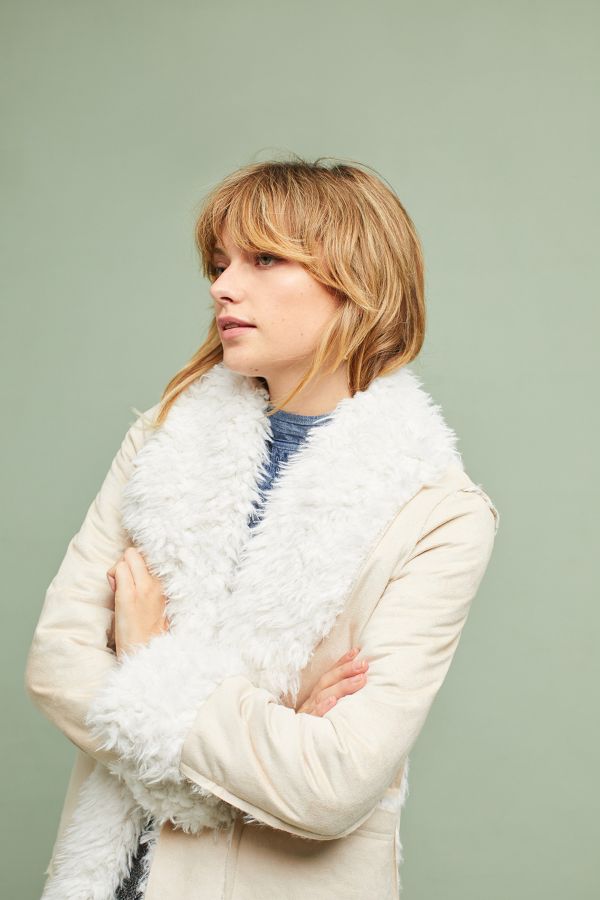 Sherpa is also given here.  Nothing screams Americana like Sherpa.  Try and wear it in a more current silhouette like Michael Stars Over sized faux fur coat.  And the last kind of great jacket detail you can wear with this trend is fringe. I know some women who just keep a fringe jacket in their closet for every other season or so when it comes in.  If you have a fringe jean style jacket of blazer, you can just keep it forever and you will find every two years or so it will come back.
Lucky brand has a great one that won't break the bank.
Tops in this trend have a lot of detail even if it is just a denim shirt. Look for patchwork trend in denim shirts.
This one by Joe's jeans at Nordstrom hits the perfect note with the lighter and darker tones while not being totally light.  You can stick with basic button down styles or branch out. Denim and chambray come in a whole variety of styles.
You can feminize the look by wearing something with a ruffle sleeve.  This empire waist denim blouse has been a strong seller at Whitehouse Blackmarket.  It is super flattering on most women.
I also love this soft Chambray tie sleeve shirt at Ann Taylor. Or how about doing a chambray shirt with a twist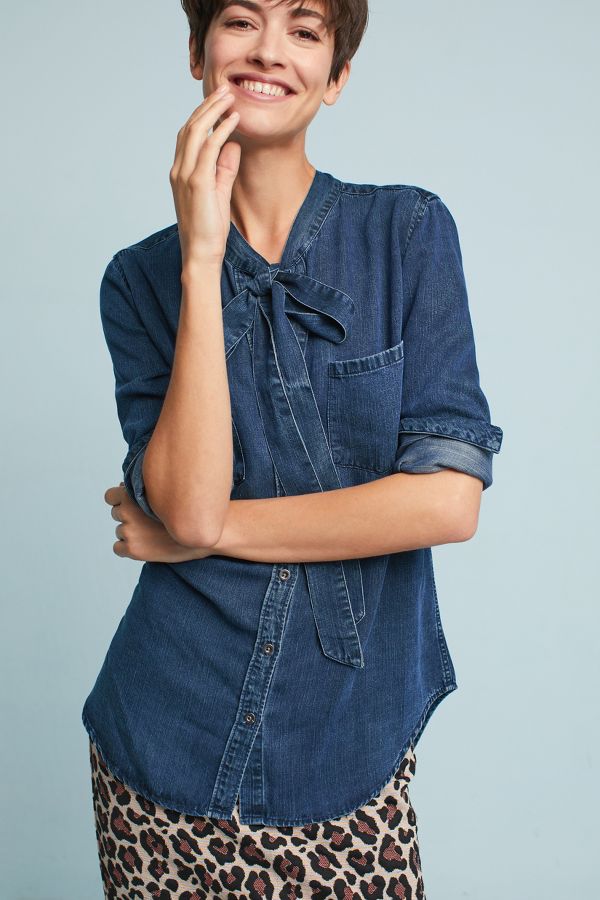 this tied chambray button down will be a top you can wear with anything.
And don't forget embroidery, it is as strong in tops and it is in jackets.  This shirt is from Talbots.
But there is a lot more patterns and styles that make up Americana tops.  Checks, patterns, ruffles and patchwork all work here.  So do certain florals and prints.
Small florals are great with this trend especially in the blue, red and beige family.  This Hinge shirt from Nordstrom would be fabulous under a light-colored sherpa jacket with dark jeans.
And of course if you are looking for a place to wear your gingham and check shirts this is it! J. Crew's crinkle check shirt is perfect, made exclusively for Nordstrom if you are looking for it. 
If you are not someone who wants to wear blue tones next to your face then try this fabulous red grid print shirt from Halogen at Nordstrom, it also comes in a fabulous blue floral.
Lucky Brand is a great go to place to find all things Americana.  Their prints and styles are great.  This border print shirt will work with all your dark denim.
I could go on and on about tops, take a look at your favorite websites there are so many prints and styles that work in this trend they won't be hard to find.
Bottoms are where you can also define this trend.  Of course there are jeans.  But since I am going to do an entire blog about jeans later in the season let's just say for this trend dark denim is the perfect foil to make it look modernized.  Black denim is also super important this season and it totally goes well here too.  If you are going to buy a pair of black jeans try buying one with detail
this pair of frayed hem jeans from AT are perfect.
Or do detailed denim here.  Button ankle jeans from Talbots are great. But there is more to Americana bottoms than denim. Your colored chinos work perfectly here.  As a matter of fact colored denim is great here too ( most colored denim is actually twill not true denim, so we can talk about them with our chinos).  Stick with base colors for this trend like beige or khaki, red and blue.
One of my favorite places to buy chinos is J.Crew.  They practically invented the style. Their cropped stretch chino pant in khaki or navy works great and will fit great.
I have probably shown you these brushed twill skinny chinos from NYDJ over 100 times.  But they work again with this trend.  Picture these pants with a sherpa or denim jacket.
Skirts are important here as well.  Think of a prairie style skirt with a modern twist.
Choose a more A line style to make it modern.  This front button denim skirt from Talbots is perfect.
Or go suede. A longer A line suede skirt is absolutely what you need to really make yourself a Americana icon. And of course J. Crew's best-selling Chino trench skirt
really can modernize this trend.
What can really make this trend come alive in your wardrobe is the accessories and shoes you pair with it. Most of us still have a great pair of Frye boots or facsimile somewhere in the depths of our closet.
You could choose almost any Frye style to work with this trend but the harness boot is one of their most classic styles.  Works great with long skirt and skinny jeans. And the best part, they never really go out of style.  So it is a great investment.  Take your boots a little more modern by doing a
block heel bootie, this one is by Hinge, that echos a desert boot. 
This season detailing is where you want your accessories to be.  Stick with Americana colored booties but add a great detail like these from Matisse at Anthro.
Lace up booties are a great alternative as well.  Modern and fresh, they will make your Americana look fabulous. These are Dolce Vita from Nordstrom.
When you choose your handbag, look for something that has a stronger color.  I really like the look or a burgundy saddlebag with Americana looks.
This Marc Jacobs pebbled leather saddlebag will work here and with so many other trends for fall.
This Hobo fern saddlebag is a bit bigger and more cost-effective than Marc Jacobs. I also love it in the other color Cypress green with this trend.
And of course a neutral colored bag works great here. Madewell's small transport leather bag is perfectly Americana.
When I did my research for this trend I didn't notice a lot of necklaces worn in the pictures.  But what I did notice is a few of the images had a Ribbon tied around the neck like a choker. I am going to suggest that at our age we don't go to that place but instead pull out some of our Boho pieces.
Like a sophisticated tassel necklace. This one is from Panacea at Nordstrom.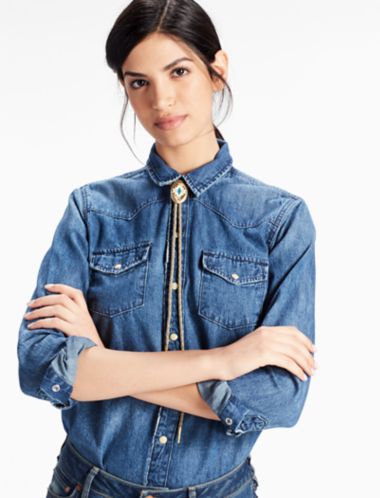 Or even try a gold colored modern Bolo necklace from Lucky Brand.
If you feel your shirt needs a little more pizzaz than try this leather tassel Y necklace from WHBM.
I think the key to this trend is to take what we already know about Boho or Americana and add some of the new pieces we see this season.  Anything with Sherpa detailing, paisley, patchwork in the red and blue family will make your denim and chinos pop!
If you feel you need more detail or want help figuring out how this style works for you, you can always book a styling appointment. Email me at Suethefashionista@gmail.com for all your styling needs.
Especially now that fall is upon us, you can really try some of these trends and see what you love and what you don't.  Don't be afraid to try a new silhouette.  I actually did that already.  I tried the pleated midi skirt look, which I never was brave enough to try before and it just added a softer dimension to my wardrobe.  Try something new and email me and tell me about it!!
Next week we will do more exploring into fall styles and trends.  Have fund with Americana!
Until next time…