This is going to be the most interesting of all of the Fall 2017 trends.  Most of the other trends are either familiar because they have been around and are just updated for 2017 and others are ones that have kept being current from the last couple of fall seasons.  But this trend goes against everything we said last year in the minimalist trend and really opens up the door to a lot of personal interpretation for the first time in years.
What is Maximalist you ask.  Well it is pretty much wearing anything you please with anything else you please. Like print on print or texture on print or floral and print.  But before you go all out and put on those prints and checks together like some of the older women we see walking around malls, keep yourself in check by doing one thing: Make sure what you are wearing looks good and suits you.  I have bolded that for a reason, while I can't wait to experiment with this trend a bit I do not believe that women over 40 should go overboard with anything, let alone mixing prints. So let me give you a sort of guide to wearing this trend.  I will show it to you 3 ways: Casual, Work, and Dressy.  One of my key beliefs in correctly wearing this trend is one piece in your outfit (top, bottom, shoe, bag) needs to be over the top.
Casual Maximalist:
The casual maximalist is likely not going to work or to a meeting.  This woman wants to be able to wear this trend out to brunch, a movie, or running errands.  Likely her bottom piece will be a pair of jeans or leggings or some pant that either is colored or textured.
These Zip pocket NYDJ Skinny Chinos are great because they have a bit of heaviness and are brushed so they look like they have a bit of texturing to them.  You can find them at Nordstrom.  Feel free to sub a dark denim or textured denim.
Remember nothing is too much. So these FRAME shredded skinny jeans would work really well.
Even feel free to pick denim from Pilcro at Anthropologie that have some detail to them.
Next thing pick your top layer, whether it be a jacket, vest, sweater etc.  So if I were putting a casual Maximalist look together one of my favorite prints of all time is animal print.  Don't worry I am just going to touch on it here, there will be an entire blog later in the season dedicated to animal print, it is super chic for fall. Anyway let's start with something  like
This Joie Julia Leopard print silk Jacket would look fabulous with black denim or with all the above bottoms. If you are already starting to panic because it's too much print then try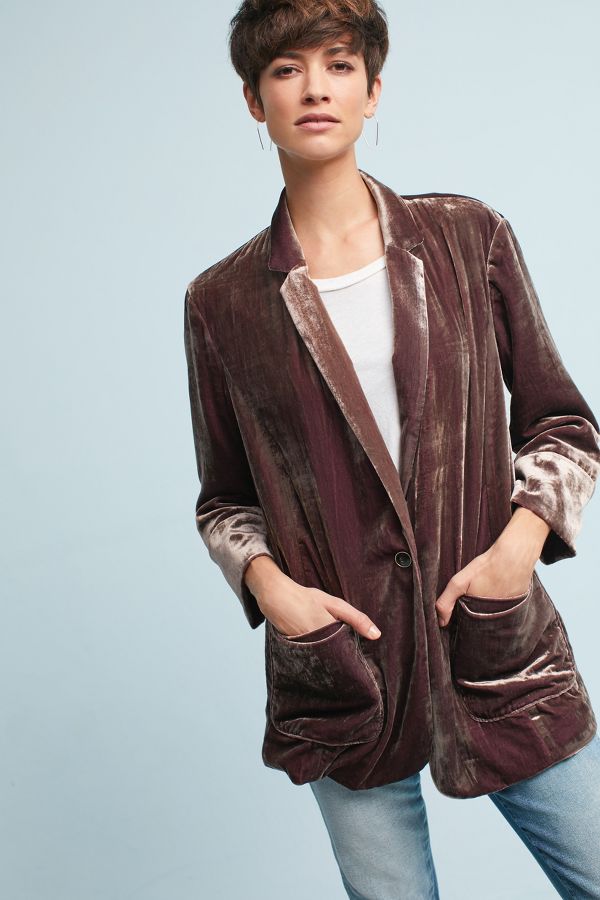 an Iridenscent Velvet Blazer from Anthro.  It hits the right notes for this trend because Velvet is key for fall and the texture adds interest to the outfit. Or do something in between the two extremes above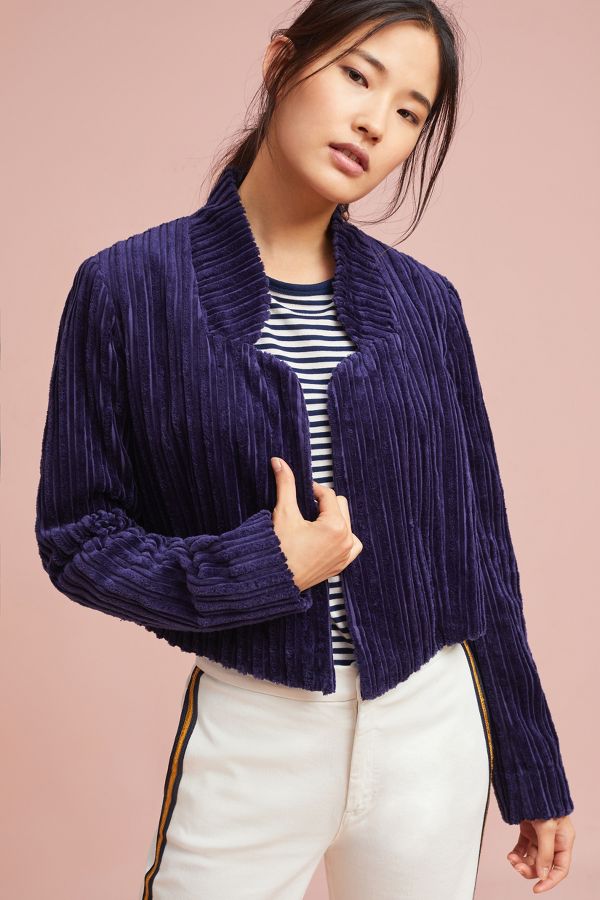 this cropped corduroy blazer also from Anthro, gives you texture and a bit of pattern in the weft of the fabric.
Then pick what you are layering underneath your jacket.
Something like this ruffled peplum back top from Pleonie at Nordstrom comes in a variety of prints and colors it would be great layered under the velvet blazer or the corduroy jacket above.  Or if you are really brave it will work for this trend under the animal print bomber. Floral not your thing then try something with stripes
like this Pleonie wrap around ruffle sweater or
this lace flutter top from Halogen at Nordstrom in pink or black.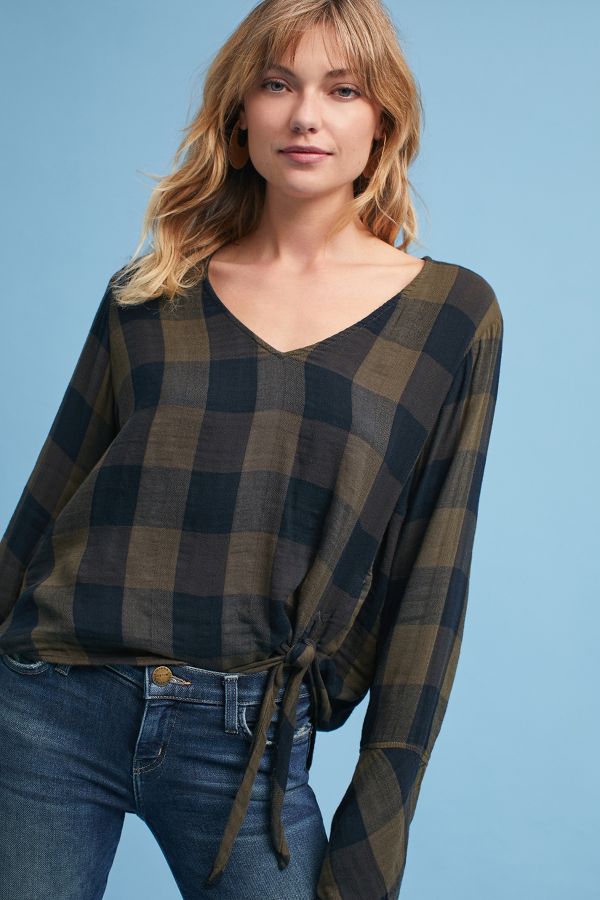 A check top will work too, this is from Cloth and Stone at Anthro. I could go on and on but I think you get the drift.  The top also needs to have a pattern or print or texture as well.
The final piece for our casual outfit will be the shoe or boot. This season there are lots to pick from.
Finding mules like these from Sam Edelman is easy.
And there is certainly no shortage of print booties at every store. These are by Charlotte Stone at Anthro.  The nice things about shoes and boots is that they go through almost all your looks. A great pair of animal print booties
like these from Treasure and Bond at Nordstrom will go with all your looks.
To dress up your casual look for evening add shine or glitz. Like
this BP Floral embroidered jacket at Nordstrom or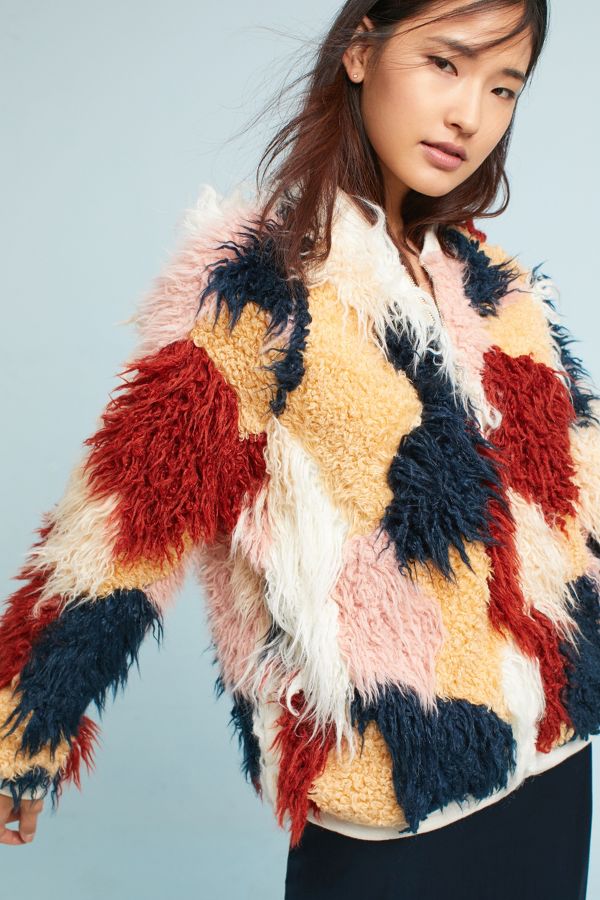 this Marbella Fringed jacket from Anthro.  Either of these jackets put with
this Hinge Ruffle V Neck blouse with a pair of denim jeans or dark pants and a textured or patterned bootie 
either suede if you feel you have enough print and pattern going on, suede has nice texture or 
pick a pair with just a little embroidery ( Chelsea embroidered boots at Anthro).
Work Maximalist
The Work Maximalist has to be a bit careful.  Depending on how creative or classic your office is, you can either go all out or just add one piece like a print boot.
For the creative office try what your like.
This striped knit shift dress from Ann Taylor could be a great style statement in an office environment and just make it Maximalist by adding a stronger and bolder shoe in a different color
like a red suede fairly conservative heel from J. Crew with a bit of detail. Or
even a velvet bootie (Steve Madden).
A bright floral is a great way to go Maximalist at the office
Stick with your work style suit but add a print to make it stand out.  You don't have to go crazy with any other pattern if you are wearing this head to toe, just wear a stand out shoe or bootie
like Hudson's Kris metallic bootie.  And add some bling around your neck
like this edgy necklace from Kendra Scott.
Another great office look I love is going Maximalist without too much print.
These Halogen Wide leg crops would be perfect in the office.  Wear them with
a complimentary colored ruffle sleeve sweater, also from Halogen.  Or
pair a soft flowy blouse in a color that will help the pant stand out like this Ruffle sleeve blouse from Pleonie. It also comes in the same pink as the sweater above if you love that tone better than black. Then wear a pair of statement black patterned or textured booties
like these from Vince Camuto.  Or if your office allows you to be creative in your wardrobe 
then knock it out of the park with these velvet booties from Lucky Brand. The only other piece I would add to this outfit is either a strong necklace
this Marchesa beaded necklace would be perfect with the neckline of the tops above. And add a bit of sass with your top layer or coat. 
Let your coat either have texture or fur trim or some kind of embellishment and you are set.
Dressy Maximalist
It really doesn't take much to dress this look up. For example I have a military style blazer that has lace detail
similar to this one from Free People only mind is more classic with lace at the bottom and on the sleeve. Last season I wore it with black pants or jeans, this season I will pair it with a textured floral skirt or a plaid skirt
or a textured print like this Olivia Palermo textured skirt from Banana Republic. That is probably the only change I will make to take that jacket Maximalist.  Or if I wear it with denim, I will wear a patterned bootie
like these Miss L Fire ones from Anthro.  So that is my interpretation.  Yours can be the same, bigger or smaller.
Wear a floral dress out in the evening
this Alice and Olivia fitted Midi dress is totally rocking the Maximalist and Dark Floral Trend.  To make it Maximalist, make the shoe a stand out as well
wear a different dark floral pattern (Steve Madden)  or
wear something bright and textured from Anthro. And then add a great bag that has its own personality
like Kate Spade's Ma Cherie leather satchel.  You can't go wrong adding more in this trend!
As you know I love animal print so I may do that for an evening look.
Talbots has a great faux wrap animal print skirt this fall.  I would pair it with
this faux fur-trimmed cardigan also from Talbots.  Underneath I would take it up a notch by making the black top either sequin or shiny in some way.
Or maybe even add lace into the mix ( Vince Camuto) and then I would wear a dark tight and booties either animal print to match or with some animal print on it
like these Eden Suede Tortoiseshell heel booties from Ann Taylor.  My bag would be black and textured
like this Brahim textured croc embossed clutch at Nordstrom.
The last piece you could add for a dressy look is a great coat or jacket. And it doesn't have to be animal print.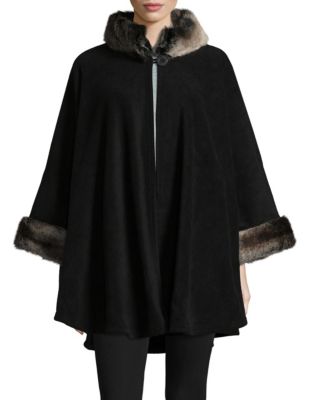 Parkhurst at the Bay in Canada has some great fur-trimmed ponchos that would work with everything and anything. Or add a coat with a pattern
like this one from Guess. 
Or what is kind of trendy is to channel the kind of coat your grandmother wore, like this tweed jacket from Talbots.
And for women like me, J. Crew has a great Faux Fur Leopard print coat calling each of us by name.
The key to the Maximalist trend is to remember more is more.  How you were this trend and look sophisticated is to remember that only 1 piece you are wearing should be totally over the top and make the other pieces textured or muted patterns to compliment.
I know this is hard to wrap your head around.  Take a look at images on-line and read a couple of magaizines.  Always wear what you are comfortable in, if it's trendy and you don't feel you look your best in it then it's always ok to take a pass.  If you need help planning your fall wardrobe please just email me at Suethefashionista@gmail.com and we can set up an appointment to make you happy in your clothes.
Until next time…