Every year we see that suits are in style for fall.  Some year they follow an almost men's wear trend.  But this season the suits are a little different because what is really the most trendy part of it is the pant suit.  Hilary Clinton made them commonplace again when she was running for President.  Now powerhouse women everywhere have embraced the pant suit.  It is going main stream.  This is not to say that you can't wear a skirt instead of pants, of course you can and I still will.  But it is more of a promotion of the pant suit as fashion staple in your wardrobe.  This season's suits come in a variety of fabrics, textures and styles so hold on while we go through it all! Wearing a suit is not something we are all used to.  Unless you are working in a high-powered field, fashion has given women a lot more options besides a suit in the last 10 years.  So always remember that suits can be pulled apart and worn with other bottoms and jackets too.
First of all let's explore what is new in fabrics for fall.  One of the biggest things for this season is plaid
. This blazer is by Sandro at Nordstrom.  Plaid is exploding for fall. We saw it last week in the Sporty Schoolgirl trend and it will keep coming up in every trend.  You can wear all the suits head to toe of course, just be careful that the plaid doesn't overwhelm you if you are petite.
The key thing to wearing a plaid suit for fall 2017 is proportion. This suit is by Lewit at Nordstrom.  Sold separately, they have put together the sculpted waist blazer with the crop flare pant.  Even though slimmer pants are in for Fall 2017, it doesn't mean that the cropped flare is out.  If the proportion on you is better with a shorter pant, then this look works.
Suiting for fall is not so traditional. Illustrated slightly above by putting a cropped flare pant with the suit jacket I am going to go into more detail.  One of my favorite style goddesses is now designing for Banana Republic.  I love Olivia Palermo! She is the most stylish woman in the world and wears exactly what looks good on her.  She has a collection for fall and not one of her jackets are traditional.
The most traditional blazer her collection is showing is the belted military jacket. It comes in Seaweed ( shown) with cream piping and navy with red piping and how Olivia puts it into a suit
  is very untraditional.  But in essence it is separate pieces put together to form a suit look.
Another great piece that can be put together to form a suit from her collection is the Ruffle Accent Topcoat.  I love it when my blazer or jacket is a bit longer.  You can wear this wispy pink jacket with black or navy on the bottom. Or
how about tone on tone with Banana Republic's Logan stretch pant.  Mix it with strong black accessories and shoes and you will look fab for fall.
The last piece I am going to gush over in Olivia Palermo's collection is this fabulous brocade jacket.  This works for fall on so many levels!
Fabulous with your neutral olive, beige and even red pieces or be super bold, well maybe not in the courtroom, but certainly out for dinner and wear it casually with denim as well.
And this season you could even channel the Maximalist trend in your suiting and wear the brocade head to toe.  I love this jacket and skirt.  I might not be brave enough to wear them together, but you totally could this fall.
But aside from Olivia Palermo, Banana Republic has their own suit section on their website. Where you can explore suiting that is up to date and totally customizable to work for your own body.
Wear their suits perfectly put together or pull them apart and play with them.
Even though Fall 2017 suiting is very matchy top and bottom, I advocate pulling your suit apart and wearing with other bottoms and tops to make your wardrobe work.
J. Crew is another store where you will find modern up to date looks in suiting.  They have a fabulous blazer collection and
pick your favorite, mine is their Regent blazer and pair it with a matching bottom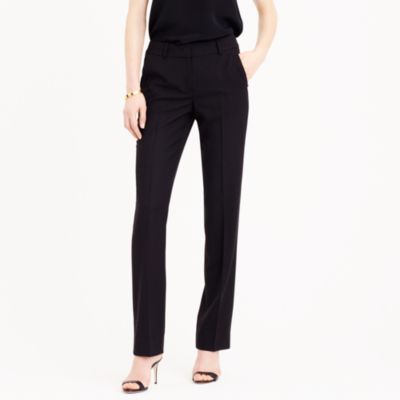 . Either full length or cropped, up to you what works in your own version of the suit.
If you want a suit but don't want to spend a lot perhaps try one of Nordstrom house brands like Halogen.
I find Halogen a reasonably good fitting brand and the suit retails for under $200.  Now it will not fit you as well as a Hugo Boss suit, but you do get what you pay for in suiting.
Designers are showing a lot of suiting for Fall 2017 but it looks more like an untraditional way of wearing suits.  Stella McCartney is showing checks and velvets head to toe in suiting
.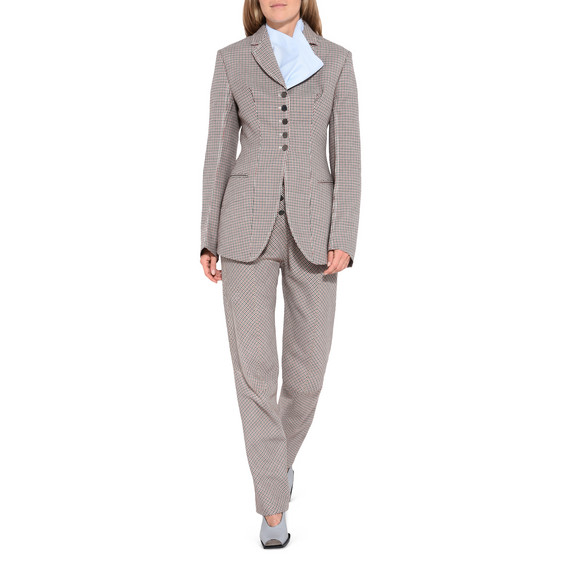 One of my favorite looks in suiting is from Stella McCartney, notice the shape of the blazer and how it really fits the waistline to draw your eye into the smallest part of your body.  The loose pant compliments the fitted jacket.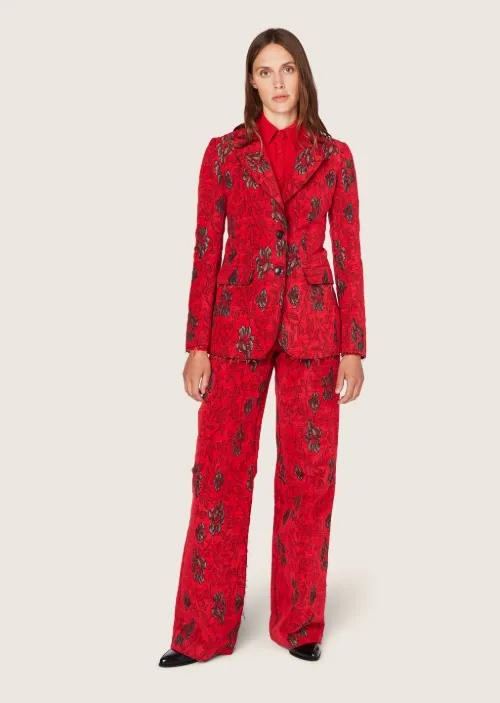 Derek Lam, while not as expensive as Stella McCartney is embracing Red for fall.  His notch lapel jacket with matching pants could be exactly what you need to embrace suiting.
You can echo the designers by shopping places like Banana Republic and choosing the same look at a lower price point.  Or go with some basic labels like Vince Camuto or Ann Klein,
both have lots of suiting options ( pieces sold as separates) with feminine details.
If you really want to get serious about suits in your wardrobe another store that won't let you down is Brooks Brothers.  Of course you remember them from your preppy teen days but they have modernized their women's wear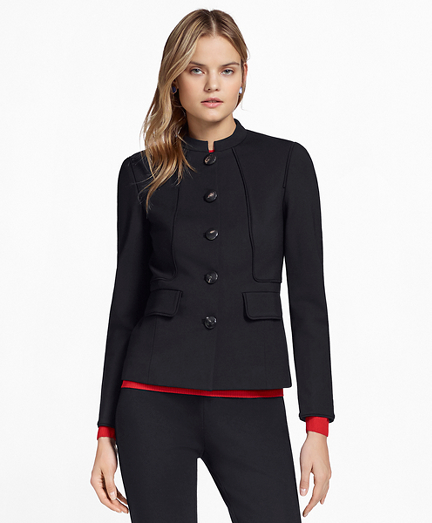 and fabrics to be a 21st century go to place for women's suits. This ponte knit jacket and pant are just a small sample of what they have.  I encourage you to check out their website.
This season you can go fitted or long and lean with blazers.  Single or double-breasted.  Find looks that fit and work for your body. Talbots is also a great store to buy suiting especially if you need petite or plus.
You can do suiting in great fabrics like crepe in wonderful colors and
Houndstooth.  Then buy the solid piece or plaid blazer that lets you stretch your suit even further.
Their Red scalloped hem ponte blazer will look great and fresh with houndstooth pants and
try their ruffle neck jacket in a complimentary color to your crepe pants for a different look.
If you are going head to toe in one color in suiting keep your shoes complimentary in the same color and tone. Shooties are great for pant suits or go very fall 2017 and pair the feminine details in your suit or blouse with men's wear detailing in your shoe
Paul Green makes wonderful and comfortable shoes that will be perfect to compliment your suit.  Or if your suit is kind of men's wear do a feminine shoe on the bottom.
These MIA Rosebud booties at Nordstrom will feminize any black suit. Or go with lavish flats, 
detailed and printed loafers like these from Sam Edelman fit perfectly with Fall 2017 suiting. 
Mules are huge for fall so even something like this until the weather gets colder would be perfect with your brown check suit and chambray shirt.
I think you need to remember to keep things current when wearing suiting either by the cut of your suit or with your accessories.  Velvets and maximalist is strong, so you can always add a bit more this season and get away with it. Just make sure the look works for you.
My last words on suiting are that I am not one who usually embraces suiting.  I do have some great jackets, but since I tend to have a more laid back lifestyle, I usually pair them with denim or ponte pants.  I hope you notice that I also didn't pair any skirts with blazers.  Of course you can, especially if you wear suiting to work everyday and need to wear skirts as well.  But the trend for Fall 2017 is pant suits.  Check out Banana Republic and Brooks Brothers online and you will see lots of skirts you can wear with the suit jackets as well.  Just because I am not a suit person doesn't mean you shouldn't be. If you work in a creative field then play with different jackets and bottoms until you find what works for you.
Need help interpreting the Fall trends to fit your lifestyle and wardrobe.  I am still accepting fall styling appointments and will be working right up until December 1st. There is a lot to love with all the trends for fall, if there is one that isn't for you don't worry we can't love everything we see.  If you want a styling or wardrobing appointment just email me at Suethefashionista@gmail.com. I will never pressure you to buy more than you are comfortable with and will help you discover how to wear everything in your closet.
Next week we will look at the Maximalist Trend!
And big news we will have our favorite accessory expert Shoshana Lewis from Shok Designs back right before we go from fall into holiday to help us figure out what is new and exciting in accessories!!
Until next time…