When we talk about this trend for fall, it is the kind of things that we have been talking about in all the past season's sporty trends and so much more.  I call it Sporty School Girl because I think that encompasses it best.  It is all the sporty looks that have made their way into main stream dressing plus all the casual aspects of preppy and outfits are put together in kind of school girl way.  I hope that makes sense. In Style Magazine calls it Retro Sporty and Vogue called it School Girl.  But as I researched it made more sense to combine these two things because they really are very intertwined.
I am going to do the reverse to what I usually do and start on the bottom.  Runners are so much more main stream than they have ever been.  You can stick with runners that look like athletic shoes but for the purposes of this trend we are going to talk about casual and dress runners.  There are all kind of runners that you can wear as day wear now.
Designers are making runners now as street wear.
Prada's slip on sneakers come in 6 colors and they show them with all kinds of clothing, dresses, skirts, pants etc. But if you are like me and want some sophistication even when wearing a sneaker and aren't sure you want to plunk down more than $500 for a designer pair, not to worry.  Everyone is doing sneakers and everyone is doing them so you can wear them with everything.
Here is almost the same look from Steve Madden. They are only $100 and come in 7 colors including prints and metallics.
If you want to do something unique then maybe try doing an embroidered runner like this one from Linea Paolo.  Embroidery is huge for shoes this fall. I am also a huge fan of sneakers that don't really look like sneakers.
Our friends at Eileen Fisher have a different take on the slip on.
Whitehouse Blackmarket has only one style of sneaker, but it comes in velvet, metallic or a vegan leather. Something else to look for, especially when doing a colored or printed sneaker is making sure the sole of the sneaker is not white.
Cole Haan does a beautiful job of making a sneaker a little sleeker with a matching sole.
Aside from the one pair of sneakers from WHBM, all the rest can be found at Nordstrom.  And if you really want to go wild with prints and patterns in your sneakers hit Anthropologie.
They have lots of brands and styles, these ones are from Super Vega and are just an inkling of what they have.
Other shoes to wear with this trend are Chelsea boots
.  This classic can be done basic, like this beautiful Stuart Weitzman pair or colored.  And don't forget the hiking or lace up boot, that screams School girl sporty! 
Pikolinos makes a great wedge lace up bootie that will be fantastic with skirts and pants.  Heels work with this look, just keep everything very streamlined if you are doing a heel on a bootie.
Now that we have covered that we can move on to the rest of the look.
Think of last year's sporty trend.  The look you want is like a retro ski look. You want the bottom of your outfit to be streamlined.  Use a pair of skinny jeans or ponte knit pants as a base or because we are talking school girl, try a pair of plaid skinny pants.
These plaid slim ankle pants from WHBM would be perfect for the office as shown or with a great pair of black sneakers and a fitted turtleneck.  Even though navy is a big part of this trend, your dark skinny jeans cover that off.  I love
a great pair of skinny ponte knit pants.  These are from Eileen Fisher, I got a pair last year that are NYDJ and they look good with everything! Still going strong is the jogger style of pants
like these from Ann Taylor.
Another fantastic idea on the bottom is a modern track pant, great when worn with a mule.
Dresses are a big part of this trend, just think maybe of a jumper or something stretchy and fitted.
This Tibi Mica crepe Jumper would be perfect with booties of sneakers and any t-shirt or turtleneck.  When you think fitted think of
something plaid or body conscious that can either be worn solo or with a shirt or turtleneck underneath.
Sweaters, of course are huge in this trend.  I always talk about turtlenecks, having some thinner (cotton jersey) turtlenecks in basic colors, off white, black, red, navy can really make your wardrobe stretch.
Go to a place like Talbots and find cotton/spandex turtlenecks in 8 colors that will totally work with this trend and all the others. They are under $30 each and I promise you won't regret it.  Layer them under sweaters, dresses, blazers, vests, etc.
Other sweaters for this trend have kind of a nordic feel to them but with a modern twist.
This Stripe Flare sleeve sweater from Ann Taylor is a great sweater to wear with a pair of khaki or navy chinos and runners.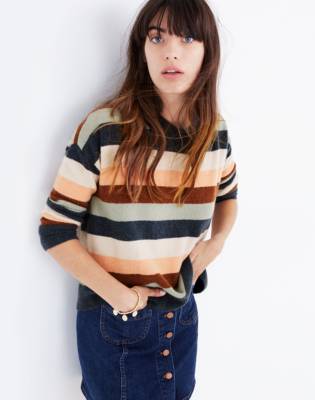 Stripes work great here too, this Elmwood Stripe sweater from Madewell will be fantastic with dark denim, navy, khaki and olive.
What ever you do don't forget about a classic shirt style here.  The basic collared shirt in colors and prints will be perfect.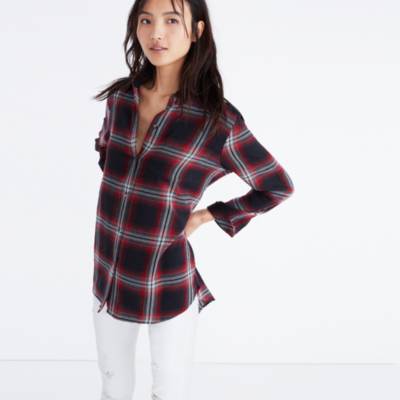 A plaid button down works great also from Madewell (ex boyfriend shirt in Rollins plaid) or stick with a classic stripe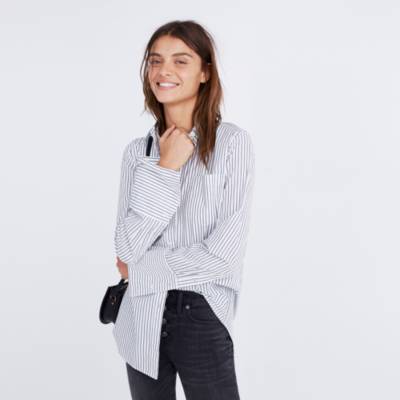 like the Bristol button down also from Madewell and you will never be sorry.
The one color you want to add for sure into this look is red. Either do it on top like a sweater
like Halogen's classic V neck sweater in cashmere.  Or add it on the bottom.
Like Loft's skinny sanded chinos.  You can't go wrong with red in your outfit this season.
The greatest piece you can add to your outfit this season to make it really look school girl sporty is the top piece, the jacket.
The one jacket you are going see in all places is the bomber varsity jacket. It is the piece that makes this trend come alive. This one is from Trouve at Nordstrom.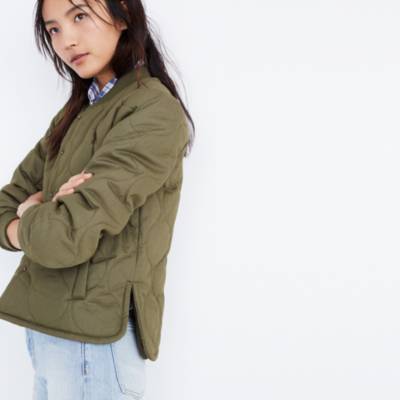 Or pick a quilted military jacket in either red, navy or olive like this one from Madewell. Leather jackets and all other bombers work here as well.  You just want to make sure the jacket you wear with your dark skinny jeans and stripe button down echos the trend.
I am not going to go into detail about denim in each trend unless there is something special about it for the trend.  I will be doing a fall denim blog on its own after we look at each fall trend.
Bags here are nothing surprising.  Backpacks, cross body bags and satchels will all work here. Again just make sure you are echoing the trend.
A satchel like Kate Spade's New York Cameron Street Satchel is neutral enough that it will work with all your School Girl Sporty looks.
A back pack like this one from Rebecca Minkoff in a beautiful navy nubuck would be fantastic with your looks for this trend. And almost all of us already have a neutral colored cross body to wear
(Sole Society) that will totally work with all your looks.
The key to this trend for us is not to dress too young.  You don't want to look like a school girl, just maybe borrow a piece or two from her look and add it to your sporty attire. If this trend is not you, don't worry, there are lots of other things for fall 2017 that will tickle your fancy.
Do you need help figuring out what works on you and what doesn't? Or are you just in a style rut and want to get out.  Please email me if you want to set up a styling appointment. You can email me at Suethefashionista@gmail.com for all your styling needs.  Use that same email for questions or comments about this blog or any others that I have written.
Next week we will look at the Suit trend for Fall 2017.  Happy September everyone and enjoy the month. Back to school and changing weather makes this month a great time to think about fall clothing.
Until next time….