I have had some questions about clothing maintenance.  I talk about finding a tailor or alterationist to make sure what you wear fits your body perfectly.  That falls under clothing maintenance.  I am constantly altering clothing I have had for a season or two to either fit my changing body or adhere to a style I want to achieve.  But what is beyond that? What do you do at the end of the season to make sure the pieces you want to wear the following year stay fresh and tidy? And in season, how do you keep clothing looking it's best?
I am going to tell you right now that there won't be a lot of pictures in this blog, but there will be good advice on how to maintain your garments so they will last years if you so desire.
Firstly, let's talk about those precious items that you own.  It may be an expensive dress you bought to wear to someone's wedding and you want to keep fresh to pull out next year for an event. It may be something beaded that has been handed down from your grandmother or mother.  Or it just may be something you found along the way that is precious to you and you know it will be a style staple for you for years, like that great pair of riding boots or the black cashmere sweater that fits you to a T.
When you buy an expensive dress or piece of clothing it usually comes home from the store in a garment bag. I keep those bags to store those special items in. So when I am not wearing my Hugo Boss black blazer ( that has been tailored to fit me perfectly) it resides in the garment bag.  That assures me that when I go to reach for it next fall, it won't be dusty or dirty ( even though I had it cleaned before I put it away, more on that later) and it won't be creased from hanging on a rack with other jackets. If you don't own garment bags they are quite easily purchased.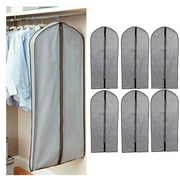 A store like Walmart or in Canada, the Bay or Canadian tire
will have a variety of garment bag styles many of which were under $20 online that you can buy to house your delicate items.  I highly recommend storing delicate fabrics and special clothes like this when you are not wearing them.  One other piece of advice before storing anything in a garment bag for months on end. Before you store it, if you have recently worn it, check for stains, tears, etc. If you find something take it to the dry cleaner right away.  Most dry cleaners also have an in-house alterationist that can fix minor things like small rips, buttons missing, hems that have fallen down and things like that.  Make sure you item lives freely for a few days after dry cleaning as well.  I usually leave the item out of the drycleaning bag and the garment bag on a hanger in my bedroom or the hallway for about 2 days to get any fumes from the drycleaning solution out as well.  Then away it goes in perfect condition until I need it again.  I also really encourage you to inspect any sequined item you are putting away to make sure it's not missing any beads or sequins, especially skirts and dresses.  Things you sit on usually get more wear that things you just wear on top.
I also save any extra buttons, sequins, thread that comes with anything I buy.  I may never need it but if you do and you didn't save it you will be sorry.  I just store them all in the big plastic container and sometimes the buttons are interchangeable between garments, especially the no color ones and I can use them on my husband's shirts if he loses a button as well.
Even for clothing that was not super expensive, you may love an item and decide to want to keep it for next spring.  If it is strictly a summer piece or a winter piece.  Take special care before you tuck it away until next year.  I do wash, or  dry clean those items as well.  I check for stains, odor and any threads.  I try to store anything I want to keep beyond the first season I wear it in a condition that I can take it out of my closet and wear it again immediately.
What about the clothes you are wearing right now? How do you maintain them so they look good all season and last beyond if you so desire. My best advice is to get yourself a few things.  You need a good, portable steamer.  What is a steamer?  
It is an item that basically boils water when plugged in to create steam.  The steam then comes out the top and you glide the device over your garment and wrinkles literally fall right out. The steamer pictured is from Uline Canada and it is the Jiffy Esteam Handheld Steamer.  This is the one I have, I store it on a shelf in by bathroom and use it almost every day to make sure what ever I wear looks fresh. Some people are ironers and they have an iron and ironing board handy to do their clothing when they want to wear them.  I am not an ironer, never have been and never will be.  I love using a steamer.  When I was in the fashion sales business, we steamed every item after it had been packed or put in garment bags.  I find it faster and easier than ironing.  I even travel with my steamer. When my family was in Toronto two summers ago for a family wedding, everyone's suits were steamed in a matter of minutes and no need to pay the hotel to press anything for us. To me a handheld steamer is a must have.
The next thing you need is a well put together sewing kit. By well put together I mean, lots of different colored thread, variety of sewing needle sizes, safety pins, straight pins, a reliable measuring tape in both metic and imperial and a great pair of scissors.  I keep one in a plastic container in my closet for minor repairs like buttons, small tears or sewing up a seam or hem that has fallen or come apart.  I just do minor repairs myself.  I don't own a sewing machine any more  so major repairs go to my tailor.
A couple of other things I have picked up over the years that have come in handy are an assortment of Brazabra products that help me do super quick fixes like
their Talk to the Heel instant hemming kit,
their fashion tape that holds things together or to your skin,
Bra converter clips to help you keep straps from showing in T-backs,
or use adjustable racer back clips, they work too.
They even make Wipe Out deodorant remover in case you get a deodorant stain on something.  The steam from your steamer works as well as getting out white deodorant marks in clothes.  You can find Braza products on their website or once in a while they have them on Hautelook.com and that is usually when I buy them. Braza has shoe maintenance as well.
For maintaining your shoes and boots find a great cobbler.  I take expensive boots in at the end of every season to be cleaned, polished, re heeled or soled if necessary before I put them away.  I usually don't get rid of the expensive boots and shoes I own until they are either completely worn out or out of style. You have to keep salt stains off your shoes and boots in winter.  All my leather and suede I protect with leather protector or all protector spray as soon as I buy them.  Even my runners, I find all my shoes and boots last way longer this way.
If you take good care of all your clothes and shoes.  Follow the care instructions on the label of them, they can last a long time. And if you purchase clothing you love you will want to preserve those pieces so they bring you happiness and great style for a long time. If you have questions about maintaining a certain item that I haven't talked about just pop me an email.  Also you can email me for any style questions.  Want to book a styling or wardrobing appointment?  You can do that by emailing me too. Email me at Suethefashionista@gmail.com for any styling needs. Also don't forget to check Instagram for the occasional style video when I put something unique together on myself or see someone who is rocking what they are wearing. In Instagram I am Sue Hector. Enjoy summer and take good care of your clothes!
Until next time…