Every season there are a few new pieces that we all want to wear but maybe aren't sure how to pull them off.  The last thing you want to do is look like you are trying too hard to look like your 20-year-old daughter or wear something that makes you look older, fatter and not your personal best.
This season there are some tricky tops out in the stores and online. The Crop top, the new Button down, the Cold Shoulder or Off the Shoulder tops and the new Romantic style of tops.  Sometimes you drool over these and they look so great in pictures and on other women but then you are just not sure how to put it all together to work for your body and style.  I am here to help! Let's go through each of them and talk about the way someone in their 40's and 50's might wear them.
The Crop Top:
I have to say I love the Crop top.  I have a few sitting in my closet as I write this.  What do I look for in a crop top? Well first of all, I am only 5'4″ so what is midriff baring on most isn't really on me.  I will only buy tops that hit the waist band of my bottoms or slightly lower, like to the bottom of the waist band.  That is what works for me.
So how does this work on someone who isn't in their 20's.  I tend to wear more casual tops this way.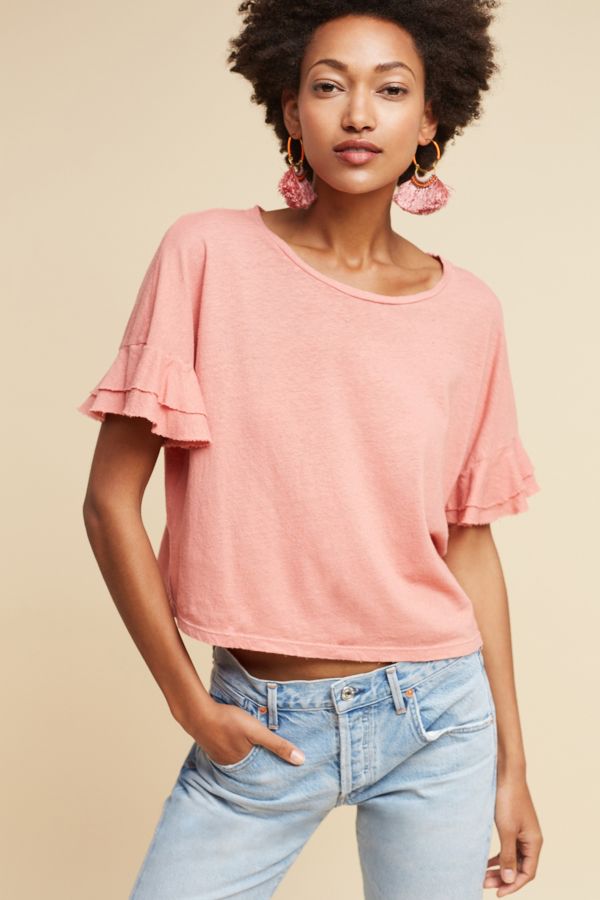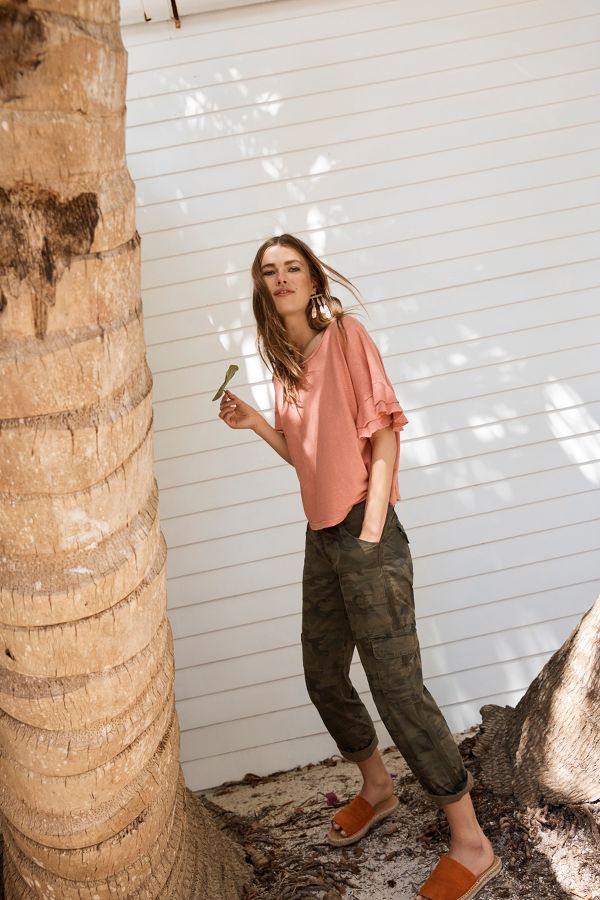 Here is the same Ruffled Sleeve T-shirt from Anthropologie.  You can see that it is a bit shorter and on the model on the left who is tall (and is wearing low-rise jeans) it does show midriff.  Absolutely no midriff showing is the way to wear this top! I don't care how great your figure and body is, save the midriff bearing for the gym or yoga and take it out of your day wear. On the picture on the right the top hits wear we should all be wearing it, right at the waist line of the pant.
Another way to wear the crop top is to wear a top that is crossed over in the back and a little shorter in the back than the front.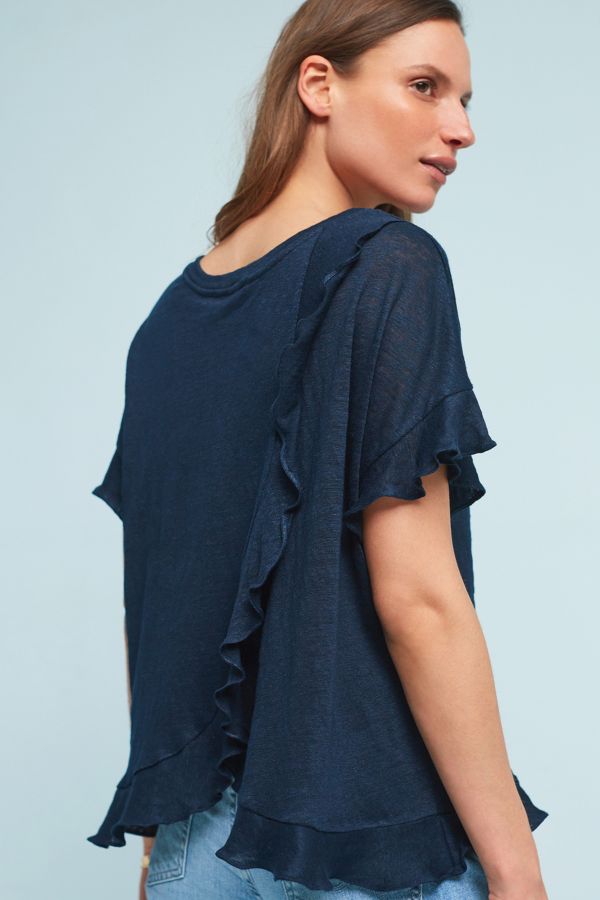 Here is a picture of a Ruffled Cross back top from Eli and Ari at Anthropologie. The ruffle is what hits the waist of the jean and it is slightly shorter in the back than the front.  This is a t-shirt I would wear because the ruffle at the waist line I find very flattering when you want to camouflage a tummy.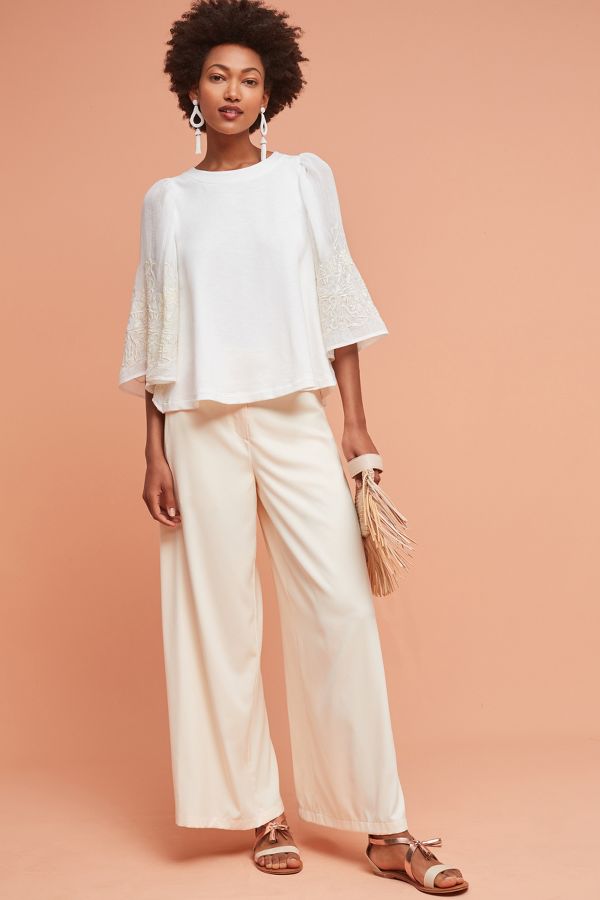 Another way that works on women who are in their 40's and 50's is wearing a top that is wide at the waist with a bottom that echos the width of the top.  I got this look from the Anthropologie website and it features their Embroidered Poncho pullover by Eli and Ari with Wide let pants in almost the same tone. When you wear a similar or the same tones head to toe your automatically look taller and thinner. Here the main detail is in the embroidery and the accessories.  They put nothing to break the great line of the top and pant.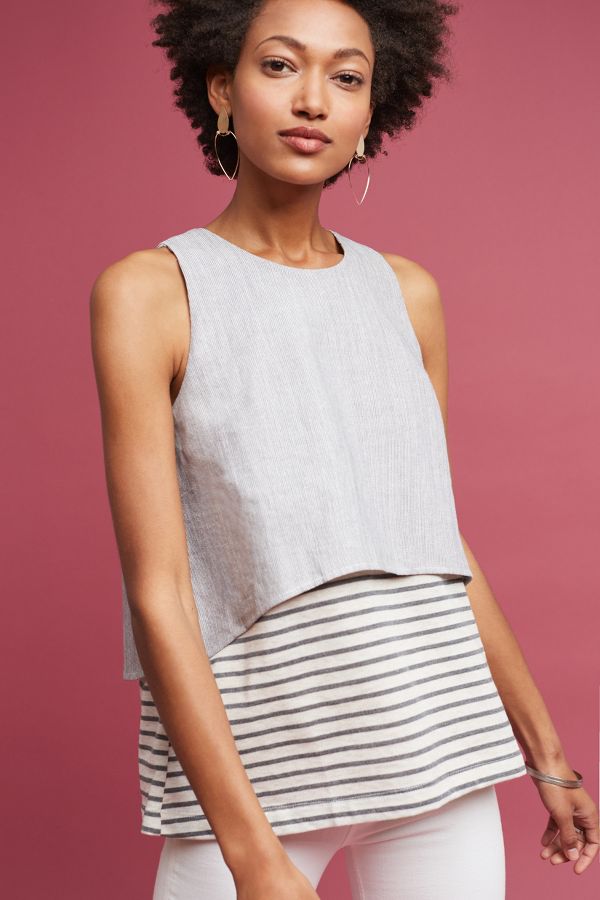 The last way I want to talk about wearing a crop top is by layering it over another longer top. We saw that trend for fall 2016 with cropped vests over shirts. You can take your crop tops that are too short and would be midriff bearing and wear them with a tank underneath.  Just make sure none of it is form-fitting.  the layers need to be loose to have the right effect. This top is one that does the layering for you. It is the Layered and Striped Top by Sunday in Brooklyn at Anthropologie.  This is a great way to wear crops, the layered look with soft flowy layers always looks good in summer.
The New Button down Top:
The new button down tops are varied.  Don't think of the same long sleeve button front shirt that we wear in the winter.  Think lighter and brighter with different body styles and yet still front button.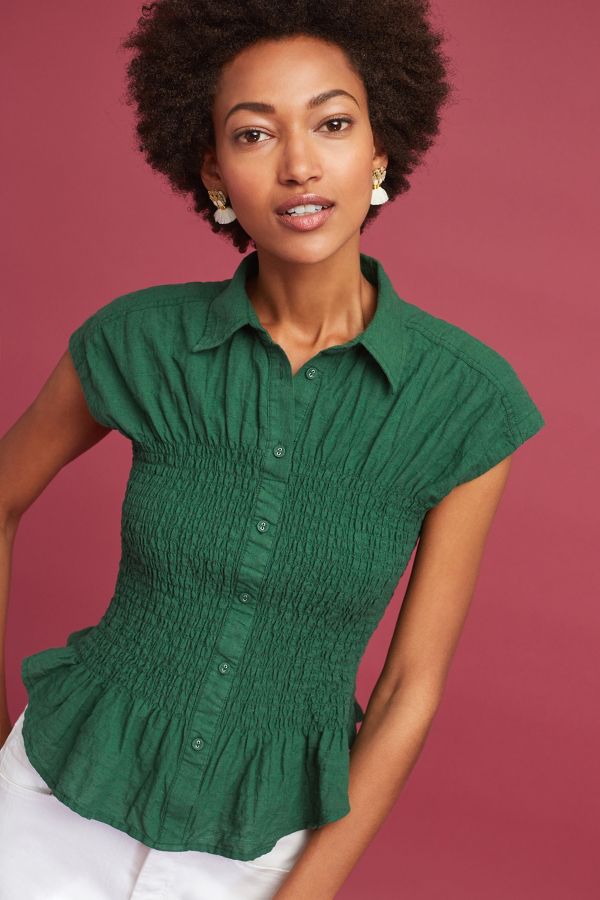 The Bellamy button down top from Maeve at Anthropologie is exactly what is new this spring and summer.  It is fitted and has the ruffled bottom and yet is practical and something you could wear to the office.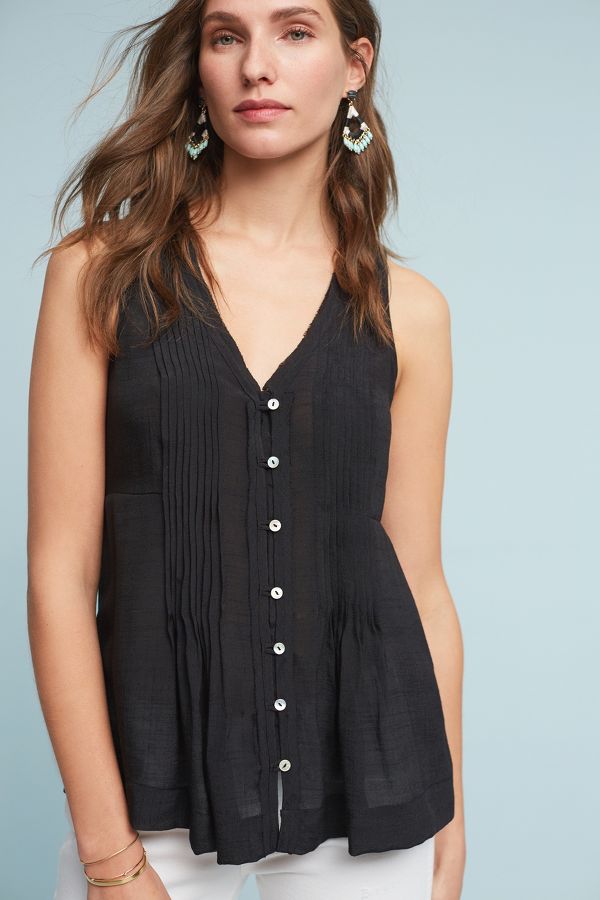 This pin tucked sleeveless blouse by Maeve at Anthro is also a button down.  For summer a lot of your button down blouses can be lighter and even sleeveless.  Wear this top under a blazer or sweater to the office or pair it with a soft pant or skirt for a casual evening.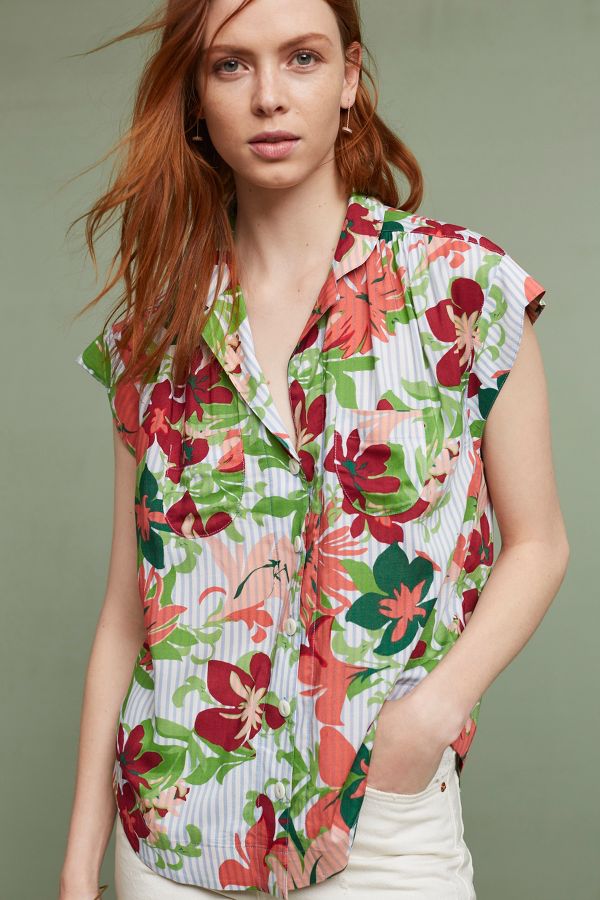 A great new classic button down is this style by Maeve at Anthro.  It is a button down shirt with a cap sleeve, you will see them all over and they are really flattering.  I love that this has a tropical floral pattern that echos back to our Playful Picnic trend and could be worn everywhere.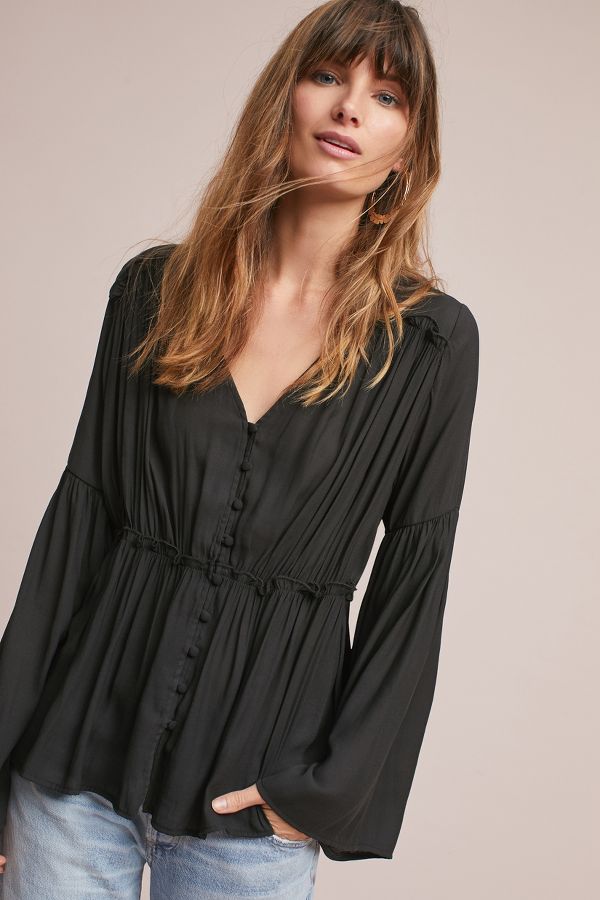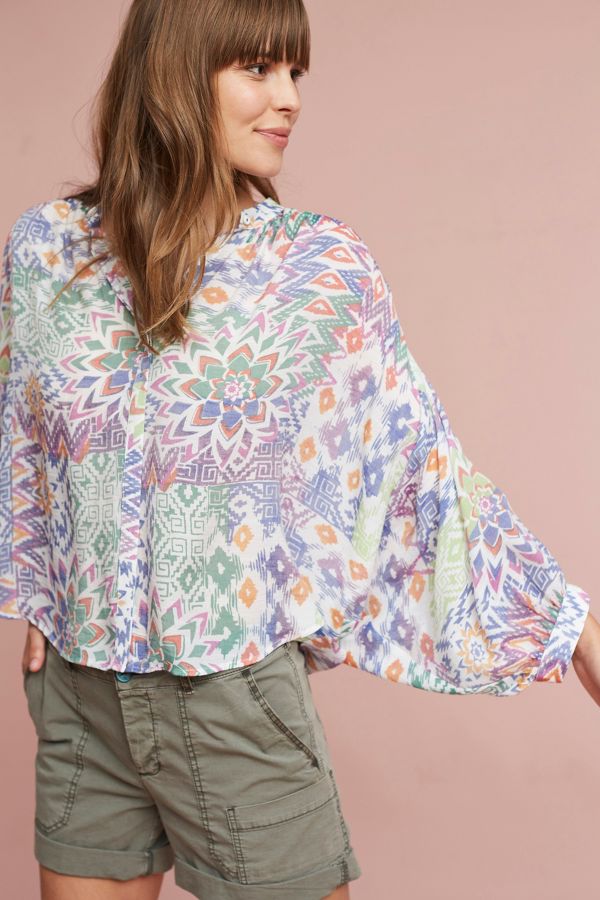 The last style of button down blouses I want to talk about for summer is the ones that echo the peasant style of blouse.  I love the peasant style! It is an easy, breezy style that depending on the color and print you could wear to anything. The blouse on the left is Isa Ruffled blouse by Ro and De and the one on the right is the Bryanna Button down by Maeve and both are at Anthro.  If you go onto a website like Anthropologie or Shoptiques they show the tops and lots of different ways to wear them.
Off the Shoulder and Cold Shoulder Tops:
Probably the trickiest tops to wear but with the biggest payoff if your wear them correctly and they look good! Off the shoulder is not only a top trend, it's a trend for dresses as well.  But before you run out and buy one think about a few things.  Do my shoulders droop or do I lean forward? If you do this and quite a few women do who don't work on their posture, than this is not the top for you.  You can work on your posture by pulling your shoulder blades down your back and rolling your shoulders back. Every woman over 40 needs to work on this, years of carrying children, groceries and working on computers will definitely make your shoulders round.  If you see a personal trainer or go to a gym, ask for them to work on your posture with you, you will see a huge difference! Do you have a large bust? If you do and you need to wear a bra off the shoulder may not suit you, but a cold shoulder top you can wear a bra with would.  If those two issues are dealt with ( standing up straight and wearing a bra) then you can purchase a top that works for you.
Personally I am not a huge fan of these tops.  I have a large bust and have found very few that work on my body.  But I have a lot of girlfriends who are in their 50's who can pull this look off and look great!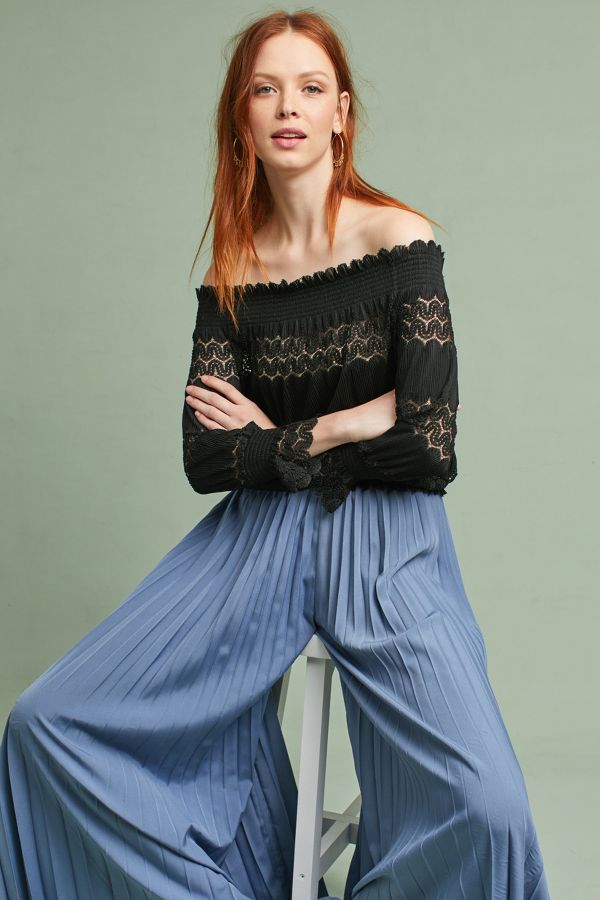 When I think off the shoulder I automatically think of something a woman could wear a bit dressier.  A top like this one from Anthro, the Riley off the shoulder top by Deletta can work with your jeans for a casual daytime look or for an evening look just by changing your accessories.
Nordstrom is a great place to look for trendy tops.  Their house lines like Pleonie, Bobeau, Trouve, Hinge and Chelsea28 have great options at moderate prices.  They are trendy enough and inexpensive enough that you can buy then now and get rid of them next season if the style is not in fashion anymore.  This top is Bobeau Bell Sleeve Off the shoulder blouse.
A great style to wear for an evening event is this Pleat Off the Shoulder Blouse from Vince Camuto at Nordstrom. It is bright and depending on which of the colors you choose ( bright yellow, pink or blue) it works for both daytime and evening.
Even Talbots is showing an off the shoulder blouse this season, of course theirs can be pulled back on the shoulder edge if you need to.
The Cold Shoulder top is much more forgiving of any figure flaws.  Again posture is important for this shirt because rounded shoulders don't look good exposed. But you can find varying widths of straps that can easily hide a bra strap.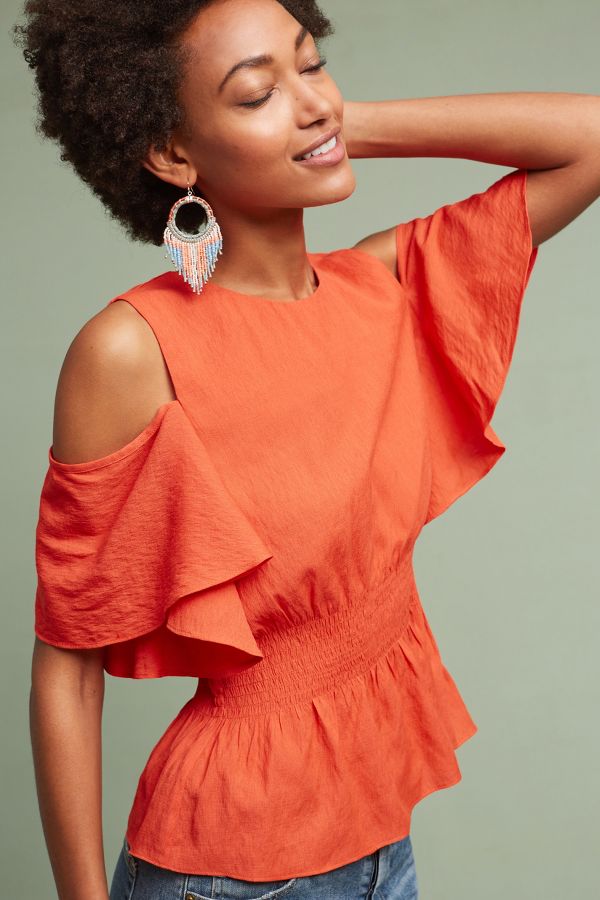 I think this Peyton Open Shoulder top from Moon River at Anthro would be fabulous for this summer.  It exposes the shoulder only, easy to wear a bra with and covers the heaviest part of your arm and cinches your waist.  Everyone would look great in this top!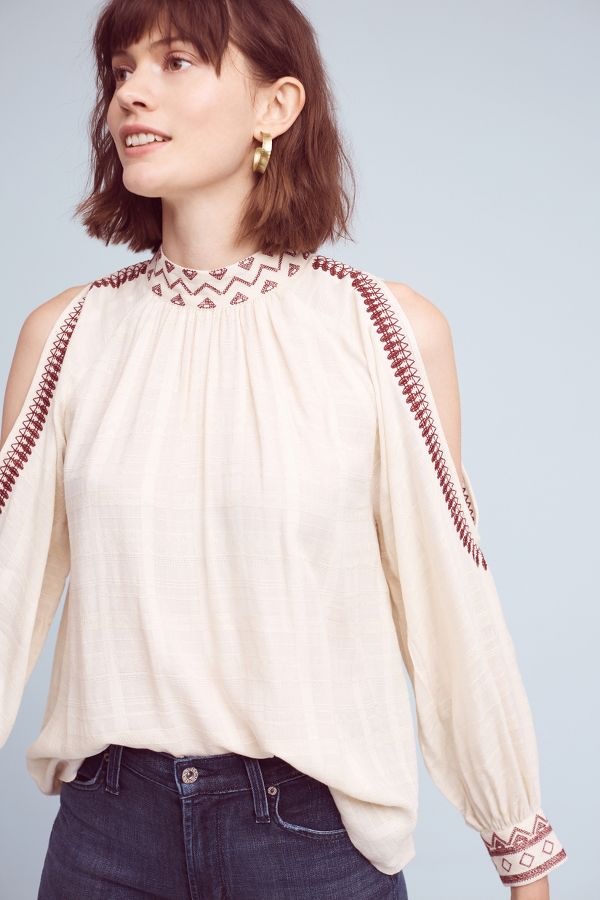 A blouse like this one, the Magda Open Shoulder blouse by Maeve at Anthro is a little understated and can be worn like a regular blouse.  You will see a lot of cold shoulder looks with long sleeves and even ruffled sleeves.  I love the look with a longer sleeve, it immediately makes the top more sophisticated!
Sometimes the best way to wear the cold shoulder top is to wear it, like this Bell Sleeve Cold Shoulder Plus size top from Bobeau at Nordstrom, loose and flowy with just a wide strap to cover your bra strap.  You will see tops like this everywhere.  Try a few on and see what works for your body type.  If you find one that works, it will look trendy and fabulous!
The New Romantic Top:
Every Season we talk about Romantic tops.  And all of the tops we talked about above could be considered romantic as well.  But the new romantic is style is all about ruffles at the sleeve, hem and collar and lace and soft floral prints.  You can find them everywhere. One of my favorite stores to shop for a romantic look is Whitehouse Blackmarket.  You can really find some very romantic tops and dresses there.
Their Drama-Sleeve Draped back blouse is a true winner. It is flowy and feminine and I love the color, they call it Gypsy!
Their Long Sleeve Floral front Lace-up blouse is exactly what I call Romantic.  The lace-up trend is so big for spring and summer and it totally can make your top look romantic.
I just bought a top similar to this one from Pleonie at Nordstrom Rack.  I love that it flows over my waist and has the double tier ruffle at the hip.  The ruffle at the neck with the tie makes the romance of this top complete!
Another nice detail to make a simple top more romantic is to look for one with back detail.  This Cap Sleeve Pleat Back blouse is understated enough to be worn to the office but still has the romantic touch!
A little back detail can go a long way. This is the Pleonie Ruffle Sleeve Cross back blouse and all Pleonie is either at Nordstrom or Nordstrom Rack.  Between the ruffles, the back detail and the print it is a very romantic top.
For summer think about doing something sleeveless when you want to wear a romantic top.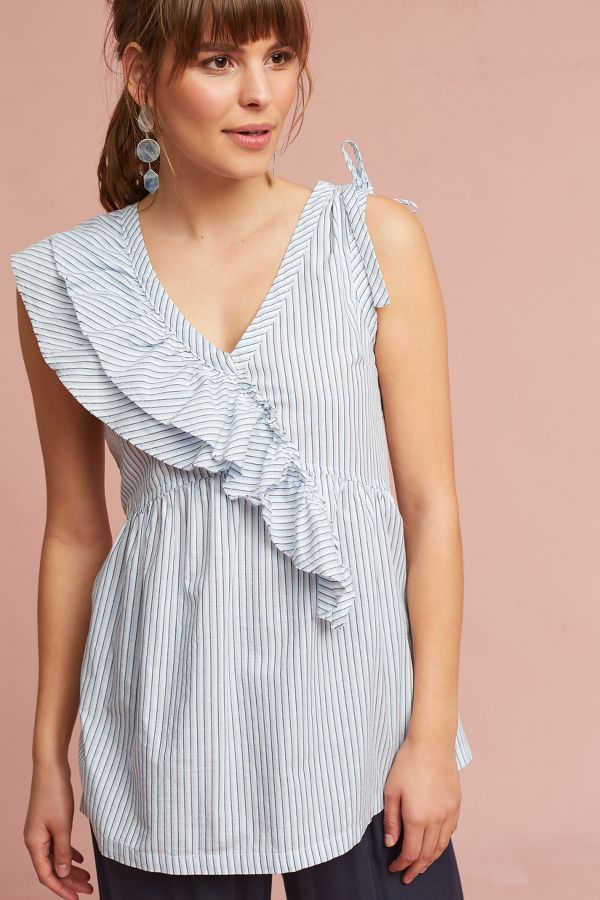 Sometimes a well place ruffle in a sleeveless top (Eveline Ruffled Top by Left of Center at Anthro) is all you need to feel your romantic best! Also think about a print or lace detail to make a top more romantic.  For summer pick a print that reflects the season like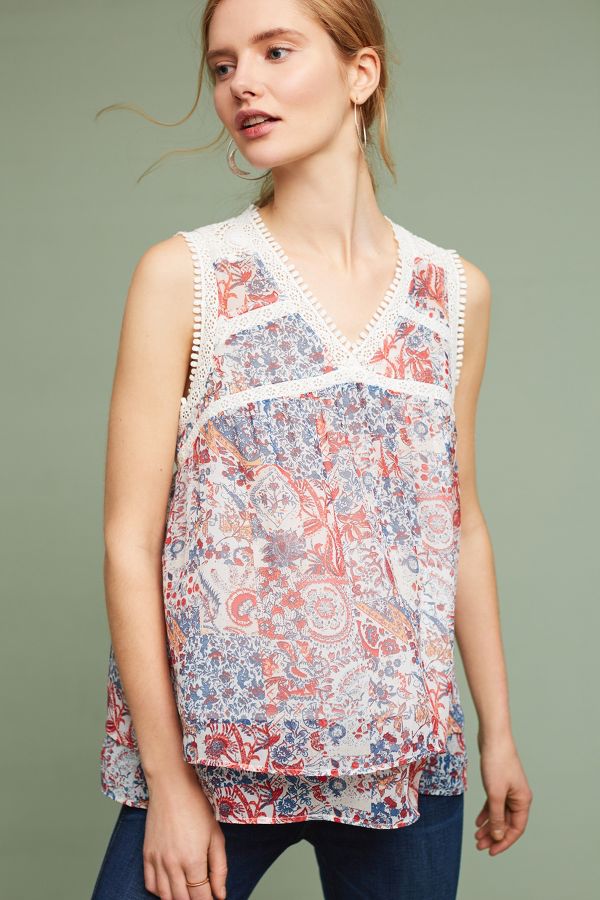 this Santana Lace-Trimmed top by Maeve at Anthro.  Great for a summer BBQ or just for hanging out with friends.
So I hope I have been able to decipher some of the details of this season's trendy tops for you. If you need help with your style and choosing what works or you just have questions please feel free to drop me a line at Suethefashionista@gmail.com I would be happy to make an appointment with you to help you figure out your best summer style!
Enjoy all that summer brings and have fun with your summer clothes!
Until next time…