I have had a lot of requests to talk about spring occasion dressing.  I wrote about this last spring as well.  Not too much has changed from last spring to this spring, but there are new options and things that have become more acceptable, so I thought a refresher was a good idea.
In general it is acceptable to be a bit more casual all around.  Denim is widely more accepted, especially for men when worn with a tie and blazer.  And chambray and denim are now embroidered and jewelled, so they work for almost every casual occasion.  Please see my denim blog from May 24 if you are unsure how to wear denim this spring.
I live by a few fashion guidelines.  And one of them is a great simple and elegant solid color dress will never fail you.   For this I love some of Eileen Fisher's dresses.  Think the Utilitarian theme from Spring, only dressed up for your summer occasion.
Here is what I am talking about.  I bought this Eileen Fisher viscose spandex shift dress earlier this year.  The color I bought was a dark raisin but I also love this rich Ultraviolet, any shade of purple or raising would work so well instead of black this summer.  Here you have it with slides and pretty casual.  This way you would wear it for running errands, sightseeing and other easy activities.  But now let's dress it up. 
Here is a pair of great earrings from Anthropologie, their Springbeam earrings, that would be fantastic with the dress above. And how about putting an understated, yet slightly statement necklace with it
. This one is by Melrose Market from Nordstrom Rack and it is their half-moon collar.  Remember what I said in an earlier blog about the choker trend for spring, for women 40 and over wear a collar necklace and not a choker, way more flattering and you will get the same trend, leave the choker for your daughter.
If you wanted you could do something a little longer, but choose something like this necklace from Melrose Market as well, their Upside Down Crescent Y-drop necklace.  But I prefer a collar necklace with the earrings.  But both necklaces would work.
Then move to a shoe that is stylish and works with the dress.
I like a neutral or metallic shoe with this look. This is the Nora Block Heel Sandal from Vince Camuto and you can find it at Nordstrom. It comes in 5 colors but this metallic gold will work with this dress and probably a ton of others in your closet.  Metallic gold, silver or bronze is a fabulous neutral shoe for summer.
You could also do a mule with this dress.  Steve Madden Classics Mule Sandal at Nordstrom has a great heel detail to add interest.
The other thing you need is a great clutch or small purse to finish the outfit.
This little Abstract Lace clutch from Glint at Nordstrom would work and be a bit understated.
You may even want to invest in something special, like this Kate Spade Evening Belles Zurie clutch.  I have quite a few evening bags and most of them are either things my mother invested in or I have invested in and picked up over the years.  The best time to find a great evening bag is right after Christmas when all the holiday fashion items are on sale. If you own a great metallic evening bag, a black evening bag and one in a great print or color, you will have everything you need no matter what the occasion!
The last thing I would add to this outfit is a flatter shoe to change into if you are on your feet all night.
Any flat sandal you own that is metallic would work with this.  I like this one from Bettye by Bettye Muller Metallic Ace 2 Slingback at Anthropologie.  But you don't have to be so ornate, just pick something metallic or neutral like
this Tali Bow Sandal from Cole Haan.
So that was how you take a basic dress and wear it to an informal wedding or evening event.  For a dressy daytime event that look would work too, just don't pick an evening shoe.  The Vince Camuto sandal would work for both day and night with the dress.
I chose a colored dress instead of black just for interest.  You can do the same thing with a black dress in your closet. If you have a black maxi dress, just make the shoe a little flatter for day.
Here is a black maxi dress by Just for Wraps that I picked up on Hautelook this season.  I love the self choker neck detail.  For an evening event I would wear heels or high-heeled sandals and for a day time event either mules or block heels. For an evening shoe you go quite dressy and elaborate if you stick to black
something like this Ted Baker London Pwimrose 2 T-Strap Sandal would take this dress to the next level.  But I just don't want to wear this dress for an evening dressy event.  I want it to work for daytime and for a more casual evening as well.  So it all comes down to what other shoe would I wear with it?
Of course any black slide or mule works ( Eileen Fisher Kale Sandal) or any metallic or complimentary colored mule works too.
The beauty of the metallic slide is that it works with the dress but also great with jeans, pants, crops etc.  Or try the other trend this season and wear a sandal for daytime with the dress that ties up your ankle. Something like this M4D3 Paige ankle wrap would be great
for lunch or brunch with the dress.
You could even go all out trendy with pom-poms with this Vince Camuto Balisa Embellished Sandal.
Play with your earrings and accessories.  For a dressier look pick one of the newest trend dangling earrings. For evening go with larger drop earrings
these are from Nordstrom Rack and they are the Spring Street Double Drop earrings.  For daytime
play with tassels or pom-poms.
Or both.  Both these earrings are from Taolei and at Nordstrom Rack.
But there are so many other options for spring occasions.  Dresses or Maxi dresses work for weddings, graduations and all evening events.  You just need to follow the dress code. If the event is formal neither of the above options would be my choice. Then you would want to go either maxi or knee-length and solid or a bit more elegant.
I love this Alice + Olivia Embroidered dress from Nordstrom.  The print is trendy but understated because the background is black. 
Or do a bright Fit and Flare from Tahari.  I love the bow detail in the front.  Dress up your heels, accessories and clutch and you are ready for just about any summer evening event. Of course formal also means long  but if you're not the mother of the bride or groom, or the bride herself, it is acceptable to wear shorter. If you do go long, be understated
in something like this Vera Wang Fit and Flare Gown.  Remember you are not the center of attention.
But if the dress code is anything other than formal. And it says something like 'Party Clothes and Dancing Shoes' or 'Elegant Attire' or 'Semi-Formal' then you can be way more creative with what you wear.
For a change of pace I love wide leg cropped pants or long pants.
One of my favorite pairs is from Whitehouse Blackmarket.  I love them so much I bought them ( of course now they are on sale for a great price) and have worn them a lot.  I wore them to a cocktail party with a ruffled top
similar colored to this one from Tularosa at Nordstrom, only mine had shorter sleeves.  And I wore them to a girl friends birthday party with a simple silk top
very close to this simple chiffon hem t-shirt only sleeveless and I accessorized with large fun earrings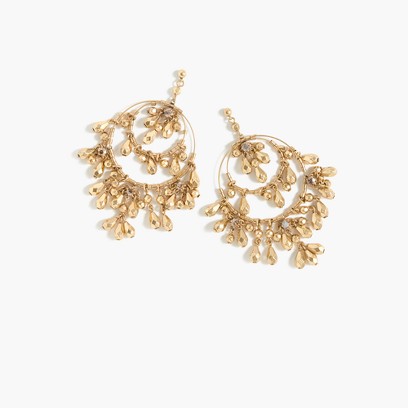 similar to these from J. Crew and a long and short gold necklace. Similar to the layered one above.  Block heel black high sandals and I was set.
Palazzo pants are great to have in your wardrobe in any color.  They are immediately dressy with any high heel and delicate top.  If you own a pair great, if not this is not the season to buy them.  These are from Catherine Maladrino at Nordstrom but almost all the great wide leg pants that I see are cropped or ankle length.  Wear them with your dressiest tops and high heels and you can go anywhere.
I feel like I have gone on enough about this.  For more detail by event check out the blog I wrote last year.  You will find it on my site SuetheFashionista.com there is every blog I have written since I started and lots of great info.
If you have an occasion coming up and want personal advice or help buying the right things that will see you through more than one occasion just email me at Suethefashionista@gmail.com and I am happy to help or we can set up a styling appointment.
Enjoy every occasion you have this summer.
Until next time…