Even though in some places the weather is not cooperating, spring is upon us and the urge to run away for weekends is starting.  Whether you live in the east and head to a cottage every weekend, or you live in the west and look to the mountains or another city, it is all a 2 or 3 day trip.
Last year at this time my husband and I spent 3 days exploring San Francisco.  But get away weekends can include the mountains, lake fronts, desert oasis and visits to another city.  If you are like me, it is hard to pare down your wardrobe to just take what you need for a 2 or 3 day trip.
I still travel in jeans, no matter where I am going.  Even if I am heading to steamy New Orleans in the summer I always travel in jeans.  Sometimes I travel in my boyfriend jeans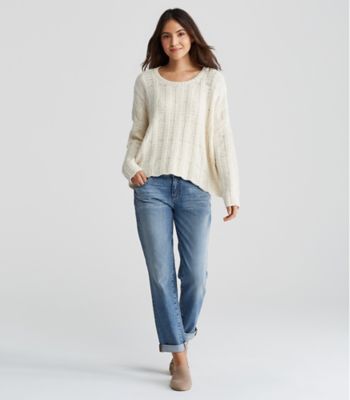 mine are from Eileen Fisher and I wear them all year round.  But for travel days I wear boyfriends and a white t-shirt ( any comfy t-shirt that is still really white).
This is an Eileen Fisher white t-shirt. Frankly I buy Joe Fresh white t-shirts, they are cheap and if they get stained I can afford to replace them. And my final piece is usually a black sweater or sweatshirt depending on the temperature of the place I am going to.
This is a black ribbed cardigan from Alternative apparel at Anthropologie.  It is casual and comfortable for a flight or long car ride.  I wear my 5-year-old light weight Eileen Fisher black swing cardigan for travel.  I find a light weight wool keeps me warm on airplanes and is light enough for almost anywhere ( maybe not New Orleans) but anywhere else.
If you were to opt for something a little dressier than the Anthro one, like this Campbell Bell Sleeve open cardigan from Ann Taylor, you can use it as your evening cover up as well.  A more casual trip you can use the sweater above or go for something like a dressy sweatshirt, if that makes sense.
Caslon at Nordstrom has this lace inset sweatshirt, that you could wear as a top as well without your t-shirt.
Or you could do this Gibson Ruffle Boat neck sweatshirt.  I have one from Anthropologie that is a ruffle hem hoody in black and I still wear it for travel because it is cute and keeps me warm.
Same with shoes and a bag.  I usually wear shoes that I will wear again.  I never or hardly ever do open toe sandals for a trip, but there are exceptions. 
I have a pair of Fly London wedges similar to these and they are pretty much my travel day shoes for spring and summer.  Or I stick with a pair of black ballet flats 
like these from Clarks.  I bought both my Fly London and Clarks ballet flats at Gravity pope but you can get them at Nordstrom.com as well.  For a travel bag I either take a black tote
with a front zipper pocket (this one is Vince Camuto from Norstrom) so you have a place to stash your phone, keys or passport where they are handy or I opt for something I bought last summer and raved about on my blogs,
a Rebecca Minkoff backpack in black nylon with a zip off front pouch that works as a cross body bag.  If I am going to a place like San Francisco where it is touring during the day and dinner in chic restaurants, a backpack like this serves both purposes.
So now you have all your basics, what you need to add depends on where you are going.
If your destination is a city, like San Francisco, LA, Toronto or NY, you need a few more chic pieces that you can mix with your basics. If you take something like a black shirt dress or even casual shift dress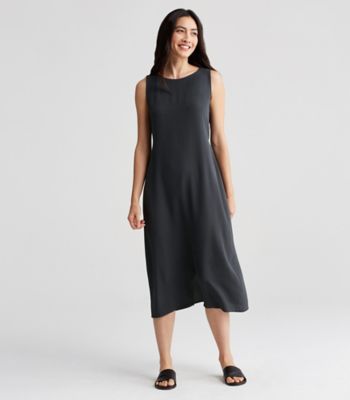 like this sleeveless bateau neck silk dress from Eileen Fisher or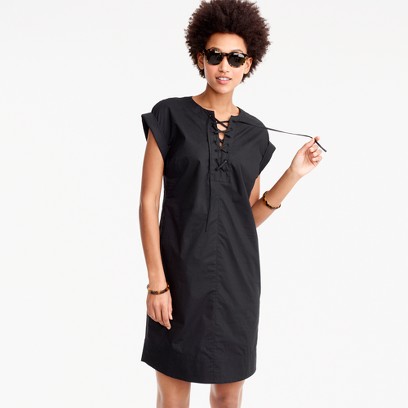 J. Crew's no brainer lace up shirt dress in cotton or even
Theory's Dakiu Rubic tie front dress.  Wear them in black and they can take you anywhere from touring during the day with sneakers
in a shiny metallic like these Vans, to an evening out when worn with chic ankle wrap sandals
from Eileen Fisher.
Then pick a great little bomber jacket with a print that matches or tone on tone.
Something like this Tropical print Vince Camuto bomber would work.  Or bring your inner fierce and do something in a leopard print
like this bomber from Insight.
Throw in a black t-shirt to wear under the jacket with jeans as well.  And there you have it. One bag and just a few items for your trip.  If you want to wear a jean jacket as well it would also work over the black dress.
If you are attending a wedding or graduation, you may want to bring the dress and shoes you need for that one occasion.  But it should still fit into one bag.  In the coming weeks I will do a spring occasions blog again like I did last year, so I will skip the fancy attire for this blog.
If your destination is lake country or beach or even a cabin in the mountains you can really get away with the most casual of looks.
I am still going to advocate for travelling in a pair of jeans.  They will be the staple of your evening attire, even if it's just sitting on the patio having a cold drink. Your white t-shirt still works as you base, or maybe substitute a white tank if where you are going is super warm.
I love Ann Taylor's tassel tank. It comes in black and white and would be the perfect foil for jeans or shorts. Again you can keep to one or two colors and denim.  Shorts are probably also another piece that is great to take. Denim shorts are the ultimate casual short
these are from Whitehouse Blackmarket and I think a bit longer is better.
Or go for a print that will tie back to your black and white.  These are also from WHBM.
Grab a great t-shirt dress, this one is from Bobeau and it comes in 4 solid colors as well as this great stripe that is perfect for a casual atmosphere.  You can even use the t-shirt dress as your bathing suit cover, it is that diverse.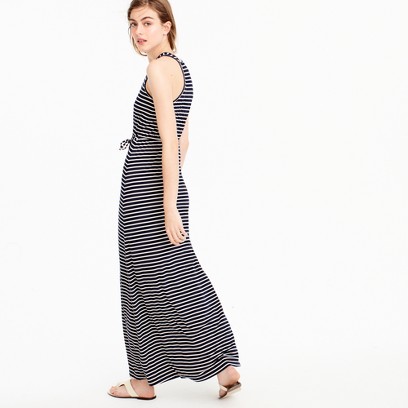 Or if you prefer go maxi. A cotton maxi dress, like this one from J. Crew can work and you can tie the front up if you want something shorter.
Pack another cute top to wear with jeans or shorts, choose something that ties into your shorts and jeans.
A colored blocked tiered shell from WHBM would be great for balmy nights and hot days.
Or choose a top like this Miralyn Lace-Trimmed blouse.  It would also work great over jeans and shorts.
Here is also where you want one top layer just in case the temperature cools as the sun goes down, or the ac becomes too much.  Any jean jacket works here. Denim on denim is a great trend this season and your jean jacket can be your best friend.
Pilcro's boyfriend denim jacket is a great basic for all your travels. But you may also want something like a poncho or wrap, that could be a bit cozy if you need it.
Barefoot Dreams Cozy Poncho from Nordstrom is a great basic to travel with.  Wear it as a poncho or use it as a blanket on a cool night.  I bought a couple of light weight ponchos on Hautelook last spring and I just toss them in my bag or over my jacket when I travel. They are great to have a long.
For shoes, on a casual trip you want to travel in sneakers that you can also wear with your dresses and shorts.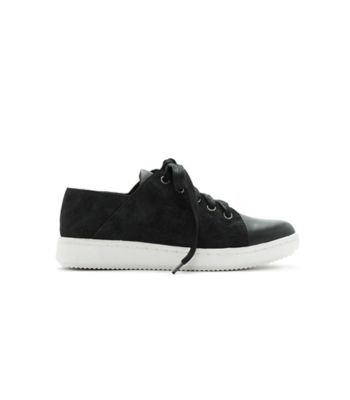 The Clifton sneaker from Eileen Fisher is a great basic that will work when you get home from your trip as well. 
And nothing is better than a classic pair of Keds.  You can find them everywhere.  Pick a color that you love or stick with white.
The other shoe you need for this type of get away is a flat sandal that you can wear a with your jeans and top at night and shorts or dress during the day.
A great pair of metallic studded sandals can take you anywhere.  These are from WHBM.  Do a bit of embellishment on your sandal and then rock them with your maxi for dinner or a party by the lake.
A great straw bag is really all you need to tie it all together.
This one from WHBM is great for your travel day, trips to the farmer's market and just about everything and anywhere you want to go.  It's a great tote that you can even put a cute wristlet in.
A wristlet like this one from Kate Spade will make you smile when you carry it.  The wristlet can be used when you don't need anything but your phone and credit cards.  It's the perfect size for cottage evenings.
Of course you want to throw a swim suit in but I am not going to go into details about swim suits.  If you need to buy one, go to a reputable swim suit store and have someone who is trained help you pick the right one.  I hate swim suit shopping but had a great experience at Everything But Water in Arizona.
For both trips you could take a hat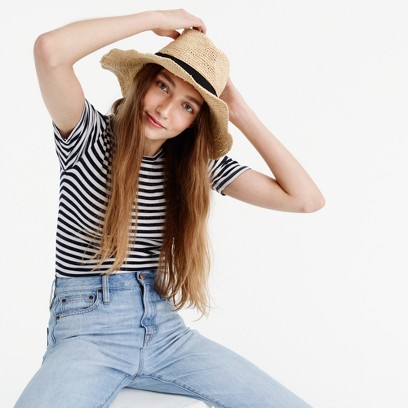 this packable straw hat from J. Crew works for both holidays.  But go to Joe Fresh or Target and you can find the same look for a lot less and if it gets wet or dirty you won't be beside yourself.
One other item I might throw in if I was travelling to either destinations is a kimono. They are super fashionable right now and work with everything.
Choose one like this Isolde Kimono from Anthro that will go with everything you are taking.  It just adds another dimension to your white t-shirt and denim. And you can wear it over your black dress and in a pinch it works as a bathing suit cover up.  So it would serve a ton of purposes.
Where ever you are bound in the next couple of months try to pack lightly.   If you are heading to a metropolis chances are you will want to do a bit of shopping and even at the cottage there maybe some cute little chachkas at the farmer's market you want to take home.  I find sticking to one color story with denim works best for me.  Try your own color story, maybe you want your base color to be Khaki or Navy instead of Black, it can all still work back to white and denim.
If you are travelling and you need help putting a travel wardrobe together I am available to help you do that.  For styling appointments email me at Suethefashionista@gmail.com.  And watch my Instagram ( Sue Hector) as I post new videos every couple of weeks.
Until next time…