Denim is such a huge part of everyone's wardrobe.  Even if you wear suits to work everyday, once you come home, your favorite jeans are what you reach for.  This spring denim isn't just for the bottom anymore. In this blog I am going to talk about 5 different ways to wear denim and how it will work with the rest of your wardrobe.
1. The Denim Dress:
Every spring/summer season the stores are flooded with denim and chambray dresses.  This spring is no exception.  Denim dresses are the it dress for Spring 2017.  And you can find them everywhere and for almost every occasion.
One of the simplest styles to wear is a shirt dress.  This is Talbots version and it is their lace up Henley.  3/4 sleeves let you wear it all year round.  Perhaps now with sandals or wedges and in the fall and spring with tights and booties.  J. crew has their own version of a chambray shirt dress as well.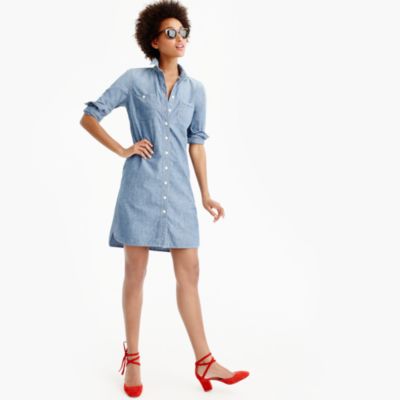 This style anyone at any age can wear.  The chambray is softer a lighter than denim for spring and you can dress it up or down depending on the accessories you choose.
Another super simple style that everyone can wear is the denim sheath dress.  This one is from Bishop and Young and you can find it online at Shoptiques.com. It's very current with the frayed details on the neck, sleeves and hem.
A cute new version of a classic swing dress in denim is this one by Caslon at Nordstrom.  In the dark blue it's dressy enough for a work day or do it in 
a pale washed denim and wear it with runners on the weekend!
The last image I am going to show you in denim dresses is this midi shift dress by Equipment.  Midi is so important for spring and this shift dress will fit with everything Utilitarian you have going on in your wardrobe.
The Denim Shirt:
Denim shirts have been around for quite a while.  This season there are so many different styles of shirts in denim and chambray that maybe you should consider buying one if you don't already own one.  Personally, I wear a lot of denim on top in the summer.  My long sleeve denim shirts become jackets worn open over tanks and I have two sleeveless tops that I wear constantly.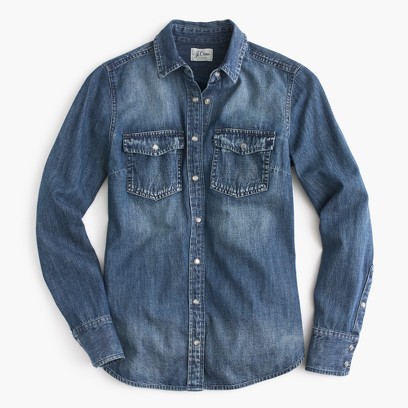 Everyone is familiar with the basic denim shirt.  This is J. crew's version, it's their Western shirt in Chambray.  A great basic denim shirt works over anything.  This season you can wear it tied at the waist over a maxi dress with runners for a casual but updated look. A basic denim shirt can be worn in the winter as well, looks especially great under a sweater with the bottom hanging out over leggings or skinny pants.
But there is so much more when it comes to denim shirts than just the basic.
We talked about Whitehouse Blackmarket's Carpe Diem blouse at the beginning of the season.  This is how you dress up your denim shirt.  The bell sleeve is so important for spring and if you do it in a denim or chambray you can wear it to work and on the weekend!
Another great way to wear denim on top for Spring 2017 is to wear an off the shoulder look. This cotton denim flounce blouse is also from WHBM and it is soft and feminine enough that you could wear it almost anywhere again. We talked about off the shoulder earlier, you know if it is the right look for you, if it's not skip this and move on because there are tons of other great feminine tops.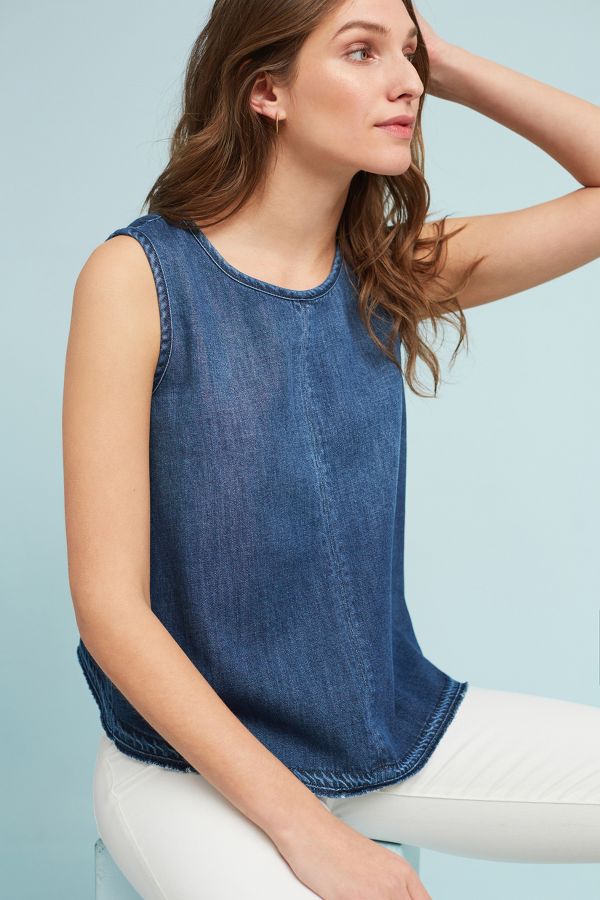 One of my favorites is a sleeveless denim tank style I bought at Anthropologie last year. Here is this year's version from Anthro.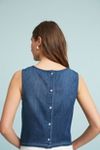 It is button back, so is mine.  I wear it a ton. Great with white jeans on the bottom, skirts and this year I am going to be wearing it with my maxi skirts. This one at Anthro is from Cloth and Stone.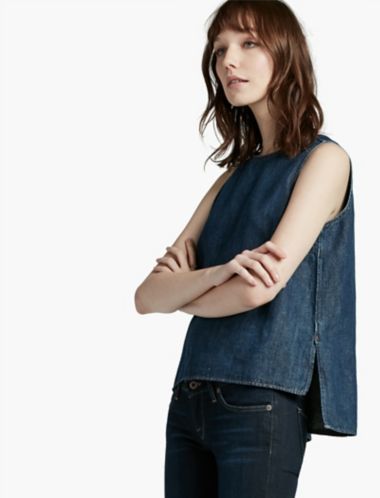 Another great sleeveless denim top is from Lucky Brand.  I have one from a few springs ago that is a soft denim chambray with a henly front, this year they are doing the same fabric in a denim shell and right now it's only $35 online.
But you don't have to stick to basic or sleeveless.  Why not try a denim tunic?
This tunic is Addition Elle Love and Legend Raw denim tunic and it's online at Nordstrom.  This is a plus version but I think it would be great in any size.  The raw edge detail is so Spring 2017 and a tunic will hide what you need it too.  This kind of top is great over leggings and skinny bottoms.
Go online and search for a denim top that speaks to you.  I have just touched the surface and shown you a bit of what is out there.
The Denim Jacket:
Who doesn't love a great denim jacket! Today you can wear a denim jacket almost anywhere.  I wear mine over dresses, skirts, pants and of course jeans. Head to toe denim is still fashionable so a great denim jacket can be worn with anything! If you already have a basic denim jacket ( most of us already do)
you can wear it with all your spring tops and pants. This is Madewell's basic denim jacket.  But if you already own something basic, why not try something new this spring.  Denim is distressed, embroidered and colored. If you are thinking of buying something new why not try something trendy.
If you are looking for something you can wear to the office, WHBM has a denim field jacket with a touch of stretch and finished details.  This type of jacket can be worn to the office over dresses and pants, it's short enough and fitted enough that it looks appropriate.
Embroidered denim is everywhere.  There are so many embroidered denim jackets it should be easy to find one that speaks to you.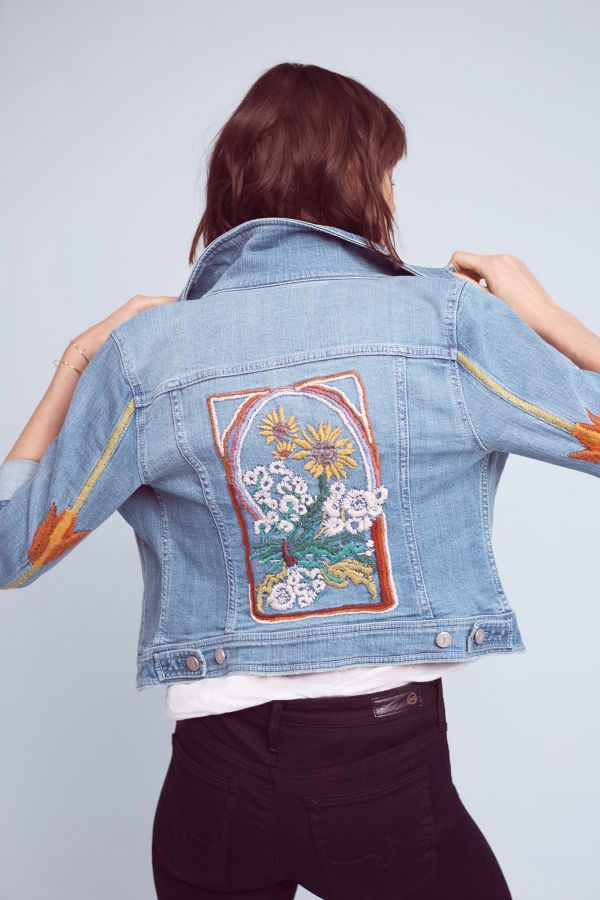 At Anthropologie, Pilcro brand has many to choose from.
Whether you do one in light denim with embroidery on the back or in white denim with soft embroidery all over, an embroidered denim jacket is something you will want to own for Spring/Summer 2017.
Camo never seems to go out of style.  I still wear my camo pants all year round, but why not try a denim jacket in camo. Something different and it is likely not to go out of style as quickly as distressing and embroidery.  And the bonus for this camo jacket is it will look great in the winter too.
If you love distressed denim there are lots of distressed denim jackets.  This one is Kut from the Kloth at Nordstrom.  I am not a huge fan, I like distressing better on the bottom and I find a distressed denim jacket is kind of limiting. But if you love it go for it! Just one caution: don't over do the distressing, leave that for your daughter and her friends.
But why does a denim jacket have to be the same style over and over.  Denim is really the fabric of most of our lives.  So why not wear a denim topper that isn't a jacket.
Eileen Fisher is showing this long shawl collar denim jacket. It's available at Nordstrom.  You could belt this over a dress or wear it open. It's a great alternative.
Also at Nordstom, Chelsea28 is showing this sleeveless denim trench.  Great for the office!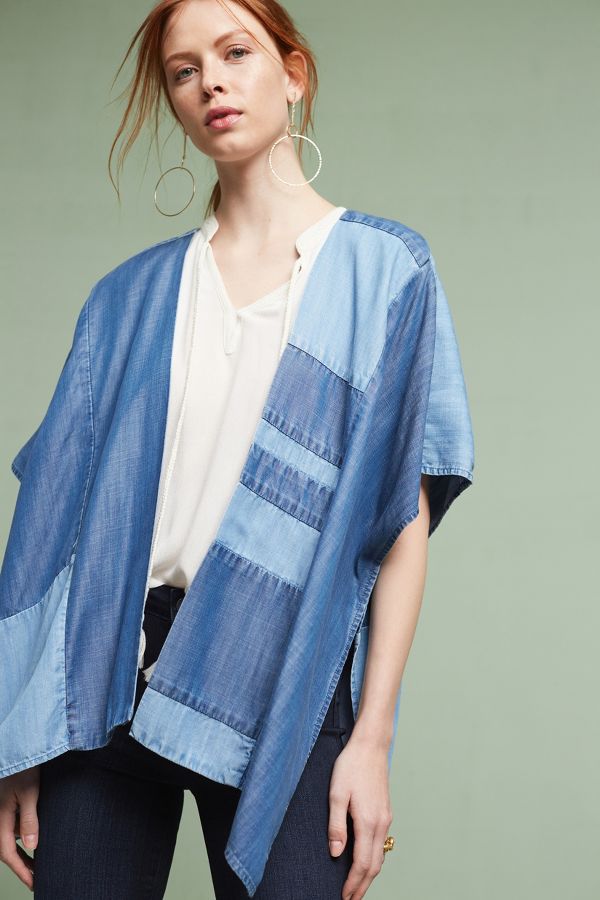 Or go to Anthropologie and try something really different.  How about a denim Kimono! It's by Cloth and Stone and I love the patchwork detail.
Pilcro at Anthro is also showing their version of a patchwork Kimono jacket, although this one looks more like a shawl collar jacket to me.
And if you want a colored denim jacket look no further than Talbots,
their classic denim jacket comes in 7 colors and the yellow, soft pink and white are very trendy this season.
Vests also fall into the category of denim jackets for this blog.  This is a chambray safari vest from Talbots but denim vests and chambray vests are a nice alternative to the jacket.
Denim Bottoms:
How many people own a pair of jeans? I would guess pretty much everyone you know. Absolutely everyone can wear jeans, it doesn't matter what age or size you are, just find a pair that fits you the best. But since I seem to talk endlessly about how good jeans are I will get away from talking about basics in this blog. Let's talk about the denim bottoms that are new for 2017 and how you can incorporate them into your wardrobe. I am not going to go into too much detail because that could be a blog on its own, but I do want to highlight denim trends that are important for Spring/Summer 2017.
So I would say the #1 trend in jeans for this season is embroidery.  It is newer than the crop and wide leg as they were in last year as well.
Everywhere is showing embroidered denim. You can be as subtle as this Embroidered girlfriend jean from WHBM or as elaborate as this 
jean from Emory Park. I ended up somewhere in the middle with a pair similar to these
from Pilcro that I picked up at Anthro in March. I think one pair of embroidered jeans is enough in a women's wardrobe, just pick the pair that suits you best, and like I said above, it is in every store and on every website.
Cropped and wide leg jeans are still super strong.
Crops work in both skinny and wide legs.  This pair of skinny crops is from WHBM and notice the hem, a raw hem is very trendy right now. In this jean the raw hem is subtle and sophisticated and that is what we are looking for when wearing something very trendy.
J.Crew is another great place to find all sorts of cropped jeans in all different washes.
Their Billie Demi-crop boot jean is great.  I love the little flare at the hem and the raw detail.
Even Ann Taylor is getting into the swing with their of the wide leg cropped jean.
And one of my favorite places to find cropped or any kind of denim is Anthropologie.
Pilcro makes a high-rise crop that sits a little higher on the waist. 
Or for fun try Pilcro's Folio ultra high-rise jean with the roll up cuff. But if you don't want to go to wild and you are just trying the cropped trend for the first time 
pick something like this Mother Insider crop high-rise stepped hem jean.  It is a darker denim and has the raw edge. It's trendy and sophisticated all at the same time.
Flare and wide leg jeans are also in style right now.
You can pick a subtle pair to try like these Dojo Wide leg Jeans from 7 for all Mankind at Nordstrom or if you are not into wide but you want to sort of try the trend then go boot cut
NYJD's Barbara stretch bootcut jeans can work in place of a wide leg. I have one wider pair of jeans that are from Jag. But I tend to wear by wider legs cropped and not too long. I am not particularly tall, so when I wear wide long jeans heels are a must.  However the cropped ones look good with almost any height of heel.
The other big trend for Spring/ Summer 2017 is white jeans. Just about every denim line is showing white jeans for this season.  Pick a pair that you can't see what you are wearing underneath.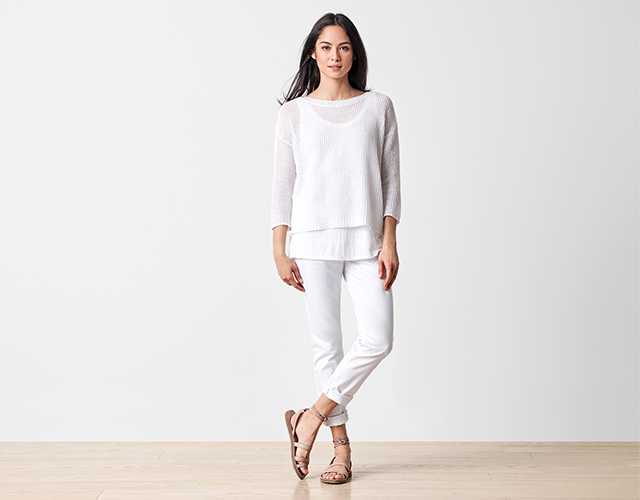 In my opinion no one does white jeans better than Eileen Fisher. In their slim leg or boyfriend jean, it is the first brand I have worn that you can't see what is underneath.  Granted you have to wear neutral colored underwear. But for variety go to a store like Nordstrom or Anthropologie and try one a bunch of white jeans until you find the right one for you. 
These AG Jodie high-rise kick flare jeans would be the quintessential summer jean for this season and you can find them at Anthropologie.
Don't want to do white jeans but still want a color?
Ann Taylor has you covered.  Their Modern Skinny ankle jeans come in 3 colors.  If you want jeans more forgiving to your figure they also make the same 3 colors in a curvy version. Or go to Talbots, their best-selling Flawless 5 pocket ankle jeans
come in 10 colors! Including a soft pastel pink!
And of course not to be outdone, Anthropologie has lots of colored jeans as well.
In all brands including their house brand Pilcro.
Denim bottoms also include skirts. But this season try a maxi or midi denim skirt instead. 
This one from Current/Elliot can be found at Anthro. 
Here is a great high low flowy denim skirt from Nic and Zoe at Nordstrom. The basic mini and pencil denim skirts still are in style, but if you already own those try something different.
Denim Accessories:
Yes, there are lots of other ways to wear denim for spring as well.
How about wearing your denim on your feet? Denim and denim colored sandals and mules are great for spring. Denim is as neutral as beige or black and can be worn with almost anything.
How about a pair of Chambray cork heels for the office? These are not too high and the heel is wider, perfect for a day at work on your feet. Find them at WHBM.
A great pair of Gennifer Kitten wedges will work great for the office as well, these are from Ann Taylor.
A little more casual but super cute are Talbots Ivy Ankle-Strap chambray and pebbled leather flats.  Fantastic with all the maxi skirts and dresses.
Talbots also has a pointed toe ballet flat and denim d'orsay flat
and of course pumps
.  There are lots of other denim styles in shoes at Talbots online.  I encourage you to check them out!
At Nordstrom you can find Michael Kors Hastings wedge in Denim. And lots of other sandals styles as well.
Or go with a denim colored sneaker, this is the Flexx sneak-name Sneaker at Nordstrom.
The other key accessory in denim is your hand bag.
A great denim tote can make your outfit and hold all your stuff.  This one is by Phase 3 and it is at Nordstrom.
Herschel Supply (also at Nordstrom) is showing a denim backpack.
A bit more trendy and just as functional is this Rebecca Minkoff Julian patchwork back pack.
Talbots is showing this quilted denim bucket bag. And this cute little embroidered writslet
. Or get away from the fabric of denim in your handbag and just use the color.
This Rio Pom-Pom clutch is from Anthropologie.
Use your imagination and wear denim accessories for fun and for work.  The bucket tote above would be great with a Utilitarian trench coat. And denim sneakers work for everything in the Playful Picnic trend.  So just have fun with it.
There you have it.  Five different ways to wear denim for spring.  I can stress enough how important denim is for Spring/Summer 2017 and not just in jeans. If you need help navigating denim trends or any trends I am available for styling appointments. Just email me at Suethefashionista@gmail.com to set up an appointment.  I am in and out of town this summer but I am sure we can find a time that would work! Also look for my style videos on Instagram. I post whenever I have a great outfit of something inspired my look.
Wear your denim with confidence.  Pick a trend and rock it.  Remember to make sure what ever denim piece to pick it fits you and looks good on your body.  What looks good on someone else may not always be right for you, use your best judgement and you will always look great!
Until next time…