How do you know if something is right or wrong for you? Does what you wear make you feel good? And happy?  Everyone feels good when they look their best.  In ageless dressing we spoke about how to dress in trends while you progress in years and still look chic.  Finding your perfect look is more than making sure you are not dressing like a 20-year-old.  It is about the pieces and things in your wardrobe that make you look and feel really good.  But finding the perfect outfit means you probably need to build it yourself to suit your own personal style.
It all starts for a casual wardrobe with a great pair of jeans.  I know I say this all the time and every season.  But denim has become such a mainstay of every woman's wardrobe that it is really inexcusable not to have a great fitting pair of jeans. I have to say for me the best fitting pairs of jeans are the ones I have bought from Eileen Fisher. I have multiple pairs and they all fit great and are very comfortable.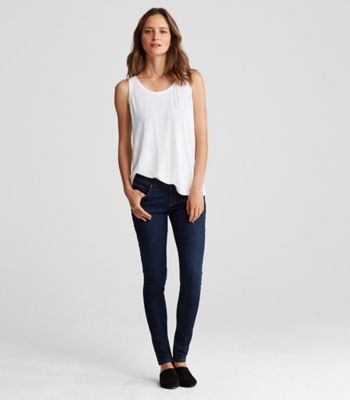 The best pair is their skinny jean.  It really has enough stretch to fit all your curves.  Comes in Regular and Petite. I also have their boyfriend jean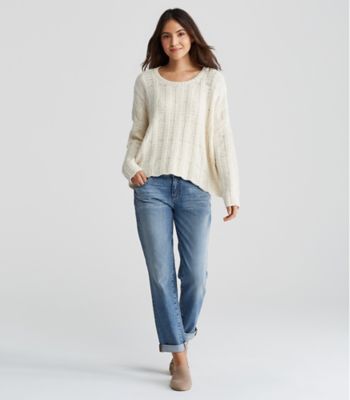 which is just slouchy enough without looking sloppy.  And the above skinny jean in black and white.  I have jeans from other manufactures but these are the ones I keep going back to over and over.  A side from basic jeans, this year you could have a pair with detail or embroidery as well
like these Pilcro ones at Anthropologie or even with an unfinished hem
like these AG Stevie jeans also at Anthro.  Never sell a great fitting pair of jeans short.  One fantastic basic skinny pair and then a couple with either a trend ( like embroidery) or a flared leg and you will always have a bottom that works.
For an office or business look it all starts with a great black suit. I love Hugo Boss for a great woman's jacket and suit. Nordstrom carries a lot of Hugo Boss and I bought a jacket there last fall and they tailored it for free.
This is Boss' Julea Stretch wool suit jacket.  Get it tailored to fit you to a T! Pair it with
the Tulea stretch wool suit trousers and the Vilea stretch wool pencil skirt.
  And you have a suit that will look amazing no matter what kind of work you are trying to face down.  Feeling confident in what you are wearing is like your putting your best foot forward.  And for the business environment wearing a statement suit like this tells everyone else your confident and know what you are doing.
So now we have the building blocks.  Creating the perfect outfit is more than throwing on a pair of jeans and a top, or putting on your suit and a pair of heels. The types and styles of tops and shoes say just as much about your outfit as the building blocks.
For a casual look there are a number of things that will make your jeans shine. Spring tops have every color under the sun and are tons of textures and wonderful ruffles.  Choose a top that compliments your body in shape and color.
Anthropologie's Daisy Chain Silk blouse is the type of top that would be so flattering with your denim bottom. It has the ruffles that are au courant this season and notice the detail on the collar of the daisy chain.  The perfect bit of whimsy.
You can never go wrong for spring with a great white top or blouse with your denim.
It's fresh and clean-looking.  Choose a white top that flatters you.  I happen to love the bell sleeve so this white Lace up Henley blouse from Whitehouse Blackmarket would be something I would put with my jeans.
Embrace spring color, prints and styles.
Pick a top that looks fab on you and makes you feel good, maybe even something like this embroidered Soliel Top from Anthro.  I love florals, so maybe my best new top for spring would be something with a floral pattern and I love ruffles so maybe my perfect top would be something
like Gibson's peplum top at Nordstrom.
But the outfit doesn't end with the top and pants.  There are the shoes, accessories and even maybe a jacket.
What shoes work with what you are wearing?
Maybe a great wedge
like this one from Steve Madden, not too high and great with your skinny, wide and crop jeans.
Or maybe it's this season's hottest shoe, these are from Halogen and come in 4 colors at Nordstrom. Or maybe even a great pair of ankle wrap shooties
from Vince Camuto.  These are fantastic with your skinny jeans!
For a casual look once you have your top, jeans and great shoes you are almost complete.
Accessories can dress an outfit up or down and set the tone you want with just your earrings or necklace.  In my accessories blog for spring I mentioned all the wonderful statement earrings and that with those you may not need a necklace.
I may pick a pair of J. Crew's dandelion pom-pom earrings to go with my floral shirt and booties or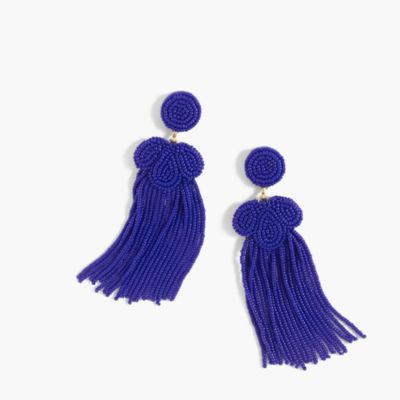 J. Crew's beaded tassel earrings to go with my white shirt and jeans.  Neither of these need a necklace to go with them especially with a blouse or top with a great print or details.  But never rule a great necklace out.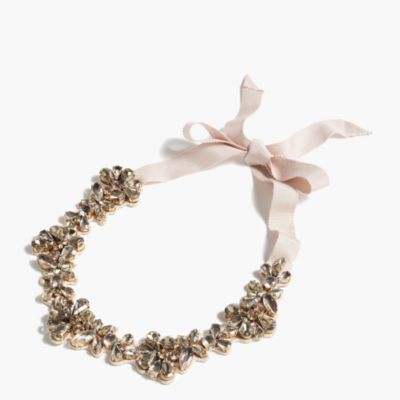 Sometimes all you need is a great necklace and that's it. This season long is also in, so maybe you want to wear
something that draws the eye all the way down your body like this Kendra Scott Rayne Open work tassel pendant.
And bracelets can make a statement too.  I know lots of women who love to layer their bracelets.
My friend Shoshana from Shok designs can always hook you up if this is your look. With a white shirt and jeans an armful of bracelets looks chic.
So now we have created the outfit.  Put it all together and tweak what you need to, take a layer off your bracelets, change the shoe for a higher or lower heel depending on the occasion.
And voila! You have a great outfit as illustrated by this picture I found in my inbox a week ago from a website I love called Shoptiques.  This is what they suggested for weekend wine tasting.  I think it's fab for any casual weekend occasion in the city too. Putting a great casual outfit together is about all the pieces working as one and flattering your body to make you look fabulous!
For the office our building block was the great fitting black suit.  Never be afraid to get a suit jacket or bottom tailored to fit you perfectly.  The nice thing about buying a more expensive suit is that most stores will tailor it for free.  Nothing will shake your boardroom confidence than ill-fitting clothes.
But the black suit can work in so many different ways.  The first thing that you need to find is a couple of wonderful blouses that you can wear with the suit to make it stand out.
Choose a blouse like this tie waist sleeveless blouse from Ann Taylor.  Tie the self belt as you see in the picture or with your pants and jacket. Or
leave it longer and use the self tie as a belt as shown, this is fabulous under your black blazer with your skirt or pants to make your waist look super small.  Black suits and great white blouses are classic and timeless and will always be chic.
A great floral silk T-shirt is the perfect foil for your black suit, especially in a creative environment.  The bold floral pattern on black background from Ann Taylor will make you stand out and people will take notice. Also the contrast of the silk with the stretch wool of the suit as the texture detail that is so important.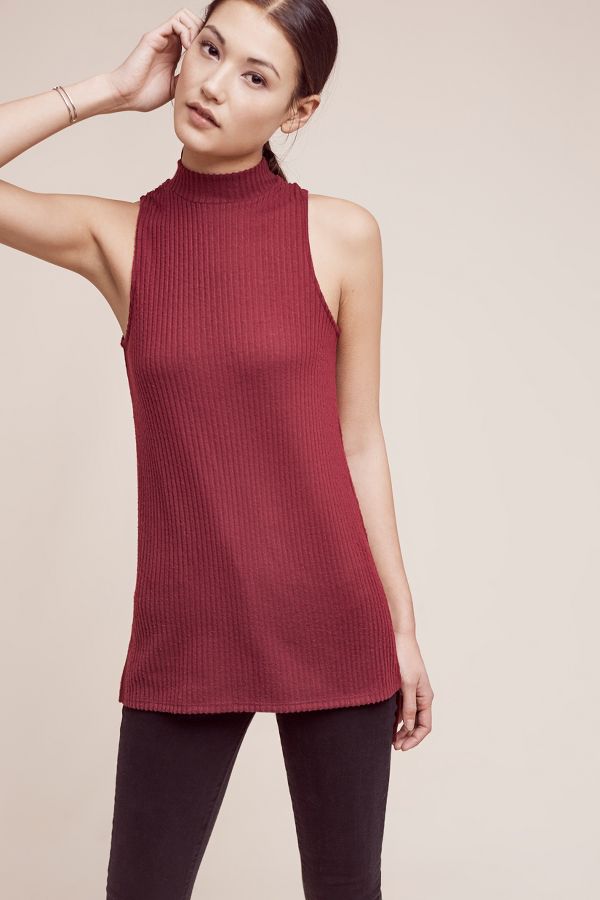 Another go to piece under your suit or over your pants or skirt would be a mock neck top.  This is Anthros ribbed mock neck. And of course a great classic white blouse always works too.  Or for a more casual work environment a denim shirt may be the perfect piece.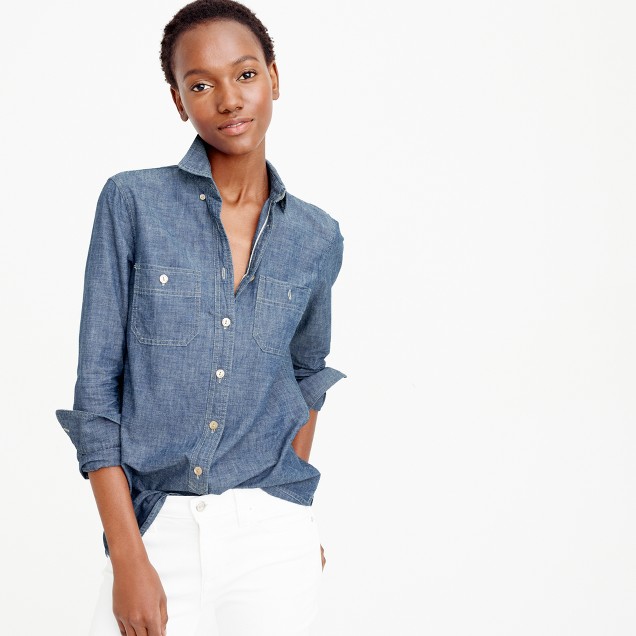 This one is from J. crew and chambray and a chick look with a black suit is the denim shirt with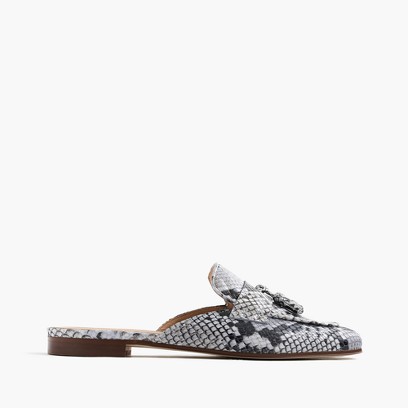 a great snake skin mule or
a great suede loafer and no socks.
But I digress.  So now we have our suit and tops.  Shoes are important for the business look.  And you need to wear shoes depending on what you do for a living.  Strappy sandals with suits has no place in a courtroom and high heels have no place in a construction office.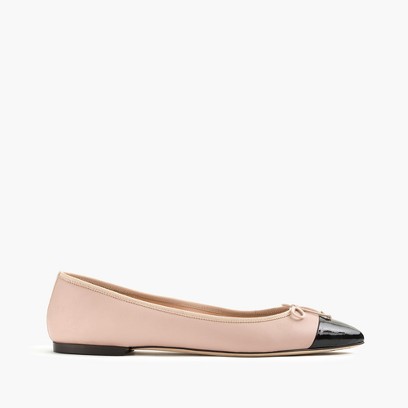 The J. Crew Gemma ballet flat may fit your suit needs or
maybe a fantastic floral shoe ( From Whitehouse Blackmarket) will make your black suit and white top shine.  Loafers as above are great if you are on your feet all day.  So consider what you will be doing when choosing your shoe for work.
But the best part of the black suit is that you can completely deconstruct it as well. Wear your black pants with a different jacket
like this chick check jacket from Talbots.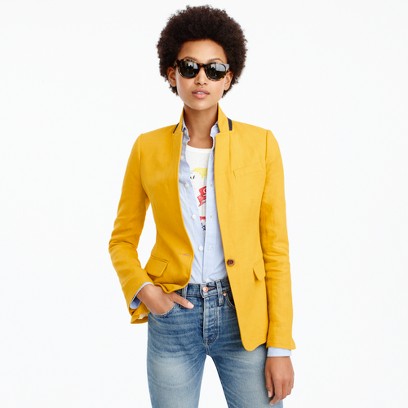 Or deconstruct your suit and wear either the skirt or pant with a fabulous yellow jacket. This one is the Regent Jacket from J. Crew and yellow is one of the important colors of the season. Another great way to deconstruct your suit is to wear your black jacket with different bottoms.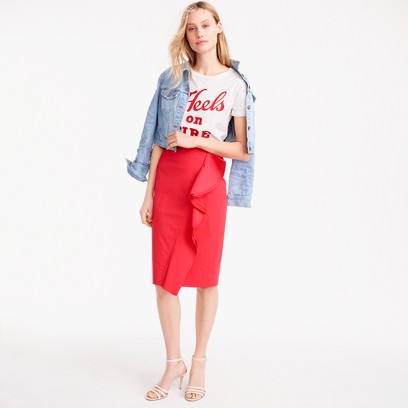 A bright ruffle bottom would be great with black t-shirt and black blazer or one of my favorite looks for a creative office is the black blazer and your fantastic fitting jeans.
You can even wear the black jacket for a business dinner and switch to a skirt with a touch of lace on the hem like Talbots is showing.
Shoes again depend on your office. Pumps should be bright and fun if the office is creative and a bit more serious if you need to be as well.
I have shown this shoe before but I think it's a wonderful work shoe because it can work for both the serious and creative environment.  The block heel and pointed toe is super chic. It is by Marc Fisher at Nordstrom and it comes in 12 colors, so you can do it in metallic or black or even a great print!
Accessories for work should be mostly understated.  But in creative environments you can get away with a bit more.  But remember the cardinal rule here: only one statement piece per outfit in the work place.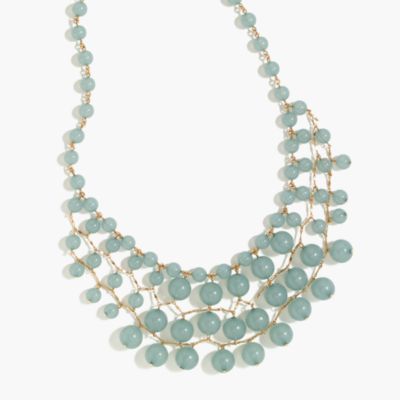 If you are wearing J. Crews cascading bauble necklace to the office then wear simple earrings and simple wrist accessories.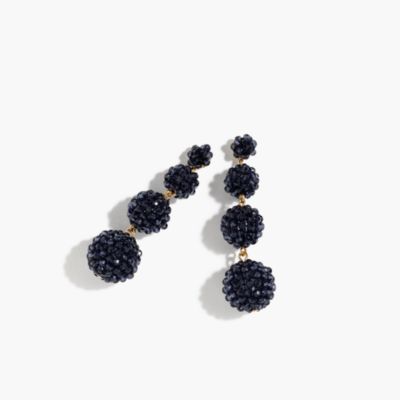 If you decide J. Crews beaded ball earrings are what you want to wear with your black suit and great white shirt.  Then skip the necklace and let the earrings be the star of the show.
I once worked with a girl who wore bangle bracelets and like 20 of them on her wrist.  We heard her coming a mile away and they were a little distracting and I was in the fashion business!  Every time she was showing a customer a garment all they could see was her bangles clinking away.  So remember even for a creative environment if people are looking at your hands, sometimes less is more.
How many times do you look into your closet and say I have nothing to wear.  I hope this blog will help you creat your own best outfit for work or casual by noticing certain pieces you own that maybe you didn't love before.
Need help figuring out if you own the right pieces for you? I do in home wardrobing sessions and help you make your wardrobe into one you love. Email me at Suethefashionista.com for a wardrobing appointment. Chances are there are lots in your own closet you are not even aware of.  Wardrobing is usually a bit longer of an appointment but well worth it when we are done. So just email me and we can work on making you the best version of yourself!
Until next time…