Every season the accessory trends change a bit, but never so much that the classics are out of style.  You will never, ever go wrong wearing pearls or diamonds.  And by the time most women are in their 40's and 50's they have acquired some beautiful jewellery that was passed down from the generation before or you have accumulated over the years.  This blog is not going to be about your fine jewellery.  I am going to talk about what kind of fun or costume jewellery you can wear with the trends and what kind of bags you want to carry.  So ladies, keep wearing all your fine jewellery, it will never go out of style!
I am going to go through type so necklaces, earrings bracelets and handbags in a category for each below:
Necklaces:
Spring necklaces are making statements once again! Bold is in and so is not so bold.  One of the newest looks is the extra long pendant that floats down to your navel area. So what does that mean, it means that the longer the chain or pendant the more the eye is drawn down your body making you look longer and leaner!
A pendant like this one from 14th and Union at Nordstrom Rack can do exactly that, it will draw the eye down to the smallest part of your body, your waist.  This length is particularly great if you are wearing something like a tunic, without much shape to it. Fringe and tassels are super strong when it comes to accessories for Spring 2017.  I don't tend to wear a lot of fringe or tassels in my clothing so
a pendant like this one from Natasha Accessories will do the trick for the trend.  Notice where the bottom of the tassel hits, your waist again. If you want to do a long pendant for an office look with a dress, stay away from the trendy look and go for a classic circle pendant like the one above or something like
this look from Jessica Simpson.  I love a long pendant with maxi dresses especially if they are a solid color, works great to give the illusion of length even for us not so tall ladies.
Another great necklace look for spring is layering long and short necklaces.  Some companies do that for you already or you can do it your self.  Layered necklaces can be long or short, all depending on what you are wearing.
A long beaded chain layered necklace from Spring Street would be fabulous over a long tunic and pants or even over a dress.
A shorter layered necklace like this gold one from Gorjana would be great with crew neck t-shirts, blouses and mock necks.  Even great to frame your neck under a blazer.  I like mixing both lengths as well.
A necklace like this one from Rebecca Minkoff can work with all the outfits you have.  One of my fave transition looks is a v or crew neck sweater over a long blouse ( that hangs out of the sweater bottom) with skinny jeans or slim leg pants.  This is the perfect necklace for that outfit!
Multi layered necklaces are great as well.  They work so well with all the Pretty Prairie and Utility trend outfits and this one from Catherine Maladrino would be fab with denim.
Statement necklaces are usually shorter and hit right around your collarbone area. Although I believe every necklace you wear can make a statement.
Something dramatic like this Crystal Stone necklace from Spring Street is perfect for an edgy look. For an office look stick with something a bit more classic and less dramatic
this Vivianne Statement necklace from House of Harlow would be fabulous over a blouse and under a blazer. If you work in a more creative office environment
try something a bit more eclectic like this Geometric Shape statement necklace also from House of Harlow.  How fabulous would this necklace be to make a white t-shirt and jeans more interesting as well!  We have talked a lot about statement necklaces the last couple of seasons.  I do recycle my necklaces season after season, especially ones like these.  Just make sure when you mean to make a statement with a statement necklace you do!
( Eye Candy LA)
The last category of necklace that is on trend for spring that I am going to talk about is the choker.  Now most of this trend is focussed on younger women but there are chokers that work and are appropriate if you want to wear them.
One that I really like is not actually a choker because it sits a little lower that a choker does. This Botkier open necklace can be worn as a choker or statement necklace, you choose!
A classic choker sits right around your neck.  Only wear this if you have a taut neck, anything hanging down from under your chin will definitely not make you look good.  If you are looking for chokers you will find lots out in stores and online.  Make sure they fit. You can also make your own by tying a ribbon around your neck or tightening a strand of pearls.
This necklace by Leith kind of illustrates what I am talking about.
A more forgiving way to wear a choker look is to tie a small scarf and wear it as a choker necklace.
Take a page out of Ann Taylor's book and wear your scarf like this if you want a business look that has a choker style. Go to the Ann Taylor website to see lots of different ways to tie your scarves to look like chokers. I think this is way more sophisticated than buying a choker.  Almost every woman can wear a scarf this way!
Earrings:
Another huge statement piece for Spring 2017 is the new shape and length of earrings.  Earrings are bolder and brighter.  Classic hoops will always be in style but maybe try something bold for a nice change to your look.
I have shown these before but I can't tell you how great these are.
Any earring, like these from Baublebar at Nordstom, that is colored, tasselled or pom-pom is the way to go for a stylish look.
This particular pair come in 5 different solid and mixed color versions and you can see how much of a great statement they make. 
Earrings with a tassel are huge as well. These are Love Affect silk tassel earrings and they are pretty much ageless. Wear them as your statement accessory in a bright color to hit the mark with jeans, dresses and just about everything this spring.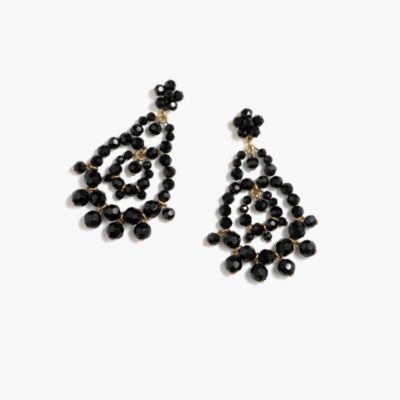 J. Crew is showing this beaded rumba earring as one of their best sellers for spring.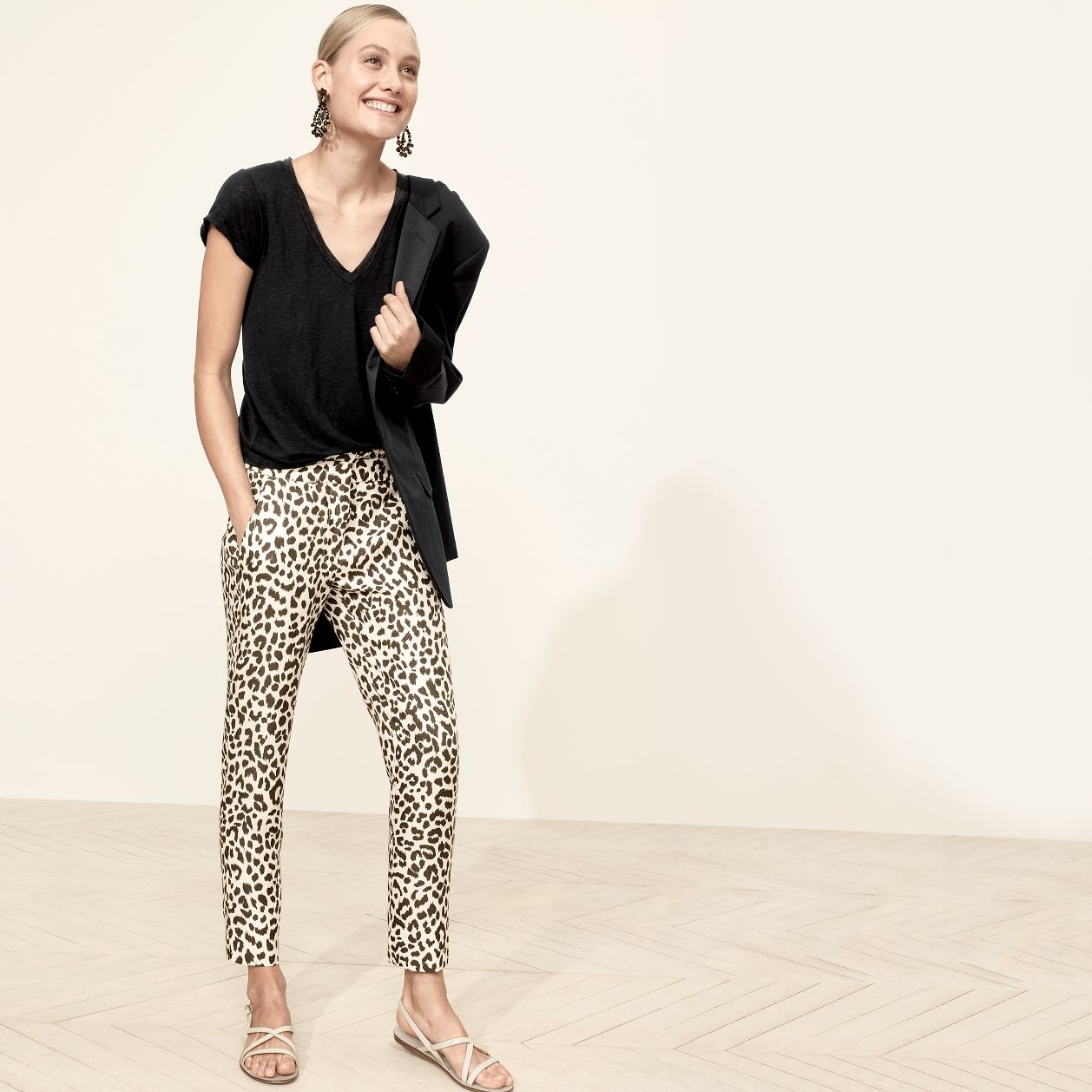 It is featured in one of their go to looks on their website. Even though the animal print is the focus here, look how nicely the earrings accentuate the rest of the simplistic pieces of the outfit. With earrings like these no necklace is required.  J. Crew's most popular spring earring is their pom-pom earring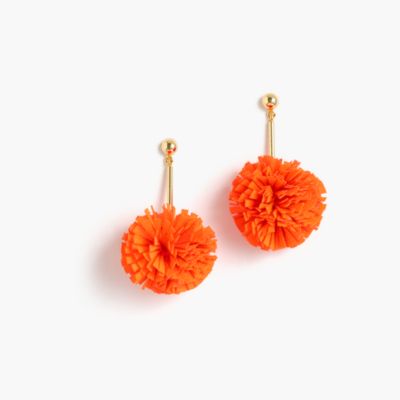 they call it the Dandelion drop earring and it's available in 5 colors it is now backordered because it was so popular.  It again is an ageless earring that is cute and stylish.  Pick a color to match what you want to wear it with.
Spring earrings are all about making a statement.  For fun or going out you can go as big as you want.  For the office try making a statement in a different way.
Do your drop earrings with a pearl, again from Baublebar.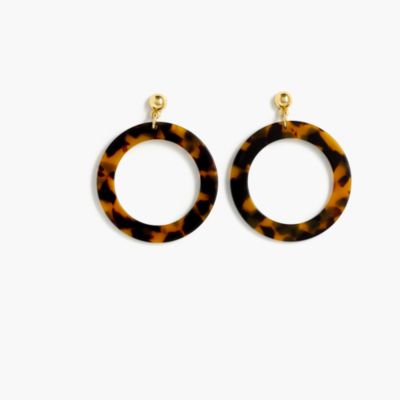 Or do a fun circle earring from J. Crew with your Utilitarian business looks.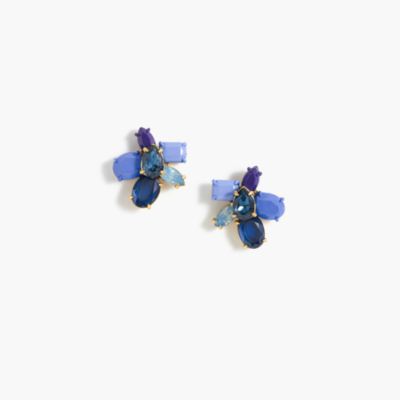 You can even make a statement with studs in J. Crews Crystal Cluster earrings in 2 color combinations.
For your casual looks have fun with your earrings!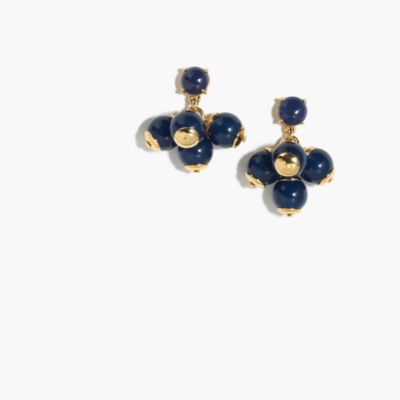 I just ordered a pair like these from J. Crew. Fabulous with all the denim I wear! Or accentuate the pom-pom
with Baublebar's Geo drop earrings. Go online or into a store and explore some fun earrings.  Remember if you are going large with your earrings, don't do a statement necklace as well.  Look at the picture above from J. Crew only one statement piece of jewellery is required to get a sophisticated look.
Bracelets:
Spring bracelets are always bolder and more colorful than fall ones. Cuffs, Bangles and stretchy bracelets are all in for Spring 2017. Try to match the bracelet to the trend you want to try.
So for a playful picnic look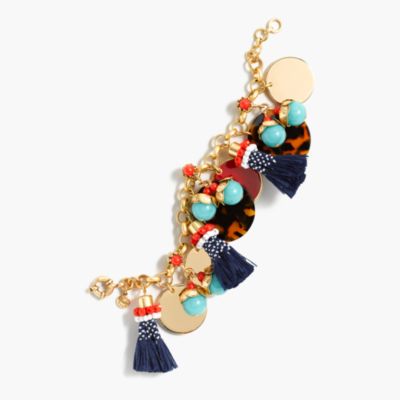 wear a fun tassel charm bracelet from J. Crew.  This will make your gingham stand up and pay attention!
For the Utilitarian trend go streamlined with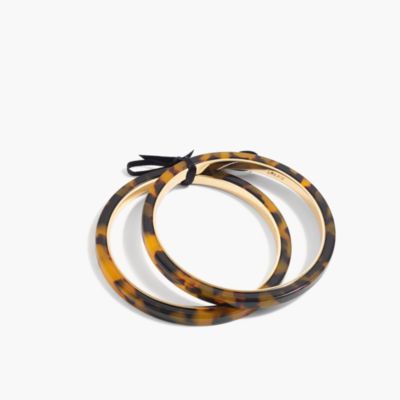 a thin resin bangle set or a think resin bangle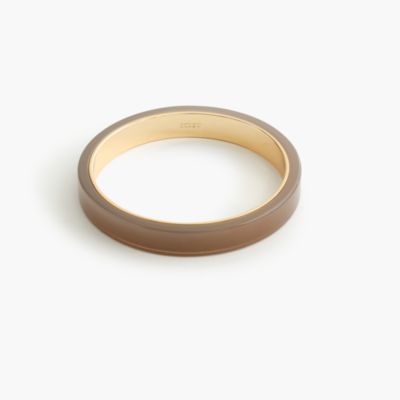 both from J. Crew.
For an edgy look wear a layered chain bracelet
in silver or gold from Jenny Bird at Nordstrom.
Cuffs like this Kendra Scott Nicholas cuff work across all the trends.  As does the
Tory Burch's double wrap logo bracelet.  Wrap away your wrist for every trend, just pick up the key colors for that trend.  Pastel for Pretty Prairie and Bright for Playful Picnic.
Stretchy bracelets and layering stretchy bracelets are still very strong. A great layered set featuring some of the trends like
tassels will work with all your outfits.
Layer what you have at home and create a look like this Chan Luu bracelet.
Another great thing about layering bracelets is that you can mix and match them! I particularly love thin bracelets that stretch and are fabric that you can layer any which way you like.  This is a seasonless look but it is particularly great if you want the Edgy trend to your spring looks.  I discovered a wonderful line of fabric bracelets called Kutula Kiss.  They are hand-made in Columbia by unwed and abused mothers (talk about teaching someone to fish!) and they are not expensive, they range from $18-$100 Canadian.
I found them at Olga's Urban day spa.  Olga happens to be my aesthetical (one of the premier skin experts in Vancouver). They come in all widths and designs.
I took a couple of pictures so you could see all the possibilities with these.  Just choose your color story and layer away.  Great for all the Pretty Prairie looks in the soft colors and I love the black with silver and gold, those colors are great for the Edgy and Utilitarian spring trends!
Here is the contact number for Olga's Urban Day spa if you want to go by and pick up a couple of them.  While you are there maybe talk to Olga about skin care as well.  That would be an added bonus!
Bracelets are to have fun with for spring. Wear all your big colorful bracelets in resin and other great materials. Mix and match your own with the fabric or stretchy ones you find in stores. They don't have to be expensive and put your own touch on it and you'll have something perfectly unique!
Handbags:
Like everything else for Spring 2017.  Handbags and big and colorful or just colorful.  Textures and patterns rule the day for smaller bags and big bags are just plain giant.
Satchels are where it's at and this new line of bags at Nordstrom
from Welden fit the bill. 
The bigger the satchel or tote the better.  Go for a bright color like this one from Leibeskind Berlin or for a casual look stick with a great colored straw bag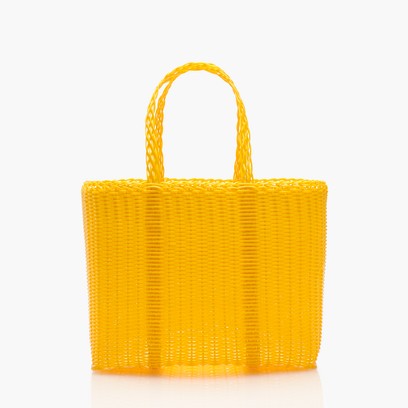 like J. Crew's Parosa tote.
Crossbody bags are still strong because they are super convenient and who doesn't love having their hands free! The saddlebag style is still strong
like this one from Steven Alan Landon, go with softer shades for the Pretty Prairie and Utilitarian trends.
And go for a fun denim version from Ellen DeGeneres to work with the Edgy trend and the Sporty Stripes trend as well.
Back packs have come a long way and are being worn to everywhere from the office to the gym.
For the office try something like this Ted Baker London mini leather backpack in a simple pastel or classic black and for a sporty look
try Kate Spade's stripe version.  You can even wear the backpack girlie this season to work with the girlie trends of Pretty Prairie and Playful picnic
like Fendi's parachute floral bag.
If you are all about edgy then stick to one from Marc Jacobs
that hits the right notes in PVC with zippers.
I tend to buy better quality bags and wear them season after season. I am still carrying my classic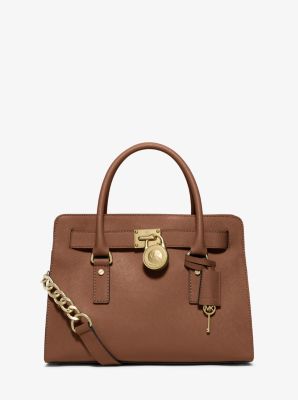 Michael Kors small leather satchel from last year.
And I will probably always wear my Kate Spade pale blue Cameron street satchel.  They change the colors every season but the style is the same.
So with handbags wear what you love.  If you want to try something new then go with one of the new styles above.  I tend to change my other accessories every season more than my handbags, it's really up to you.
Wow! This blog took you everywhere with accessories and I really didn't go into that much detail. If you need help planning what accessories work for your wardrobe I am available for styling appointments. Email me at Suethefashionista@gmail.com to book an appointment.  Also check out Instagram for my outfit videos I talk about my accessories as well.  The main key to wearing accessories is to buy pieces that make your outfit complete and make you feel pulled together. Have fun with it and if you need help I am here.
Until next time…