The last major trend we are going to talk about for spring is the one that covers off pretty much everything else you are seeing that hasn't fallen into one of the other trends.  I am calling it Playful Picnic because it is a smogasboard of prints, colors, checks, florals and whatever else you want it to be.
This is the trend that will take you from Spring into summer. The major focus is on bright colors and patterns. It is the most casual of the spring trends and it is the trend that fits perfectly with almost all of the other trends as well.
When you think of dresses in this trend
think of pretty head to toe florals. This dress from Talbots can be worn daytime or out.  It is cotton with a touch of spandex so it moves with you on warmer days. 
Or pick a dress with a more accentuated floral trend, also from Talbots.  But all the wonderful bright and ice cream shades are also prominent here. 
Talbots ruffled v neck shirt dress in deep pink or windsor blue will be perfect for the office if you want to wear this trend.
Another element that his a huge part of this trend is gingham. And gingham in every article of clothing.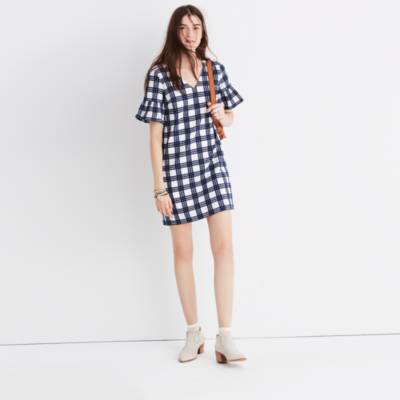 Gingham in dresses, like this bell sleeve shift dress from Madewell. Great worn casually or to a creative office environment. Even designers have gotten into the gingham dress scene this spring
Nordstrom has this one shoulder Carolina Herrera dress for spring and this one is for any occasion you need to attend.
Bottoms in the Playful Picnic trend are all about color and pattern, especially gingham and florals.
Loft has these playful botanic pencil pants, great for casual with a t-shirt and sneakers but just as great with sandals and a solid white top
like this scalloped eyelet top from Talbots.  White tops will go with anything this spring.  Have a couple with a lace or ruffle detail and you will be wearing them constantly. Probably my favorite way to wear the gingham trend will be in a pant or skirt.
I love this black and white gingham crop from Ann Taylor.  Again great with casual sneakers and a t-shirt but just as fabulous with all the ruffle white blouses we are seeing.  Want to take gingham to the office? At Nordstrom there are quite a few pieces of clothing in gingham you can take to the office, out for dinner or any other type of occasion you have going on. 
I am loving this Halogen gingham cardigan. It also comes in 14 other colors and patterns including solid!
Halogen is also showing a classic pair of cropped pants in gingham ( take this to the office with a white blazer).
And this J. Crew puckered gingham blazer is also a winner at Nordstrom with denim as shown or to the office with a neutral or white bottom. If you are worried that gingham on the bottom or a blazer is going to make you look bigger and not be flattering, the way to wear gingham is either in a top
like this ruffle check blouse from Velvet by Graham and Spence.  Or in a shoe
this one is by Jeffrey Campbell and at Nordstrom.  Or in a handbag
like this fold over clutch by Clare V.
And even though we are seeing a lot of gingham in all colors if you don't want to wear it you don't have to.  Maybe try to go with citrus and fruity patterns to illustrate your playful side. Garden prints work just as well too in a citrus or juicy color.
Loft is showing this adorable Rose garden wrap skirt.
I also think this seamed skirt from Loft in scarlet flame is a skirt you could wear with everything including a denim jacket this spring.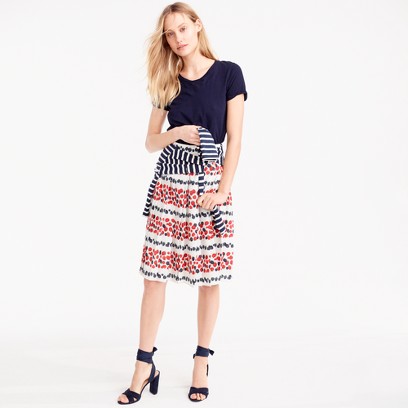 And J. Crew's Berry print skirt can take you to the office and out for dinner.
Any bright color works here too.  There is a ton of sunny and bright yellows in stores and on-line this spring.  Try one in a dress or top.
Loft is showing this eyelet back t-shirt that is dressy enough for the office.
Or try Talbots ruffled neck shell, it will look fabulous with lighter colored jeans. And one of my fave spring tops is from Ann Taylor, you can wear this delicious tasselled top with everything.  
Or rock a sunny yellow chiffon shift dress, this one is from Vince Camuto and at Nordstrom.
Denim works so well with this trend. Think pale jeans, maybe with a cropped and wider leg.
These AG Jodi crop flares in 17 years daybreak wash would be perfect with a bright yellow or gingham top. I bought a pair of cropped wide leg jeans last year kind of like this pair and I haven't stopped wearing them.  With booties in the winter and sandals, wedges and sneakers in the spring and summer. J. Crew has a great pair of chambray pants if you want to give a wider cropped leg a try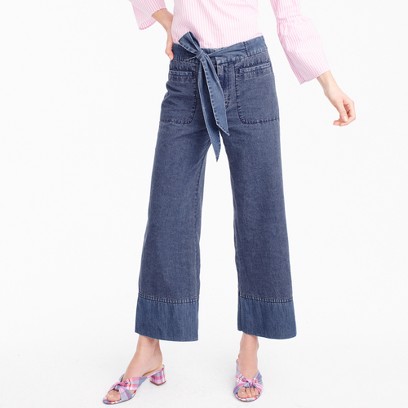 This trend is also where you find short and rompers but since we are all almost 50 or over save those in the bright sunny colors for your daughter and wear your color a bit more sophisticated.
Accessories and shoes also make the most of this trend. The number # 1 shoe for this trend is either a bright-colored espadrille or sandal tied up or a fun sneaker.
A super bright tied up caged sandal works well here too. This one is Sam Edelman.
Marc Fisher's Baylee tied espadrille is something that would make any outfit shine.
Van's classic slip on sneaker come in tons of colors and work with everything.  I am even wearing a sneaker like this with dresses this spring for a casual look. Or do something really fun like Michael Kors flat espadrille with a flower detail
. I will do a spring blog about shoes next week and get into way more detail!
Purses with a pattern or in straw and raffia are summer choices that win no matter what.
Pick a straw bag like this one from Kate Spade that has pom poms ( a go to spring accessory) and bright colors.
Talbots has this sunny yellow shoulder bag that screams summer.
Or grab Talbots gingham wristlet for fun. 
Ted Baker London is showing great print floral bags and they could be your floral piece in a pinch.
Don't forget about sunglasses!
A great pair of shades like these Pantos round sunglasses from Ann Taylor can make your summer look.  I have a great pair of Tom's that I love so much I bought them in two colors!
Jewellery is super fun with this trend.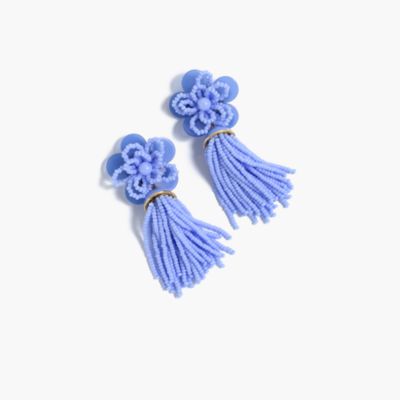 Bold tassel earring like these from J. Crew would be great.
A crystal floral bracelet from Ann Taylor works great here too.
Or go with a bracelet that is stretchy and bright! Also from Ann Taylor.
Any and all floral necklaces work with this trend, you can find them everywhere, this one is from Talbots.
And who says you can't wear your gingham around your neck? This neck scarf is from Rag and Bone but J. Crew makes a cute gingham bandana too
and the scarf work as a necklace trend works so well with everything Playful Picnic!
So there you have it, all 5 spring trends explained.  Next week I will focus on shoes and then I will do a blog about mixing all the trends together to find your own unique spring look!
If you need more help than this blog figuring out what to wear and how to organize your clothes I am available for styling appointments. Email me at Suethefashionista@gmail.com to set up an appointment.  Also watch my Instagram account for style videos ( Sue Hector on Instagram).
Until next time…