We have talked about shopping on sale before.  But January is the absolute best time to buy all the things we have been talking about wearing all winter for half price or less.  If you have planned your wardrobe correctly there probably aren't a lot of things that you really need.  But January is a great month to buy coats, boots, winter accessories and sweaters.  If you inbox is like mine, you get an email every day telling how good the mark downs are on your favorite websites. Besides, right about now you are probably getting tired of some of your winter clothing.  A few new pieces at unbelievable prices does wonders to refresh your closet and your spirit!
 Now is the time to buy investment pieces that you can wear for years to come. Investment pieces are items of clothing that you buy in a neutral color and can wear over and over for years.  Cashmere sweaters fall into this category. Right now at a store like Talbots ( or shop online) there is an extra 50% off all markdowns.  So for example,
your basic black cashmere turtleneck is marked down to $59.50 from $159.00, that means it is $100 off!  If you need a basic black cashmere turtleneck that is really good quality now is the time to shop. If you shop online there are 6 other colors of cashmere turtlenecks for the same price as well. If you need a plus size in the same sweater the deal is even better: Reg. $179 now $59.50!
Another investment piece to buy on sale is a really good coat, that you might not ever pay full price for. Let's face it a really good winter coat costs a small fortune. Even if you wear down and puffer coats all winter, those items don't last forever.  So decide which kind of coat you really are missing in your wardrobe and go searching.
Nordstrom online has this wonderful Cole Haan down filled  puffer for 50% off!  A coat like this will keep you warm for the rest of this winter and the next couple of ones.
How about a great wrap coat!  They are so trendy right now and look very stylish. Nordstrom has them for 30% off.  Buy a classic color and you will wear it for the next 2 years. Coats are an investment.  I bought a few coats the last couple of years on sale in January and I am still wearing them today. A great place to buy functional coats ( those that you can wear everyday and don't have to necessarily dry clean) is Eddie Bauer.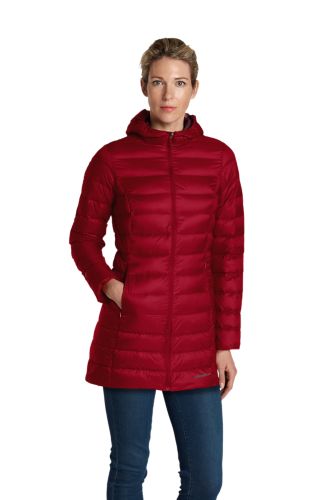 Right now most of their warmest coats are marked down by a lot.  For example this cherry colored light parka is only $59.00 online. I don't know about you, but I could live in a coat like this all winter!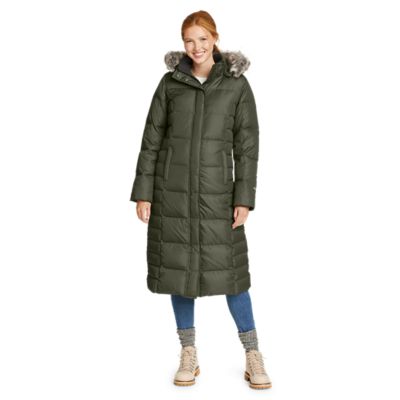 Or if you live in a really cold climate then buy a great down duffel for $100 off regular price.  These coats never go out of style.  Buy a bright or classic color and you will be wearing that coat until it wears out!
Do you remember when the Duke and Duchess visited British Columbia in the fall?  Kate wore some fabulous outerwear that we were all coveting. Well she wore another fabulous piece on Christmas Day!
.
This is a Celeste Coat by Hobbs that she has had in her closet since 2012.  You can echo the exact same look!
Talbots has a similar coat, you will have to add your own leather belt but it's on sale right now for $149.99.  If you are one of those women who thinks the Duchess is the opitome of style and elegance, copy her style.  She has worn this statement coat for 4 years and you can too, if you wear it for 4 years, it works out to cost $37.50 per year.  Not too bad!
One other great outerwear item you could invest in right now is a great leather jacket. We all covet those!  I never can find one that I want to wear for under $500.  A great leather jacket is an investment and something that you will wear for years and years.  I have bought all the leather jackets I own on sale ( I only have 3).  I couldn't reconcile spending full price on them.  My latest great find is from Lucky Brand, I found a fabulous moto style jacket really marked down! It was $525.oo and I was able to buy it for $140.00.  I bought mine in the store but
you can find it online.  A moto style leather jacket is something that never seems to go out of style and you can wear as an outerwear piece of in place of a blazer or sweater as a stylish top layer. I have been looking for a great moto style jacket for my wardrobe forever and was lucky to find one for such a great price.  That is what shopping in January is all about!  Finding a key piece that you have been missing for a price that won't break the bank. Sticking with pieces that can either be outerwear or a top layer how about a fur vest?  We have been talking about this as an important style for the last two fall seasons,  I am certain it will still be important next fall.
Nordstrom's house brand Hinge has this great faux fur vest for 40% off regular price.  The key to this one is the length.  If you are going to buy a faux fur vest make sure it is long enough to cover your derrier, otherwise it really isn't going to work going forward.
The same goes for shoes and boots.  I don't know about you but I live in my boots.  I love tucking skinny jeans and leggings into high boots and love a bootie with my jeans and skirts.  And there were so many fabulous boots and booties in stores and online this fall. Now is the time to invest in a pair that you would never pay full price for.  There is nothing I love more than a great shoe sale! Nordstrom online has a fabulous shoe sale going on.
I know I have droned on and on about how important durable suede boots that are weatherproof are.  So I won't do it again.  But these adorable Aquatalia ( one of my fave brands) is at Nordstrom.com for 50% off. I snapped them up on Boxing day, but really who couldn't use a great classic bootie for half price.  If you are inundated with booties but are lacking boots then take a look at this classic riding boot by Franco Sarto
it is 40% off at Nordstrom and classic enough to tuck everything into for years to come. I really like weatherproof boots so if you are like me and need to deal with rain, snow and salt all the time
the brand Biondo makes fabulous boots.  They are all  classic styles and hardly ever go on sale. Right now Nordstrom has this riding style for 30% in regular and wide calf ( 16″-17″ calf circumference) and it is nearly impossible to find wide calf boots, especially on sale if you need them.
Other things that you can invest in now is winter accessories. One of my favorite stores for stylish scarves and wraps is Anthropologie.  If you go online, all their winter scarves are on sale.
You could get something like this wonderful faux fur cowl scarf for $39.
Or how about this adorable pom-pom beret for $29? Or even this reversible winter poncho 
for $69, half of the original price! A great place to buy classic accessories is Talbots.  One of the pieces you have seen a lot of this fall is the long vest
Talbots' is in 3 colors and half price.  This piece would add a great dimension to your work wardrobe. Or pick up a great cashmere scarf
like this Donegal pull through piece that will keep you cozy for the rest of the winter, this scarf was $99 and now it's only $35! Talbots is a great place to shop on sale, the stores usually have lots of stock and there are always add-on promos, like an extra $20 off or something like that.  I think you should check it out if you have time. And another added bonus of Talbots is that all their vests and ponchos come in plus sizes as well ( in Canada plus is online only).
There you have a quick look at some of the items and ways you can increase your classic pieces in your wardrobe for big savings.  I am all for saving money whenever possible on styles you will wear over and over.
I hope you all had a wonderful holiday season and  Happy New Year.  I am back to work now and it is that time of year when everyone should be getting ready to clean out their closets.  Spring clothing is around the corner and January and February are a great time to really take stock of what you have, what you should keep for next winter and what you can say adios to. If you find this overwhelming that just email me for an appointment.  Nothing worse than walking into your closet when it is bursting and saying to yourself there is nothing in here I want to wear.  I can help with that and we can rework your existing wardrobe to be what you want it to be and eliminate everything you don't want. Right now I have lots of openings so email me if you want to book a wardrobing appointment. You can reach me at suethefashionista@gmail.com. I am booking now from the end of January until the first week of March.
One other things I am going to start doing is putting great outfit ideas on instagram. Follow me on instagram at Sue Hector. Once a week or every couple of days I will put up a great outfit idea I find. 
So please check it out!  I am hoping that I can inspire your style but putting up what I find others ( and myself) wearing.
Until next time…