Since this is my last blog until January 18 2017 I thought I would finish 2016 with a blog that you could refer back to as we enjoy the winter wonderland that has enveloped all of us. Cold weather is no stranger if you live in Canada, but even the Southern US the mercury dips lower in the winter.  And what feels balmy to some of us feels down right frigid to others. So here is how I survive the winter and I hope my suggestions help every one who reads this blog.
Winter clothing:
It likely been a long time since you have worn tank tops, unless like me they become your undershirts all winter long. I tend to buy inexpensive tank tops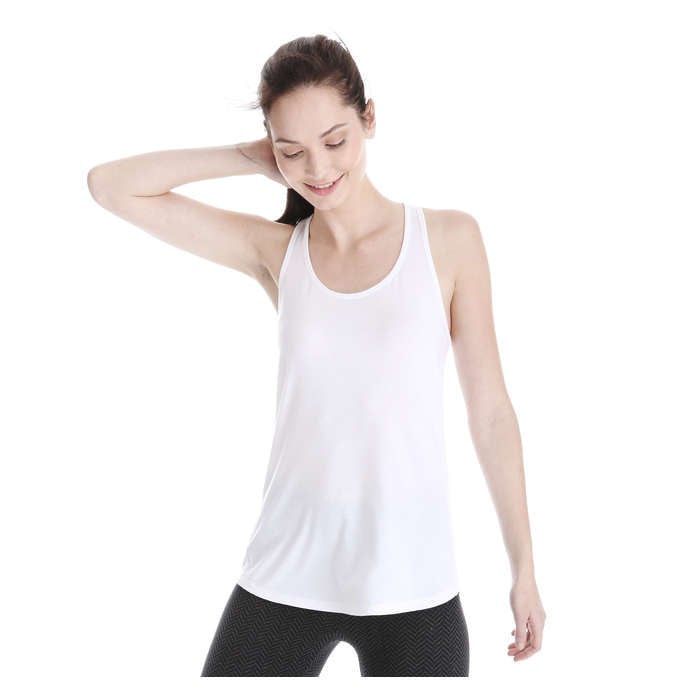 like the ones you find from Joe Fresh for under $20. I buy a few white, black and other colors and I wear them under everything! It really makes a difference and gives you an extra layer of warmth under your sweaters and shirts.
Speaking of sweaters, I have one word for you: CASHMERE.  I couldn't survive winter without wearing cashmere sweaters.  I have talked endlessly about how a black turtleneck and dressy skirt can take you anywhere.  Well, I feel the same way about all my other cashmere sweaters. One of my favorite lines of cashmere sweaters is Philosophy Cashmere and you can find them at Nordstrom and Nordstrom Rack, and every once in a while on Hautelook.com. 
A fringed cashmere sweater like this one is something I would wear over and over, as a matter of fact I do but mine is in black. 
Go for bright colors and fun patterns.  They will make you smile and keep you warm.  If you buy them at Nordstrom Rack they will be under $100 and delivered right to your door in about 10 days.
I also have an open cashmere duster cardigan ( this one is from In Cashmere) and I wear it over everything!
Shirts and blouses I tend to wear them under these sweaters or on their own with a tank underneath.
Plaid shirts are still on trend although I don't wear them.  But if you are lucky and look around you can find them in flannel cotton and that will help to keep the frost from getting close.
Higher necks are also something that can work in the winter. This one is from Loveriche and you can wear it casually or wear it dressier too.
I really like my skinny jeans.  I wear them most of the time.  I think I have said before I live in my denim.  In the winter I tend to wear heavier denim. Talbots denim is much heavier than the other brands I wear and they have great skinny jeans or jeggings
in the harbour wash blue or black
they are perfect for tucking into all your different boots. I also love leggings.  I buy my leggings at places like Anthropologie because they are great quality and will last a couple of seasons.
A pair of French terry leggings in black can be as casual as you want or dress them up with a tunic sweater and booties.  I also love colored leggings
like these Gila leggings from Athro because you can wear them with all sorts of things.  Put an outfit like this together and you will be stylish and cozy.
A great tunic sweater like this Laced Betten sweater will work with leggings and skinny jeans and you will look fabulous.
Another store that has a great casual line of sweaters and leggings is Loft.  They have a line of their own called Lou and Grey.
They have casual tops, sweatshirts, sweaters and dresses.  All of them are knit and work for winter because you can layer under or over them. Just go to Loft.com and you can find it.
As much as I wear sweaters, I also wear pullovers.  This is what I can tops that are similar to sweaters but maybe made of cotton jersey or fleece.  Anthropologie is a great place to find something a bit out of the ordinary and not too expensive
Go online for your self and see all the different variations.  Nothing wrong with being stylish and warm!
I am also one of those people who hates wearing a thin dress in the winter when I have to go out.  So over the years I have invested in a few different ponte knit dresses that range from casual to dressy.
I pulled this picture off of one of the emails I received from Ann Taylor.  I own this dress but in black and it is ponte knit and fabulous.  It can be super dressy if need be.  It is no longer available but any dress that has a detail like this sleeve has can be dressy no matter what the fabric is.
You could also do a sweater dress, this adorable dress is also Ann Taylor and it will be cozy especially with black tights and booties.
Boots and booties are key for looking fashionable and staying warm and dry.  I invest in boots and booties that are waterproof and can be worn for different occasions.  One of my favorite lines of shoes is Aquaitalia.
Nothing is more classic and can be worn with more outfits than a classic suede riding boot.  These from Aquaitalia at Nordstrom are weatherproof.  Which means that they can be worn in rain and snow. What an added bonus! On Nordstrom.com there is an outstanding collection of weatherproof Aquaitalia boots.  You should go online and look now because they will all be on sale after Christmas.  Here are a few of my favorite ones, that would work for any wardrobe to add style and panache.
really and truly you can't go wrong with almost any of them.  Another boot line that is great for winter is Blondo.  I know they have them at Nordstrom and at some specialty stores, like Town shoes in Canada.
They also have mostly waterproof boots and shoes and their winter boots are lined to combat the Canadian winter.
Prices are a bit less than Aquaitalia so for a classic style you may want to go there.
The last brand of boots I am going to talk about is Le Canadienne. 
They have fabulous styles and all are water and snow proof.  But they tend to run even higher priced than Aquaitalia, but worth the money because they will last you for years.
Over the past few weeks I have made a point of saving my favorite pictures of outfits to illustrate great winter style.  I want to share them with you.
These types of looks are great ways of winter dressing.  The first image is a Bobeau Sweater and Kut from the Kloth jeans.  All from Nordstrom. If you look closely at the sweater it has a lace pattern, this is the type of pullover I am talking about wearing.  The second image illustrates a different look.  Sherpa lined jackets and vests are very trendy right now and wearing this Kristen Blake vest, Bobeau tunic and NYDJ skinny jeans ( all Nordstrom) with your booties is a great way to be stylish while staying warm.  The last image is also from Nordstrom and is a soft Halogen knit turtleneck with Lucky Brand boyfriend jeans.  This is something you could live in, staying comfortable and warm while looking fabulous.
These images are bit more for going out casually looks.  The first image is a cashmere crew sweater with wide leg crops and booties, all from Anthropologie.  If you love the wide leg crop look you don't have to say good-bye to it because it's winter, just adjust your accompanying pieces! The second look I love because it's youthful and yet can be worn at any age.  These pieces are all from Cupcakes and Cashmere and Free People.  But a great leather jacket, skinny jeans and shirt and sweater are timeless and so are the booties.  Wear this for a casual dinner out with friends, shopping or to a movie. The third look is one I plucked from Anthropologie because it is so simple yet stylishly elegant.  The sweater is Moth and the skinnies, shirt and booties are all things we already own.  In the winter it's nice to get away from black once in a while and bringing in earthy tones is a great way to do it. And while I was looking at the Anthro site I loved this jacket in the fourth look.  It looks cozy and I love the way it accentuates a waist. Perfect with straight leg jeans for women with curvy figures.
My last group of looks is what I consider work looks. Now some women need to wear suiting for the office or at least skirts and cashmere sweaters.  But a lot of office are a bit more creative these days, and these 3 looks work. The first look is all from Halogen at Nordstrom. The ponte knit cropped flare pants simply flatter everyone.  I would wear them with the patend Aquaitalia booties above in the winter.  But the pop of color from the red vest and untucked shirt will make any woman look great. The second look illustrates options when wearing a dress.  Cashmere cardigans come in all lengths and here from Halogen again at Nordstrom you can match the length of your dress and cardigan.  Tie it together with a smart booties and you look stylish. I love the coat in the third picture. The Helen Berman coat and J. Crew Jeans ( Nordstrom) can work on anyone.  Here it is layered with a denim shirt and casual vest.  For the office I would layer a white shirt, colored vest and black skinny pants or skirt under the same coat, and you look super polished and professional.  Go online and find your own looks that speak to you.  Create your own storyboard of looks you like and when you don't know what to wear refer back to it.  It really helps focus you on how you want your wardrobe to function.
Winter Extras:
I did a winter coat blog a few weeks ago so I won't bore you about going on and on about coats.  But every woman should have a few coats that are functional and stylish.  Your down parka should be warm enough for the coldest days and stylish enough that you want to wear it.
Pick a nice bright color like this red from Canada Goose with a fur trim.  Your coat for work should be classic and styled while also being warm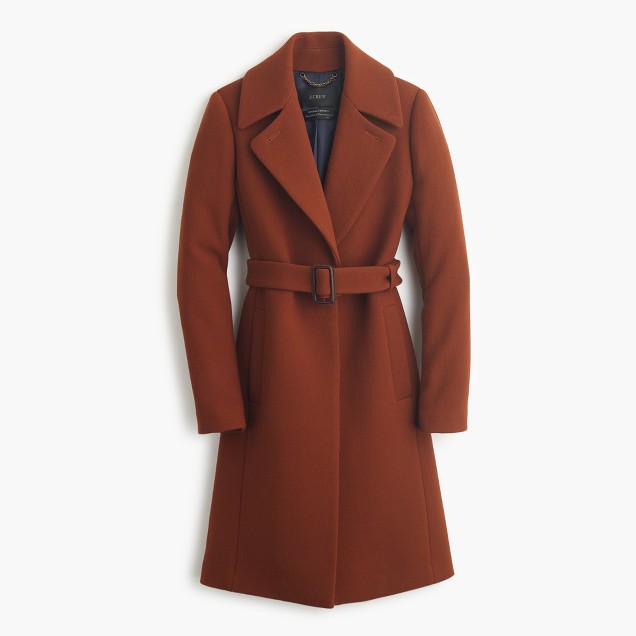 This double cloth belted trench coat from J. Crew does everything a work or classic coat should.  It is polished and yet stylish.  It comes in off white and deep redwood, so nice to have something classic that goes away from dark grey and black. And a dress coat.
My dress coat is from Talbots.  They will all be 50% off after Christmas and I love a dress coat that has a bit of fur trim in a warm lined wool that is long enough for your dresses and skirts.
I also wear gloves everywhere.  Go to a place like Holt Renfrew or Saks and buy yourself a great pair of lined leather gloves.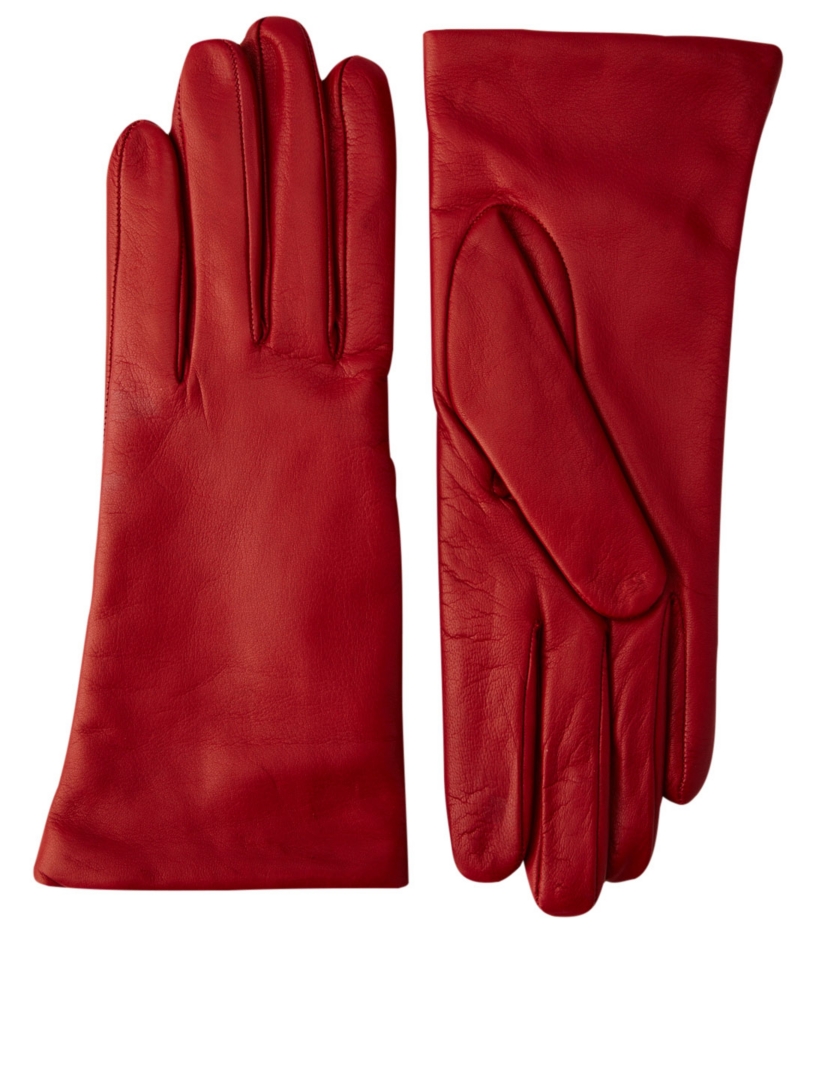 I promise you will be happy in these cashmere lined Holt Renfrew gloves, especially when it goes below freezing temperatures.
Hats and scarves are a must.  I have collected mine over the years.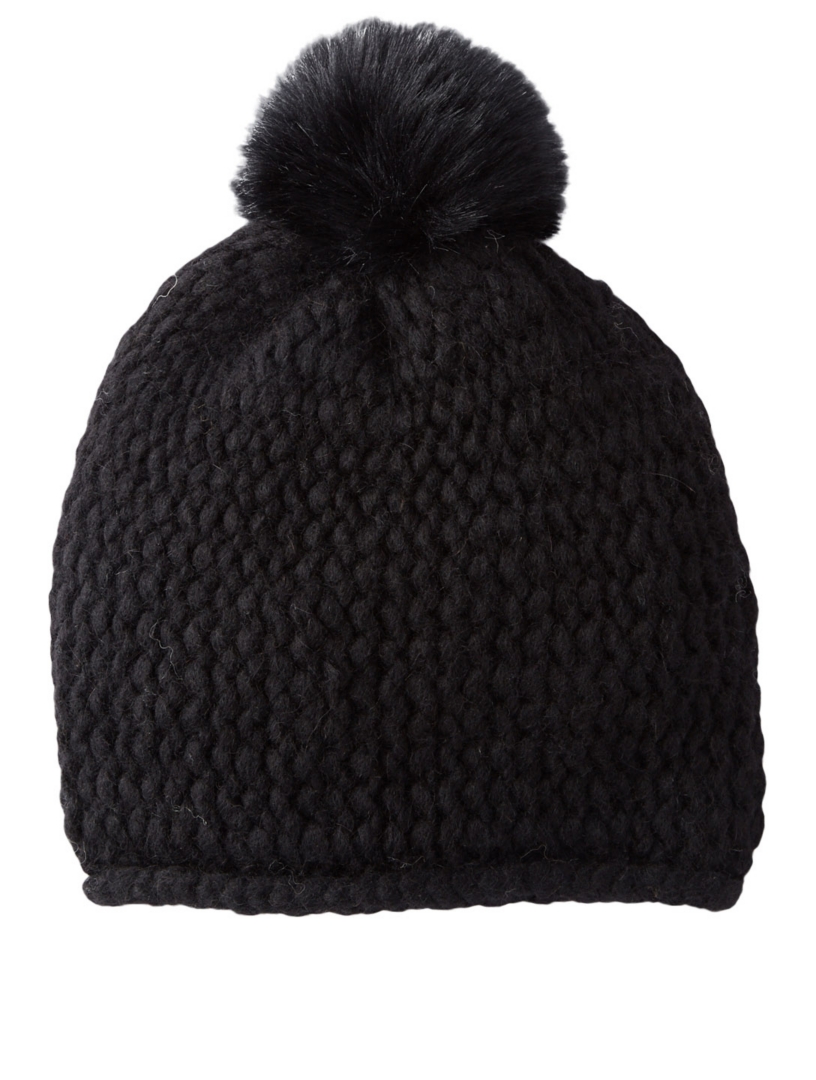 Chunky knit hats with pom poms are all the rage.  In Canada we call them toques.  You can find great ones at Holts as well.
Treat your self to a cashmere or faux fur scarf.  They will be warm and faux fur is on trend this season. This scarf is from Talbots and I think they are 50% off right now!
Don't forget moisturizer!  Winter weather is super drying on your face and hands.  The two areas that we don't tend to cover all that often.  Invest in a good moisturizer and even in the winter you need sunscreen.  You can get away with a lower SPF but the sun reflects off the snow and is the same as reflecting off the water in summer.  When you go to all the trouble of wearing make up the last thing you want to deal with is skin that has been left to the elements.  Go to a good esthetician and get a moisturizer for your face that suits the winter weather and a strong hand cream. You won't regret spending that money.
This is my last blog of 2016.  I hope I have left you with some great ideas to keep warm and stylish over the long winter. Questions or comments can be sent to me at suethefashionista.com. I will do my best to answer while on holidays.  For January appointments you can also email me.  January and February are the perfect times for a wardrobing appointment to clean out all your stale clothes and make room for spring.
I wish you all the merriest and brightest holiday seasons.  Enjoy, however you choose to celebrate and have a safe, happy and healthy new year!
until next time…