Last week we covered off all the dressiest occasions for the holiday season.  And now we have to negotiate every other occasion that doesn't call for heels and a dress or skirt. Which for most of us is almost everything we will be attending or hosting between now and Jan. 1st.
Most of us dress comfortably.  I think I have said it before but I live in my jeans.  Not the same pair over and over but about 7 or 8 pair that I can wear to almost anything. And I totally work that into my holiday dressing.
We left off last week at Office Parties, and talked about this is the one place it's better to be a little under dressed than over dressed.  The looks that I showed last week are for big offices that have more dressy dinners and more formal parties at restaurants and hotels. A lot of offices today, especially if you are in a tech field or a creative one, have a more casual and laid back style and so does their holiday party. As a matter of fact, quite a few parties are more laid back than ever before  so let's start with how to decode that for holiday.
The Not So Dressy Party:
If you are going to a holiday party and the dress is casual or comfortable then you still need to take it up a notch from what you regularly wear.  I am not saying sequins and heels, unless of course that is what works for you, but I am saying something a bit more special than the ordinary.
One thing that you could have in your closet that would never fail you whatever the occasion is a black suit. If it were me, I would buy 3 pieces: a black blazer, matching skirt and matching pant. Whitehouse BlackMarket has a tux collection for holiday. It has jackets, pants and jumpsuits that all work for a dressed up but not too fancy look.
Either the single breasted tuxedo jacket in white or the double-breasted blazer in black work to make a look complete.
They have a black strapless (or you can add the straps) wide leg jumpsuit that would be great for a not so dressy party with either jacket.
Or use their black cargo lux slim pant. This pant and a black blazer can take you to almost any holiday occasion.  You just need to dress up or down your top, shoes and accessories. This type of look is a great starting place if you don't know where to start. If you feel this is a bit young for your style ( it's not, but some may feel that way).  Go to Talbots.  They have a fantastic crepe peplum blazer
and matching pant that will work the same way. It comes in Petite, Regular, Plus and Plus-Petite.  So you will find the fit for you.
They even have the matching skirt so you can do all 3 pieces.  This type of jacket and pant are so flattering and will  work for every occasion (and every figure)again depending on what you wear with it.
So starting with the above for a not so dressy party you would wear the pant and the jacket. If you are going somewhere a bit dressier wear a very pretty shirt underneath.
This sleeveless ruffle front shirt from Ann Taylor would be great with a tux jacket and black pants.
If you want to be even more dressed up use a little sequin top like this one from Michael Stars.  This top would pair great less dressy with denim as well.
If the occasion is not as dressy as a suit, then pull it apart and wear the pant or the skirt as a separate. I use black pants for everything and with everything in my wardrobe. If you are getting together for dinner with friends try your black pants and a dressy sweater together.
Something like this embellished split back sweater from WHBM would be great with your black pant.
Or try this adorable crystal collar sweater from Ann Taylor.
Another way to switch it up is to just use the jacket. A black blazer will take you anywhere and you can wear it endlessly. Ann Taylor is showing a black blazer with these pants
and a white blouse
they pair it with a velvet black blazer but our tux one or peplum crepe one (or the one in your closet) will work just as well. The black blazer on its own can be worn with any bottom to make it a bit more dressy. 
The above pant can also be worn with a dressy black top like this one from AT if you don't want to wear your blazer.
Speaking of blazers, another great piece to own is a velvet blazer.
Ann Taylor is showing a great classic black velvet blazer.
WHBM has this on their denim page online. Dressing up denim with a velvet blazer is a wonderful holiday look. It can take you from a gift exchange to a casual new year's party.  It is a great look for a casual party with friends. And we will get to talking about all the ways you can wear your jeans for holiday in a bit. But right now I want to focus on the tops.
Here in a nutshell is how to use what you have in your wardrobe: if you have a basic bottom, like the black pants and skirts above. Wear a dressy top or blazer.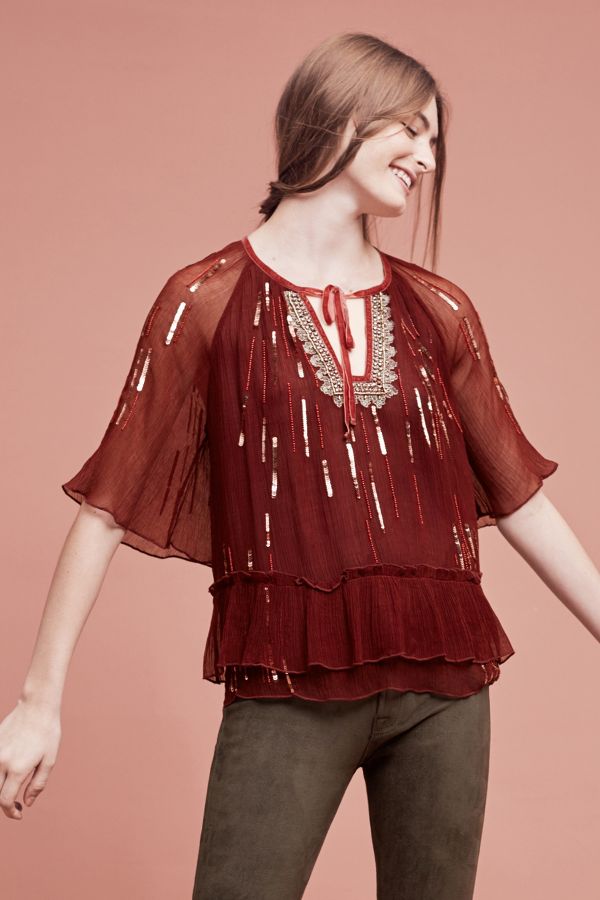 Anthropologie is probably my favorite store to buy tops at. They have lots and lots to choose from.  This Canalis Key hole Blouse will dress up any bottom and add a wonderful russet color that is so nice to wear.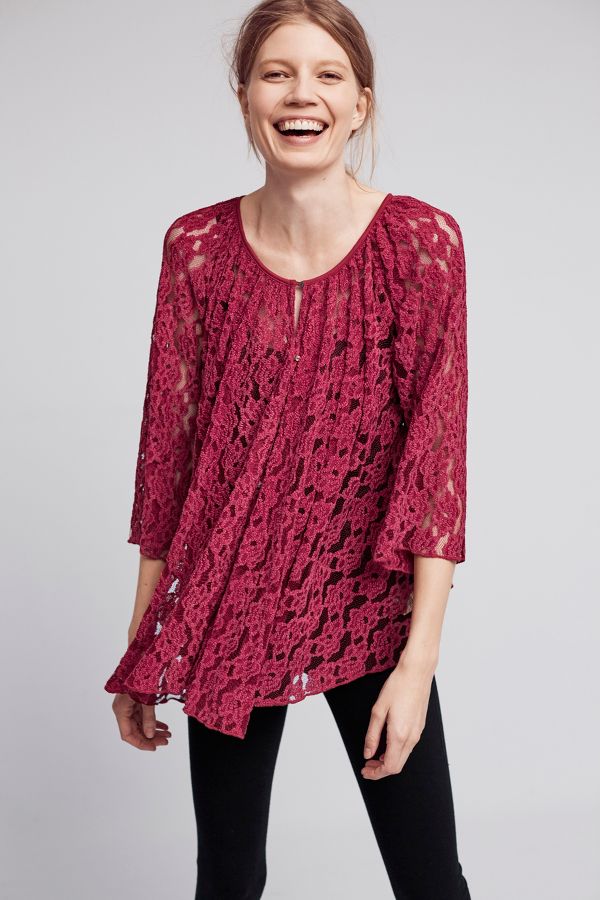 Along the same lines is Teleza Lace Swing Top which is fantastic to wear with a skinny pant or jean. For a lot of occasions a dressy top and simple bottom is all you need. Use a bottom you already own, or use a top you already own and buy an embellished bottom like the AT pants above. Really and truly the embellished bottom with a simple top or a simple pant with a dressy top will take you to every casual holiday party.
Now if you want to wear your jeans, you can use them to be your basic bottom and pair them with blazers and tops. Talbots has a basic velvet blazer in 6 colors and I believe it is marked down in price already.
WHBM has a number of dressy tops that they show with denim
and you can even do a cold shoulder look to dress up your denim. I know I have talked before about how much I love Ann Taylors tops for holiday, but something like this lace shell
they are showing is fantastic with skinny dark denim and a black blazer. Last year I went to Nordstrom after Xmas and bought a few dressy tops in their own brands, like Pleione.  I wear these with denim to dress it up. This year you could buy a great little lace top
in black or off white or a very chic bell sleeve knit top 
in pink or black that you can wear with denim and a fabulous necklace to dress it up.Both the above tops are Pleione at Nordstrom.  Any dressy top
like this cute bow shoulder top from J. crew with your jeans works.
Pair a dressy top and jeans with dressy heels or boots.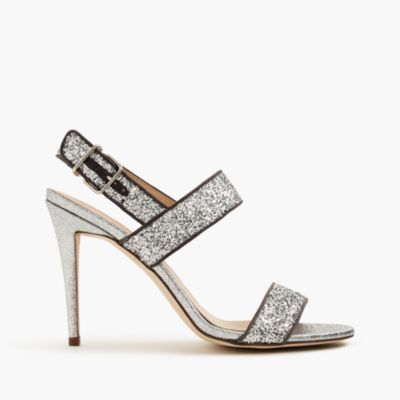 like these J. crew glitter heels or use an
embellished bootie, these are from Anthropologie. I prefer a skinny leg with a dressy top but you can use your dark flares and wide leg jeans too.  But if you do, never wear a flat, go for a heel to make your legs look longer.  Don't want to wear a heel because you will be on your feet all night with your skinny bottom try
velvet flats like these from Ann Taylor or try a shiny pointy toe flat from Cole Haan
.  You can totally wear your flats as embellished as you want. One of my favorite flats for holiday are these glitter almond toe Kate Spade loafers
they would be so fantastic with skinny dark denim and a velvet blazer!
The holiday season is a great time to take things a little dressier in subtle ways.  You could wear your glitter loafer with your jeans and a cashmere sweater for a weekend look or a brunch.
Now is the time to wear lace during the day. This blouse is from WHBM and would be great with jeans and heels or dressy flats for a gift exchange or dress it up with your skirt and glitter heels from last week for an evening out. Or wear it with jeans and booties to go see a movie!
You can also lux up your extras.  Like carrying a dressy purse with a casual outfit.
Use this outfit as an example.  Both the top and skinny coated pant are from Melissa McCarthy Seven7.  The top is slightly embellished on the shoulder and comes in 3 colors: black, navy and pink.  The metallic clutch  and skinny faux leather pant and the dressy heel work to take this simple but elegant look up a notch.  All this is available at Nordstrom.
Holiday handbags will last you more than one season if you are careful not to be too trendy.  A simple velvet or metallic clutch is timeless.
Nordstrom has this elegant Rebecca Minkoff clutch in 3 colors.
Or do the same thing in glitter. For the price, places like WHBM and Talbots are great for holiday clutches and wristlets.
This holiday box bag is just over $100 at WHBM. 
Talbots has this sequin clutch for under $90.  If you already have one you love, buy these half price right after Xmas and you can have them by New Years!
A dressy shawl or scarf is another way to add a bit more to a look. If you want to wear all black ( black pants and top) try adding a holiday scarf with glitz
this ombre scarf is available at WHBM.
Anthropologie is another place to find detailed scarves and wraps to add to your outfit.
A cut velvet fringed kimono is a great way to add glam for holiday.  This would be something you could wear over and over.
Please feel free to ask me questions about a look you want to put together for the holiday season.  I love to hear from you all. Email me questions or pictures at Suethefashionista@gmail.com.  You can use the same email address to set up shopping or wardrobing appointments as well.  Stay tuned on Dec 14 for our guest blogger Shoshana Lewis from Shok designs.  I absolutely love the bracelets I have from her and she will be telling you everything you need to know when it comes to jewellery for the holiday season.
Dec 21 is going to be my last blog for 2016.  I was going to do a how to shop on sale blog. But I decided we have talked about that not so long ago and it may be better to do a Winter survival blog ( or how to look good while it gets colder and colder).  Winter is just starting and we will be dressing in winter clothes until some time in March or April. I will do my shopping on sale blog in January when I come back to work. I start working again on Jan. 16 and the next blog will be on Jan. 18. It would be great to have some pictures of the outfits you are all putting together to put on my blog and talk about why they work.  So send some pictures!
Until next time…