The holiday season can be tricky interpreting trends and styles so you are perfectly dresses for all the occasions.  My holiday features blogs are going to be done in Part 1 ( this blog) and Part 2 next week.  Then on December 14, Shoshana Lewis of Shok designs will be writing a guest blog and explaining all you need to know about accessories! So that will be a treat instead of me droning on about them.  I will be covering holiday hair and make up next week as well as anything that doesn't fit into today's blog. So stay tuned!
Welcome to the holiday season!
Over the next month and a bit we will be buying, cooking, playing, dressing and partying. And we want to look great the whole time!  So let's try to break if down by occasions and looks to carry you through all the above, wearing a lot of the things you hopefully already own!
Formal Occasions:
'Tis the season of dressing up. And even though more and more parties are a bit more relaxed there are those that require us to dress to the max. So the easiest way to do this is to go to one of your favorite stores and buy a gown. But hold on! This is not going to be your mother's gown or sometimes not even a gown!
Of course we can all go to Nordstrom or one of the other department stores and find a great maxi dress that can take use to any formal occasion, like this burnout velvet gown from Aidan Mattox at Nordstrom. But not every woman is comfortable in this type of gown. So what are our other alternatives, keeping in mind that men will be in tuxedos and the occasion is formal.
The midi length or tea length is just as appropriate for a formal occasion providing the dress is fancy enough. This Bardot off the shoulder midi dress is fancy because of the off the shoulder detail and flutter sleeve while still being simplistic enough to wear less formal too.  Dressy heels, formal jewellery will take this simple dress to formal heights.
I also like something a little more unexpected like a tea length dress that has ombre shaded sequins.  You will definitely stand out in this dress!
Other alternatives can be going away from a dress altogether.
This Dress the Population Jumpsuit comes in 3 different shades, black, chocolate and gold.  It is absolutely as formal as a gown. Sometimes you have the perfect top at home but nothing to put on the bottom for a formal occasion.
A taffeta skirt like this one from Eliza J. at Nordstrom or
midi length one from Whitehouse Blackmarket is all you need to extend what you already own.  A taffeta skirt in almost any length that is below your knee will work for a formal occasion.  With these two skirts the bonus is you can rock a great holiday shoe as well.  If you already have a great dressy long or midi length skirt that can work formally but no top, go for something that can be worn with this or later with something for a less formal party.
A lace mock neck top from WHBM will be a fabulous addition to any wardrobe.  You can wear it with a formal skirt above, or with jeans.
A short sleeve sequin T is something else you can wear formally or for any other occasion. And if you want your arms covered
a lace top from Eliza J. at Nordstrom that ends at your waist is perfect for a formal skirt.  There are lots of variations of the 3 different style tops I showed you. I happen to have a sequin shell that I bought a few years ago and I pull that out over and over depending on how formal I need to be.  I am a big fan of 2 piece dressing for formal occasions, then I can wear my top and formal skirt with other tops and bottoms and reinvent them into something new for every occasion.
Formal occasions shoes are pretty much what you would expect.  Velvet is a huge trend this holiday season so look for something beautiful with a velvet detail.
I love these Deimille Kelly Rhinestone heel pumps at Anthropologie.  They would be fabulous if you don't want to wear a sandal for holiday.    A Sequin pump would work as well
like this Jimmy Choo pump or stick with Jimmy Choo and go a little more understated
.  Or you can go with a sandal,
this decorated sandal is from Badgley Mischka comes in black and red as well as metallic. 
And for a tad bit more comfort go for a wider heel these velvet heels from WHBM as formal and trendy.
The Holiday Party:
Most holiday parties don't call for formal attire but do expect guests to get dressed up. For evening parties the attire is dressier than for daytime events.  And Office parties have their own specific attire requirements.
Let's start with evening holiday parties.  This year there are so many choices when going to an evening holiday party. For the dressier events, in a restaurant, venue or elegant house parties it is always better to be a bit more dressed up than less. For most of these you can go with cocktail attire. Skirts, dresses and dressy pants are great and maxi dresses are not required. Some of the most useful things for this type of invitation is articles of clothing that can be dressed up or down.  One of my favorite items is a sequin pencil skirt.
This one is from Ann Taylor and In their holiday looks they are showing it with a sweater. J. Crew is showing a dressy lace skirt with a denim shirt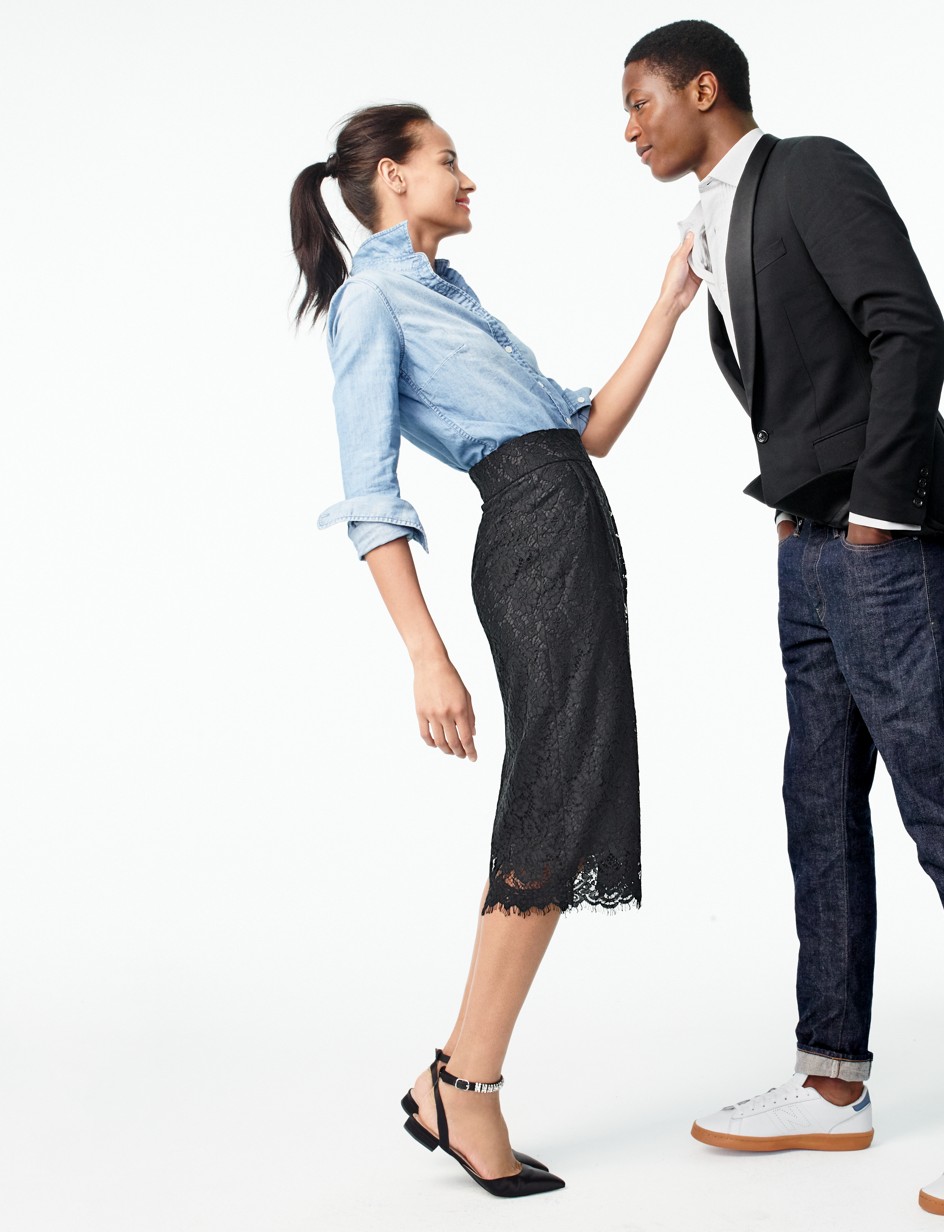 . So things are a little mixed.  But if I were dressing you for a holiday party I would choose
a pretty lace dress either in black or this beautiful aubergine from Ann Taylor. Or a pretty metallic belle sleeve lace dress
from WHBM. Or the perfect LBD from Ann Taylor with
fluted sleeves and a cold shoulder detail. Velvet is a wonderful fabric that keeps you warm as well ( for those women who are always cold like me)
you can do a dress like this from Rag and Bone that will work for a multitude of occasions, just switch to dressy pumps. Many women are more comfortable in pants.  There are lots and lots of ways to wear pants dressy for a holiday party
sequin(Trove at Nordstrom) or
brocade
(Anthropologie) or
velvet(Ann Taylor) can all work as a great bottom for a holiday evening party.  Just make sure your top
like this off the shoulder velvet top from WHBM is dressy as well. Same with your shoes. If you are trying to dress down one of the above dresses booties work great.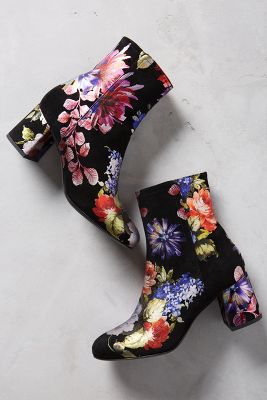 Anything velvet or sequin will work, these are sold out now, but are from Anthropologie. To dress up your pants for a holiday party dressy heels or sandals like the ones shown above work great.
You can also wear something a little different to a holiday party and stand out for all the right reasons.
A wide leg velvet jumpsuit (Anthropologie) or
stunning wide leg ruffled crop pants also from Anthropologie would make the right statements. Pair your crop pants with a pretty and flattering top
(Ann Taylor) or a gorgeous metallic sweater like the one above and you are fit to be seen.
But if in doubt your LBD can work for every occasion depending on how you accessorize!
Office parties are animals on their own.  Whether it's yours or your partners, you want to be elegant and a bit understated.  This is the one place where it's better to be a tiny bit under dressed than over dresses, just the opposite of above.  Here is where I would wear a sequin skirt
(WHBM) with a sweater
if it were a bit more dressier of a party. Or take the black sequin Ann Taylor sequin skirt above and wear it with a 
cashmere shell (Talbots) or even a cashmere turtleneck
also from Talbots. Your lace pencil skirt would be fabulous with both these two sweaters too. A really pretty lace jumpsuit from Anthro
will work for a festive office party.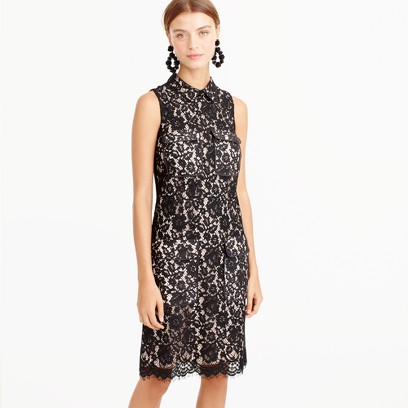 And this pocket lace dress from J. Crew fits into any office party.
If your office party is a bit more casual, your lace skirt and denim shirt work great together. So do a fabulous pair of
( Anthro) wide leg velvet pants and a metallic sweater or shirt. Remember less is more when dressing for an office party. You want to be the one everyone is talking about the next morning because your were stunning and appropriately dressed.
So ends part 1 of the holiday dressing blog. Next blog I will continue with how to dress casually with a festive edge and talk more about holiday shoes, purses and hair and makeup.  Then Shoshana Lewis will answer all your holiday accessory questions.  That takes us up to the middle of December. I will do one more blog for Dec 21 about how to shop the after Xmas sales and what you can pick up to wear next year.  Then we will take a break until the 3rd week of January.
If you want help with your holiday wardrobe I am working until Dec 14 so email me ASAP if you want to get into my schedule. Otherwise I can book you for January any time after Jan 16.  January and February are great times to book me to help you go through your closet so it is ready for Spring when March comes along. Email me at suethefashionista@gmail.com for all your styling needs.
Until next time…