No two people have the same figure.  And more often than not, we all need a few alterations here and there to make clothes off the rack look like they were made for us. There are specialty sizes in every store and whether you are bigger or smaller, rounder or thinner there are sizes made for your body. As Meghan Trainor tells us "don't worry about your size," it's more important to feel good than be a size 2 or 24.
Every fashion magazine I pick up, they have a column by a plus size blogger.  The only problem is all of the fashion bloggers, especially the curvier ones, are under 30 years old and have no idea what it means to look good into your 40's and 50's. I try to include a little in every blog for ladies who don't fit traditional sizes but this blog is going to be dedicated to them. These same fashions do's will apply to every woman, so don't tune out just because you wear a perfect size 6.
First of all, and we have gone through this before, get rid of any clothes that don't fit you or don't look good on you. If you can take them to an alterationist and they will look good, than get it done, otherwise donate them.  Now that I have that off my chest, this blog will divided into 2 sections: Plus and Plus/Petite women. For regular and petite size women it is much easier to find clothing.  Almost every line that is made comes in petite as well.   And even if you are a regular or petite size there is probably a part of your body you want to camouflage and another part you want to highlight, so there will be things in each section for you as well.
PLUS SIZE CLOTHING:
By definition plus size clothing start above a size 14 or 16 and above an XL.  But since every line is cut differently, there are a lot of women on the border who can cross back and forth between plus and regular.  Today there are some absolutely beautiful plus size clothing and designer wear on the market.  I am going to run down some of my favorite looks using websites that are easy to find ( and stores you know).
Most larger than average women are larger all over and not just in one area.  So it's important to shop in stores and store departments that cater to your needs.  Stores like Talbots and Nordstrom are everywhere and they have almost everything for plus that they have in regular sizes.
The most important casual look for fall is starting with skinny or straight leg jeans. Nordstrom has lots of choice, especially online, when looking for a skinny jean.
They have a new line called Good American (developed by Khloe Kardashian and Emma Grede) and they come in lots of colors and styles.  I haven't tried a pair but they are supposed to be a wonderful fit. So if you are investing in denim try on a pair of these. Talbots has a pair of slim ankle for a little less in lots of colors and washes
and I know for a fact that Talbot's jeans fit well. Or you can go to a store like Addition Elle ( check out their website as well) and do something a bit trendier
these are their L & L high-rise skinny jean and right now online they are buy one get one free.  A higher rise is important because you don't want over hang.  That goes for everyone 40+, go for a mid or higher rise in denim, muffin tops are only good in a bakery.
Layers are what every fashion site is showing.  And absolutely every figure type can layer, you just have to guide yourself accordingly for your body type. 
A pleat front tunic is a great piece to start with over your skinny bottom. This one is from Eloquii.com and it comes in 8 colors. Dusty pink is a great color, it is one of the colors of the season and looks good on a lot of women.  
Then you can layer on a Melissa McCarthy Seven7 Shimmer knit cardigan that can also look like a vest. Don't want a sweater layer?
Try a fabulous Moto style leather jacket, this one is from Sejour at Nordstrom, it would be fabulous with the pink pleat front tunic underneath. Or take your casual up a notch by using a velvet blazer as your top layer.
Almost every line is showing velvet jackets and blazers, this one is from Talbots and it comes in 4 colors including this Vintage Raspberry that would look fantastic with skinny jeans and the pleated tunic.
For the office, you can use the same blouse and jackets as above, but add more classic pieces as well.
Buy a tailored pant in a dark color and make sure it fits to a T. This one is from Sejour at Nordstrom and it comes in all the workday colors ( black, brown, charcoal and navy). Or you can do a tailored skirt, stick with a pencil or one that flares gently from your hips. This crepe pencil skirt is Eileen Fisher plus at Nordstrom. Eileen Fisher is great in specialty sizes.
You can wear it with a pretty blouse
like this scalloped edge blouse at Talbots. Or try a blouse that has a bow
. If you go to Eloquii.com there are lots of beautiful blouses.
On top of your blouse and pant or skirt your will want a jacket.  Both the leather and velvet work great if you work in a trendier office but if you are a little more conservative wear a blazer. I love this one with the little ruffle.
Also from Eloquii and so pretty. Notice how it is fitted in the waist and draws the eye to the thinnest part with the ruffle. A jacket like this will make any women look smaller, any size. One of my favorite plus size designers is Melissa McCarthy. This top would also be great at the office, especially if you need to impress 
I love the jewelled neck and soft fabric ( its ponte knit) and it flutters softly to camouflage your hips. Great over pants and with a pencil skirt too!
One other item that is a fantastic substitute for a jacket, or over a dress, or as a casual item is the newer longer vest.
Addition Elle has a great long ponte knit sleeveless vest from Michael Studio.  There are lots out there, especially in knits.  I like this one because you can do it up to create a smaller looking waist. This vest over a tunic and skinny pants is great.  Also fab with a pencil skirt and a turtleneck for work. The new long vest really helps to create a longer and leaner look.
For a dressier occasion, there are tons and tons of beautiful clothing, especially dresses for plus size ladies.
Maxi dresses work so well, this jersey dress is Melissa McCarthy Seven7 as well. 
Talbots has this floral scroll lace skirt in plus, reg and petite. But it's online only. And you know what a big fan I am of having a lace skirt in your closet.
Or go with this black lace Karen Kane skirt at Nordstrom.  Already have a lace skirt? Then maybe try something with a bit more edge to it.
How about this lace hem tube skirt by City Chic, also at Nordstrom.I really liked the selection of occasion skirts at Eloquii.com. Here are some of my favorites:
both the metallic pleated skirt and the studio quilted faux leather skirt can work for a multitude of occasions. 
Both Nordstrom and Talbots have really dressy, pretty pants and here is a great way to put it together for a casual occasion look. Both the top and pants are Vince Camuto.
Lace dresses work perfectly for any occasion.  You can even dress it down for work by wearing your leather jacket and boots.
Here is our leather jacket from above with a Lucky brand soft dress and open toe booties.  It's a great look for a night out.
At Nordstrom most of their dress designers do plus as well.  This one is from Maggy London.
Eloquii.com and Additionelle have lots and lots of holiday dresses.  I love this belle sleeve dress at Eloquii.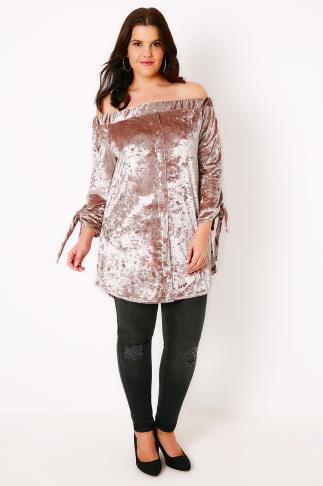 Yours Clothing has lots of cute holiday outfit ideas and you can find them all at Yoursclothing.com.  You may want to try an off the shoulder look, especially if your shoulders are one of your best features!
And nothing is better for every occasion than a great LBD! Find a little black dress that speaks to you, everyone makes them. This one is from Yours again. It is the AX Paris curve shift dress with black choker necklace.
Black tights are going to be your best friend.  They will make your legs look longer and leaner. I wear black tights will all my dresses and skirts.  And so fabulous if you are wearing a great black bootie with a higher heel too.
One last idea that I am going to leave you with is to try a culotte.
Again you can find a plus size culotte in a lot of places.  This one is from Eloquii and it would work for the office and fabulous for an evening out with a dressy top!
For a woman who is both plus and petite. You can wear almost every outfit I have been talking about, but you will need a good tailor. Talbots is a great place for a plus size woman who is also petite.  Everything they make in plus, they also make in plus petite. So if you're under 5'4″ and rounder. Look no further.
You can be trendy with a faux fur collar on your jacket in your exact size! They really do have the best selection of plus and petite of all the websites I have found. In Canda, the plus and plus petite are only available on line, but if you are in the US, they have them in almost every store!  We were talking about the line Good American jeans at Nordstrom, well they go from size 0 to size 24.  So they would be able to fit a plus petite as well, just look for a shorter inseam. Fashion to Figure (fashiontofigure.com) also has possibilities for petite plus women.  You just have to check the sizes and length of each item.  But they have some great pieces like 
this Mermaid sequin top that will work with everything including denim. Full Beauty (fullbeauty.com) has a petite plus section as well. It is a bit more basic but great if you need something as classic as a toggle coat
they never go out of style! Kionna is another great site for plus size and you can wear the great clothing if you are plus petite, you just need to check the length of every item. Certain brands at Nordstrom.com also come in plus size petites, like Sejour, you just need to search.
I am an advocate of feeling good in your own skin. No one has a perfect body, especially over 40. Wear what looks good on you, who cares what size the label says.  I can fluctuate up to 3 sizes sometimes and I am sure most women feel the same way. I can help you if you feel you can't find clothes that suit you and your size. Just email me for a styling appointment at Suethefashionista@gmail.com. You can use that same address for questions about fashion or my blog.  Coming up are blogs for holiday dressing, accessories and how to shop all the after Xmas sales before I take a break for the holidays.  Please feel free to email me with your questions or to set up an appointment.
Until next time…