Fall is one of my favorite times of the year.  I love the changing colors of the leaves and the crunch of them on the ground. I especially love all the coziness of fall food, activities and clothes. Even if the cooler temperatures haven't hit where you live yet, you know that at one point in the next 2 months you will be pulling on a fall jacket or coat. In Western Canada we have been wearing our coats for about a month already and even though I am staying dry in my new raincoat, there is a lot more to stylish fall outerwear than the basics.
The first thing I want to let all of you know is that the basic shape of coats is changing.  I am an investment shopper when it comes to coats.  I still have the Mr. Jax coats I bought before my kids were born ( so 20 years ago). Well, this year I think I am going to retire them. Gone are the completely straight silhouettes and the new silhouette has a bit of flare or A line in the bottom.
Here is the coat I will be wearing this fall/winter.  Michael Kors from Nordstrom in Burgundy or Black.  Notice the detail at the hip line and the ever so slight flare at the bottom. I bought mine in black and it will become my new staple until the silhouette changes again.
You can stay pretty classic if you are investing in expensive outerwear. That way you will get more than one season wear out of the item.  The other big change that is sweeping the coat market is the wrap coat.  We talked about this silhouette when we featured a coat that Princess Kate wore on her visit to Canada.  But if it's time to invest in a new classic coat style for you how about a wrap coat?
You can do something shorter like this Tahari coat also at Nordstrom or every woman needs a coat that is long and can be worn over everything
Cole Haan makes fantastic outerwear and this belted beauty comes in black as well as camel.
Something else that is a new trend in coats is the fur collar.  We talked about how important faux fur details are for fall, well it is in coats as well. So maybe your new classic coat will cater to this.
This coat by Ellen Tracey will not only fit into what is new today, but because the styling is so classic you will be able to wear it for years!  Another trend that is spilling from day wear to outerwear is a ruffle detail on your coat.  We say a bit of this start last fall, but if you love ruffles maybe that is the trend you will wear in a coat.
Tahari has this coat in 3 colors and it also has the bit of flare at the hip line that is so important.
I could go on and on showing examples of wool coats that look great for fall.  But there is a lot more to fall outerwear besides you classic wool coats. But if you need a new wool coat for fall like I did, go online and look before you go out and shop. Quite a bit of the outerwear will be on sale in the next few weeks so figure out what you are looking for and where it is before you spend a day at the mall and leave with nothing.
One of the other websites I love to look at coats and jackets on, besides Nordstrom, is  J Crew. And some of their outerwear is on sale already!  J Crew also has classic styling if that is what you are looking for.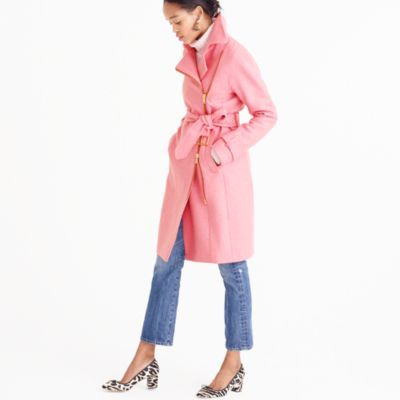 This belted zip trench comes in 7 colors! Pink is a great coat color for fall, it looks especially pretty with black, grey, brown and navy.  And it will add a little femininity to your coat style. They also have fur collars but just in a bit more fun and funky styling like this Chateau parka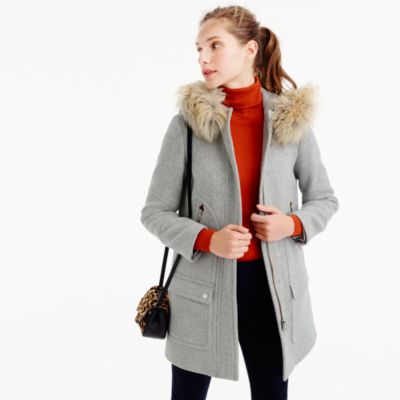 which comes in 8 colors online. But these are kind of the same thing that we spoke of above.
Most of us live our lives in coats that keep us dry and warm and if that's the case we turn to puffer coats. I have quite a few different styles and different weight puffers that get me through winter. I have my extremely dense ones that I wear if I go to Toronto or we have a particularly cold few days in Vancouver.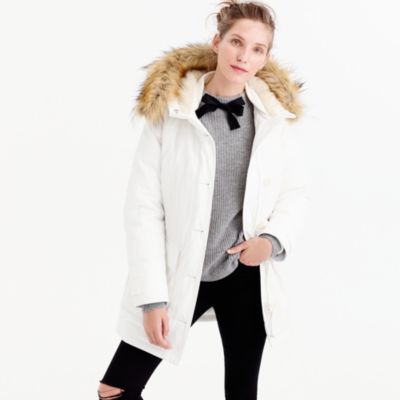 Something like this Nordic Parka from J Crew would do the trick if you need something to keep you super warm. It comes in Navy and Winter white and of course has a great hood to keep the snow/rain off you. Believe it or not, you can get a great puffer from Joe Fresh. I have one from two years ago that I am still wearing. You can now buy Joe Fresh online, as well as in Superstore or Loblaws.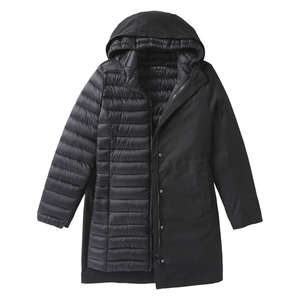 Right now this fabulous 3 in 1 coat ( parka/rain shell/altogether) is promo price for $96.75 regular for $129. It only comes in basic black, but it is a great price and reasonably good quality for what you get.
I love and live in Eddie Bauer down coats. They are not too fancy but great basics that are excellent quality and keep you super warm and dry.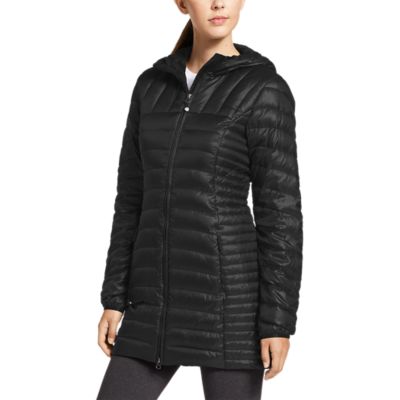 I have a version of this Astoria down parka that I wear in the fall before it get's too cold.  It comes in 6 colors and right now is on sale! This is my fourth fall wearing this jacket and it has really stood up well. A great puffer to invest in from Eddie Bauer is their stadium puffer coat.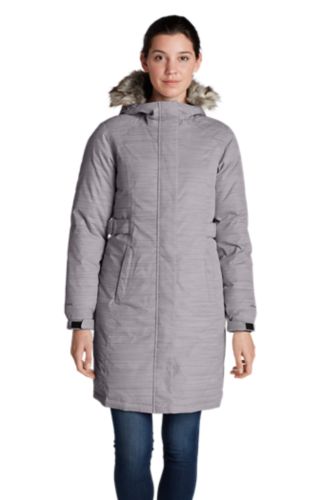 It comes in 4 colors and is on sale right now for under $250, so really not that much of an investment. There are lots of styles to peruse at eddiebauer.com and they are always having some sort of promotion. I literally live in my coats from them.  This has been a really rainy fall in Van city and I bought Eddie Bauer's insulated Girl on the Go trench coat.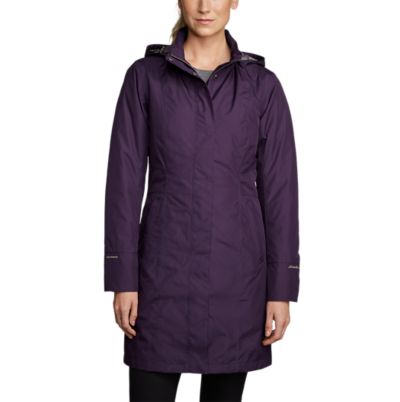 I know it is super basic but I bought it in a fun plum color and can button out the lining in spring. And boy does it ever keep me warm and dry in rainy Vancouver!
Fall outerwear is so much more than just coats to keep you warm and dry.  One of the  new and interesting things we are seeing for fall is the cape. Well maybe it is not that new but seeing it worn instead of a coat is refreshing. J Crew has this fantastic toggle cape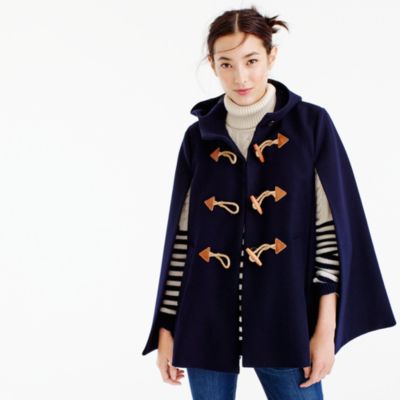 on sale right now in grey and navy ( I love toggles on coats). Or at Nordstrom you can do something like this Ellen Tracey faux fur trim cape
. Plaid is also a big trend for fall and you can do a great plaid cape with fur trim and hit 2 trends at once.
You will find this HiSO fur-trimmed hooded cape at Nordstrom. Or if you want to keep your outerwear from getting over the top pricey, why not try ordering from Nordstrom Rack?  They have tons and tons on sale right now.  All the styles we have been talking about above and even fun faux fur
like this jacket from Iris Leopard in black and navy. Or even a fun faux fur vest ( still super strong and stylish)
from French connection that would look so great with a denim shirt and jeans underneath!
And of course what would a fall outerwear blog be without a bit about our favorite and oh so stylish moto jackets.  Whether you decide to do vegan leather or real leather, a moto jacket adds a great style dimension to any woman's wardrobe.  Great over dresses for an edgier office or evening look or simply marvelous with skinny jeans and boots. If you don't own one pick a style that speaks to you like this
vegan one from BlANKNYC denim. I have both a vegan one and a real leather one that I constantly wear.
Another of the moment style for fall is the bomber.
Pick a fun one that you can wear with a few different outfits like this one from Steve Madden. Embroidery on jackets and denim is a strong trend for fall, how about combining this with the bomber trend?
This adorable jacket from Wayf at Nordstrom will take you out in the day and you can wear it dressier at night as well.
Last thing I am going to talk about with outerwear ( although I could keep writing for pages) is quilting.  We have seen quilting in jackets and coats for a while now.  But for this fall maybe try doing quilting with a trend. This Sincerely Jules quilted bomber will be fab for fall!
Talbots is a great place to buy outerwear.  They always have a promotion on and if they don't have what you are looking for in store you can get it online.
This quilted coat with faux suede trim is the perfect length for fall walks.  It comes, just like all their outerwear in regular, plus and petite sizes so you can find the exact right fit for your body.
They also have a great selection online of jackets, coats and quilted and faux fur vests and jackets.  I wait until right after Xmas when they slash their prices and you can get a wonderful deal on a great coat that you know will fit!
One last tip when you are buying outerwear.  I buy all my coats one size larger than I wear. I like everything roomy, especially if I want to wear a blazer or heavy sweater underneath. I encourage you to buy your outerwear roomy too.
I feel as though I have written a ton but not nearly covered everything.  Use this blog as your starting point and really have fun exploring all the great coat and jacket styles in the stores and online.  Remember what you will be needing it for so you can get something that keeps you warm and or dry or both.  If you are struggling a need help I am always here to help you style yourself or just to ask a question to. Email me at suethefashionista@gmail.com for all your fashion needs and questions.
Until next time…