Now that we have covered off almost all of the fall trends for this fall, we should look at how to interpret them for your own look.  As I said in every blog I wrote about Fall 2016, each trend is mixable with every other trend.  Gone are the head to toe one trend looks, although they still look good if that is what you want to do. The new way to wear Fall 2016 fashions is to mix each trend with others to make a totally unique look for you!
I am so inspired by one of our most important visitors to BC, the Duchess of Cambridge. Did you know that Princess Kate was in the fashion business before she became a royal? She was a buyer for one of the UK stores. Although I am sure she has a stylist ( likely more than one), she knows what looks good on her and what doesn't.  She is definitely a classic dresser with bits of glamour and sporty thrown in. I fell in love with her light blue wrap coat from her day in Whitehorse.
Pale blue is a huge color in outer wear this season and wrap coats are the new go to style for coats and jackets. Here the Duchess is wearing a wrap coat with ribbed sleeves from Sentaler, a Canadian brand.  The coat is 60% alpaca/ 40% wool and retails for $920.  I love the look she is wearing. And so does everyone else, the coat has been a hugely popular item since Kate wore it.  Since the Duchess was in Whitehorse,  she wore J. Soles Cowboy boots and dark skinnies.
Personally I think you can pass on the cowboy boots, unless you are in Whitehorse, Texas or Alberta. The way you could interpret the look for you, is to wear it with cropped jeans with a bit of flare and a romantic top. 
Dark cropped jeans by Paige with a raw hem at Nordstrom could be a go to pant for fall if you were to own a pair like these.  Put it with wool blend wrap coat from Tahari ( echoing the coat that the Duchess wore), also at Nordstrom
(but only $318.00) and wear a romantic shirt underneath.  
Like this Pleonie shirt that will only set you back $94.00.  Instead of cowboy boots slip on
super trendy caged heels by Vince Camuto, or do what I would be more comfortable in, and wear a  block heel bootie
from Halogen. If you want to wear this look for the office, switch the cropped jean for a flared crop pant
like these from Halogen in Poly/Rayon/Spandex fabric and wear a pair of men's wear flats to complete the look.
These are by Louise and Cie, you can wear a shiny metallic or stick to a black patent.  Men's wear flat loafers come in every color and price so you are sure to find a pair you like.
So there you have it, we found a look we love, we found how to interpret it for us, with a way to wear it at night, casual and to the office. That is how you can make your own wardrobe super functional, when you add a new piece to it, right away figure out how to wear it different ways with what you already own.  If you have trouble you can always hire me.
There are other looks that you can find in everyday life and interpret them for your own. Here is another example of something I just bought.
I bought these boyfriend utility camo print pants from Jag Jeans.  Here is one way to wear them.  With a grey fleece pullover and sneakers.  But how about doing something that isn't so casual.  I am going to wear them dressier by pairing them with a white t-shirt or white shirt, my black Hugo Boss blazer
and a pair of caged heels I bought a few years ago but that kind of look like this,
these are by Charles David.  Mine are suede and I can't remember whose they are.  But that works to totally dress up my camo pants for a casual evening look. For a daytime look I would likely wear the same pant with either a black turtleneck or black sweater
like this Kier and J. cashmere sweater ( I am always cold, so I wear a lot of cashmere) and basic black booties
like these from Frye or suede like these from Via Spiga
. The black blazer I bought will work for day and evening with these pants, so if I had an event that required me to look serious, I could wear the same blazer with a black turtleneck and the same booties.
What about your skinny jeans, every single woman owns a great pair of skinny jeans or at least you should if you have been reading this blog.
For demo purposes let's day they are dark wash like these Rag & Bone skinnies.  A new way to wear your skinnies casually is to wear the dark wash with a light wash, light weight denim or chambray shirt.
We all likely own one already or pick up one from Nordstrom Rack, like this one from Melrose and Market. One of the new look for booties this season the classic Chelsea style but with a spongy sole.
I own these from Eileen Fisher but there are lots of this style in stores and online at every price.
These Flexx booties from Nordstrom would work just as well.   Then for a fun look pair a fun faux fur with it
like this one from Kenneth Cole in an off white or stick to what you already own.  Don't own a faux fur? Wear the same look with a fun puffer jacket ( also super trendy for fall 2016).
Something like this short down jacket from Vince Camuto would work great with dark skinnies and a light chambray shirt.   The key to making this look on trend is the flat Chelsea boot and a really fun, colorful jacket.  Faux fur and Puffy are important trends for fall 2016. But wear what you own and if all you own is a black puffy jacket then wear that, it will still look good. Or even pair the look with a black puffy vest. This one is from Eddie Bauer, or buy a Joe Fresh one for around $50 if you don't have one.  But almost everyone has a black puffy jacket or vest. This look will rock with what you have at home.
I love mixing things I already own with the one new piece to create lots of looks that are bang on for the season. Do you already own a striped long sleeve t-shirt?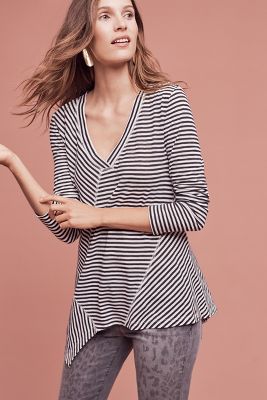 This is the V neck t-shirt from Anthropologie.  Pair this top with the cropped flare jeans above and your black blazer and suede booties for a more serious look.  Or wear a quilted jacket with it instead of a black blazer. 
This one is from Tommy Hilfiger and you are set for Fall 2016!
Some new fall accessories that can change a look to make it au courant are wearing a back pack instead of a purse.
This back pack from Lucky Brand is great with your Boho looks and with all the looks above too.
Put on a hat!
This Joe Fresh fedora will make any casual look up to date.  It would look great with a faux fur jacket too!
Or buy a lace up bootie to refresh your existing looks
this little lace up bootie by Clarks is not only waterproof but will work with your men's wear looks and as an alternative with your skinny jeans as well. Use it to dress up the head to toe denim look above and wear a faux fur vest instead of a puffy one.
Two tone loafers or snake-skin print loafers also can add a dimension to existing pieces.
These from Michael Kors would be fantastic with the pale blue Coat and cropped flares above. Or go with the hottest animal print in accessories for fall 2016 and do snake-skin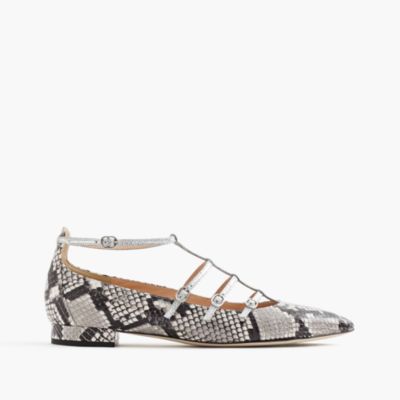 like these caged heel flats from J. Crew ( I know I have shown these before but they are fantastic!).  They would work on so many levels.  For work, evening and casual.
My best recommendation if you are looking for one thing to buy to update your closet,  that will work across your wardrobe for fall 2016 is a pair of wide leg  or flared crop pants.  You may even want to buy a culotte.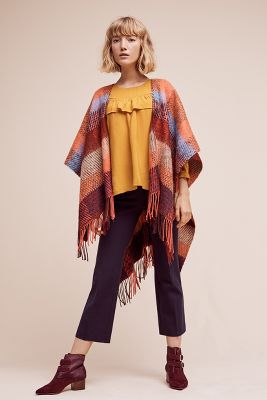 I bought these cropped flares from Anthropologie in black. I will wear them across by wardrobe.  If your style is very casual then  buy a denim pair.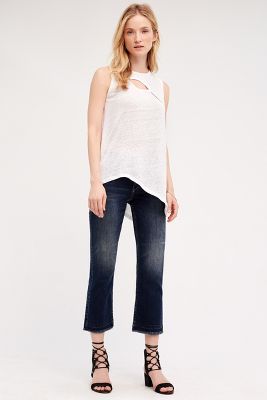 I am fond of these ones from Pilcro at Anthropologie because I think the dark wash will be fabulous casual or dressy. If you are not sure the look is for you, go to a department store like Nordstrom, the Bay ( in Canada) or Dillard's or Macy's in the U.S.  They will have lots of variety for you to try on at every price. And keep trying on different versions until you find one that works for you!
I hope you found all this info helpful and maybe it will make it easier to bring your own wardrobe into fall 2016.  If you can't do it you can always book a wardrobing appointment with me. Email me at Suethefashionista@gmail.com to book appointments.  I can help you remotely via Skype if you don't live in Vancouver or the Vancouver area.  Or just pop me an email with your questions or style dilemmas. I would love to hear from you.
Please remember that there will be no blog next week October 12.  My schedule just doesn't give me time to write one more. I will be back October 17 to talk about fall accessories and outerwear in-depth before we jump into holiday and beyond. So if you have questions or topics you would like me to write about just use the same email as above.
Until next time…