Every season one of the trends is Boho.  But as we have seen with the last few major season it seems to change depending on the rest of the trends. What I have found with Fall 2016's Boho is that it is the one trend that is dependent on every other trend.  So not only do we have the Boho styles we know and love, it borrows from all the other trends we have spoken about ( Men's wear, Glamour, Pretty and Sporty) to create a new type of Boho. Boho is still one of the more casual fall trends.  But a lot of it is everyday wearable.  So I find that Boho inhabits a bit of real estate in my own closet.
This fall's boho is one of the trends where you are seeing quite a bit of dark florals.
You will see brands like Kut from the Kloth really leaning into this look.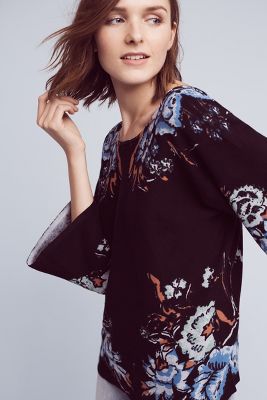 And of course our go to shop from almost everything Boho, Anthropologie will have everything that you need to make this fall's trend your own.
Another piece that we have talked about in other trends that is really at home here in Boho is the cropped pant.  Whether it is a wide leg crop or a straight leg crop you will find it really fits here.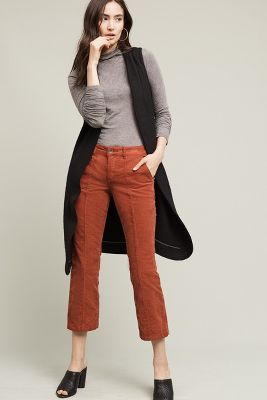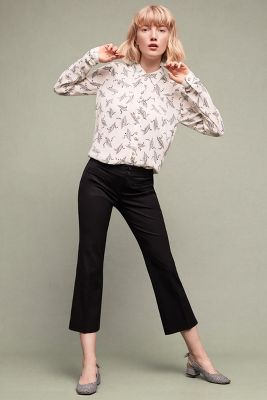 Whether you go with a denim, cord ( like the Pilcro one above) or Anthropologie's essential crop flare in cotton/rayon.  These bottoms really go with all your Boho tops.
That is not to say you need to shy away from the other big pant and skirt trends in Boho. Wide legs whether they are flare or crops are very strong for fall.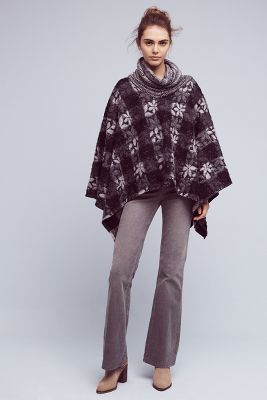 A flare cord, like these from Pilcro or a wide leg jean 
like these from 7 for all Mankind will take you a long way this fall. If you are buying a crop flare jean
as your new nod to this fall's denim trends, buy one you can wear for all occasions.  This one from Kate Spade is high-waisted enough to wear with a fitted blazer or sweater and long enough to wear with booties.  If you are going to invest in one new pair of jeans for fall.  This style is definitely worth consideration.
For skirts you will see this trend going in the direction of texture and varying lengths. Suede and leather are strong for jackets and skirts.  Suede mini skirts are still a huge part of Boho
(1.State from Nordstrom). Most pencil skirts stay away from this trend but if it's a denim pencil skirt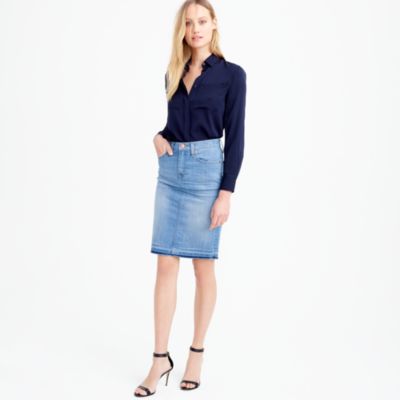 like J. Crew's frayed denim skirt, then bring it on. Frayed bottoms are a nice detail to this trend, you can wear a frayed bottom in a skirt or in a cropped pant( but not in wide leg or flared jeans, we are not in the 1970's) and hit on this trend. Floral printed skirts are a big part of this season's Boho look in all lengths.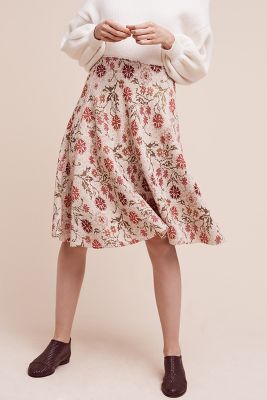 ( Meadowlark Sweater Skirt from Anthropologie)
Even a maxi tiered floral print from Maeve at Anthropologie you can wear anywhere. I did mention how Boho is borrowing from other trends so even wearing a lace midi skirt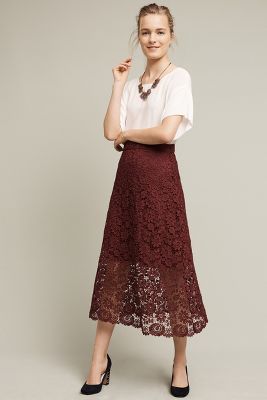 in fall's Wine shade by HD Paris lends itself to this trend.  Want to Boho this skirt up for a casual daytime look? Suede boots and a denim jacket or shirt and you are done! Velvet also jumps into the Boho realm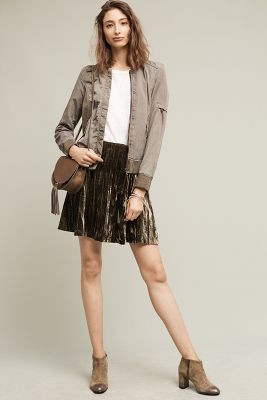 you can wear a velvet circle skirt from Anthropologie with this trend or how about a skinny pair of velvet Rag n Bone jeans
to wear with your Boho tops?
We have talked about bottoms now what about dresses, tops and jackets?
Dresses really are borrowing from our Ethereal fall trend.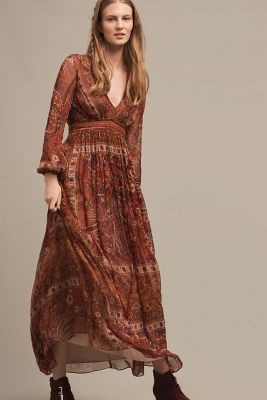 A floaty patterned maxi by Ranna Gil at Anthropologie totally hits the mark. As does this Canna swing dress also from Anthro.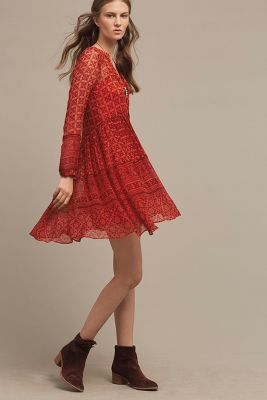 Dresses are very floaty and unfitted in the fall 2016 Boho world. The other thing you can reuse if you don't want to buy a new dress for this trend is your denim dress.
I bought this dress from Whitehouse Blackmarket last spring and will totally make it one of my Boho looks.  Wear it with suede boots, vests and leather or suede jackets and you are there!
Tops are great in this trend.  You can go anywhere from a peasant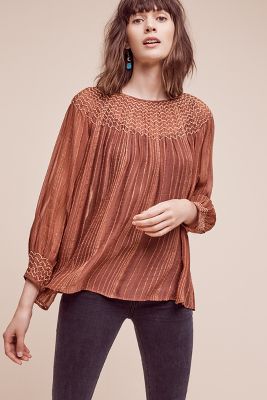 in a medium orange shade by Love Sam at Anthro to Ruffled V neck pullovers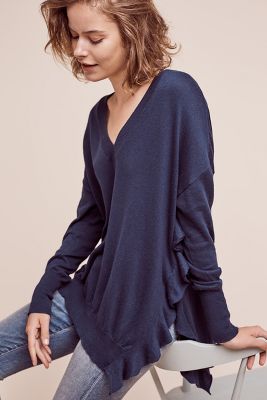 to an off the shoulder chambray top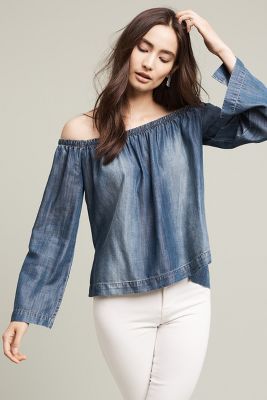 all from Anthropologie and all really working in the Boho style. Tops in this trend can be ruffled, floral, lace, denim or even fleece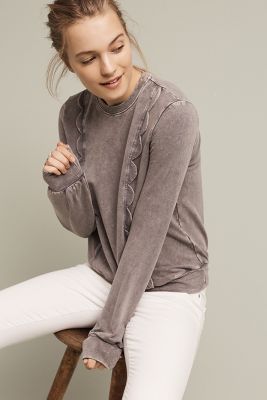 .  The key is making sure they have a bohemian edge to them.  Borrow from all the other trends we talked about and make them a bit more casual and edgy by what you put with them.
Jackets are all over the place for the Boho trend and not necessarily jackets at all.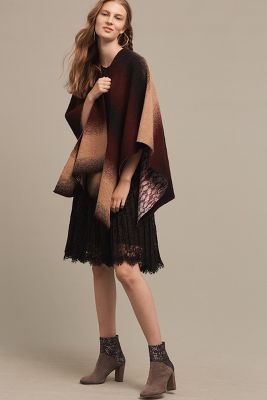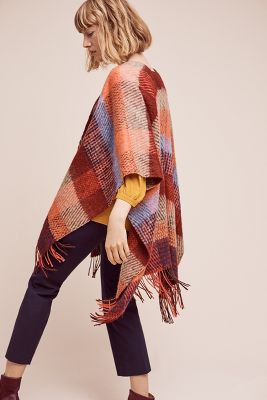 Ponchos and scarfs take the place of jackets here. So do embroidered kimono's 
and something super important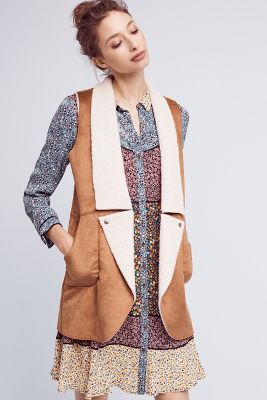 Vests.  Vests come in all shapes and textures, shearling ( above),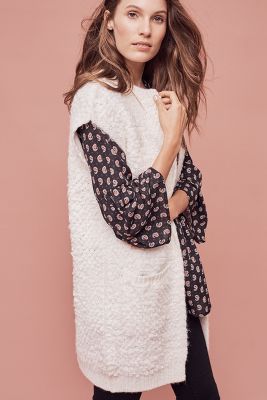 knitted,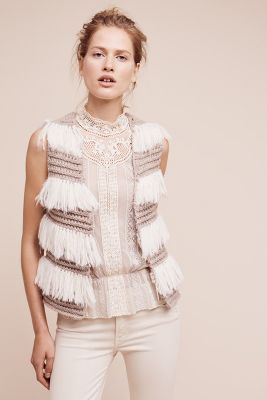 fringed and of course
fur (Madewell) or fur detail
(Michael Kors).  Where you will see jackets is in suede and leather (or the faux versions, same with fur, faux works just as well).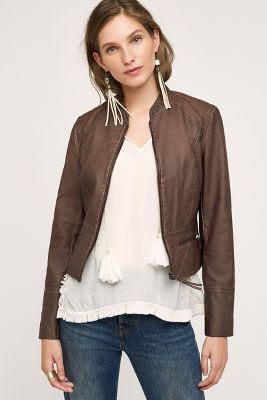 Leather or vegan leather jackets from Anthro work great here with the loose layers and denim bottoms. If you are not wearing what you already own then buy something with color for this season
any of the russets and pumpkin colors totally work or go for a dark forest green, this faux suede jacket from Astr comes in all those colors. You can even mix it all together and wear a suede fringe poncho
as your fall Boho topper
(Hinge from Nordstrom). Wines, russets, camels, pumpkins, forest greens all work as great jacket colors for fall 2016. And of course they all work with a fabulous denim bottom.
The last jacket trend that works here borrowed from the fall Sporty look is the puffer jackets and vest.  Do one in a fun floral
like this one from Anthro or in a really strong bright 
like this from Canada goose to add a pop of color to a mono chromatic denim look.
Boho accessories really haven't changed that much from last fall. For handbags you should pull out last year saddle cross body bag.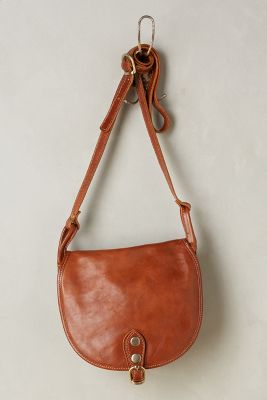 (Anthro)or any bag you bought last year with fringe 
( Elizabeth and James). As a matter of fact if you go on Nordstrom.com and click on Handbags and wallets you can go to a section called Hobo bags and they are all right there for you to look at. 
Even Talbots this season is showing a saddlebag, so if you don't own one you can find them at every price if you are looking. Wines, forest greens, tans and charcoal grey are great colors to buy in a handbag to wear this season and beyond.
Last but of course not least shoes and boots are what really can make this trend. I talked above about wearing suede boots with dresses to make this trend.
A great suede flat boot is almost essential to this trend ( Splendid Penelope boot) but if you already own a great pair of leather flat boots 
like the Frye harness boot they can work as well. Suede and leather booties especially with a block heel
like Treasure&Bonds Windsor bootie will be your go to for Fall 2016's Boho look.  Wear them with skirts, dresses and cropped bottoms. Any kind of casual laces shoe works here as well.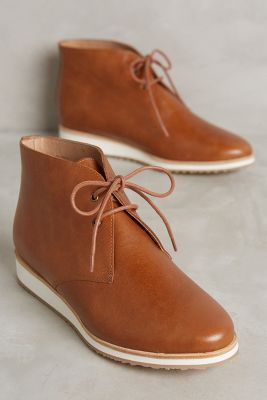 KMB makes this pony hair heel bootie in two colors and you can find in online at Anthropologie.com. Boots and booties are really what this trend is all about but you can wear a casual shoe or a clog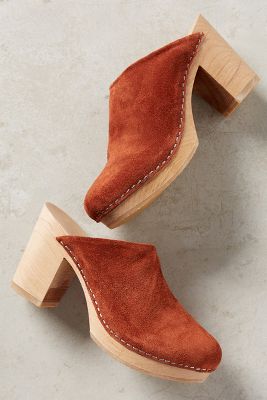 ( Anthropologie.com) to add another dimension to your look.
I am going to leave you with a couple of put together looks I found online that really expresses how to wear this season's Boho trend.
This look from Hinge at Nordstrom.com has some of the elements that make up this trend that we explored above. And of course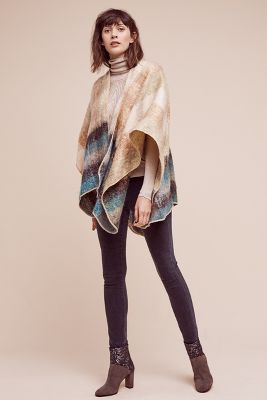 this look from Anthropologie.com says it all.
Fall 2016 Boho is all about being comfortable.  And that can also mean wearing what you already own in this trend and adding one new piece, a poncho, bootie or even handbag to make it your own. I find I tend to wear more and more Boho looks every season. I love the colors and textures and am getting more and more comfortable in them.  I hope you find it the same.
As always if you want styling advice or a wardrobe appointment you can reach me at Suethefashionista@gmail.com. I did a styling appointment with a new client a couple of weeks ago and she wrote a beautiful comment about it on my last blog.  Please feel free to read it and see if I can help you find your own look too.
Over the next two weeks I may not be posting blogs. I will try to get one more up before Canadian Thanksgiving but if not I will be back by the 19th of October with more fall and winter ( and holiday!) blogs for you to hopefully enjoy!  If you are celebrating over the next few weeks I wish you a happy new year and a happy thanksgiving.  Enjoy wearing your clothes and feel good in your own skin!
Until next time…