If there is one thing that makes this fall's fashions stand out from the last few fall seasons it is how absolutely rich and glamorous a lot of the looks are.  This fall fabrics like brocade, velvets and furs ( fake and real) are trending.  Pants, skirts and tops are shiny, beaded and floral.  The colors black, wine, and red permeate every trend. I think what inspires me the most about this trend is that I have fallen in love with dark denim and dark florals. The other thing I love about this trend is you can wear it anywhere! Casual daytime, dressy evening and even to the office.
As I said in my first fall blog this year.  Each trend works independently and together with every other trend. No trend will stand on its own completely.  So mixing trends is ok this season, so you may see a bit of overlap in some of the things I am going to talk about.  Only this week it will all relate to the Dark glamorous trend for fall.
If you went on Hautelook.com last week they even had a section entitled "Dark Romance".  This type of clothing all has the romantic edge.
Let's explore the casual daytime to casual evening aspect of this trend first.
As I said above one of my favorite things is dark denim with a rich floral top.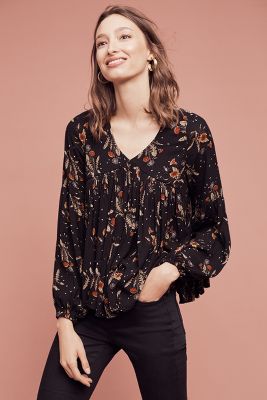 This free verse blouse from Anthropologie with dark bottoms really shows how pretty wearing black can be.  I have a black blouse similar to this one I bought from Anthropologie last year. And it makes me happy every time I wear it.  This season there is a ton of different shapes of denim legs to choose from.  The last few falls we have been wearing skinny versions. This season everything from skinny to flare works.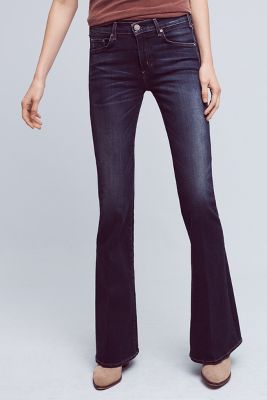 A flare jean like this one from Maguire Majorelle at Anthropologie with work with any of these kind of tops. 
I still love a great straight let in dark denim like from Paige at Nordstrom. Other bottoms you would pair casually to achieve the 'Romantic or glamorous' look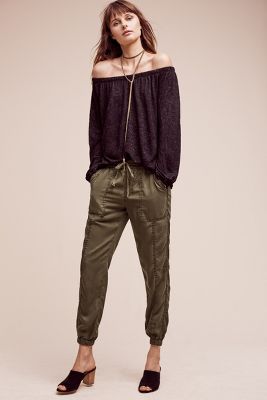 are garment dyed joggers( Anthropologie) and dark-colored crops
in any dark color ( Sanctuary at NordstromRack.com).
Romantic tops are all the dark florals you see in stores right now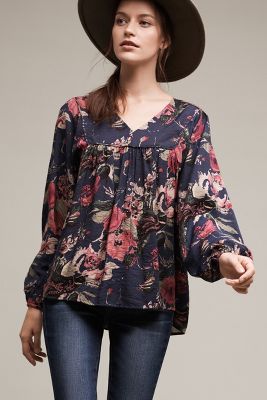 (Caledula tunic at Anthropologie). Or any rich fabric, dark-colored shirt or top you already have.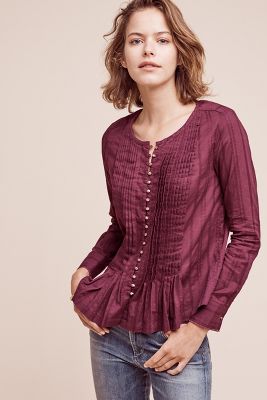 or any top with lacy details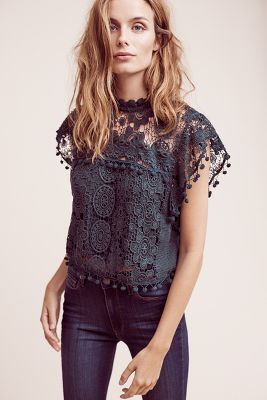 that work with your denim or dark bottoms. Both of these tops are from Anthropologie.com. Other bottoms that can take this trend to the next level are things like
faux leather leggings  (Trove at Nordstrom). 
Wide leg Flare cords from J. Brand. And any faux leather or real leather or suede skirt
that you can wear with boots and leggings for daytime. ( Nordstrom)
Boots that go with the casual aspect of this trend are all the suede flat booties and high boots in dark colors.
This Blondo boot is not only waterproof, it will go with all your skinny and flare dark pants and jeans.  And be oh so perfect with a shorter skirt and tights.
There is nothing more elegant and universal than a great pair of black suede knee-high boots. These Ash "Jesse" boots would work great for a casual daytime look with this trend. You can go with leather as well, but I really think suede speaks a different language when it comes to romance and glamour. The perfect jacket is simple
whether you go faux or real, nothing pulls the look together like a black leather jacket. You can use the moto look you have from last season or go for a sleek bomber
style.  Both these jackets are from Hautelook.coms Dark Romance collection.
Jewellery and accessories cross casual and dressy so I will talk about them at the end.
To take this look for evening, whether it is a casual night out or somewhere more dressy follow the same principles as above ( dark florals, dark bottoms) but take it up a notch.
Here is where you can wear a lacy top with your dark bottoms (Endless Rose top) or pick a top with laces that you can show a bit of cleavage with
( Lush). Another look you can try here for a casual night out with dressy jeans is the off the shoulder look that was introduced last spring.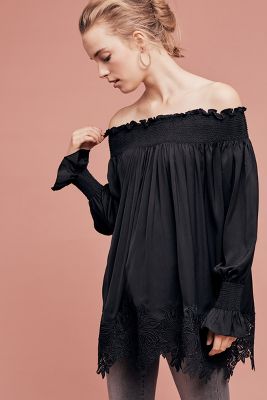 This black off the shoulder top from Vettora is a bit safer because it can be worn on the shoulder as well if you are not sure about this trend. If you are sure than work it with a top like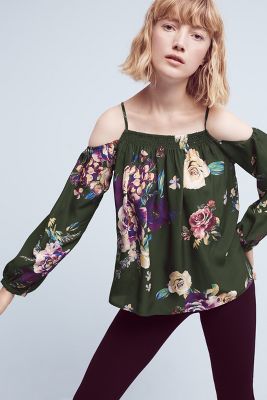 this Tallie open shoulder silk top in emerald-green or deep blue or go all out and with this detailed off the shoulder velvet top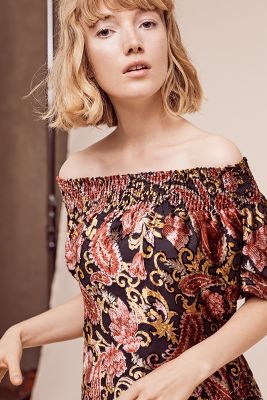 . All of these can be found at Anthropologie. For a casual evening event take your heels up a bit higher
like these suede mid calf boots from Catherine Malandrino. Or go over the knee with skinny pants and shorter skirts
in a pair of suede or leather ( Frye) boots.
This trend is where your black lace dress shines!
Or wear a bit more of an edgy look
in black velvet( Hautelook). And you don't have to stick to black, play with dark patterns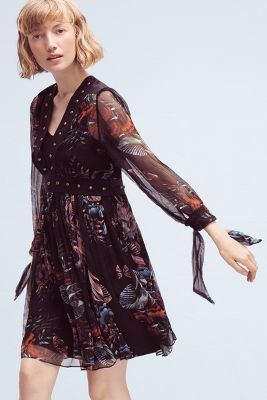 and textures in colored fabrics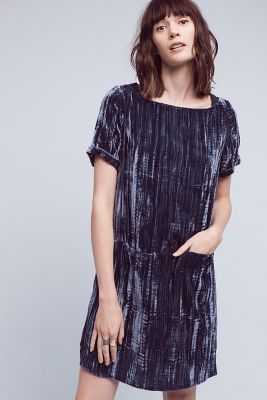 .  Crushed velvet is huge for fall in dresses and jackets.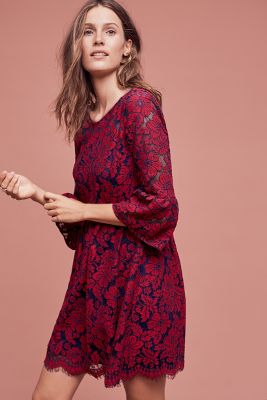 Or pick a dress that is an embroidered floral.  Anthropologie.com is a great place to browse dresses that fit this trend. Absolutely shorter dresses work with tights and high or low heel boots and booties.
But to make your black dress even dressier and more glamorous pair it with beautiful pumps like these snake-skin ones from Donald J. Pliner or wear strappy velvet platforms
like these from Joie. If you really want to take this trend to its vampy maximum
go for an edgy maxi dress from ABS by Allen Schwartz and wrap it up with one of your great leather jackets or go all out with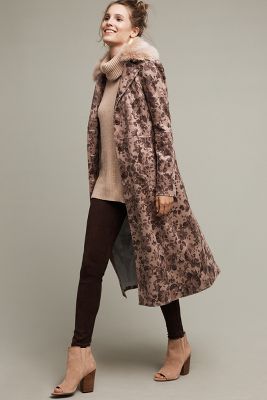 a fur collared patterned duster coat  (Anthropologie) that can pull together any look and make it romantic.
To take this look to the office you need to just add a few pieces to your dark suit.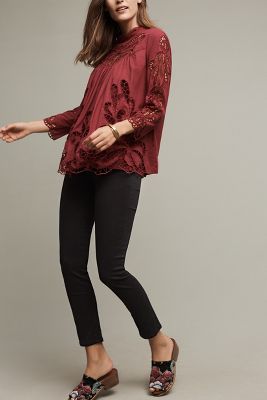 A high neck embroidered blouse like this one from Anthropologie in wine or white will make your dark suit more romantic.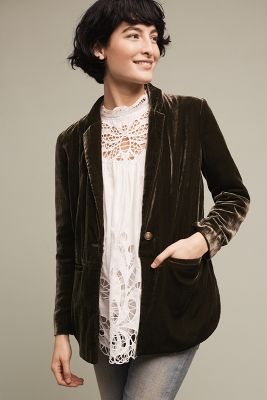 Or wear a velvet blazer to the office.
Or wear a romantic skirt with a black turtleneck and boots ( Alice and Olivia skirt) and feel romantic every time you move.
A black turtleneck, black suede boots and a lace skirt is one of my go to's for a dressier winter look. But it doesn't just work with lace, it can work with any dark fabric or print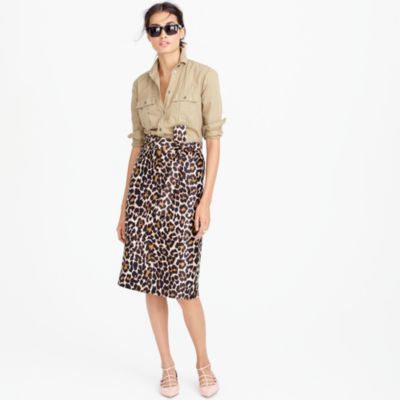 even animal print ( J. Crew) to make the look work for daytime ( flat boots) or evening ( higher heels).
The last way you can add this trend to what you have already is by adding a blouse with a bow or a ruffle. We talked about this last week a bit.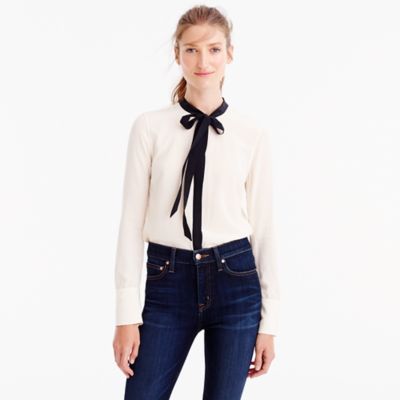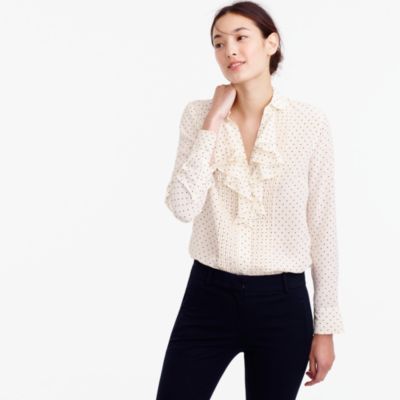 J. Crew has two blouses that would work perfectly to add to what you already own.  Both the bow blouse above or the tuxedo one to the left will make any suit, pant or skirt a bit more romantic and glamorous.
Accessories really shine in this trend.
Chokers,
brooches, especially cameo's
and dangly earrings
all  work so well with this trend. Handbags are textured
, grommeted 
and tasselled
. All the accessory and handbag images above are from Hautelook.com's Dark Romance fall edit. Last week we talked about snake-skin bags, they work here too. And so do really rich looking bags like this wine suede
saddle bag from Elizabeth and James at Nordstrom. Hats, hair bands and accessories can add to the look
both of these can be found at Nordstrom. Use accessories to make the look uniquely you!
One thing to remember with a trend like this: Fall 2016 what works for night can also be translated for daytime. So maybe the look that makes this uniquely yours is wearing a silk or beaded top with a blazer and jeans. Or wearing brocade booties to the office
( Jeffrey Campbell).  Whatever you decide to use to update what you have or to buy new just make sure you make it yours.
Maybe all you need is to add a choker or brooch and you are all set.  Keeping up with each season's changing trends shouldn't be that difficult.  Everyone has a personal style that can be tweaked to be what you want it to be on any given day.
Keep your lipsticks dark, burgundy, wines.  Blue on eyes is all the rage this season.  this maybe the place to try it. Also for evening the smoky eye look works here.  YouTube is a great place to find out how to put on different make up looks. Dominique Sachse is someone I follow on YouTube.  She is a our age and I find her tips really helpful.  Check her out for make up tips.
There are your tips for a glamorous fall.  I hope you found it all helpful.  Need more help? Email me at Suethefashionista@gmail.com and make a styling appointment to update your look or to just work with what you already own and see it in a new light. Use the same email for questions or comments about my blogs, or what you would like me to write about.  I love your suggestions, please keep them coming.
Thanks for following along, until next time…