Every week when I sit down to write my blog, I usually wait until I see or experience something inspirational with regards to writing about fashion or style. I think it won't surprise any of you when I say I am pretty much done putting my own fall wardrobe together. My personal style dips into a lot of the fall trends.  I am likely to wear a little of everything ( just not all together) at some point between now and February. I have quite a casual style.  I end up in jeans almost every day, just different colors and styles of denim. But where I change it up the most is with the tops I choose, the shoes or boots I wear and the accessories I layer on. A lot of times you can change your look by simply changing your accessories. I use necklaces, scarves and bracelets to alter what was Romantic yesterday to be a Boho look today for example.  This new Men's wear trend for fall is the kind of style that you can feminize with your accessories or militarize or glamorize, just depending on some things you choose to accessorize with.
Last summer I told you about a girl friend of mine who absolutely rocks a blazer with jeans whenever she wear them. I think that even if you have a really casual style or a moderate casual style (like mine) you can never go wrong with adding this component to it.  If buying and wearing a blazer with your jeans is the only nod you want to do to this trend, then fine.  Just make it a blazer you love and fits you to a T.
That is what I did for this fall.  I have been searching and searching for the right black blazer to work with almost everything in my wardrobe. So I finally went to Nordstrom and saw my friend Dana in the Individualist Department and bought a beautiful Hugo Boss basic black blazer.
They fitted it perfectly to my body and altered the waist and sleeves until it was perfect.  It is a stretch light wool, so I can wear it all year around. Yes it was expensive, but every once in a while I believe you can splurge on a classic you can keep for years. So I will wear this blazer with my jeans and turtleneck sweaters in the winter and blouses and t-shirts in the spring and fall.
But I went with something simple that I had been missing for a few years.  You can do that or go about this season's men's wear trend in a different way.   Houndstooth is a big part of this year's trend, so are plaids, military details, leather bomber jackets, and preppy styles.  So there are a lot of options when adding a little men's wear to your wardrobe.
The piece that I saw that inspired my blog today was this from Ann Taylor.
A simple ruffle neck blouse with a men's wear stripe. I love that they put it with the rouge ankle pants and strappy feminine heels for a day at the office.
I also love it the 3 different ways they are showing it on their website. 2 serious looks for work and one for the weekend.
This trend is perfect for all the high-powered career women who read my blog. You ladies need to wear serious clothes everyday. But this season, let's take the suit look and feminize it a bit. Start with a basic blazer either in a solid color ( like my black one above) or one of the patterns that is so in for fall.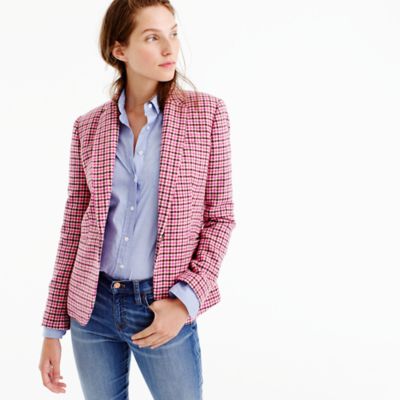 J. Crew is doing their great Campbell blazer in Pink houdstooth for something different. Soft dusty pink is a great way to feminize a blazer look.  The look above from J. Crew is perfect if you want to wear your blazer on a casual Friday or for a weekend look. For work I would put this blazer with either a navy or charcoal skirt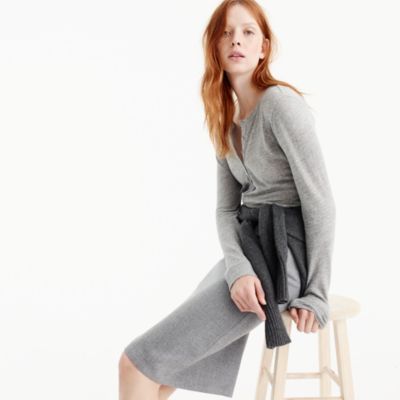 Like J. Crew's best-selling no. 2 pencil skirt.  Navy and charcoal are great ways to add more color to your work wardrobe because all colors can almost go with both. And add a feminine top underneath.
Like this pretty pink Georgette ruffle blouse from Ann Taylor.  Almost every woman I know looks good in pink. It will soften your face and make you feel pretty.
Do you want to take the pieces above to the next level?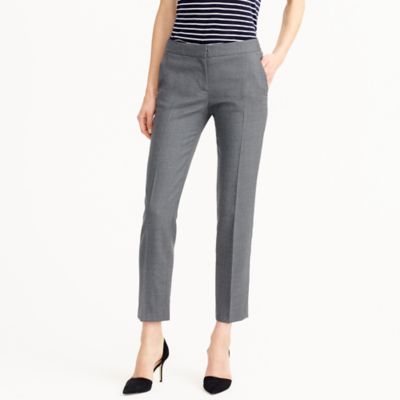 How about adding a cropped leg to the pant you are wearing with it? It will completely modernize the look, again with the pink houndstooth stick to charcoal or navy. The cropped leg with also look darling with a little bootie when the weather calls for it.
Another pattern that I really like in this trend is Glen plaid.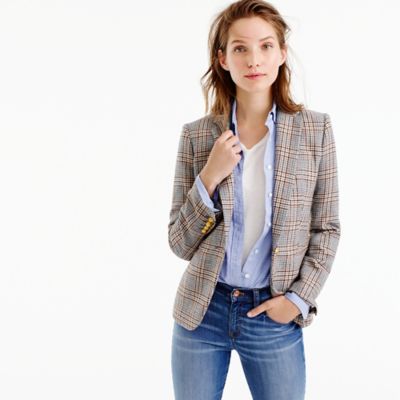 J. Crew is doing the same blazer in Glen plaid and you can do the exact same thing with this pattern if you prefer it to houndstooth. I also love Glen plaid on the weekend with boots and jeans. If you want to wear the same look with runners for the weekend that will embrace the preppy with the men's wear that is so trending right now.
Other fabrics that would make great blazers to add to your fall wardrobe are corduroy and velvet. Velvet is huge for Fall 2016.  You can add it to this trend and we will talk about it later when we talk about Boho, Romantics and Glamor. But a great Velvet blazer in a classic color is a fabulous piece that you can wear daytime and nigh time. Talbots is doing a beautiful classic velvet blazer for fall in 5 colors.
For work stick to black or navy.  Or if you feel daring try it in vintage raspberry ( dusty pink) or scotch pine ( Xmas green).  A velvet blazer with pants and a print blouse will add another dimension to your work wardrobe. Same with corduroy.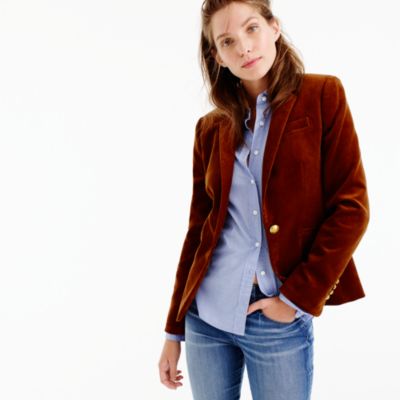 The Campbell blazer from J. Crew is available in 4 colors of corduroy. But I am not a huge courdoroy fan for an office look.  But it could be interesting if you work in a creative environment and can wear denim etc to work.
Other styles that are 'men's wear' for fall and work for the office are things that maybe you didn't think of before.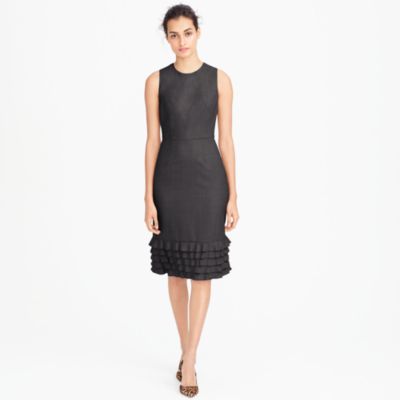 How about J. Crew's ruffle bottom wool dress?  So pretty and feminine for a serious work day. 
Or how about embracing your inner Jackie O with an adorable textured twill double-breasted jacket in textured twill with the matching textured twill flounce skirt all from Ann Taylor. Believe it or not, you are more powerful in the board room when you are dressed like a lady and not one of the boys.  Actually I find that works in every situation. And  jacket like this would be fabulous over grey, black or navy bottoms as well.
I love all the ruffle details and soft flowy fabrics of this season's blouses.
A ruffle blouse like this one from Ann Taylor or
a fluted sleeve blouse like this one, can work and feminize even the most men's wear looking pants. Pick soft feminine colors that compliment your own coloring for under your jackets. If you prefer wine and khaki green then wear those but pick feminine styling.
The accessories are so important in finishing off this look. You can see from the photos above that accessories can change the look. With your mens' wear outfits use feminine accessories.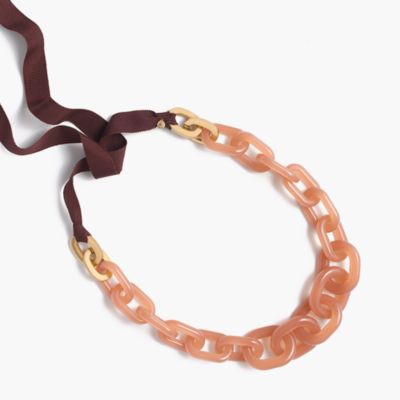 J. Crew has this adorable link leucite necklace different link style and colors on their website.  I love the femininity of the ribbon detailing at the back of this.
Ann Taylor has pretty floral and dragon-fly necklaces and earrings ( and bracelets) that really can make any outfit feel pretty.
Multi layered look necklaces with interesting pendants will look great with even a classic button down shirt.
And long tasselled pendants will work with sweaters and dresses as the weather gets colder.  I use these kind of necklaces to make me look taller, believe it or not.  When the eye is drawn down from your neck to your waist with a long pendant necklace it actually makes you look taller.
Earrings can be studs or slightly dangly with this trend.  In the looks from Ann Taylor above they way they feminize the suiting and men's wear look is with longer earrings. If you want to keep earrings closer to your ear lobe wear cluster pearl earrings like these from J. Crew .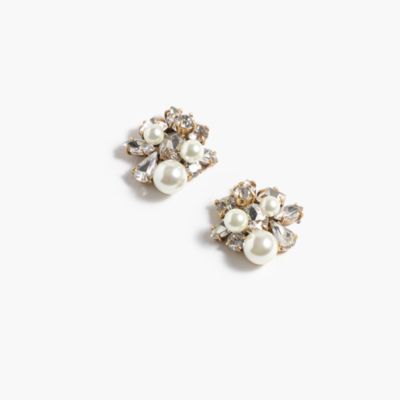 .  I love pearl earrings and necklaces.  You can never go wrong wearing them.
Brooches are a great way to feminize a blazer or jacket. Pick a pretty one like this Marchesa one from Nordstrom or something more interesting like this dragon-fly from Ann Taylor
.  They can really change an outfit.
Snake skin is the go to print for bags and shoes this fall.  It works perfectly with the new men's wear trend.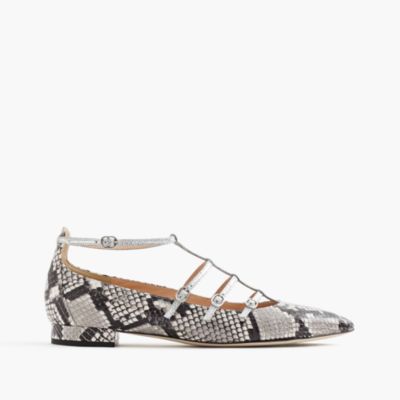 These caged flat snake-skin print shoes from J. Crew would be fabulous with any pants, especially an ankle pant for the office and work with black, navy and charcoal.
Or pick a feminized snake-skin pump from Ann Taylor in colors that compliment what you have chosen to wear. If you don't want to wear snake skin print on your feet but
still want to have one piece of it to feel on trend, how about a snake-skin print handbag? They are everywhere this fall, this one is from Nordstrom. Perhaps you have a vintage one from your mother or grandmother, even better! This trend comes around every few years so wear what you have if you have it.  My nod to snake skin will be  a belt. 
This one is from Talbots and would be great with all the dusty pink that is showing for fall.  Mine is black and white and I bought it years ago. I don't love this trend but keeping one piece of it in a belt will help me feel in style.
Another big accessories and clothing trend for fall that works with this trend in small doses is animal print. 
I am in love with this Norma Kamali trench coat I saw on Hautelook.com on Sunday morning.  It may still be available on Nordstromrack.com if you want it. This is a fabulous topper to an all black look. Don't want to go all in like this trench? Then stick to shoes
a great classic pump like these from Ann Taylor will absolutely nod to this trend without going overboard or a classic clutch
could be the piece you need. Also from Ann Taylor.  I love animal print but I only ever wear one piece at a time.  So if you wear animal print shoes or a coat or a skirt, that needs to be the only piece. Everything else should be in a solid complimentary color ( black, brown or camel).  Even if you wear an animal print scarf ( I have many)
like this Vince Camuto scarf, just wear the one piece.
And let's not forget about Velvet. Velvet is huge for day wear this fall. You will start to see it almost everywhere.  It was all over Nordstrom ladies wear department when I was there the other day. Wear it in a soft jacket instead of a blazer
Free people is doing a moto jacket in velvet that can edge up and feminize your work pants all at once. Or great over a dress too!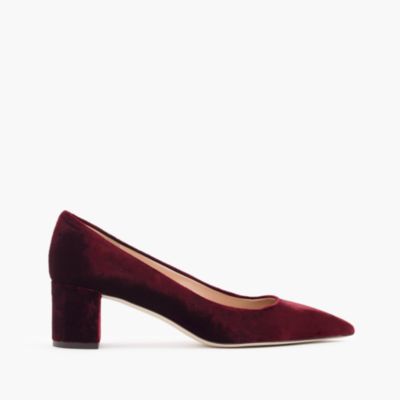 Or do your velvet in a classic pump like this one from J. Crew.  You will wear them with this trend and a few others this season. Velvet scarves, wraps and kimono's are all in for fall. This beautiful Savannah kimono from Anthropologie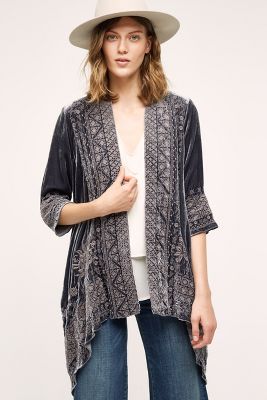 would be lovely over charcoal or black dresses, skirts and pants for an office to dinner look.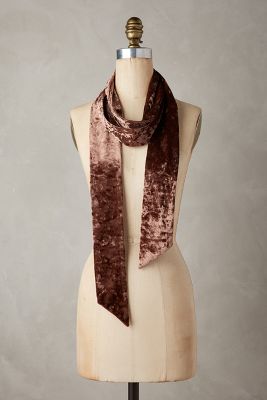 Or do a skinny scarf in Velvet like this one also from Anthropologie. It will go with everything!
Look around the internet and come up with your own way to add this trend to your closet.  Go to the sites I talked about or go out and shop the stores and see what inspires you.
I am going to leave you with a couple of my favorite images that to me embrace this feminized men's wear trend.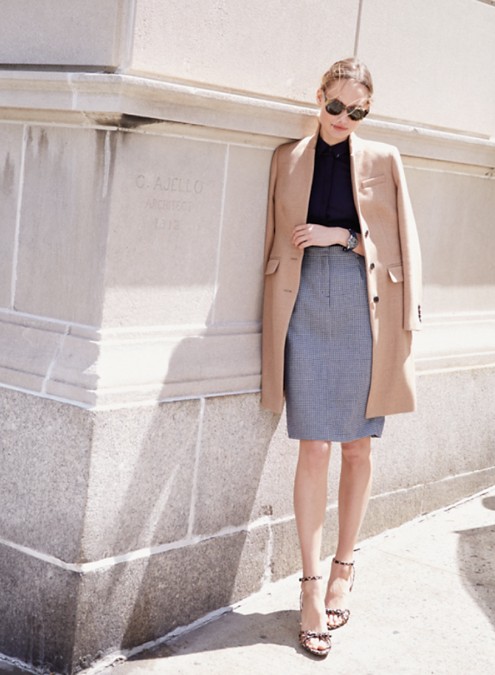 This one is from J. Crew, hint: it's the animal print strappy heels that make this outfit.
This look from Ann Taylor's website. All of these looks nod to the modernized feminine men's wear trend. Go to the Ann Taylor website or store and explore it for yourself.
I know this was a longer blog. But this trend is something that needs talking about. If you need help styling your look just email me at Suethefashionista@gmail.com.  I love helping you find your own style. I worked with someone this week and she has never felt better about what she wears and how she looks. Or if you have fashion questions or comments about anything that I am writing about please use the same email.  I love to hear comments, questions and suggestions for future blogs.
Enjoy exploring everything that is out in the stores and online for Fall 2016.  More trends next week. Until then…