Playing with words like Ingenue and ethereal really mean a very delicate side to the pretty trend for Fall.  And Fall 2016 styles are indeed pretty and delicate in a lot of ways.  But to really capture the Fall 2016 modern pretty, there has to be a slight edge to it.  We spoke about mixing pretty and edgy for Spring.  The same trend continues for Fall, but tones and textures are richer and even more luxurious.
Ruffles, lace and bows are all trending for Fall.  Think of beautiful sheer fabrics that mix with things that make them pop. 
Ann Taylor has a Modern Pretty section to their website that really plays to what I am talking about. It takes the Pretty trend and brings it full circle to meet a modern, almost edgy partner.
Colors in this trend for Fall are the dusty pink that is a hold over from Springs many shades of pink.  The all important color off white, that brings white into a winter hue and soft blues and blushes of some of the shades we are seeing in the other trends.  Lace is a very big part of this trend.
But it is modernized so that it is not your grandmother's lace but a newer hipper weave. And the shapes of things are changing.  Not to say that your lace pencil skirt will ever go out of style because it never will.  But new shapes are emerging
and tempting us.
As are new colors to make lace less evening and more daytime. As you can see from the lace skirt and shirt above. This season it's okay to wear your lace skirt, top and dress
to the office or for a less dressy occasion. And for that matter mix your lace with different things to make it look more modern.
Lace detailing on this shirt gives it a pretty twist. Wear a button up shirt with your lace skirt.
Florals are the next step in wearing this trend.  Take your lace skirt and pair with a dark floral skirt or vice versa.
Wear your lace dress to the office in a shade that works with your camels, blacks and browns.
Take your floral scarf and wear it as a choker to work back into your dress/skirt/top.
Wear your florals as well with the paler shades.  Florals for fall should be dark and patterns should be large and 
in unexpected colors or color combinations.
Now if you can take these bolder florals and tie them back to your softer silhouette tops and bottoms
you can own this look and make it your yours.
If you want to take this a step further and put an edge to it, add some chain detail accessories or a modern choker to your look.
Take a bold chain necklace like this one from Whitehouse Blackmarket and add it to the chestnut colored lace dress above. Or wear your lace pencil skirt with short booties or over the knee edgy boots like these from Stuart Weitzman
.  they would look fabulous with a lace skirt in the same or a complimentary color.
Ruffles are everywhere for Fall 2016.  They make up a huge part of this trend and poke into almost every other one. The head to toe ruffle look is smart for fall
. Or wear your ruffle in one outstanding piece
that is as eye catching as it is pretty.
Bell sleeves and fabrics are as important as the ruffles they hold.  You will see a lot of ruffle details on sleeves, collars and hems.  And in the softest shades and richest fabrics like Shantung, cashmere 
( Talbots)
and wool ( Kate Spade). Think of ruffles for Fall 2016 as the go to theme if you don't know what to wear.
You will see ruffles mixed with things like lace in sweaters ( Karen Kane). And you will certainly see them on the hems of skirts and dresses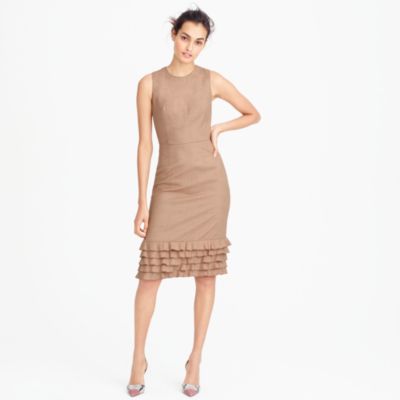 ( J. Crew) to wear for daytime and night-time alike. Ruffles for fall can be subtle and solid
or mixed with prints
or florals.
They can come in tiers or simply be part of the way the top or skirt fits your body
. J. Crew is showing ruffles in different fabrics for work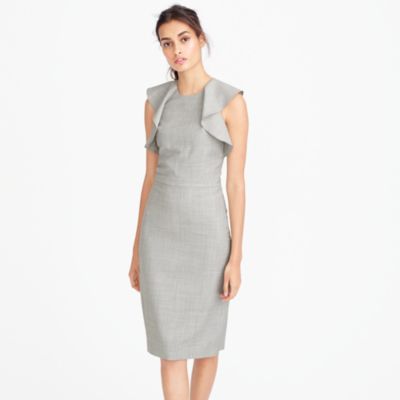 and play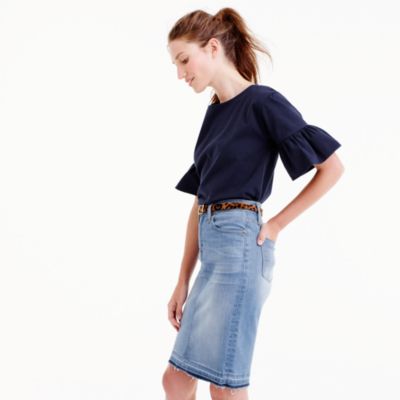 . I think the thing to remember with ruffles and laces are that what was only for evening is now for day.
That brings me to another part of this trend and that is to wear things that used to be reserved for night for day time. Your lace dresses and skirts now go to the office or to meetings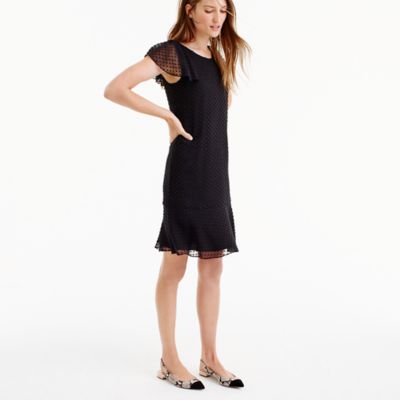 just keep your accessories in theme with the occasion and your lace tops now go with your jeans
for any casual occasion. I personally love ruffles, especially unexpected ruffles like around the neck of a turtleneck sweater
(CeCe) or on the edges of a blazer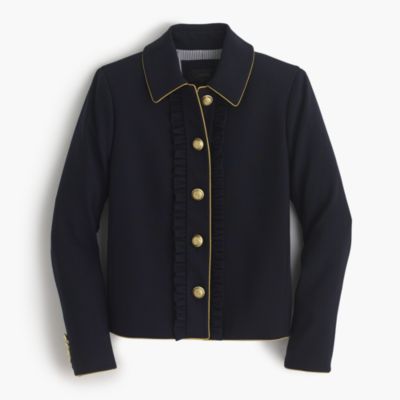 ( J. Crew). Or even in denim
like this CeCe denim shirt. Ruffles are definitely a go to item.  
You can even see ruffles on the sleeves of a modern lace top for fall!
You will find touches of ruffles and lace almost everywhere you look this fall.  And the last item that seals this look is wearing bows.  Blouses and jackets for Fall will have bows or you can wear them as an accessory.
This Chelsea28 dress from Nordstrom has the blow and sheer detail on the sleeve.  Appropriate for an evening out but this season also as a day dress.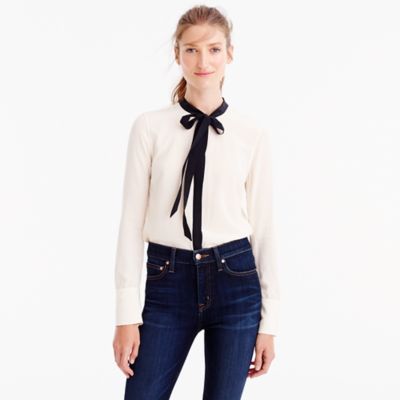 If you go to the J. Crew website all the shirts that you see are either ruffled or tie with a bow before you start scrolling down.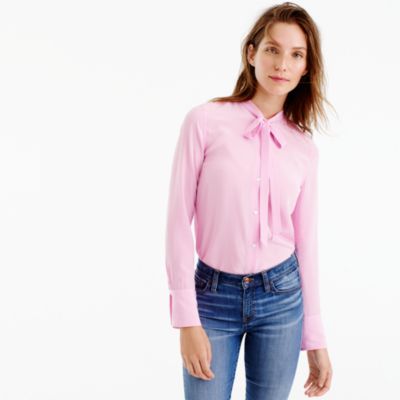 Adding a bow in a soft pink shirt or the one above in black and white can take you from play to work.  But if you do it in a stronger color like red or navy it will play through almost all the trends for fall. Edge up you feminine bow tops with jeans or refine them with pants. A really interesting way to wear them for work or evening is to wear them with the new leg pant.  A culotte!
These Trouve wrap cullottes from Nordstrom would be fabulous with a ruffle or bow blouse for the office with a daytime heel.
Accessories play a huge role in this trend.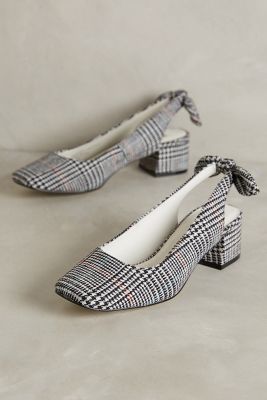 You won't have to look very far to find shoes with bow details like these Betty Muller slingbacks. 
Ann Taylor really owns this trend this season with bow flats and pumps in strong blacks, prints and soft colors as well.
You will see the trend of scarves being worn tied in a choker detail finished with a bow almost everywhere.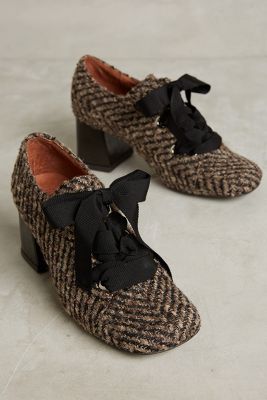 Lots of shoes and boots will have lace up details with elaborate laces like Jeffery Campbell oxfords.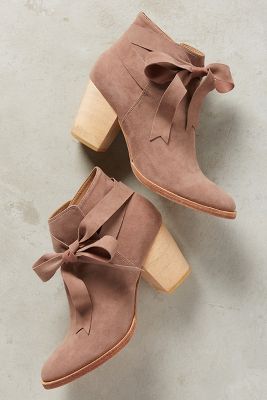 Or these Huma Blanco Bowtie booties.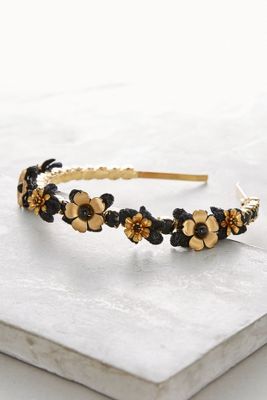 Head bands and necklaces
will have floral details.  As a matter of fact use the pearl necklaces you already own with this trend.
Mix and match your own necklaces to create a layered look like this one from Ann Taylor. You can even throw a floral layer in their if you have a delicate floral necklace on hand. The chain necklace mixed with the pearls edge up the look so when you wear it with your ruffled top and ankle pants it adds even more interest and intrigue to your outfit. Or wear a heavy chain necklace with your floral one, this will also add interest and dimension.
I happen to love Kate Spade.  For this trend she is your best friend.  Her handbags are quilted and detailed
or simply whimsical and fun
.
You can always find Kate Spade shoes with bows and other details that make you smile. Not to mention blouses and dresses that have bows and ruffles
or an elegant floral pattern that really speak to this trend.
Nordstrom is a great place to explore Kate Spade clothing and accessories.  Ann Taylor is where I found most of the images that are not marked above.  The other store you can explore pieces of this trend is Anthropologie.  But I found that Ann Taylor owns this trend as I said above.
Every woman likes a touch of femininity in their outfits.  Even if it is a pretty necklace with a sweatshirt and jeans, or sneakers that tie with a bow. I think I have told you before tha years ago I bought a sweatshirt with lace and a peplum detail at Anthropologie.  I can dress it up and dress it down and am always comfortable.  Even if that is the only piece you want to wear in this trend, find a great one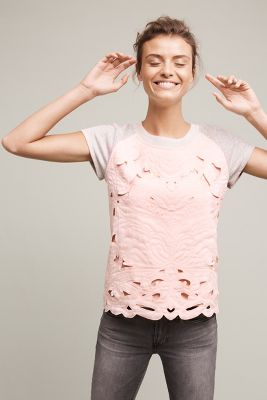 like this soft blush Mille Sweater shirt at Anthropologie and let it make you feel pretty.  Feeling pretty in what you are wearing is what this trend is all about.
As we go through the trends for fall I am happy to answer any questions or comments. Email me at suethefashionista@gmail.com.  I will always make time to answer.  If you want to set up a styling or wardrobe appointment for September or October please book quickly, it is a busy time of year for me. And as always I really hope you enjoy reading my blog and I have helped you to find a style or a combination of styles that make you feel really good about what you wear!
Until next time…