It looks like the sporty look for day wear will be around for a while.  Mostly because I believe women are comfortable in these clothes and designers have embraced the look as party of the day wear collections. I have a couple of friends who love this look.  I have to say it has started to grow on me.  Especially embellished sweatshirts with jeans and boots for daytime in the winter. But of course this look is so much more.
Let's explore this trend in detail.  For Fall 2016 it can border on preppy and for those of us who lived in the 80's we remember how much we enjoyed the preppy look.
The basics of this trend is sportswear items that you could wear for exercise translated into looks that can be worn for every occasion ( although I still can't recommend this for a formal occasion).
I am particularly inspired by a line I saw on Hautelook.com called Lime and Vine.  I believe it is also available on Nordstrom Rack.com. How many times do you wish you had a dress like this
to throw on to run errands or go for a walk in.  Of course you can pair it with runners but what about with leggings underneath and booties?
These are by Sam Edelman and come in lots of colors.  Once you have the bootie with a heel it makes it a dress you could wear for a casual lunch. Lime and Vine shows the same style of dress
but in a more refined sweater stitch instead of fleece.  Notice the hem detail.  Pair this dress with boots
like these suede ones from Le Canadien and you can wear this dress to the office on a casual dress day.
Cute pants like these multi zip ones, also from Lime and Vine
can work great with a turtleneck
like this Halogen one and booties
like these Chelsea ones from Sam Edelman and poof! You have an outfit you can wear almost anywhere.
One other things I really like about this look is wearing sweatshirts not meant for the gym.
Funnel necks are still super strong in sweaters and fleece tops, why not get one that can work with jeans and skirts as well ( Lime and Vine).
One thing I mentioned when I introduced this trend last week was that Whitehouse Blackmarket has a whole Athleisure section on their website! They show looks that can take you from really casual to the office and out for dinner.
one of the key pieces they are showing in their looks are ponte knit leggings which can work instead of fleece pants with the whole sporty look.
Ponte leggings can be worked dressy enough to work with a blazer or long jacket
or casual enough to wear for truly a weekend look
.  Remember your shoes/boots and accessories can dictate how you wear this trend.
Another component of this trend is denim. We all love our jeans. I would say that denim will be in almost every trend this fall in some way.  Here denim is going to be patchwork and fun jeans, denim shirts and of course jean jackets.
Distressed denim is still part of this trend but why not try something new?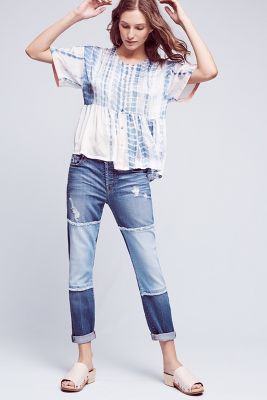 Patchwork jeans are the new trend like this pair from 7 for all Mankind. The more detail in your denim the better. Shredded is the new distressed
like these from Kut from the Kloth at Nordstrom. It doesn't matter which silhouette you choose in your jeans, from skinny to boyfriend
buy embellished ones this season. Or how about working the patchwork trend into a dress
by Current/Elliot.  Great with runners now and with leggings and booties or high top runners later.
Colored denim will also play a role here.  NYDJ has lots of jeans and lots of colors, take your pick you can't go wrong.  I have jeans from last year in a wine shade and I love them for a different look.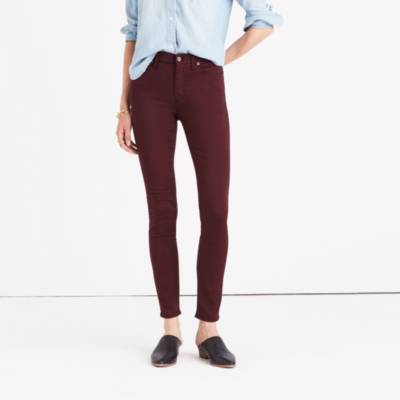 Madewell.com is a great place to find every color of denim you can imagine. Especially in their high-rise skinny jeans which really looks great with anything.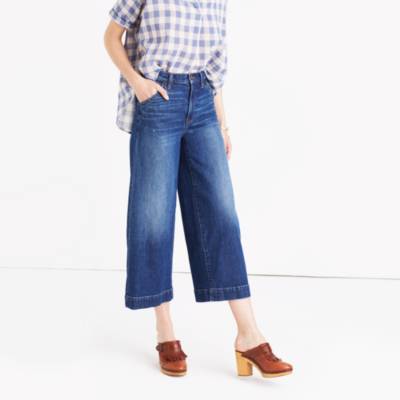 Flare jeans and wide leg drop are really a must this season, at least get one pair that is a bit shorter and wider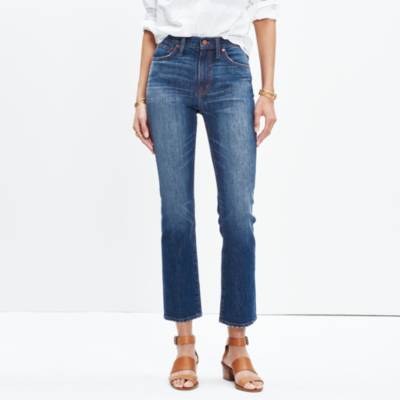 like a cropped boot cut jean if you don't want to dive in.  But denim is going to make any casual sweat top or fleece top work even better
like this Top Shop fleece bomber jacket with the patchwork cropped jeans.  Absolutely current and stylish.
This trend also takes your standard jean jacket and moves it up a couple of notches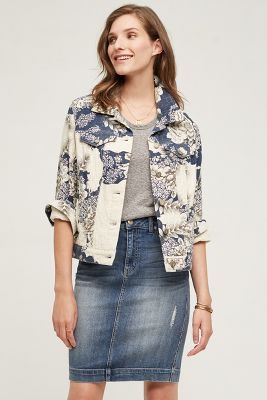 This print jacket by Pilcro denim works with denim or anything on the bottom.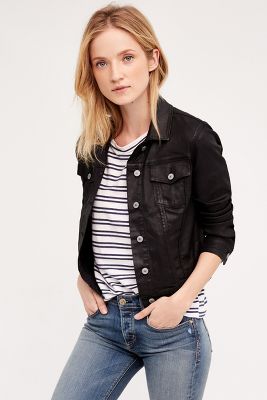 Or try a coated denim jacket like this one by Jean Shop for different look.  But take your denim jacket, even if you still wear the same one over and over ( like me) and wear it as a blazer with soft pants and a sweater and sportier shoe 
like these Geox high tops and you have mastered the sporty Fall 2016 look!
Another component of Fall's sporty trend is the coolness factor.  In Style magazine refers to this trend as 'the Queen of Cool'. This is where you take your joggers and make them cropped and shiny or out of leather.
Like these out of silk from ATM Anthony Thomas Melillo and pair them with a high heel bootie or shoetie like this fringed pair from Bella Vita
bonus is these are waterproof! and wear it all with a bright cashmere sweater
like this one from Nordstrom collection.  Accessorize with a shiny cross body bag
like this one from Hobo or one with detail like
this one from Rebecca Minkoff and you are set.
The one piece that is essential to go over absolutely every look I have talked about today is a puffer jacket.
The shinier the better like this one from S13 with a detachable hood. Metallics are huge for fall and so is navy and bright blue.
So why not try a new color in a puffer jacket for fall. Or be super daring and go for  
a bright orange like this quilted barn jacket from Talbots. This is truly the season to wear your puffer jackets with everything, even with your evening wear, but we will get to that in another blog.
Runners, athletic looking booties and any casual shoe or boot with
with a snake-skin print will pull it all together and look chic. Or you can go with a street sneaker to make your sporty look a bit edgy.
This French Blu cut out high top would look great with boyfriend jeans and a striped t shirt.
Or go for a funky pair of slide on sneakers with embroidery on it.  You can even wear this with a fleece dress! 
Forget suede loafers with your jeans and jacket and instead sub these Ziginy suede sneakers. The best part of wearing street sneakers is that you will comfotable all the time!
Jewellery is small, sleek and metallic. Or add a choker
the new go to necklace for Fall 2016.Or you can do the exact opposite and wear heels and long dangley earrings with your joggers.
It all works for Fall 2016.
The keys to rocking this trend is to be true to  your own style. If high heels and dangley earrings aren't you, then wear this trend with classic cashmere sweaters and oxfords.  If denim is all you want to wear, then try wearing one of the embellished fleece tops all over the stores this fall. And what ever you do, don't forget your puffy jacket!
I hope this blog gave you some new ideas to refresh your sporty style from last year.  For questions or comments or to set you an appointment please email me at Suethefashionista@gmail.com.  If you love my blog and want to advertise on it use that email address as well to get in touch.
More exciting fall styles coming up in the next coming weeks, until next time…