The time has come to start talking about Fall 2016.  I have been hinting the last couple of blogs about what the trends will be.  So now I can go through each trend and talk about the key elements.  In this blog I will introduce the many trends that make up Fall 2016.  And then in the following weeks each blog will take you through one or two of those trends and I will finish with accessories and beauty.  Similar to the way I did Fall 2015.
The biggest difference between Fall 2016 and 2015 is how many moving parts each trend has. It is almost if you can fit all the different trends together in different ways.  So it will seem that if almost nothing ( as long as you look good in it) is off limits!
Let's start by mentioning a few assumptions I am going to be working with when I recommend what to try and what to wear. The first assumption is that everyone who reads this blog and follows along is a bit more mature and is past the age of 35 ( in other words a real women, no girls). Also I am going to assume that no one has a perfect figure and that we are all working with something we want to minimize and disguise as well as other things we want to feature and distinguish. Remember we each want to look good in our own skin and not compare ourselves to anyone else.  The key is to be the best you you can be!
Fall trends:
Pretty and Edgy ( the Ingenue look)
We have talked about how important Pink is going to be for Fall 2017.  This trend takes the subtle shades of dusty Pink, Baby Blue and the things like Pearls and Lace and mixes it back with our favorite leather Moto jackets and edgy boots and accessories.
Try a Romatic mix of colors and textures like this floral dress and Moto jacket from The Kooples at Nordstrom.
Or go with the soft palate of a pink smoke Jacket from Whitehouse Blackmarket with skinny pants and a dark shirt. Pair with a pearl necklace and moto boots and you are done.
2. Luxe
This season we are embracing all the luxury fabrics and styles. Think Brocades, Velvets, Metalics, Fabrics with alot of shine.  Jewelled accessories and shiny details complete this trend.
Ted Baker London 'Keirly' Sleeveless Mixed Media shift dress.  Notice the bows on the shoes!
Shiny Vegan leather leggings from WHBM.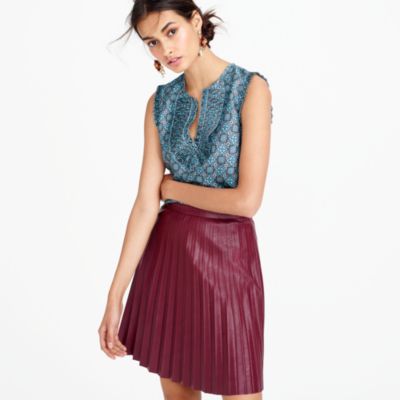 J. Crew is showing this Foulard silk top and a faux leather pleated skirt.  Great as is now and then with a velvet blazer in the fall!
The key here is rich blacks and textured fabrics.
3. Sporty is never out of style
This look keeps getting reinvented season after season. And it really hasn't changed much from last year.  What is new for Fall 2016 is the pieces that are added to make it a complete trend.  Last year we had puffy jackets and lots of sweatshirts.  Striped shirts and t shirts underneath everything.  Boots and shoes with runner like soles.  It is all back. But this year add patterned jeans to the look with ribbed turtlenecks and you have a million new ways to wear what you already own.
Take your distressed jeans courtesy of WHBM and mix it with
a cross over front sweater or
a Moto jacket and striped top and scarf. WHBM has a whole new category for fall call Athleisure, go there for styling ideas.
Add a snake skin sneaker and
convertible back pack and you are done. Thanks WHBM! ( one of my favorite stores!)
4) The Romantics
Fall 2016 is nothing if it is not Romantic.  But Romantic with a modern twist. Suedes abound, leopard print abounds as well. This is where all our dark florals can work as well. Take this trend and mix with all the fabrics and textures from the Luxe trend and you really have an entire closet full of things to wear.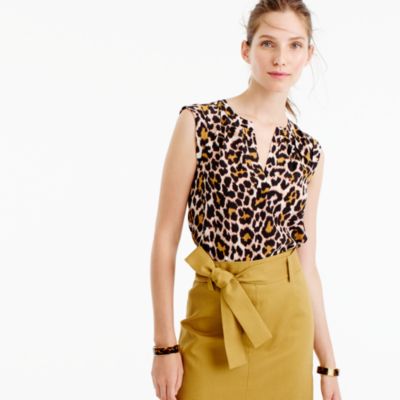 I am in love with this leopard print silk cuffed sleeve top form J. Crew. So great with a primary color skirt. And who doesn't love a silk bow blouse with jeans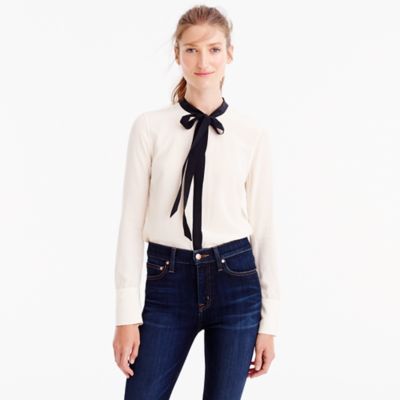 also from J. Crew. We saw this trend for Spring and it is strong into fall.  For work pair this with a black blazer and a black floral print pants. Or be right in style and wear your bow blouse with cropped wide leg black pants
available at every retailer in every price and fabric for fall. Suede jackets, boots, shoes and bags complete the look. 
Suede booties and color block tote courtesy of WHBM once again.
5) Men's Wear
Once again we are all coveting what our husbands and significant others are wearing. Men's wear looks are back once again. Checks, Houndstooths, plaids, etc. The big difference this season is they are styled in feminine silhouettes and paired with things like snakeskin accessories.  Leopard will work here too if you don't like snakeskin.
Kate Spade is showing this textured tweed sheath for Fall.  Pair with men's wear inspired oxford shoes. 
Ellen Tracey is doing a feminine houndstooth skirt.
And one of my favorite Nordstrom brands, Halogen is showing this block print jacquard dress. Pair with a long sleeved white t shirt and booties as the weather gets colder and even add a cute grey or black tam to complete the look.
A great piece that really embodies this look is Eileen Fisher's windowpane cascading jacket. Fabulous over a black dress or your jeans and a turtleneck. Add Lucky Brand's Snakeskin Bartalino bootie and your all dressed.
6) Boho
Women love Boho and the Boho look loves us back. Nothing looks better than a pair of jeans, maybe soft flares with a great colored peasant top and a fur vest.  This season make your fun furs all colors, especially the primary ones.  Add a little lace or velvet into your top or accessories and finish with a saddldbag purse.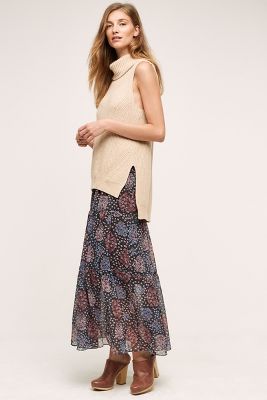 The quintessential Boho look couresty of Anthropologie. Pair their Moon lake Maxi skirt with a Cowled tank sweater and and suede or leather high heel clogs and you have it. Other looks that will excite you and build on your already great Boho wardrobe are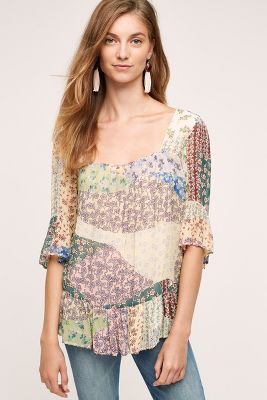 Anthropologies patchwork peasant top, their Vista Poncho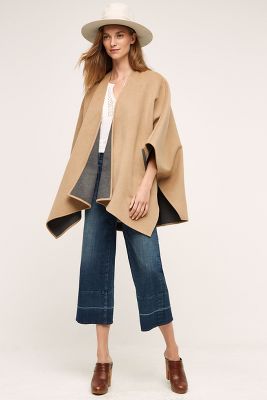 so great to pair with your wide leg crop jeans!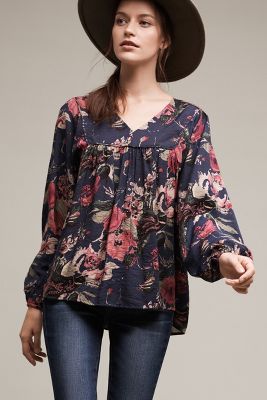 Don't forget your flares! So great with a boho floral blouse and floppy hat. All from Anthropologie. Later in the season add a colored fur vest
like this blue one from Love Token or pair with a suede jacket.
Sole Society's faux leather saddlebag completes the entire look.
7. Military
Ok I will admit it I love the military look. It is streamlined and you can mix it all over your wardrobe. It can be serious and fun. I am so happy whenever this trend rears it's head again.  The twist on this season's Military trend is the colors, of course there is black and navy but also khaki, orange and yellow.
Right now pair your military vests with jeans and t shirts. Later wear a turtleneck sweater underneath and leggings with a moto style or military styled bootie.
Free People is showing this fab Military coat with a fur collar that you can wear with everything. Something like this would be all you would need to add to your wardrobe to make things military. 
Right now this Winzippe bootie from Stuart Weitzman is on sale at Nordstrom Rack.com. Now would be the time to grab it while they still have sizes left. This would be a fabulous way to turn your leggings and turtlenecks into a military look with a quilted vest or jacket that you already own.
Now there are some other ways to make the trends work for you:
How about mixing Military and Sporty?  Let's just say this would be a preppy hipster combo!
Or take your Men's wear looks and wear them with your Pretty and Edgy trend looks, instead of minimalist let's call this Maximalist and it will all work together.  Mix your fabrics and textures and colors!
Take your glamourous looks from all your trends and wear a puffy jacket over top.  Or add sequin details to your Luxe trend to take it a step further.  Remember that basic back leather skirt I have been recommending buying. It will take any Luxe look to another level and mix great with your Military looks too.
So that is your sneak peek at Fall trends for 2016. I absolutley love the way we can mix and match them all if we want.  Starting next week I will go through each one in depth. As for now I am going to leave it here.  Surf websites like WHBM, Anthropologie, J. Crew and Nordstrom to see how they put looks together.  You can get some great inspirational ideas.  Alot of what we talked about today you most likely already have a just need to tweek it to be au courrant for this year.  I am here to help. Email me at Suethefashionista@gmail.com with questions or to set up a styling appointment.  If you still haven't cleaned out your closet, get on it! Re Sale clothing stores stop taking items in September. Or email me and we can do it together and I bet we find a lot of hidden gems to can still wear in there. I am happy to help you feel stylish anytime.
Until next time…
.