One of the things I see in every August fashion magazine is the Wear now and Later section.  But really and truly, are you going to wear the same things you are wearing now (heat waves all across North America!) in September when the weather begins to change? There is a way to do it, but not the way the fashion magazines tell you.
Forget about wearing your white linen pieces into fall.  It won't work unless you live in the South and the weather is still hot.  What you can wear into fall is white jeans, white t shirts and white knits. Even a white blazer can work into the end of September.  Just stay away from the light linen ones.
Here is Whitehouse Blackmarket's Trophy jacket.  It is polyester and spandex and this is the kind of white jacket you can wear year round and certainly will take you into the next season.
Do you all remember the blog about transition dressing? I posted it a year ago and it was called the Secret Season: Transition dressing.  Well this is the time of year, and for the next 6 weeks that we are back to that time once again.
We are at the mid point in August.  Stores are filling fast with fall clothing and accessories.  Yet it is still warm outside. What can you wear now and then make work as there is a chill in the air morning and evening but still warm temperatures during the day? So here is how I think we should decifer  wear now and later.
Here are the key pieces that makes it easy to transition this summer season into fall:
Dark Tops
Right now if you go into any store you will see dark short sleeve and sleeveless tops a plenty.  These tops can be key in your fashion strategy of how to survive warm weather in August and September.
Something like this Magnolia Pleated shell from Ann Taylor can work on many levels.  Great for the office with dark pants or skirts and fabulous with your jeans and dark sandals on the weekend!
A basic black shell, like this one from Pleonie can be essential to surviving the late days of summer and early days of fall. It will work with any bottom, jacket or sweater as the days get cooler. If you have too much black already, try doing the same idea in a color that will take you into fall
like this berry, black and white combination in the same top.
I tend to buy tops like these whenever I find them at a good price. I buy colors that I know I will wear season in and out, like black, wine and khaki.  I wear them on their own now and in the fall with cardigans and jackets.
Tops with sleeves are also great transition pieces, just make sure they are light enough to wear while it is still warm out.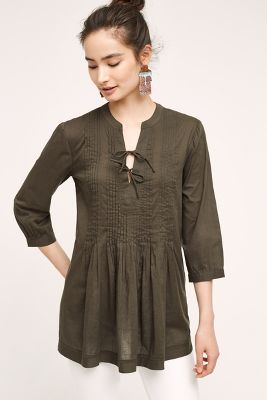 A cotton top like this Sansi Pleated Tunic from Anthropologie is light enough for now and works for later as well.  Wear it now with your white bottoms and then switch to darker ones in September. Any top in cotton, silk or a light polyester can work for a great transition top.  Just keep your colors darker and your prints darker as well.
Any sleeveless shirt in a dark color can take you right into fall. One of my fave's is this Mixed Media Keyhole shell from Ann Taylor
It works now as is and later wear it with a sleeveless vest and cropped pants for work 
or use the same look and pop it with jeans for a casual look
. When the weather gets cooler switch the vest for a long sleeve sweater or jacket.
A long sleeve sweater duster like this one from WHBM will work a ton of ways in your wardrobe.
Another favorite transitional piece that can go the distance is a poncho.
Find one like this one from WHBM that compliments the colors of your transition pieces and it can take you all the way to October when it's time to switch to a coat.
Last top I am going to mention is the sleeveless turtleneck or mock neck. 
Just make sure it is in a dark or neutral color like this turtleneck tunic from Ann Taylor.  This will work all year around, great with crops and pants for now and under jackets and dresses for fall.
Bottoms:
The key to finding bottoms that move through different seasons is going with fabrics like knits.
A pair of Ponte knit slim ankle pants like these from WHBM work all year around.  They are great with flats and heels now and boots later. Another great transition pant is the Wide Leg crop pant.
This one from Ann Taylor is a viscose/poly/elastin combination so it will work now and all the way through fall. When the weather gets cooler just wear the same pant with your boots.
Here is WHBM's cropped wide leg pants with booties. It will be a fabulous and fresh look come winter. If you don't want to wear the culotte look, try going to a crop flared pant that is just a bit tamer,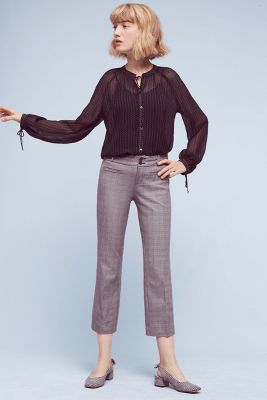 this essential cropped flare pant from Anthropologie works the same but is a little longer and not quite as wide.  And will look just as great with your boots and booties come winter. Jeans work all year around, no questions about that.  Just go a little darker with your denim as you get into September and October.
For skirts you can almost use the same philosophy you do with pants and tops.  Darker and knits work great.  But here you can add dark prints as well.  Dark florals are huge for fall 2017, so why not use it in transition as well.
Skirts are definitely longer this fall. Hemlines hitting your knee or below. A floral full skirt like this one from WHBM looks great with heels and boots alike. Wear it now with light color and weight tops and then with dark knits later.
As with jeans, denim skirts work all year around as well.  Here is the denim pencil skirt from WHBM, so great now and with tights and boots later.
Dresses:
I wear dresses all year long.  I really don't do that much with transition dresses aside from  black knits.  I have a couple I have gotten along the years, my favorite is from Eileen Fisher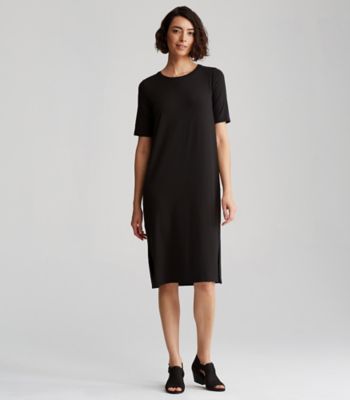 their viscose jersey t shirt style dress will work for years to come.  Mine happens to be from last year and is sleeveless.  It works with open toed shoes now and tights and booties later. Just because hemlines have gotten longer doesn't mean you have to turf your shorter or mini dresses.  Just pop tights or skinny jeans underneath and wear them as a long tunic top.
A dress like this one from Astr can be worn easily with leggings or over jeans.  I don't really wear short dresses anymore.  But I do love shorter dresses in the winter with leggings and boots.  So any long sleeve dark print dress you are wearing now can be worn this way later.  It's really great with a swingy cardigan over top too!
Shoes:
While it is not time to pull out your boots yet.  It is a great season to wear open toe booties like my favorite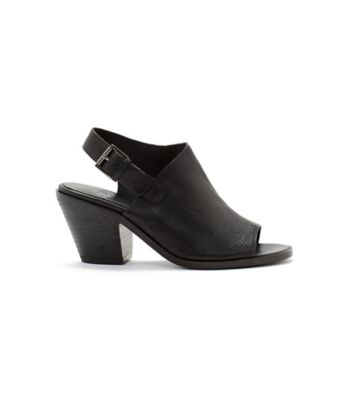 ones from Eileen Fisher. Once it starts to get a bit nippy in September switch to loafers and closed toed heels. But for now enjoy seeing your toes.
Loafers and flats are key to wearing your looks into fall. Leopard print is huge for Fall 2017, why not wear a flat while you are transitioning
.  These ones from WHBM can work great with your cropped pants and darker tops for work and play.
A velvet or suede loafer in a darker fall color can work with your jeans and pants. These are Kate Spade. J. Crew is one of my favorite places to buy loafers that work for me.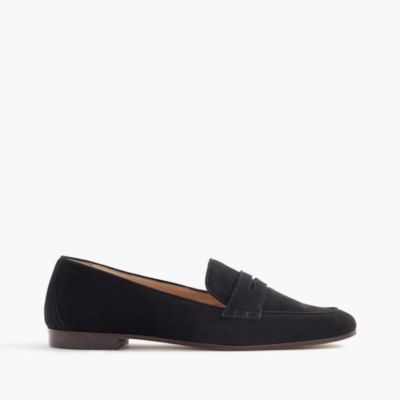 Their Charlie loafer is one of the quintessential shoes for working your transition looks into fall.  Suede just works.  If you feel up to it do loafers in prints like leopard and plaid, two huge trends for fall 2017.
Ballet flats also are a timeless and classic option for a great transition look.
Just pick a dark color like these from Tory Burch and wear them with your jeans, leggings and even shorter dresses with leggings.
The Last Layer:
The last layer that will make all the above Work now and Later is your sweater, poncho, Kimono jacket or scarf. It can be as simple as your jean jacket worn over a sleeveless top and dark pant or as modern as a long line vest with bottoms.
This neutral color long vest from WHBM will work for work or play.  
Your leather or suede jacket can be pulled out once the weather changes a bit and worn over darker summer pieces. Or a great cardigan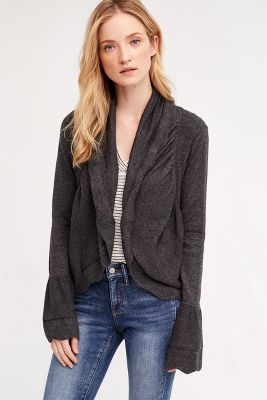 like this scalloped detail one from Anthropologie will make any outfit go the distance. I have a few cardigans like this in black, bugandy and grey and they really do make a lighter weight top work longer into fall.
Kimono jackets are still strong and it is fun to wear them while it is too hot to put on a sweater.
A light weight kimono like this one from Angie is light enough to wear now and dark enough to carry your though a warm September.
Next week we will start to dive right into the fall trends, I promise.  I have just been getting a lot of questions about what to wear between summer and fall. Go onto the web and look at sites like Anthropologie and Ann Taylor to get good ideas on how to put some of these looks together if you want. After all sometimes you just need a little inspiration.
Last week I reminded all of you how important it is to clean out your closets before you start buying new fall clothes.  If you haven't done it yet, now is time time.  It will be September before we know it. If you want to do a wardrobing appointment and have my input in your closet just email me at suethefashionista@gmail.com. That same email will work for fashion questions, to book advertising on my blog and set up regular appointments as well.
Enjoy the last few weeks of summer!
Until next time…