This is my last blog before I take my summer holidays.  Starting in August around the 10th, the fall blogging will begin.  When you talk about fall in August it sounds like it is just around the corner.  But while the sun is shining and the living is easy let's make the most of summer while we have it.
A lot of people take their holidays and trips in the summer.  Packing for your trip really depends on where you are going and what you will be doing.  I have talked before about a fail safe way to pack is to stick with one color palate and just put everything back to that.  But some holidays and destinations call for more than just a basic wardrobe. If you are going where it is even hotter than where you are now, you absolutely can't go wrong with a sundress
something bright and colorful like this dress from Papillion. Pack it with neutral flat sandals 
like these from Charles David and you are all set for a day out in another city. Then take wedges or heels for night time and recycle the same look.
A cute heeled sandal like this one from Dune London will take almost any casual dress up a notch.
That is my attitude with my summer trip this year.  I am packing sundresses, a couple of very casual skirts and tanks.  My shoes are flat for day and wedges to make my casual sundresses work for evening.
I lucked into these See by Chloe platform sandals at Gravity Pope in Vancouver for half price so they are coming with me as my shoe for evening.  This trip nothing too dressy is on the list ( no weddings or receptions) so I can stick with wedges or block heels for my dressy shoes.
Some of you will be heading to the lake or cottage for a summer break.  There style is the most casual it can ever be.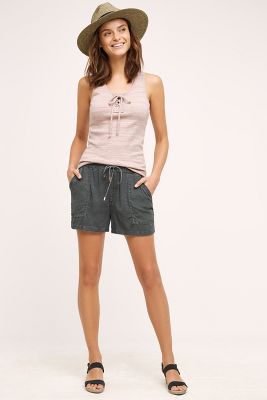 Shorts and tanks are what is called for, this combo is from Anthropologie and don't forget your sunhat!  You will need a great bathing suit too.
Anything printed that flatters your figure works.  I am not going to tell you how to fit your own bathing suits because I don't fit my own.  Go to a store where they sell suits and listen to the experts.  What you don't want at the lake or the pool is an ill fitting suit that shows too much bottom or top. There are a lot of higher waisted 2 piece suits on the market,
so if your bikini days are long gone ( mine are, my 2 kids saw to that)  and you still want the same look, try something like this. This suit is by Tart.  If you go to a store like Nordstrom you will find lots of bathing suits by familiar designers.  And style experts to help you get the right fit. Pair a great cover up
like this Letarte Jersey dress and you are set. On a beach holiday and sundress or maxi dress is perfect for night time and sightseeing.  At the cottage you can be more casual and throw on a pair of bermuda shorts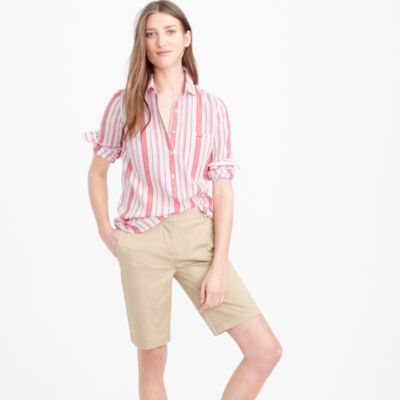 like these light weight chinos from J. Crew with shirt or a t-shirt and espadrilles or runners and you are set for the barbeque lakeside.
I took my own advice from last week and have been loving wearing my wide leg denim cropped pants.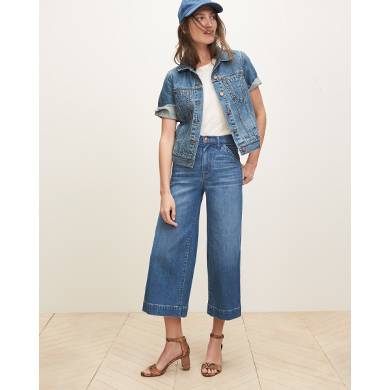 MIne are like these ones from Madewell.  I am even thinking of making them my travel pants.  Great with flats and wedges.  I am getting a ton of wear from them. And something new and fresh like this silhouette can work for your travel wardrobe as well.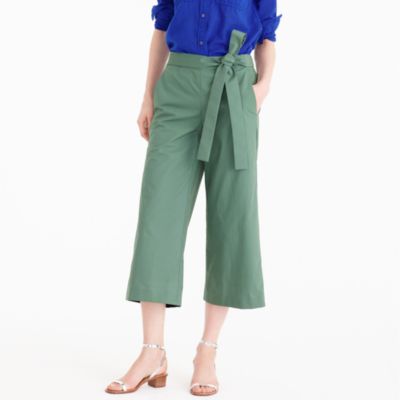 The Rory pant from J.Crew comes in this fern color, coral and navy.  So you can bring it and use it like a pant but it's airy and fun too.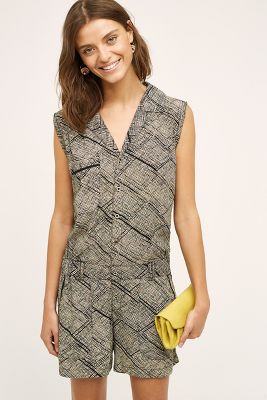 Some women prefer the romper look on their vacation, this is the Nova romper at Anthropologie.  Just make sure it's not too short and isn't something your daughter would look better in before you wear a romper. This kind of a look, if it works for you, can replace a sundress and works day and night.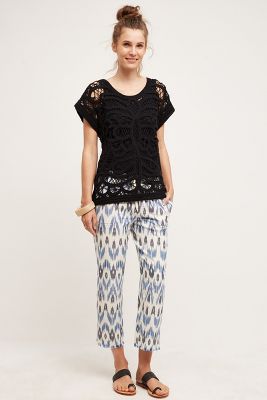 The only other thing you may want to take with you is cute pair of patterend crops or pants.  These are the Azure Ikat crops from Anthropologie and they would go on any of the trips we are talking about.  Great with tanks and t-shirts for the lake or beach and perfect with wedges and shirts for a city holiday too!
The other summer essentials that go on every trip are things that will work with what ever you are wearing.  Like a great hat to keep the sun at bay.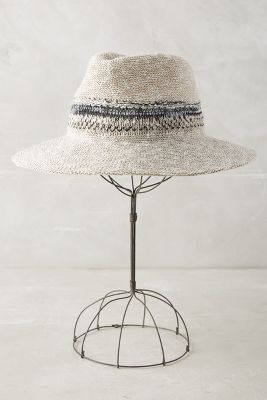 I grabbed this Kaia Rancher hat at Anthropologie the last time I was there.  The brim is just wide enough to keep the sun off my face and back of my neck, it's great for driving my convertible as well. Hats are where it's at this summer and you can't go wrong with a cute little fedora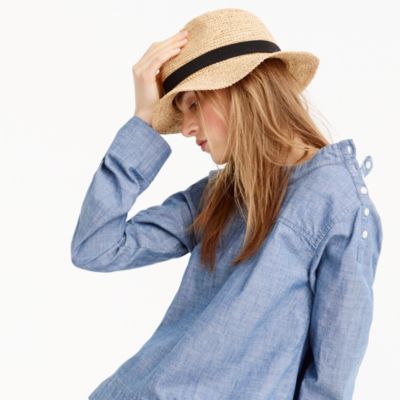 like this packable straw one from J. Crew.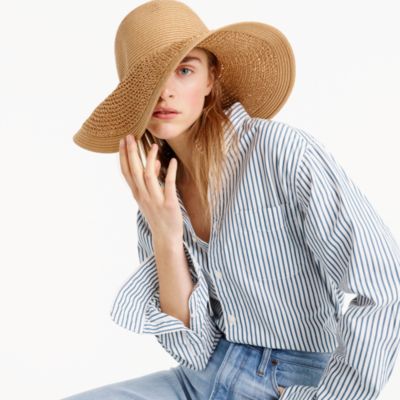 If you are beach or lake bound, try this type of summer hat. It's packable and textured straw from J. Crew and will be the perfect hat for the intesity of the summer sun.
The other thing I travel with is one great bag that works daytime and night time.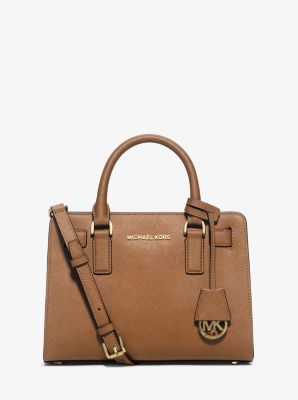 I have been travelling with my Michael Kors small Dillon leather satchel.  It is the perfect size and I can wear it around my body like a cross body bag if I want my hands free.  It is also not too big to take with me for evening.  And the color just works with my entire wardrobe. One other bag that I found for travel, I wish I owned it but I don't , is this Rebecca Minkoff back pack with a detachable cross body bag.
I adore the pink color and it is the perfect carry all for a trip anywhere and then you zip off the cross body and carry it when you don't want to have the back pack.  It is genius! Right now Nordstrom has it on sale, I may have to get one when I get home.  But for now I will covet from afar!
Keep accessories simple. I tend to take necklaces and bracelets that work with everything I am taking.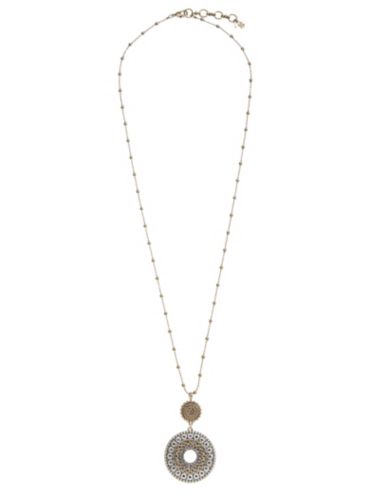 I like a cute pendant like this one from Lucky Brand that has both silver and gold colors in it and can go across my wardrobe. If you are going to the beach or the lake go with easy pieces that you won't panic if you lose it.
A necklace like this layered one from Lucky won't break the bank and will look cute on vacation.  For a city holiday you can take bigger pieces but not too many. One of Eye Candy LA's colorful statement necklaces
in colors that compliment what you are taking should do the trick.
For bracelets I like to take bangles.
A set like these from Nordstrom in silver or gold and you are set.  I take bangles off and on and mix them for a different look everyday.
So think about where you are going and take what you need, also what you will feel good in. If shorts aren't your thing, don't take them.  Wear skirts and dresses instead.  If you live in denim, try a lighter tencel or chambray for your summer denim pieces. But where ever you go and what ever you do have fun!
That is it for the next month.  I am happy to answer any questions that come my way.  If you email me at suethefashionista@gmail.com. I will answer you, but it may take a few days. One last thing before I sign off.  There are a lot of local stores in Vancouver that appreciate your business.  Whenever they have sales or promos I am going to try and let you know.
Shoes 2 Go is a great store on South Granville in Vancouver. On July 16 they are having a promotion to raise money for Ride to Conquer Cancer.  There will be music and prizes and of course a shoe sale.  Go and check it out!  3022 Granville St. In Vancouver.
Have a great summer everyone.  I love seeing how many of people follow my blog and I am here to talk about your fashion concerns whenever you need me.  Just email.
Until next time…