With Summer upon us and warm weather I am going to write this week about stepping outside your comfort zone and trying new things.  My trainers at the gym use that phrase often, step outside your comfort zone.  What it means in the gym is push your self a little harder or try something you don't necessarily like to do ( like climbing flight after flight on the stair climber) and what I have noticed is that they are right.  When I try something new and different, not only do I become stronger/faster but I realize I can do almost anything if I decide I am going to do it.  So let's try that approach with your wardrobe.  In the gym you need to make sure you have all the right equipment and gear, well it's kind of the same with fashion.  If you are going to go out on a Fashion limb so to speak, make sure you have everything you need to pull it off.
I have often said in my blogs that I don't wear shorts, I prefer skirts.  I stick with skirts because my legs are heavier and I feel the softness of skirts makes me look better.  But if I were to step outside my comfort zone I would buy a pair of shorts. There are a few rules with shorts that need to be followed if you want to wear them.  One major rule is the shorter the short, the lower the heel. One of my favorite websites to get ideas from is Anthropologie ( I love shopping there as well).  If you go on their site and look up shorts you will see lots of them, and you will see all the models are wearing shorter shorts with flat sandals.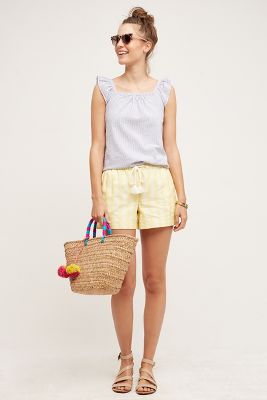 This is so important, especially because we are not in our 20's anymore and even if you have great legs, you really don't want to look like you are dressing like a teenager.  Using that as our basic premise for putting your shorts look together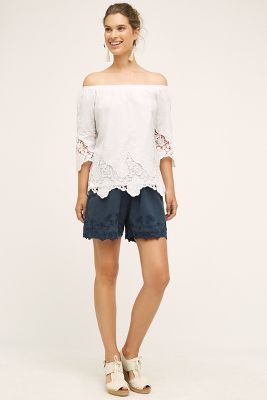 these shorts from Anthropologie are a bit longer and dressier and they show them with a wedge. The wedge has a sporty edge to it with the laces, which works great as a contrast to the dressier shorts. The only thing I would alter if you are over 40 is to not wear a shirt that shows your shoulders,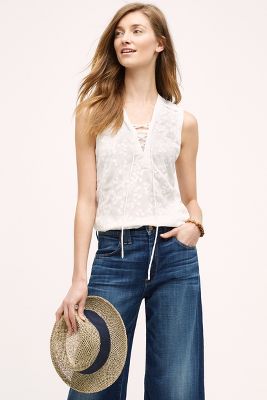 this pretty embroidered lace up tank would work just as well.
If I were to buy a pair of shorts, I would likely buy ones that hit me just above my knee cap. What I would buy is something like these Premium bi-stretch Bermuda shorts from Whitehouse Blackmarket
and I would wear a higher heel or wedge to help lengthen my shorter, heavier legs. Or another look that I could pull off if I were to wear shorts 
is one like this.  The Berumda Sash shorts from Anthropologie, would work with my figure.  They define the waist and would float at the top of my knee cap instead of fitting tightly.
Another way to step outside your comfort zone this summer would be to try wide leg cropped pants.  They are so easy to find, every place is showing this look.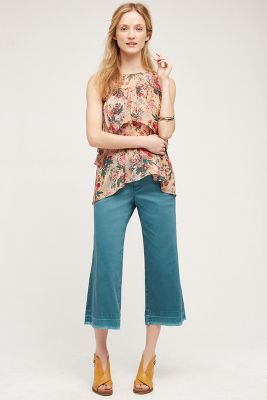 Here is a pair of Pilcro cropped Chino's from Anthropologie.  They come in 3 colors, the turquoise shown and sand and grey.  If I were to buy these for summer, I would go for the soft sand color.  A soft, pale color will lend itself better to whatever color top you want to wear with it.  This is a look I am trying this summer.  I purchased a pair of wide leg denim crops or culottes. If you remember high school in the 1970's they were called Gaucho pants.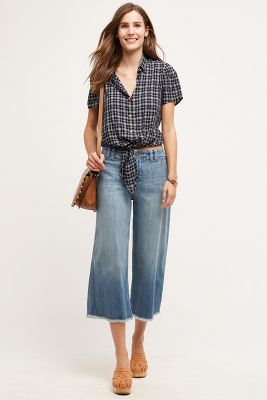 Mine are similar to these Current/Elliot Cropped Hamden trousers.  Mine are from Just Black and I bought them at a great little pop up store in Vancouver called 'The Latest Scoop'.  It is a great place to pick up trendy pieces you want to try but for a bit of a discounted price.  So the same look, just half the price. Being 5'4″ I wasn't sure I could wear them, but it all came down to wearing the right top and heel with them. I thought I would need a cropped top, but I was wrong and ended up loving them with a peplum sleeveless top.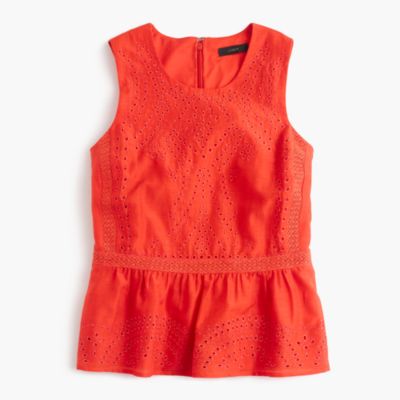 I have this Eyelet Ruffle hem top from J.Crew and one in white from a few years ago that is similar.  And they both work really well with the flare crops on me.  I have paired them with a flat form wedge
from Sam Edelman that I bought earlier this season on Hautelook.com.  This will be my 'Step out of my comfort zone look' for this summer. The key was finding the proportion on my body. This same look could work for me with wide leg flare pants as well.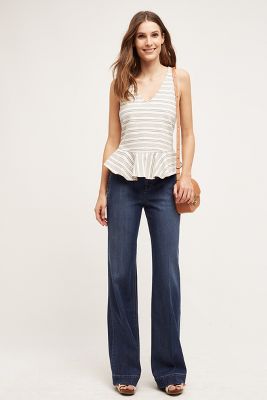 Kind of like this look Anthropologie is showing, but remember I bought mine on sale ( see my blog from a few weeks ago about shopping online sales). The key for my petite frame is to make myself look longer ( and leaner).  If you are petite and don't need to look leaner than you will want to wear a top that hits at the waist of the wide leg crop or pant.  And if you are tall ( lucky you!) then you can pretty much wear any top that flatters you with the wider leg bottoms.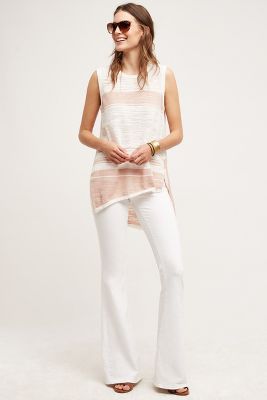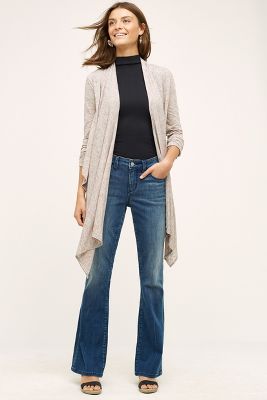 I adore both these looks from Anthropologie, I am simply not tall enough to pull either of them off.
So the key for me to 'Step out of my comfort zone' with wide leg crops is the proportion of the top and shoe to the pant.  Maybe that is what is holding you back from trying this look?
One of the last look I am going to talk about stepping out of your comfort zone with is the latest look that we see almost everywhere.  Wearing sneakers with skirts and dresses. This is a look I may try as well, but let's explore it a bit before I give you my take on it. There are so many cute skirts and dresses this season.  If you go back to my earlier blogs for spring I go into them in a lot of detail.  But for the purpose of what I want to show, I am going to use some dresses on the Anthropologie site.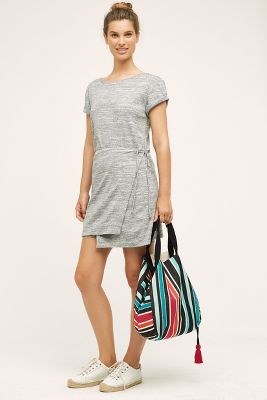 This is the type of look I am talking about.  This wrapped T dress is adorable, mostly because it is not truly a wrap, it is a pull on dress and then you just wrap the 2 pieces around the front and tie them.  I saw it on a friend of mine and I loved it! I really like it with the casual look of sneakers or a very casual shoe or sandal.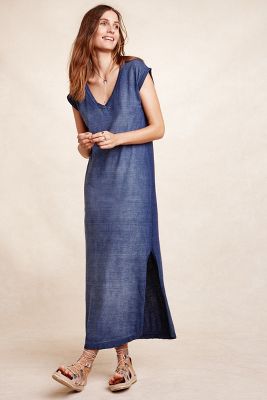 This T shirt dress I happen to own.  It is the Nila T shirt dress and I tie the front piece in a knot to make it look more casual. I will definitely wear this dress with light sneakers or maybe something like this
I bought these Clarks Cordella Alto slip ons at Walk with Ronsons here in Vancouver.  They are a cross between a ballet flat and sneaker, and would be perfect with that dress above. I also love the sneaker skirt combo, especially if you are going for a really casual look.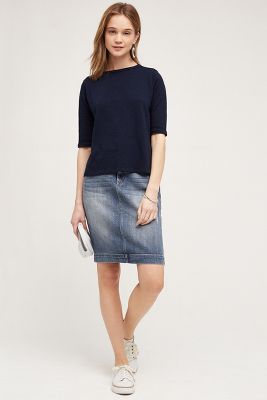 An above the knee denim skirt, Level 99 Distressed denim skirt at Anthopologie is perfect with a sneaker. Or perhaps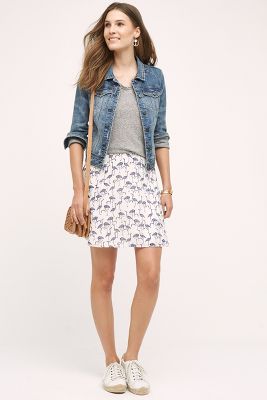 a shorter flirtier skirt, Flaman skirt at Anthropologie.  It's a great look if you are going to be a tourist this summer.  Not into sneakers? Then try the shoe above or something like this from Uggs
they come in this color, black and pink and would work just as well since they are almost sneakers.
The last look is one I think most of us shy away from.  Why not step outside your comfort zone with a cropped top? If you are petite like me, most of the cropped tops hit you at the waist, so they are not really cropped and there is no trying something new.  But if you are a bit taller, you can do what my girl, Stacey London suggests. Take a cropped top like this one from Abound
and wear a fitted tank underneath! Here I would opt for a black fitted tank. Or try this Embroidered Key hole tank from Lush 
and just pop a white fitted tank underneath.  This is a great look for elongating your body.  And you can play with it, black cropped top, white fitted tank and black bottom. Any kind of combination as long as you are comfortable with it.
Now all these are just suggestions.  No one is going to force you to try something out of your comfort zone. Unless you go to my gym.   However, you might find something that you love and looks great on you.  I always tell my clients, try on something new I suggest, if you don't like it don't worry but never be afraid of trying it on.
This blog uploaded today by mistake.  I am not that computer saavy and hit the publish button instead of the save button. OOPS!  So my apologies if you read the first half today and then see the whole thing published and uploaded on Wednesday.  The day it is supposed to publish.
Questions or comments? Please feel free to email me at suethefashionista@gmail.com. I would love to hear from you.
Until next time…