We are all constantly looking for ways to improve ourselves.  Whether we want to look more polished or professional; become more knowledgeable; or become better at something.  One thing I have learned is that life is a journey that takes you along differents paths, some are a surprise and some are anticipated.  A lot of your ( at least mine did) absolutles at 21 go far by the wayside in your 40's. And one thing I have really discovered is that I like the process of learning, changing and growing.  Yes, this also means aging.  But you can age gracefully and let the years soften you instead of fighting it so hard or giving up altogether.
I have a couple of girlfriends that I have watched turn into amazing women. One is probably the best mother I know ( actually they both are).  She has grown into a sophisticated style. She is also someone I have looked up to for years because she is a community leader and works tirelessly to heal her community and the world.  Things she has changed physically over the years like using a keratin to keep her hair straight, working out with a trainer to make sure she stays strong and changing her style as she matures.  She has two styles I admire and wish I could wear as well as she does.
Her first is style is one that no one, and I mean no one,  can wear better than her is jeans and a blazer!   Yes, I have talked about her before.  She can wear any type of denim leg she wants ( thanks to her trainer) wide, skinny, etc. And she always picks the perfect blazer to pair it with.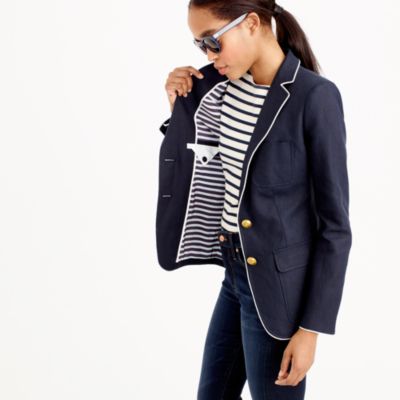 Denim and a blazer is one of my favorite looks.  This blazer is J. Crew's Rhodes Tipped Linen Blazer.  My friend rocks wide leg jeans and a shorter blazer better than anyone I have ever seen.
Here is a look I found on Pinterest that illustrates what I am talking about. Almost any woman can wear this type of a look.  You can make it your own by adjusting the length of jacket to suit your body.  If I wear a jacket it needs to hit me at my hips, not above.  Or change the jean leg, that is a no brainer.  Perhaps you look better with a skinny leg jeans, or a boot cut.  Find the leg that suits the jacket. And match the footwear.  My friend pulls the look together with high heel pumps or boots. Maybe you need a block heel or a flat.  Just keep trying until you find the perfect look for you.
The other look she can rock like no one else is the dress and boots combination.  No matter what the season, she has the perfect boot and dress.
Here is a look from Whitehouse Blackmarket that kind of illustrates what I am talking about. How can you make this look your own: Pick any dress that looks good on you and has a bit of a heavier fabric, then add the boot that matches.  My friend wears both heeled and flat boots with this look, and adjusts the boot color for the dress. If it were me, I would wear a tight with the dress and boots, but if you have great legs ( like my friend) go au naturel. But one of the keys to this look is to have the skirt hit just above your knee.
The other girlfriend I want to talk about has a completely different style. She too has matured her style over the years and grown into someone I totally admire.  She is selfless  in her dedication to her community and beyond and gives of her time to make the world a better place. Not to mention she is also a published author!
This girlfriend of mine loves a casual look.  She totally embodies the style of sporty casual and makes it her own.  She works part time so recently she has added more casual pants into her denim and legging style. Her work style is effortless and looks great.
Here are two looks that I have shown before that illustrate what casual work style could look like.  The top look is from Nordstrom and the lower look is J. Crew.
A casual work style can suit almost everyone. Especially this time of year.  A great cropped chino or pant, flat shoes and cute cardigan set. Or like above a great white shirt ( do sleeveless in summer) and a cardigan.
Her look when she is not working is all about her denim. She mostly wears skinny jeans and adjusts her tops accordingly.
No one wears a great plaid shirt (this one from Madewell) and skinny jeans like her!
Everyone has style icons in their lives.  Women that you admire inside and out. There is one other style icon I want to talk about today. I love Stacey London!  She is the stylist's stylist. She is funny, bright and totally non judgemental.  Someone tweeted her the other day and said they have a closet full of clothes but no style and they tend to wear the same things over and over.  Does that sound familiar?  I have heard that from my clients as well.  Her advice: Take everything out of your closet you wear over and over, then look at what is left and make outfits you like out of them.  Simple and genius!
After my kids were born I lived in a uniform of cropped black pants, white t shirts and denim jackets.  I only wish someone had said that to me way back then!
So if you are someone who lives in your jeans, look beyond. Maybe you have a pair of pants
like these casual cropped cargos ( Sanctuary at Nordstrom Rack), try this with something you would wear your jeans with normally.
I also love these Relaxed Chinos from Sanctuary (Nordstrom Rack) so much that I own them.  I really needed options other than denim.
Or what about something like this, it's not denim only denim colored! They are the Shakira pant by Tart.  Another great option for something other than jeans.
Following Stacey's advice or refer back to my blog, shopping in your own closet.  Look for things that you love but maybe don't wear that often and reinvent them.
Last summer I bought this long tunic top from Iris.  Well, since the weather didn't cooperate last night for me to wear the maxi dress I wanted, I reached way back and pulled this tunic on with my skinny dark jeans and block heels shoes
( Eileen Fisher) because they kind of look like booties and I was ready to go.
My last piece of advice and one that I try and follow. Be true to your own style.  Both my friends that I wrote about above don't ever try to be anything they are not.  Their true style always shines through.  We spend enough time in our 20's and 30's trying to reinvent ourselves. So unless your name is Madonna, there is no need to do anything in your 40's, 50's and beyond but relax into your own beautiful style.  This goes for your hair and make up as well.  Some of us wear makeup all the time and others prefer a more natural look. Just find the right combination for you ( or go see my friend Luc at Pure Studio in Vancouver, the best makeup artist ever) and be comfortable in your own skin. Hair style needs to adapt as you change.  Some of my friends use keratin to straighten unruly curly hair for a more sophisticated look. Last September I cut my long hair into a shag/bob and I have had more compliments that ever before.  Not only that, it works with my ongoing style.  So maybe a haircut is in your future? Talk with your hairdresser, mine ( Danny at Pure Studio) new how to interpret the change I wanted to make.  Hair color also plays a huge role in how you feel about yourself.  Not many women can rock grey hair without it making them look sallow and pale.  So go see a colorist and find a color you can maintain and that you can adapt as you get more grey. My colorist ( Danielle at Pure Studio) helped me find a way that made my grey not so evident as it grew in.  Every 4 weeks is about how often women see their colorist to keep all the greys covered.
And my last piece of advice is take good care of yourself.  That means exercise, eat to make your body feel good, find a skin care routine that works for you and get enough sleep. I find when I am eating properly and working out and drinking lots of water, my skin glows and I feel stronger and better.  Find the right lifestyle combination that makes you feel and look beautiful.
I am looking for blog suggestions between now and when we start to talk about Fall 2016 in August. I would love to hear what you would like to read about.  So email me at SuetheFashionista@gmail.com and let me know.
There will be three more blogs before I take a little summer break and then in August I will start blogging about Fall. Styling appointments are now going quickly for September and October.  September is a great time for a closet refresh and shopping. So let me know if you want an appointment.  Please use the email above to get in touch.
I wish you lots of success in finding what inspires you to be your best self.
Until next time…