I was going to write about how to shop online sales but since the weather has turned hot on most of us in North America I thought a blog about outfits to keep you cool ( and look cool) might be more timely.  So next week will be the shopping onlines sales blog so stay tuned.
I guess the first thing you need to decide for your warm weather wear is if you want to wear shorts or not.  Personally, I am not a shorts girl, I think you all know by now that I prefer skirts. But there are so many beautiful and stylish shorts and culottes in the stores and online right now that if you are a shorts girl, then go for it.  So let's start with shorts!
SHORTS AND CULOTTES
This spring/summer season is a shorts wearers dream.  There are so many fabulous styles in stores and online that you can't miss. Not only are there lots and lots of great shorts but culottes are super strong and if you can wear them, they look super.
My inbox is flooded everyday with what is new and selling right now.  One of my favorite stores and websites to get inspiration from is Anthropologie.  And if you want to see how to wear your shorts and culottes for every occasion this is the first place I would suggest to look.  The best length for shorts for women who are above 30 is the middle of the thigh right below the largest part.  So in general on most women a 6 inch or 7 inch inseam.  The length for shorts appropriate for the office is a bit longer, so above you knee and about a 9 inch inseam. Culottes are different, they can either be just above your knee, right at your knee or a midi length ( middle of your calf). And here is one of the best rules of thumb to follow with shorts: the shorter the shorts the flatter the heel. So that means yes to wedges and heels with bermudas and no to them with shorter shorts.
One of my favorite casual style shorts is one with a great pattern or print.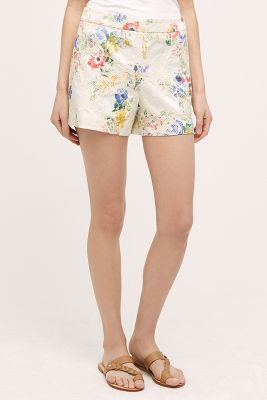 This fabulous pair of Catalonia shorts from Anthropologie are fabulous for a hot summer day! Or pick a wonderful bright color like these Coastal bi-stretch shorts from Whitehouse Blackmarket ( another fabulous place to buys shorts)
.  Both Anthopologie and WHBM have tons of cute shorts for your casual wear. But what about the office or for dressier wear?  How do you take this look and make it appropriate.  Well first step for the office is to go a little longer and/or a little fuller. For a creative or casual office environment this these Bermuda Sash shorts from Anthropologie would be great on a day where the mercury keeps climbing 
.  Please notice that the top is tucked in so the model's waist looks tiny, this is not the short to wear a flowy top with. And the heel is a bit higher but not super high.  Block heels to the rescue again.  Block heels look good with pretty much everything!  And as an added bonus these shorts are bordering on Culottes.
One other way to wear shorts to work is to wear them like a suit bottom, this is where I like the WHBM Bi-Stretch Bermuda shorts
they come in lots of colors and at WHBM you can buy a jacket in the similar fabric style to make the shorts look like part of a suiting look.
This Draped Lapel jacket is the one being worn with the shorts in the picture above.  The jacket should always be waist length if you are going to wear it with shorts.  If you want to wear a longer jacket wear them with ankle length pants.
Culottes are a fabulous alternative to shorts for a dressy or office look. I know so many women who wear them and really know how to rock them!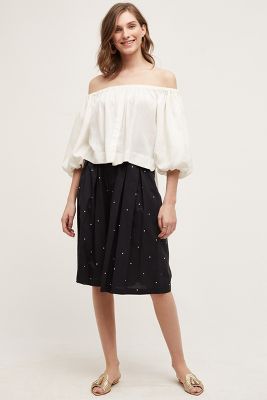 These Polka Dot Culottes at Anthropologie are superstars.  They hit just at the knee so great for the office and you could even wear them with a dressier white or black top and hight heels for an evening out. I would love to see these with a classic white blouse tucked in and 
a great shoe like this one.  That can work in almost every office, well maybe not in the court room, but pretty much everywhere else on a warm day. If you want to go a little longer, then you can do a pair of culottes that hit below your knee like these Olena culottes from Anthopologie.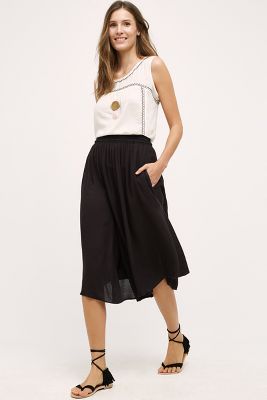 They look and feel like a skirt so wear them the same way you would wear a fuller midi skirt.
As you go a little longer with your Culottes the line kind of blurs a bit between cropped wide leg pants and culottes but if they look good on you and you are happy, who cares what they are called.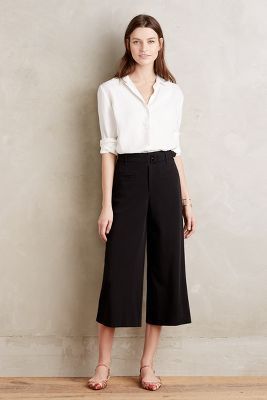 Almost all of us can rock a look like this from Anthropologie featuring their Essential Cullottes. This is a great look for going out or a casual work event.  Hip and stylish.
SKIRTS AND DRESSES
Now for the rest of us, skirts and/or dresses is what we turn to when the weather gets hotter outside than inside.  A hot day is a great day to wear a printed cotton or silk dress and sandals.  A dress like this Woodvine Swing dress at Anthropologie fits loose around your body to keep you cool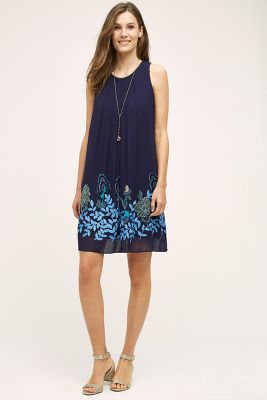 . There are lots of fun and casual dresses to choose from, especially at Anthropologie.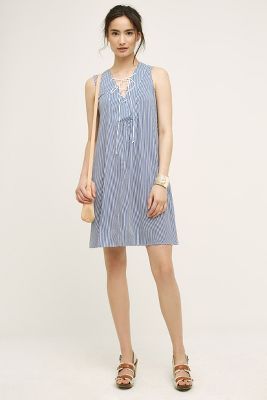 This Playa del Ray dress says summer and is the perfect shift dress to keep you cool. I love a sleeveless shift dress!  Anything that floats around your body is perfect to keep you cool.
A office appropriate sleeveless dress for a warm day would be one like this striped fit and flare dress from WHBM.  You can even throw the white jacket that you wear with the bermuda shorts above over top for meetings. Hem lengths are a little longer this spring, so that helps if your dress is a bit barer on top for the office.  Stick to hem lengths at your knee or below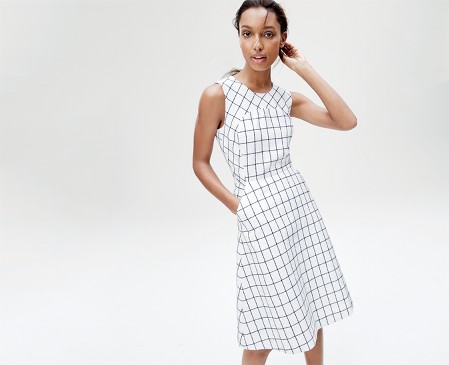 like this Sleeveless A line dress in Window pane tweed for an office look. And if you know you have meetings or need to see clients keep a blazer that works with your dress handy to throw over top.  Not to mention most air conditioning in offices is geared towards the men in the office, so keep something like a fabulous cardigan or blazer to wear.
Skirts follow the same pattern as dresses.  I love fun, casual skirts in the summer.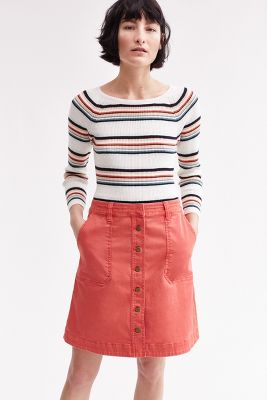 Especially a colorful button up A line skirt like this Pilcro Chino skirt at Anthropologie. Or go for some flirty fun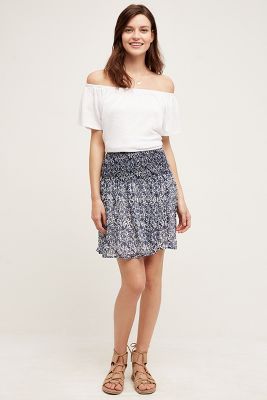 in this Doran skirt.  Both are great for casual days and are a bit shorter. The other way to go ( and it seems to be one of my looks this summer) is the maxi shirt or dress. This Trina Turk Maxi skirt from Nordstrom Rack 
is super fun! Wear it with a white tank and metallic sandals and you are all set. I live in my casual solid and printed maxi skirts like this one from Micheal Stars ( Nordstrom Rack)
. If you find a great classic maxi dress or skirt like this Wrap Maxi skirt from WHBM 
that fits great you can keep it for years in your wardrobe.  I have a maxi skirt that is years old from Mexx in my closet I pull out year after year!
As for maxi dresses, most of them you can wear casually or for a dressy occasion.  But they really are not for the office.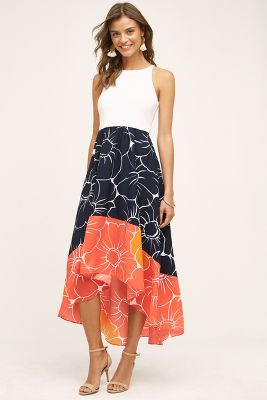 This High Low Peachy dress from Anthropologie can be worn with heels for dinners etc or with flats for daytime.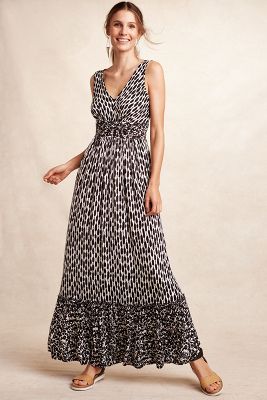 I love maxi dresses, especially with prints like this Seacoast maxi dress also from Anthropologie.  They are great because the sleeveless and light fabrics keep you cool and you look really pulled together in one fell swoop.  Dress, sandals and done!
I tend to wear flat sandals with my summer maxi dresses and skirts.  And flat or block heel with my casual day dresses and skirts.  Block heel sandals like these Warren Sandals form Madewell are perfect for knee length skirts and dresses and shorts too!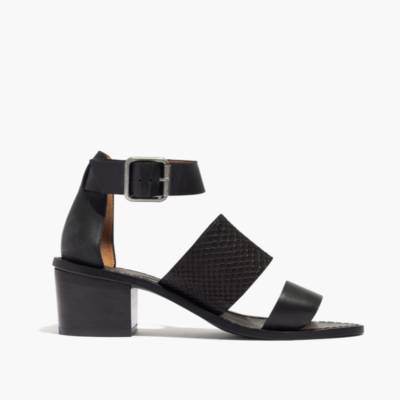 You can refer to my blog from a few weeks ago for more shoe ideas to pair with your warm weather clothes.
You will want to keep your accessories light as well.  Unless your outfit is all one color or monocromatic. Then you can induge in one of these fabulous statement necklaces I found at my friend Tina Dhillon's pop up designer shop.
All of these wondeful necklaces are from Vera Harris.  You can buy them online at http://www.veraharris.com or get to the pop up designer shop at 2885 West 33rd Ave in Vancouver today and for a few more days 11-5:30pm.  I actually indulged in these bracelets there from Jai Style. Shop at the pop up shop or http://www.jaistyle.com
I love beaded bracelets and these are the perfect compliment for your airy summer looks.
That gives you a quick look at some of the ways to make fashion work for you on warm days.  Remember to drink lots of water when it's hot, keeps you hydrated and is good for your skin too. And sun screen! Never go outside without sunscreen. Ok enough preeching.  Enjoy the nice weather!
For questions or comments please email me at suethefashionista@gmail.com. I am happy to answer any fashion related questions you have.  If you want a fall styling appointment or wardrobing where we go through your closet, now is the time to book for September.  Please email me for appointments.
until next time…