If you haven't noticed by now I really love clothes, shoes and accessories.  I feel completely comfortable with my wardrobe season in and season out, even though I take more than half of it to the consignment store two or three times a year.  I haven't always been able to say that about my wardrobe.  I remember, as a teenager and early into my 20's, hating my spring wardrobe because it just didn't measure up to my fall wardrobe. I really dreaded wearing some of those clothes, AND NO ONE SHOULD EVER FEEL THAT WAY ABOUT THEIR WARDROBE. IF YOU HAVE CLOTHES YOU DREAD WEARING GET RID OF THEM.
I know the capitals are a bit harsh, but come on, do you really want to own clothes that you dread wearing?? I don't.  When I started working in the fashion business I was very lucky and the first clothing line I worked with was Steilmann from Germany.  It was then and there that I began to build my wardrobe and stregthen my spring wardrobe. Now years later I can honestly say I love everything in my closet and if I don't it goes or I never get it in the first place.
So you ask what is a Just in Case wardrobe? Well, a Just in Case wardrobe are those things you buy that you don't necessarily need right away but think it will be useful to have. Now some of you are probably thinking that I am crazy but let's go through some of the Just in Case things that can make anyone's wardrobe stronger.
I have talked endlessly about how important it is to have a lace skirt in your closet.
This is what I have ( from Talbots) a conservative black lace pencil skirt.  I can't tell you how many times I wear it with a black turtleneck in the winter and with a white shirt in the summer.  It just works.  But this season there are lots of choices in black lace skirts.
You can do an A line lace skirt like this No. 21 "Genette" lace inset A line skirt from Nordstrom.com. Or you may think you want something really new and fresh, white is super hot for spring and Talbots has this beautiful eyelet and lace pleated skirt in white
.  One other style of lace skirt I have actually bought for myself and something you may prefer if you don't want a lace pencil skirt in your closet is
this Kenzie lace midi skirt.  There are a lot of 'new' style of lace pencil skirts where part of the skirt is see through.  I love the idea!  If you go onto Nordstrom.com or J.Crew.com you can see more colors and styles like this one.
Another key piece for me is the all around black dress. I have a couple of different versions.  I have winter versions and summer versions.  My summer versions are quite simple.  Believe it or not the one I like the best is from Joe Fresh.  It is a simple black cotton dress with a floral embroidered print
I wear it endlessly, I like it so much I bought one in off-white as well.  They hit just above my knee so they are great on a hot day with flat sandals. But if you don't want a to wear a sundress you can do other simple black dresses that are literally 'throw on and go' pieces.
You could do a cotton knit dress with crochet trim, like this one from Talbots. Black cotton knit dresses will work the same way as my black cotton one does, and the bonus is the stretch. Or for something new and fresh how about a black midi dress
this one is by Stem from Nordstrom and can literally be dressed up or down to go anywhere.
Another just in case thing to have in your wardrobe is a denim skirt.  This season we are so lucky that there are lots to choose from.  So you can keep the one you have from season's past or update to a newer style. The one little styling secret I will share about skirts is that if you stick to pencil skirts, they really never go out of style.  I love the button front denim skirts J. Crew is showing this spring.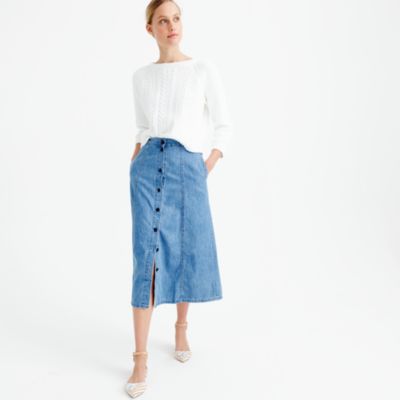 Midi and mini versions both are can't miss styles.  I have Madewell's version of the front button mini this season to update my denim skirts a bit. A denim skirt is great because you can wear it casually as much as you want and it is so mainstream now you can even dress it up for a casual Friday at the office or dinner out.
Another thing that I am constantly pulling out of my closet to wear over dresses, and summer maxi skirts is my denim jacket. In the fall I substitute this with my leather moto jacket ( I actually wear both all year long).  So if you don't have a denim jacket by now maybe it's time to look around and find one you love.
Maybe you want a dark wash one like this Kut from the Kloth "Helena" style. The darker denim will make it easier to wear in the winter with a black tutleneck and black pants. 
My new denim jacket is super faded like this one.  I really like the look over my black summer dresses. I wear it with my maxi skirts as well.
As far as a moto jacket goes, you can buy one now ( hopefully on sale) or wait until the new fall ones come out.
Here is a faux leather one from Vertigo that is onsale right now on Hautelook.com. I have a faux or vegan leather one and one true leather one.  My leather one is a bit dressier, so I tent to wear it with skirts and boots in the winter.
One other thing I find I am constantly pulling out of my closet is my black casual maxi dress.  A black casual maxi skirt will work just as well.  But this season with the maxi and midi being so strong it has become one of my go to pieces.
Here is a great black maxi dress in jersey from Talbots. Remember with summer maxi dresses you want to have a casual feel, otherwise you will never wear it.
I also have some shoes that I literally live in.  My black patent loafers are absolute go to shoes for me.
Mine are very similar to this fabulous pair by Opening Ceremony at Nordstrom.  I love the spongy soles, I can walk in them all day and they make my jeans or pants look smart. The other pair of shoes I bought Just in Case have worn them over and over are my high heel black suede booties. Mine are from Paul Green and here is the newer version right now on sale at Nordstrom.com
so up to date with the fringe. I find them comfotable and I wear them with skirts, dresses and pants. They were expensive but I have definitely gotten my money's worth.
Every one of your needs for your Just in Case wardrobe will be different. If you have a high powered career, your Just in Case items will include a fabulous black suit. If you are a stay at home mom your Just in Case wardrobe will include things that dress up your jeans. Or it you are like me where you work a little bit and play a lot your Just in Case wardrobe is something you build on for a few seasons.
Now for fall your Just in Case wardrobe will include some cashemere and a coat.  But I will leave that until fall because right now there are so many wonderful styles to explore to get you though summer that is what you should be concentrating on.
One website I constantly check is Hautelook.com. It is a Nordstrom site and they have new sales on everyday.  Each sale only lasts about 2 or 3 days, but it is a great place to buy that item you have been wanting but didn't want to pay full price or to just see how they are putting things together.  I highly recommend becoming a member.
So that sums it up for this week.  I love to hear your comments and questions and would love some blog suggestions going forward into summer.  You can reach me at Suethefashionista@gmail.com. I prefer getting suggestions by email than having people leave comments here on my blog. So please feel free to contact me by email.
Until next week…