For years I stayed in the same color palette.  Absolutely shunning colors like pink, purple, indigo etc.  My staple has always been black ( I love black and it is a color too) and forget about brown or grey.  But in the last couple of years colors have started to work their way into my personal wardrobe.
Years ago I worked for a company called Mr. Jax. They were manufacturers of high end ladies wear.  One season they produced a line called Black Label.  Every piece in the collection was black.  The best fabric and style but only black.  In my twenties at the time I thought it was the most chic clothing I had ever seen.  I saved and was able to buy a few pieces ( even getting them wholesale cost a lot) and I still have them in my wardrobe today.  But the line bombed. Everyone was shocked.  But my mother had told me it would never work, I argued with her.  She said women who can afford to spend that much on their clothing don't want to wear black head to toe.  They are a little more mature and need color next to their faces.  In the end she was right and the 22 year old designers were wrong.  But I still think black is the best color in the world.
So that brings me to why I am writing about color this week. What my mother said is absolutely true.  As you mature not every woman can still wear black or white against her face.  Quite a few women in their 40's and up look better with pinks, reds, organges next to their face.  You notice it when someone you know wears something unexpected and they look like they are glowing.  They aren't really glowing, but the color next to their face is bringing out their natural beauty.
As you all know, I am on the skirt hunt this season.  Maxi's and midi's are what I want.  But I have also been adding a few colored tops into my simple black, white and denim wardrobe.  Think of how good a sunny day makes you feel. Colorful clothing  (complimentary to you) can do the same thing.
Since we all go back to our jeans for everyday and even evenings out.  How about adding some colorful tops to wear with your denim bottoms?  One of my favorite stores to find wonderfully colored tops and blouses without breaking the bank is Lucky Brand. Of course everything they make works back to denim, so it is a no brainer for tops.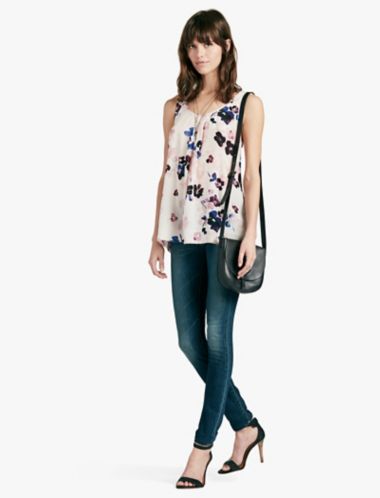 Right now online, Lucky Brand is showing a floral collection of tops and blouses with soft colors that work with any denim bottom.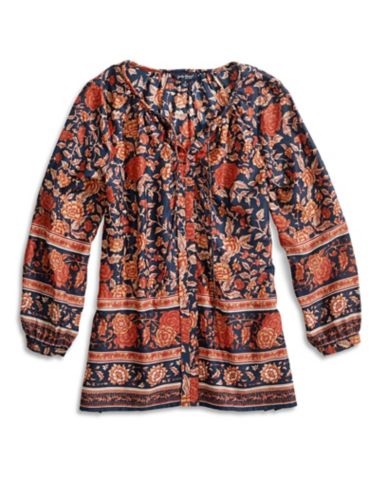 Their new arrivals section of their website is filled with lots of color!
Definitely worth taking a look at if you want one or two colorful tops to add to your already great wardrobe.
One of my other favorite websites and stores to go to when I need to infuse something new and colorful into my wardrobe is Anthropologie.  Usually a little pricier than Lucky but believe me I have never been sorry with any of my purchases.  I have a crush on this top from Anthropologie.com.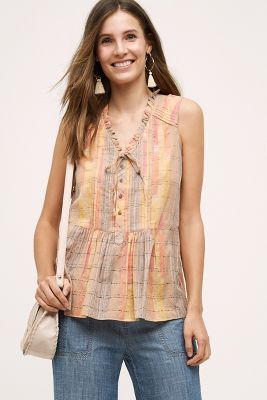 It's subtle and sort of faded with a frill, I almost can't resist! It also comes in plain white or black and this awesome print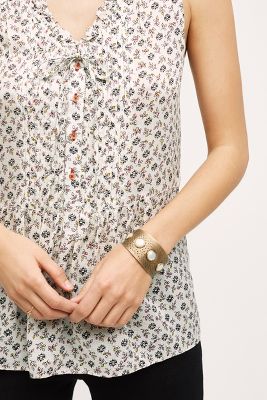 but I love the plaid! ( I also love the black, but this is about color).If you want florals they also have a ton of floral tops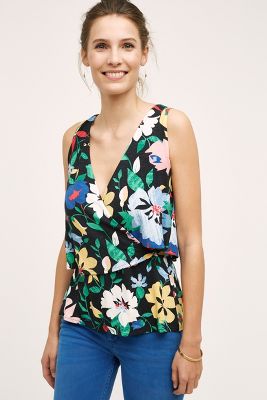 and if you want to stick to soft pastels, they have those too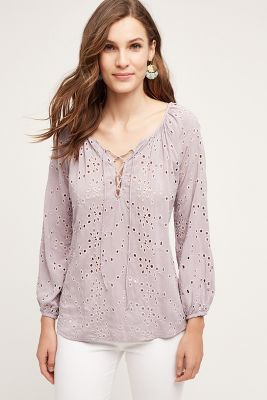 .  The other thing I want to encourage you to look at and maybe even buy is a colorful maxi or midi dress, that you can wear casually or dress up a bit if you need to.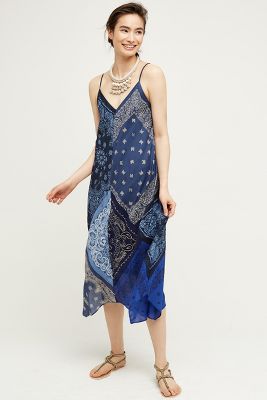 Anthropologie.com has tons for you to peruse before you even start to enter any stores or pay for parking.
Another great website to go to for some interesting colorful clothing is Whitehouse Blackmarket. Every season they infuse a few colors into their white and black clothing. I think I like WHBM because it is kind of like my closet, new colors every season to wear with black and denim!  This season their new color is cinnamon and coral.  I showed some of it last week in my work wardrobe blog.  But a lot of their items work great in a casual wardrobe as well.
I love the cinnamon color, especially with black.  To me this does for black for summer what burgandy did for black for fall.
Coral is another fave of mine.  It looks good on almost every woman I know! They also have blouses that hint of both colors so you can feel colorful with out taking the full plunge.
This top would work equally well with denim on the bottom. Or for those of you who will still insist on wearing black, how about adding a black colorful print?
I love the look of this print.  Summery but still black for those of you who can't give it up.
Now there are other ways to infuse a little color into your wardrobe without buying clothing.  Grab a colorful bag as you head out the door with your black or denim outfit.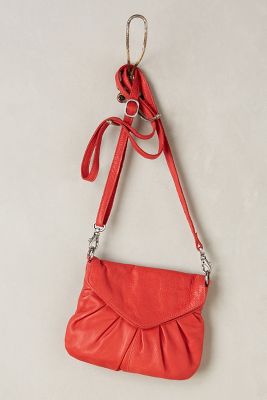 A bight coral cross body bag from Anthropologie will hit the mark.
And who doesn't love Kate Spade and her whimsical colored bags in great shapes! You can find Kate Spade at Nordstrom or Nordstrom.com.
Even Coach is getting into color this season.  Their basic cross body saddlebag is now in colored leather.
But you don't have to invest in a new bag, sometimes a new shoe is all you need. Anthropologie.com has one of the most interesting collection of shoe styles.  This summer it is bursting with color.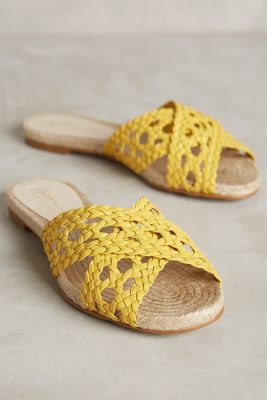 From cute little slides.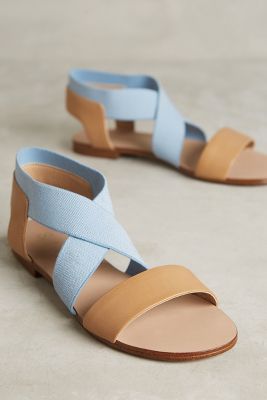 To fun casual sandals.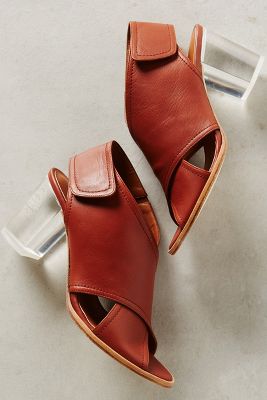 With interesting colors and styles for dress ( love the lucite heel!)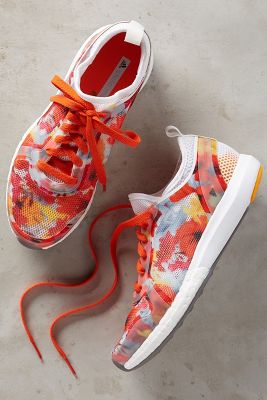 And even colorful Stella MacCartney for Adidas sneakers to keep you running all day long. I have got to get me some of these before the St. George's fair next year!
Or you could just add a colorful scarf or wrap to what every you wear.  I tend to wear less scarves and things like that in the summer because I am simply too warm. But there are lots of colorful scarves that can add oomph to any wardrobe in stores.  
What I have added to my wardrobe this season is two different pink scarves. One soft sort of blush pink like this one and 
one strong pink like this one.  I find between these two scarves I can pair them with all my new and favorite pieces.
Or invest in one scarf that marries both colors. Sometimes all you need is a little color near your face and a scarf can do the trick.  All of these scarves you can see or buy from Nordstrom.com.
So there you have a little blog about what color can do for your existing wardrobe. I hope where you live you have been enjoying a bit of the nice weather we have been having in Vancouver. It makes it easy to wear colorful clothing when the sun shines almost every day. Try to find something colorful that makes you smile every time you wear it.  We all need things that make us smile.
If you have questions or want to hear about a particular fashion topic, please email me at suethefashionista@gmail.com. I love hearing from you and love getting suggestions. I have no more appointments available for summer styling.  So if you want to book an appointment now for September to avoid being disappointed because I tend to book up early please use the same email.
There won't be a blog next week, but I will be back the week of May 23 with a new blog and lots of great ideas.  Until then, infuse some color into your style and email me a pic so I can see how great you look!
Until next time…