Every season those of us who need clothes to work in search for the right combination of outfits that make us feel strong, competent and basically invincible. To every woman that is something different.  Some women like clothes that make them feel powerful, so men's wear echoed styles work for them.  Other's feel more in control when they are wearing more feminine clothing.  And still there are those who feel their best when someone else's name adorns what they are wearing ( designer styles).  There is no wrong way to dress when you dress to feel your best.  Or you have a big day or big presentation. No matter what you wear there isn't a woman on the planet who doesn't feel powerful and wonderful when she feels she looks her best.
Work trends for spring are following what the general trends are for spring 2016.  But there is one key thing to do if you want your spring work wardrobe to feel au courrant: Lighten up the colors! Spring 2016, no matter which trend you want to wear all falls back to wonderfully bright and pastel palettes. And you can rock these palettes at the office, in the boardroom, or in court.
Every blog I look for inspiration and what inspired me for this blog is what Whitehouse Blackmarket is showing in their Business Attire section. First off I love, love, love the colors! Cinammon, black and white.  All non stop hits.
Nothing says fresh like a new lighter summer weight blazer
this one is nipped to come in at the waist and show your smallest part. They are also showing this fabulous cinnamon color in a great trench dress
that is sophisticated enough for any summer office and yet comfortable enough to keep you cool and stylish. For a convservative office I would skip the open toes and rather put an updated pump look 
on the bottom with enough detail to draw the eye down. Then match your accessories to the colors in the shoes and you are set!
One of the things I love about WHBM business attire is they have a seasonless fabric that is the summer version of ponte knit.  It never wrinkles and you can pack it wear it without any stress.  If you travel a lot for work and want no stress dressing this is the fabric for you.
Pop these pieces in your suitcase and and the cinnamon jacket and you are ready for whatever your business trip will throw at you. One of the keys to business travel is the same as any travel, stick to one color story.  So all these pieces work back to black.  Add a white T or shirt, a pair of black pumps and you are good to go. Mix and match your pieces for different looks.  You can also pack a for a work trip using a beige color combination
the cinnamon color works with beige and black too!
Now I sound like I am taking about both sides of my mouth, at first I told you to lighten up your wardrobe for spring and then I told you to pack with black as your base for a business trip. Please let me explain.  Lightening up can also mean lightening up your fabrics and styles. Wearing ankle pants or a sleeveless dress to the office is all the lightening up some women are prepared to do.  Switch out the black top for a white or patterend top  and you will instantly have a lighter look. Something I might add if I was the one doing the business trip is this bright little cardigan
.  I love the 3/4 sleeve detail and the wonderful coral color.  This with the above skirt or pant would be fabulous! Another piece of love to lighten up black is this floral print cardi
here they show it with denim, but it would also blend well if you took 
a cinnamon colored skirt on your trip. Needless to say after going on for a long time. I love what WHBM is showing for their business attire or spring.  The fit will be great, lots of sizing and petites as well if you shop online.  Plus the price with WHBM won't break the bank so next spring you can afford to refresh again.
One other site I love for inspiration for work wear is J. Crew. If you go their website it shows you 5 days ( Monday to Friday) of suggested outfits.  That is great inspiration if you are feeling a little tired of what you have in your wardrobe.  Sometimes all you need is an idea to look at your own clothes a little differently.  Remember the shop in your own closet blog?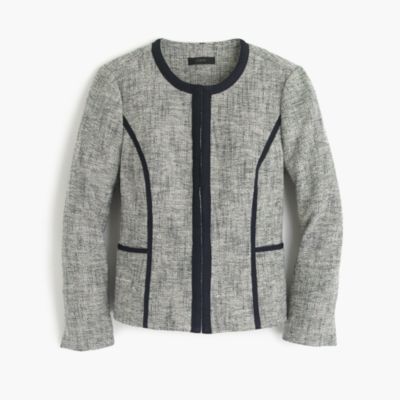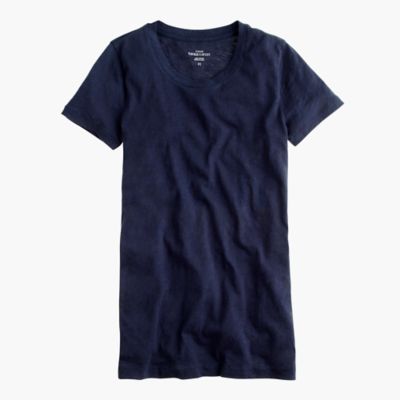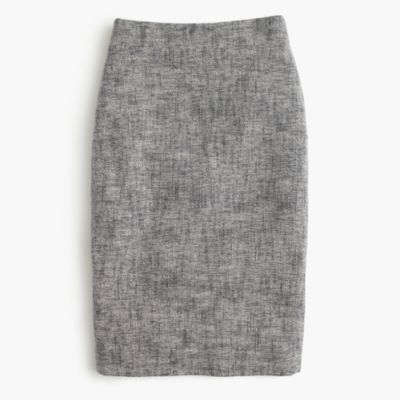 This suiting look they have paired with a t- shirt that makes you comfortable underneath.  The soft roundedness of the color and the lighter tweed makes this the perfect suit for spring.  On the website they are wearing great d'orsay pumps with it.  But I would rather see the shoe match the t shirt.  So if you go navy, then a navy shoe or if you go black then go black. Another great office look for spring summer is a classic sheath dress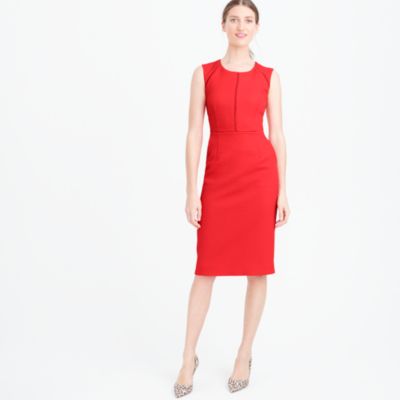 and I am ga ga about this warm cerise color! It also comes in Navy and White but this spring I would love to see something colorful even in the most conservative office.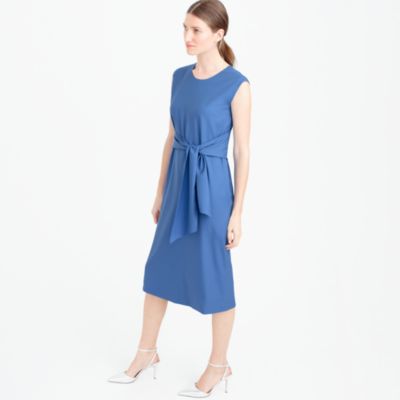 Another great work dress is this Overtime dress is a cool wool.  I love the light blue, but it also comes in beige and black.  Notice that the hems are at the bottom of the knee? That is something that can make a sleeveless dress work in a conservative office.  Not to mention making your look on trend.
Above I showed a tweet round neck jacket, but I also love this one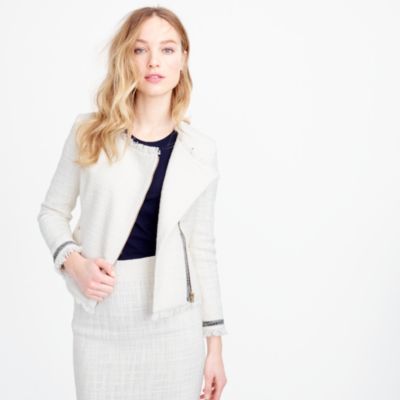 that adds a little moto chic to a classic work style. And for those of us who can't get enough black blazers in our closet ( I wear them with everything, even my jeans!)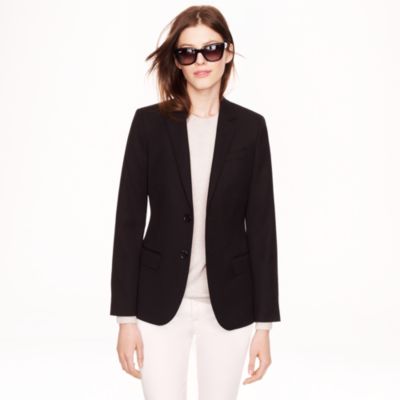 this updated Ludlow blazer from J.Crew with it's rounded hem works for a lighter summer look.
Skirts are key in any office look.  Above I showed you a patterned and cinnamon colored skirt, but I also love a great print.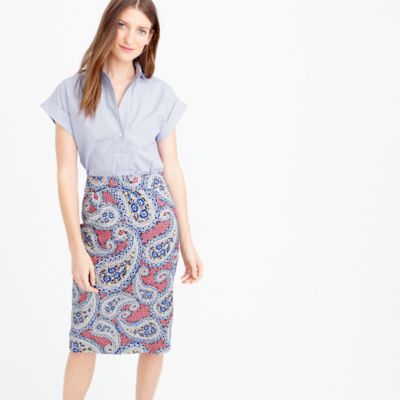 This paisley knee length skirt is J.Crew's classic no. 2 pencil skirt just updated with a great print for spring.
For work pants I showed you a black ankle pant above and I love the new cropped pant with blazers for the office.  But if you want classic then look no further than J. Crew's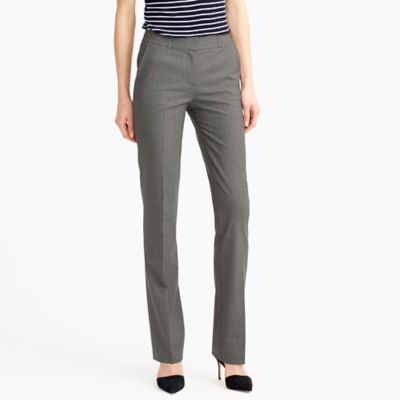 Italian stretch wool lined trouser. It comes in grey, navy and black, petite, regular and tall lengths, so you are sure to find a size and length that works for you.
If you are lucky enough to work in a casual or creative office or if your office has a casual day, then you can play with your look a little more. I love a twin set ( cardigan and shell that match) for a casual office day.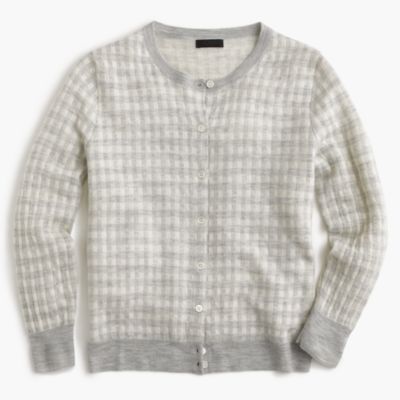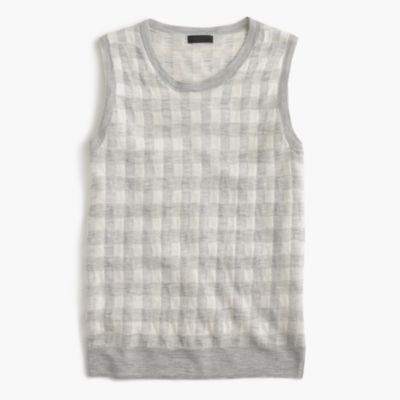 This cardigan and shell both from J. Crew in feather weight cashmere come in a grey check or a black and white check.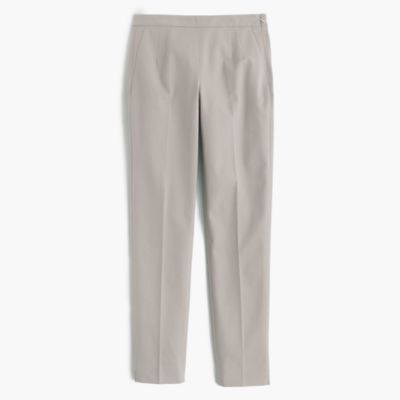 I would love to see it head to toe monotone.  So grey combination with grey pants and black combination with black pants and then add a shiny loafer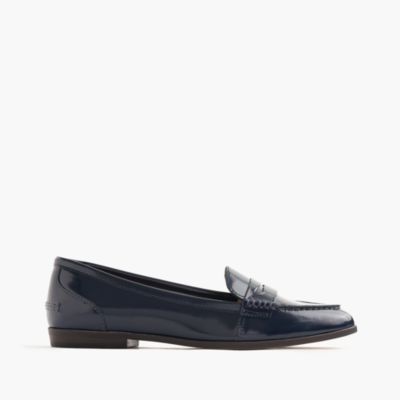 or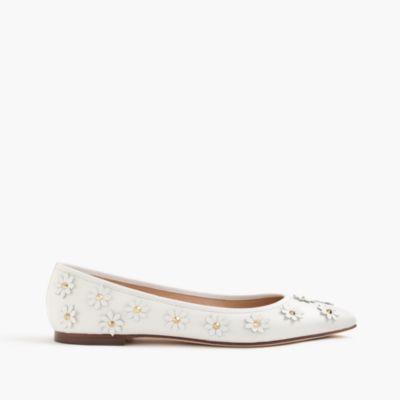 a great ballet flat ( I live in my ballet flats this time of year) and you are all set for your casual day. If your office allows jeans and denim, then any look above can be paired with colored denim for a creative look.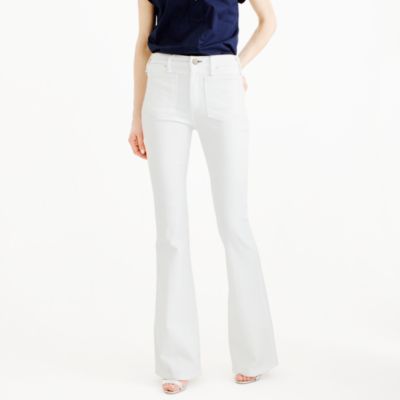 Pair a great pair of white flared leg jeans with a black blazer and you are looking great! Or you can do the opposite combination
white on top and darker denim than white on the bottom ( look from WHBM).
I am loving the stacked heel more than the classic pump.  But some of your office looks will call for classic pumps. 
How about an open toe mule for your casual office day? This one is from Bella Vita at Nordstrom and it comes in four colors.
Or what about this AquaItalia pointed toe block heel pump? Again five different colors to pick from at Nordstrom and you know how comfortable AquaItalia is.
Keep your jewellery classic.  This is not the place to go all Boho in your jewellery.  But you can add a statement necklace, if it's a bit understated, to sutis and dresses.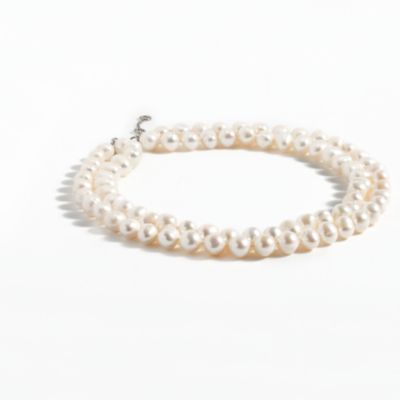 Pearls always work in a conservative office, you can do a pearl choker from J. Crew or how about updating it a bit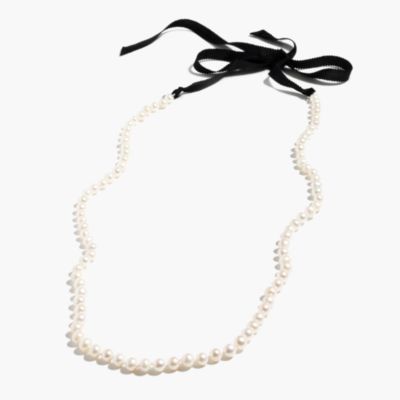 and tie up your pearls with a ribbon.
You can also match your jewellery to one of the colors you are wearing, just keep it understated like WHBM does with this pendant. Something else that is very classic this season is the tassel necklace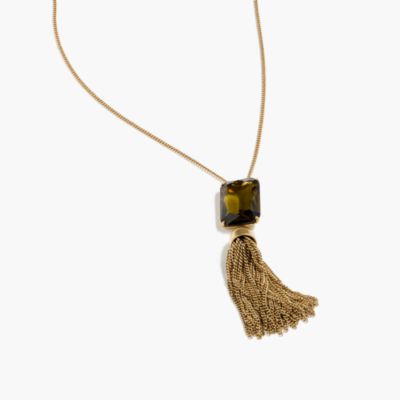 this one with the little bling is from J. Crew and works for work!
I like a classic bangle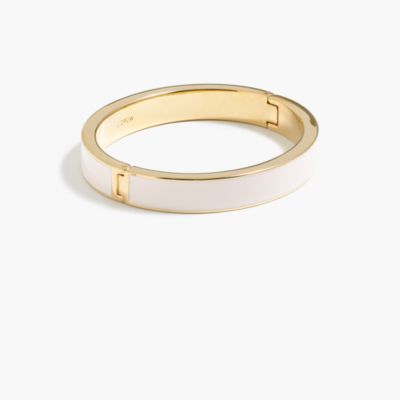 like this enamel one from J. Crew or a classic cuff
with a little detail from WHBM to round out your work look. Keep earrings classic as well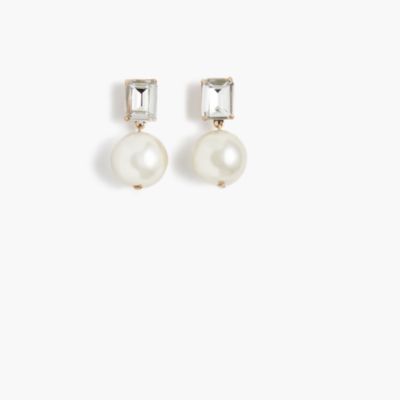 or if you want a bit of detail keep them close to your earlobe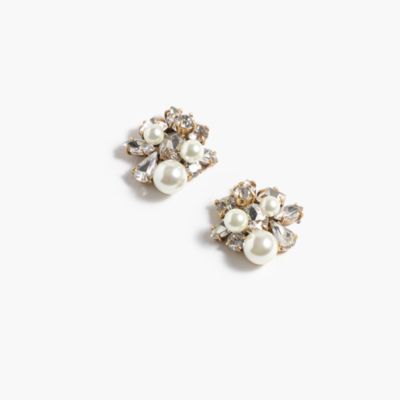 like both of tyes styles from J. Crew. Classic hoops also work in any office 
like these detailed ones from WHBM. Just save the giant ones for the weekend.
I really only went to two websites to explain business attire for Spring 2016.  Feel free to explore all the sites you want when figuring out how you want to look. I don't think you need to break the bank either to freshen up your work wardrobe so I tried to stick to moderately priced things.
If you find it a little overwhelming to put together a work wardrobe for yourself then please feel free to email me and we can set up an appointment to discover your inner work goddess. I have a few appointments left in June, but mostly I am booking for next fall already. I am also happy to answer your questions by email if you have a particular fashion question. My email is suethefashionista@gmail.com
My next two weeks are super hectic so next week there will be a blog and then the week after we may break for a week. I will try to keep going, the key for me is being organized and I will try my best!  Meanwhile enjoy putting a fresh spring and summer look together for work and beyond!
Until next time…