For some reason this spring I am in love with skirts.  Maybe it's because the weather has been warmer than usual in Vancouver or maybe it is just because there are so many wonderful choices in stores and online. I am not set on one particular style, but just about everything I have had to go to this spring I have turned to my skirts or dresses.  Now don't get me worng, I still love my jeans, especially the skinny ones.  But pants have kind of lost their luster for me. And I don't know why, but let's just say I am totally obsessing over skirts.
The biggest skirt crush I have this year is on the maxi skirt. I just got a new one and love the look and style of it.
This is it, it is by Bobeau and you can get it at Nordstrom Rack.  Now I am usually a petite so I had to have it shortened, but I have been wearing it with black tops and it makes me feel great! The key to wearing a maxi skirt is knowing the silhouette that works for your frame.  So if you are petite try and stick with one that is long and straight.  Kind of like a column, it will make you look thinner and taller. A great color to start with if you don't already own a casual maxi skirt is black.
This one is from Stem, a Nordstom house brand and it is a stretch knit.  That is one of the keys in a casual maxi, it needs to be made out of a casual fabric.  I wear my black knit maxi as a basic.  Personally I think the way they are showing this one is a bit too long.  For this spring and summer unless it is a formal skirt have it hemmed to hit at about your ankle. No lower or it will drag you down.
Another great way to wear a maxi is in a print.
This one is by Hinge, also a Nordstrom house brand.  You may not be able to wear a print near your face but for sure you can wear it on the bottom, especially when paired with a white t shirt and Boho accessories!  Anthropologie and Anthropologie.com is another great resource for finding maxi skirts that are up the moment cool. This season maybe try the compromise between maxi and midi by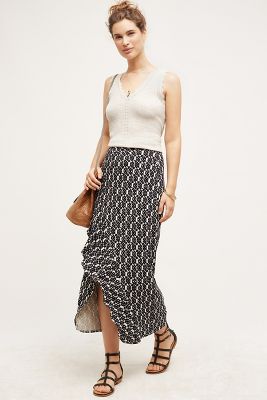 finding a skirt with a ruffled opening or slit to bring up the leg a bit ( but no higher than the bottom of your knee) this is the Makarah skirt by Maeve.  I love the look and idea of having a skirt that mixes both maxi and midi!
Sometimes nothing looks better on a summer day than a tank, maxi skirt and sandals.
The other new length of skirt I find intriguing this season is the midi length.  I have stayed away from the midi for the last few years. But this year I think I may actually invest in one of my own.  Knowing your own figure strengths is key to understanding what looks best, and I have kept most of my skirts right around the top of my knee cap.  Shorter when I am wearing tights and for summer every silhouette has hit the top of my knee.  But this season I find the midi length facinating.  Maybe because all the stylish women I know are wearing them or just because I actually find it a very sophisticated look. Again I prefer this look to the casual side.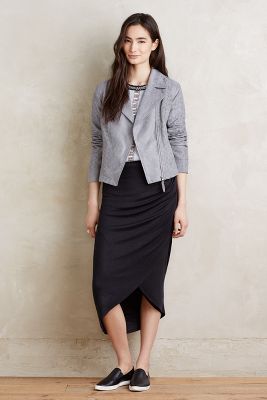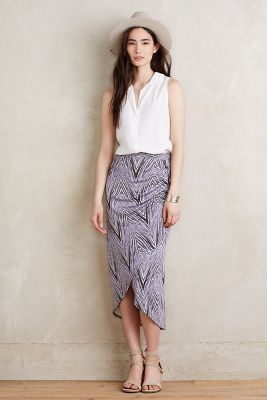 The Monetta Midi skirt by Maeve at Anthropologie.com sums up one of my favorite midi looks.  I love the way it peeks up a bit right in the front.  Both in solid black ( a winner in every wardrobe) and the print are a fabulous and casual way to wear a midi skirt this season.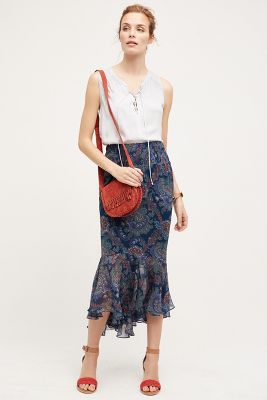 Another fun look for a midi skirt is a printed silk skirt( by Vanessa Virginia at Anthropologie)  with a flirty ruffle at the hem.  You can wear this casually with flat sandals and denim or dress it up a bit with heels.  Both ways would work perfectly this spring.
Another great way to introduce the midi look into your wardrobe is by buying something denim. Olivia Palermo and Chelsea28 have teamed up together at Nordstrom to create  a fashion forward classic line.  One of the best pieces in it is this a line retro denim midi skirt.
A line skirts are quite important this spring, and if you want to try a midi one, this is the way to do it.  Not overwhelming in any way but totally perfect.This is definitely the type of skirt that you wear a heel or at least a bit of a heel with.  If you go to Nordstrom.com you can see the queen of style herself put a look together featuring this skirt. Or if you want to stick with something more casual in denim look no further than Madewell
A staight button front skirt can take you anywhere you need it to this spring. One other midi skirt that really strikes a chord with me is this one by Free People
I love the color, and the belt.  To me this could be a quintessential skirt for spring.
The last silhouette I am going to talk about in this blog is the knee length skirt or a little higher.  Not quite a mini length.  There is a fine line in the shortness women can wear their skirts.  Like I have said in previous blogs, it really depends on your legs.  As long as your legs can carry off a mini look ( and your body matches your legs!) then go ahead and rock one. But there is a point when we hit an age ( it is different for every woman I know) when we are no longer comfortable in a mini length.  So since this is happening for me and most of my gal pals I am going to talk about shorter spring skirts that hit somewhere around your knee.
This season fuller and circle skirts are in for knee length styles. Now depending on how you put your look together almost everyone can carry off this look.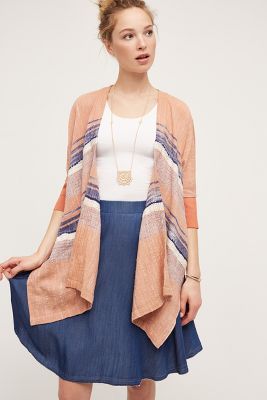 Anthropologie.com has this great denim circle skirt by Tina + Joe.  A perfect casual skirt that is up to date! A circle skirt or a swing skirt is the perfect compliment to a figure where your thighs are the widest part of your body.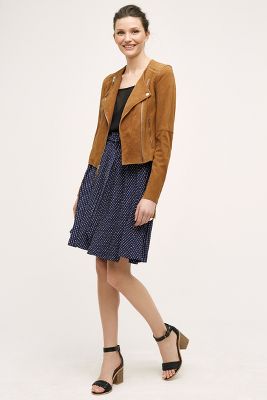 The way the swing in this skirt ( by Joa at Anthropologie) floats around your curves, as the circle skirt does above, makes light of some of your curviest assets. A great figure flaw cover.
Loft also has some wonderful prints in circle skirts that are easy and breezy and delightful to wear. You can also wear the A line skirt a bit shorter for spring.  I have a shorter one in denim or why not try a great patterened one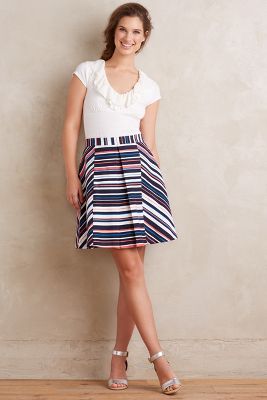 like this one by Maeve at Anthropologie.  It will draw the eye to your legs and float over your hips.  I love the way the stripes are going every which way. It will disguise big hips and is a great way to wear the new striped look and de-emphasize your hips at the same time. I also love a flippy shorter skirt.  Nothing says easy summer style like a flippy skirt!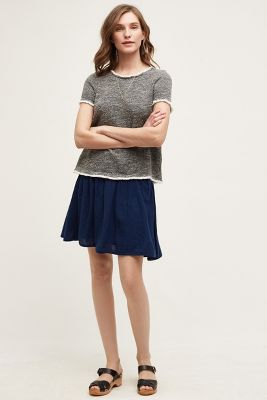 The Navala skirt by Eva Franco at Anthropologie and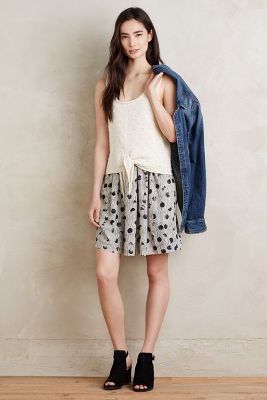 the Ellerton skirt by Maeve at Anthropologie are both excellent versions of a shorter flippy skirt that will carry you on the warmest of days.  Both are cotton and can be dressed up or down.
There are so many other patterns and colors I could go on all day obsessing about what I love about skirts for Spring 2016.  Take a look on line yourselves at some of the websites I have talked about.  Find what you love about this season's skirts.  Then go buy what you are crushing on and rock that look!
As far as what works with skirts let my pictures be your guide.  Never under estimate the power of a classic white or black tee when putting together your skirt look!
I hope you are now as fond of skirts this spring as I am.  I think my skirt obsession is just this season's manifestation of my dress obsession from last spring.  What ever spring style you are obsessing about just remember to look your best, hold your head high and rock your look.
That's it for this week.  If you have suggestions of things your would like to hear about or questions please feel free to send me an email at suethefashionista@gmail.com.  I am now starting to book styling for the few summer appointments that I have available.  Email me quickly if you want to get an appointment before September.  You can use the same email above.
Stay stylish everyone and keep rocking your fabulous looks!
Until next time…