It's funny how my wardrobe works.  In the winter I wear a lot of dresses and skirts with tights and boots.  It is one of my favorite go to looks when I want to look nice but I don't want to look over the top.  I really find wearing a casual dress, tights and flat boots as comfortable as wearing jeans.  Now comes the spring.  It is like dresses don't exist in my closet until the temperatures peak, 23 celcius or 75 farenheit.  Until then I literally live in my jeans.  But as soon as the warm weather appears I am back in my skirts and dresses. Last summer we had a beautiful warm summer in Vancouver with little rain, so my summer casual dress collection grew and grew. But my big struggle has always been to wear dresses in the in between seasons: Spring and Fall ( before it gets really cold).
Now before I go any further I need to tell you that I don't wear pantyhose ( My mother is just rolling her eyes at me now).  But I absolutley hate them.  They are uncomfotable and don't really cover anything.  Give me a good pair of tights, especially black ones, they make your legs look skinny and you can wear skirts way shorter than with hose. And once I get some sun ( or self tanner) I go to bare legs, that is if it's not too cold.
Spring dresses are really a breed of their own. If you go into stores and look on line you will see lots and lots of prints and light color fabrics.  Until it gets a bit warmer, I tend to stick with denim or darker fabrics for dresses.  Remember when we talked about transition dressing? Well right now mid April to mid May is when transition dressing is called for.
I have shown you this dress before but it's one of my favorites and it is something I will be wearing as one of my transition looks.
A denim shirt dress can take you anywhere.  This one is from Whitehouse Blackmarket.  I love the way it's shown with higher sandals for a dressier look.  But it will look great with wedges and block heels for a more casual look, not too mention short boots if your weather is still not spring like yet. Ann Taylor has the cutest Eyelet back dress right now 
it comes in white ( shown) and black.  I love it in white with flats like above.  It looks a bit dressier in black.
What I am trying to show with both these dresses is ease of movement pieces.  Another route to go for a spring dress is a long sleeve print dress.
I have this one by VFish, a LA based dress line.  It's a really cute print for spring and yet it goes with black boots for those colder days.  I have a girlfriend who really rocks the casual dress and boots look for spring.  She wears suede light color boots and her dresses hit just above her knee.  It is a fabulous look.  Then as the weather warms up, or you get brave with self tanner, switch to wedges or block heels.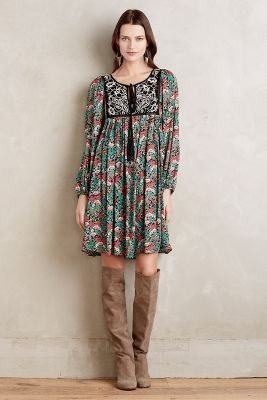 Here is the look I am talking about from Anthropologie. The dress is by Ottava and you will find it on sale on line right now. Great with boots now and sandals later!
Another great idea for a casual dress to get you  in the Spring mood is great T shirt dress.
This one is Andrea Jovine at Nordstrom Rack.com, it comes in 4 colors and looks great with sneakers or flats.  T shirt dresses work for casual and also for the office ( if your office is a bit more creative or casual). One of the best places to find knit dresses that can take you anywhere is Talbots, believe it or not.  Their knit dresses come in a variety of fits, petite, tall, women's plus and women's plus petites.  So you are bound to find the right fit for your body.
Right now this Refinded Ponte Sheath dress is on sale in comes in 3 bright colors. Or try a dress with some fun trim on it 
this dress can take you casual or dressed up depending on your accessories. . And nothing says Spring like a striped t shirt dress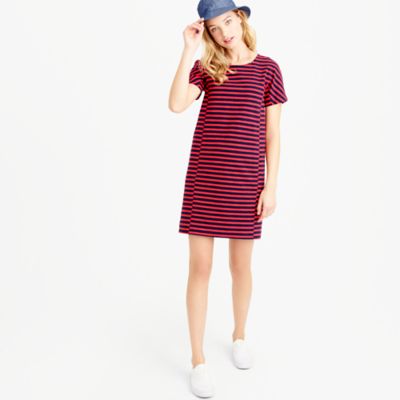 this one is from J. Crew and it works on every level for Spring 2016!
The other thing that is really big in casual dresses for spring is floral prints.  When we spoke about trends for spring we talked about how huge florals are.  Well they are just about everywhere in dresses from casual to dressy.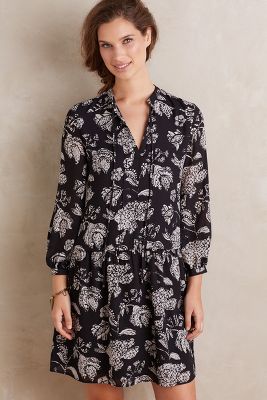 Anthropologie is a great place to find dresses.  They are great for casual dresses especially.  You can find florals that are a bit more sophisticated.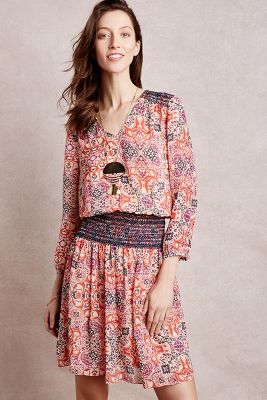 Both this dress and the one above from Anthropologie you could wear right now and they could take you from day time to a casual evening out.
Another twist that is great for spring in casual dresses is the maxi dress.  The maxi and midi dress is still strong from last spring. So you can rock all those long casual dresses you bought last year or invest in a couple of new ones. Maxi, midi and the new Boho look for Spring all go hand in hand.  So when you are buying a maxi dress this spring think of pairing it with your Boho accessories.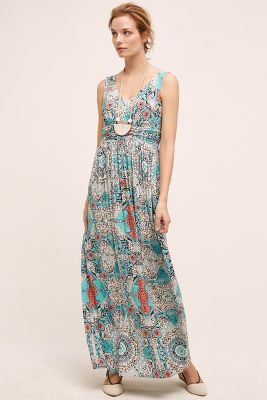 Think of a dress like this one from Medallion at Anthropologie that works.  It would be fabulous with a denim jacket and flat neutral sandals.  And as the weather gets warmer you can move into dresses like this
from WHBM that you can pair a denim jacket with if you need to cover up a bit.
Spring dresses for work can also be a bit lighter and easier than their fall counterparts. A classic short sleeve sheath dress like this one from J. Crew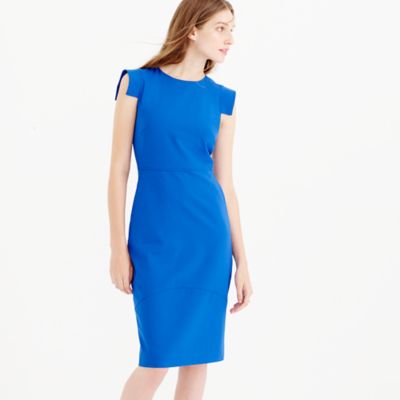 that comes in a plethora of colors and can be paired with a jacket for meetings is exactly what you need to lighten up your work wardrobe.
Whitehouse Blackmarket is showing this Color block hem sheath dress that is very office appropriate.  For the office think of the type of dress you can pair a jacket with for meetings or classic styles that can stand up to your back to back meeting day.
I am not going to to into dressy dresses simply because I think everything you need to know was covered in my Special Occasions blog.  I will also get more into summer dresses the end of May when we will actually be wearing the little sleeveless dresses that are my very favorite!
I have decided to keep this blog a bit shorter to make up for the long ones I wrote earlier in the Spring.  If you have a topic you would like covered or questions please feel free to email me at suethefashionista@gmail.com.
I have no more styling appoinments left for May and June is already filling up.  I will do limited appointments during the summer. So now is the time to book if you need styling advice or a closet refresh especially if you want an appointment before September.
I hope you are enjoying your spring so far.  For those of you who celebrate Passover, Chag Sameach!  And happy spring to all!
Until next time…