One of the things about Spring that is unpredictable is the weather.  We are already almost at the middle of April and all thoughout North America the weather is completely at extremes on different coasts.  While you are still experiencing snow and winter temperatures in the East, spring has totally sprung in the West and the temperatures have been May and June like.  But if you are still wearing winter coats and boots I will try and give you some hope about what the coming weeks and months have in store, the snow can't last forever.  And for us out West, there has been a lot of sun, but it seems rain is on the way for the next week or so. I will try and give you great ideas to stay dry and look stylish!
One of the key things about surviving the spring rain and unpredictable weather is having a great rain jacket or coat that will take you through it all.  There are a lot of things to think about when buying or wearing a spring rain coat.  And lots of different styles to choose from. If you need something that will take you from work to play one of the key pieces and something that is strong again this spring is the trench coat.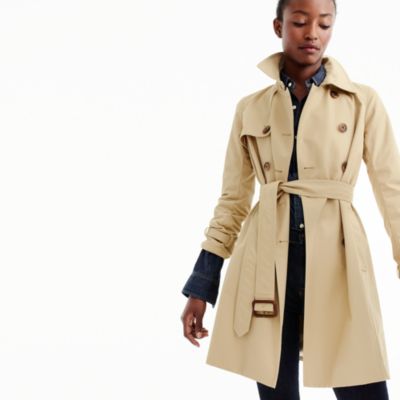 J. Crew is showing their Iconic trench coat as part of their spring collection.  Double breasted and belted, it defines your waist and looks incredibly chic.  This color is light khaki and it is a classic color for a spring trench.  I used to own a black spring trench and I literally wore it out because I wore it day in and day out when I was working in an office. 
At Nordstrom.com London Fog has a classic trench in 5 or 6 different colors that has a detachable hood and a detachable liner ( good for when it's not quite warm where you live).  Maybe try it in one of the brights for spring like red or navy or maybe in blush pink if you are infusing a lot of pink in your wardrobe for spring. If you want to buy a new trench for spring I suggest you do a little online research before hitting the stores.  Go onto a site like Nordstrom.com and take a look, they have lots at all different prices.  J. Crew as well has an outstanding outerwear section of their website.
One more thing to think about with a trench style coat, the double breasted style is not for everyone.  If you are busty or curvy you may want to stick with a single breasted style like this
piped single breasted trench from Lauren Ralph Lauren at Nordstrom.com.  A single breasted style on short or curvy woman will give the illusion of lenght and make you look thinner and taller.  I love the faux leather piping detail on this one.
But one of the great things about Spring 2016 is that we can step out of the typical and do a style that is still classic yet completely updated.  J. Crew has done a great twist on a classic trench look by making a trench cape look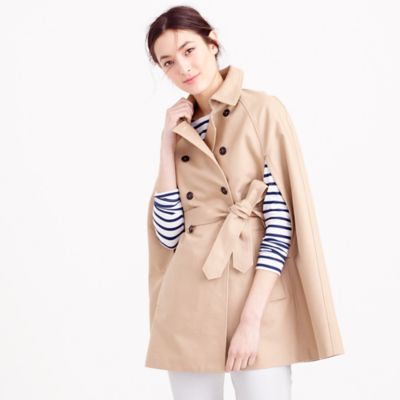 . Totally up to date and I love the look, especially for warm days when it rains like crazy ( hello New Orleans!).  The belt is removable, so it would be fabulous on someone curvy and it comes in Light Khaki or Navy with gingham lining.  A great update on a classic look!
One other trench update I want to share it also a non traditional trench and it is an easier version especially if you like coats that zip as oppose to button.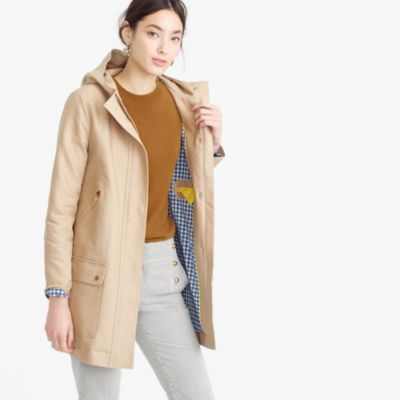 Here is J. Crew's version of an easy trench.  The Chateau Trench.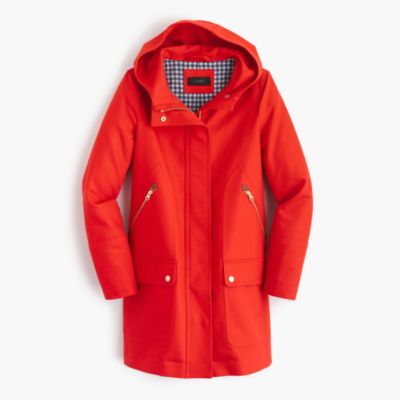 How about doing it in this awesome this Fiery Sunset color.  You will be sure to brighten any grey spring day in this!
I also have been shopping at some local Vancouver stores and found a wonderful store on West 10th Ave. It is called  Tenth and Proper and I bought a fantastic spring rain coat that I love!
Here is me wearing it on cold grey Vancouver spring day.  It is made by a local Vancouver designer, Allison Wonderland, and it is coated viscose.  If you live in Vancouver I highly recommend checking out some of the local stores, like Tenth and Proper because you never know what you will end up with.  This coat is light enough to carry me all through spring and summer and I bought it a size larger than I wear so I can layer underneath ( like I am above) on cooler days.  I run cold, so I always buy my coats so I can wear a lightweight down vest or cashmere sweater underneath.  If you run hot, then you can buy a light weight coat in your true size.
Other coat options for spring take you away from the  rain coat styles that we  have been talking about. I find spring is a great time to wear leather jackets. 
I know I have shown this style before but the motorcycle style leather jacket ( this one is Trouve from Nordstrom.com) is super stong again for spring.  If you have one from last year or from fall, pull it out again for spring. If you want to invest in one for spring then maybe go with a lighter color in suede or leather
like this pale jacket from Free People.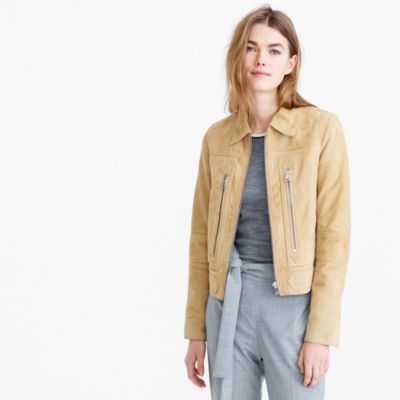 J. Crew has this soft butter color in their Flight Jacket for spring.  I love the look of a pale leather or suede jacket with light denim for a wonderful spring look.
One other thing I live in, especially on days when I don't need my raincoat is my denim jacket.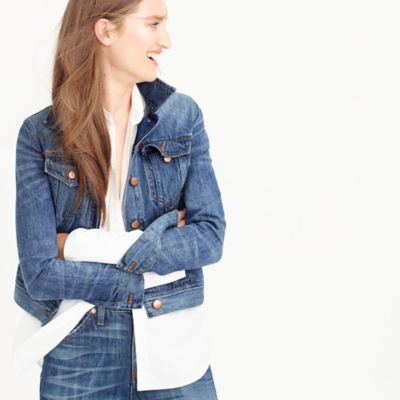 Denim is everywhere this spring ( see my last blog) and the denim jacket is huge! This one is from J.Crew in their Tyler wash. I wear mine over jeans, pants, skirts and dresses. One of the new twists on the denim jacket this spring is the denim blazer.
Even Talbots has gotten into the act and is showing their classic blazer style in denim for spring.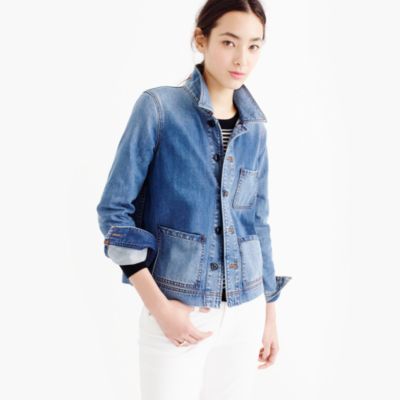 A little edgier is this Denim Workwear Jacket from J.Crew. Both would work great for a casual day at the office or for everyday if you work in a casual office.
One more coat style I want to talk about for spring is the quilted jacket.  I love the quilted jackets and vests. 
This is the Barbour "Calvary" quilted vest.  I wear this underneath my light weight raincoats for warmth in the spring.  I purchased mine at Hills in Vancouver, where they always have a phenomenal selection of Barbour or you can buy it online at Nordstrom.com or sometimes Madewell.com has it too.
I also have this quilted jacket from Barbour in 2 colors.  A dark Olive I bought 2 years ago and a black that I purchased last year.  I love them because they are lined with a bit of fleece and water resistant on the outside.  They fit Vancovuer weather and my lifestyle.  I will caution you that Barbour is a bit more expensive but it wears incredibly well.  If you want one for spring go for a bright.  I think almost all their styles come in Red as well.
With all spring outerwear I am going to encourage you to accessorize.  Hats are great for windy days when your umbrella keeps blowing inside out.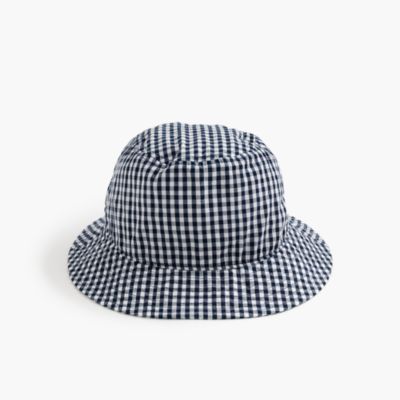 A great bucket hat that is coated for water resistance like this gingham bucket from J. Crew will work great with your trench or rain jacket.  I also tend to buy hooded jackets just so I don't have to carry an umbrella everywhere I go. I actually have a very stylish girlfriend who has a ton of beautiful hats and never carries an umbrella. She just tucks her hair under her collar and puts on a hat. 
A fedora with a large brim would be perfect to keep you covered. This one is Rag and Bone at Nordstrom.com. If it is a leather hat you can spray it like you do your shoes to keep it water resistant. Brands like Kate Spade also make adorable rain hats
that can add a chic element to your rain look.
There are also all sorts of chic umbrellas on the market.  When I was caught in a down pour in Chicago a couple of summers ago I purchased an adorable retractable umbrella.  It was at Bloomingdales and I still carry it all the time today.
This year Bloomingdales is doing their ruffle umbrella in a dot.  Mine is in animal print.  Nothing like a chic umbrella to add to your look!
So there you have it.  I hope I have given you lots of inspiration to get you through the rainy days that proceed the sun of spring and summer. I covered rain boots in my fall blogs and really not much is different for spring.  If you are in the east stay warm and if you are in the west stay dry!
For questions and comments please feel free to email me at suethefashionista@gmail.com I love to hear from you all!  If you want to book a styling appointment or do personal styling by skype my rates are on the about page and I am now booking for mid May and June.
Spring outerwear is something that everyone needs and hopefully doesn't have to wear for a long time because warm weather is coming.
Until next time…