Every season there are new styles and colors for all of us to ooh and ah over in the pages of magazines, online and in stores.  But the one constant that is updated every season no matter what is Denim.  Denim attire is so much more than just your jeans, although jeans are essential to everyone's wardrobe, it is also the fabric that we feel the most comfortable in.  This season denim is huge in dresses, skirts, tops and accessories.  It is colored, cut up and embroidered on.  It is the lightest chambray and the heaviest weave.  Spring 2016 has an emphasis on denim.  In this blog I will tell you what is new and how you can put it together with some of the other looks you already have.
Let's start with Jeans.  What is new in Jeans for Spring 2016:
I have talked endlessly about how important a great pair of jeans are in every woman's closet.  So I won't quite go there again.  But I will talk about the different jean sihouette's and how to wear them.
Skinny Jeans: This season skinny is strong again.  I think it's safe to say that you can invest in a great pair of skinny jeans that fit in all the right places and not worry about them going out of style any time soon.  You can totally wear the same skinny jeans you wore all fall.  The dark wash skinny jean looks just as good in the summer as it does in the winter.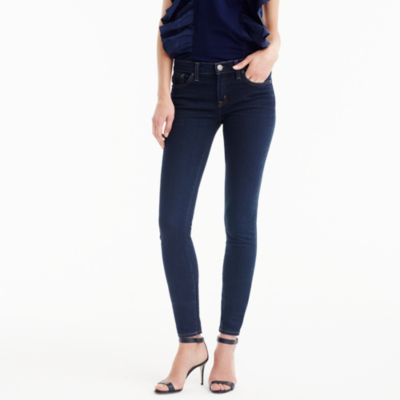 J.Crew's toothpick jean in dark wash can be worn all year round.  I love a skinny jean with a heel for dressier but I also love it with a loafer for a more casual look.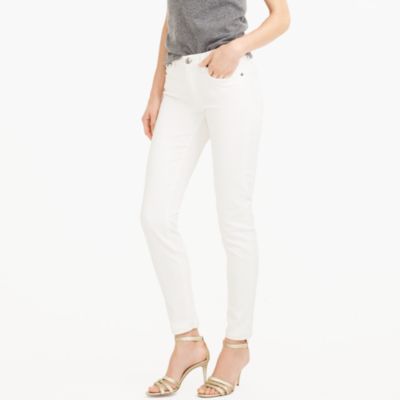 Here is the same toothpick jean from J.Crew in white.  Perfect combo for a casual look on a spring day: white jeans with a denim shirt and loafers.  Denim and loafers is actually one of my spring go to's before it get's too hot out.  But dark wash and white are likely in your closet already in  skinny jeans.  How about adding some punch to your jean wardrobe and doing a skinny jean in a color instead? Ann Taylor has a skinny jean that comes in Sand and a soft Dove Grey
just for a change from the ordinary.  NYDJ jeans have a skinny crop jean that comes in many colors
and is available in regualr and petite.  I love the pink denim this season. Or how about trying some detail to your skinny's.  The one major detail you can add is distressing. Distressing isn't for everyone, but it is becoming very mainstream and it is a great look if you want it.
Nordstrom.com has a ton of distressed skinny jeans. These are from 7 for all Mankind and are not over the top with too much distressing. They are definitley the denim you will not wear to work, but great for casual or a night out. I also like white distressed
for spring, these are Treasure and Bond, one of Nordstrom's house lines.
Skinny denim can be worn with all sorts of tops this spring. 
For the new Spring Boho look you can add a gauzy peasant top like this one from Daniel Rainn and pair it with your distressed skinny's and some earth toned shoes and accessories and you are all set.
All the little flowy tops ( this one is also from Daniel Rainn) work with skinny.  The longer tops are great too.  For shoes, try and wear things with a bit of a heel.
A thin heel trendy lace up shoe like this one from Vince Camuto works for evening and for daytime try and stick with a heel but
change to one that you can actually walk and stand in all day, also from Vince Camuto.
Straight leg Jeans: To me straight leg and skinny jeans are pretty much interchangeable.  At least that is how I wear them in my wardrobe.  Straight leg jeans are a bit more forgiving if you are heavier in the thigh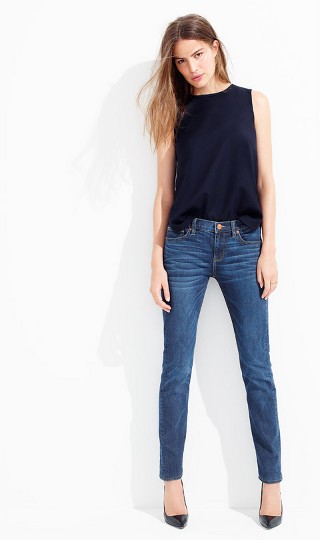 like the Matchstick jean from J. Crew.  I personally love the straight leg jeans from Talbots for a woman's figure.
The Talbot's Flawless 5 pocket jean comes in a cury cut ( fuller through the thigh) which actually makes you able to wear a size smaller so it fits in your waist as well.
What I love the most about straight as opposed to skinny is that it works better for a work look.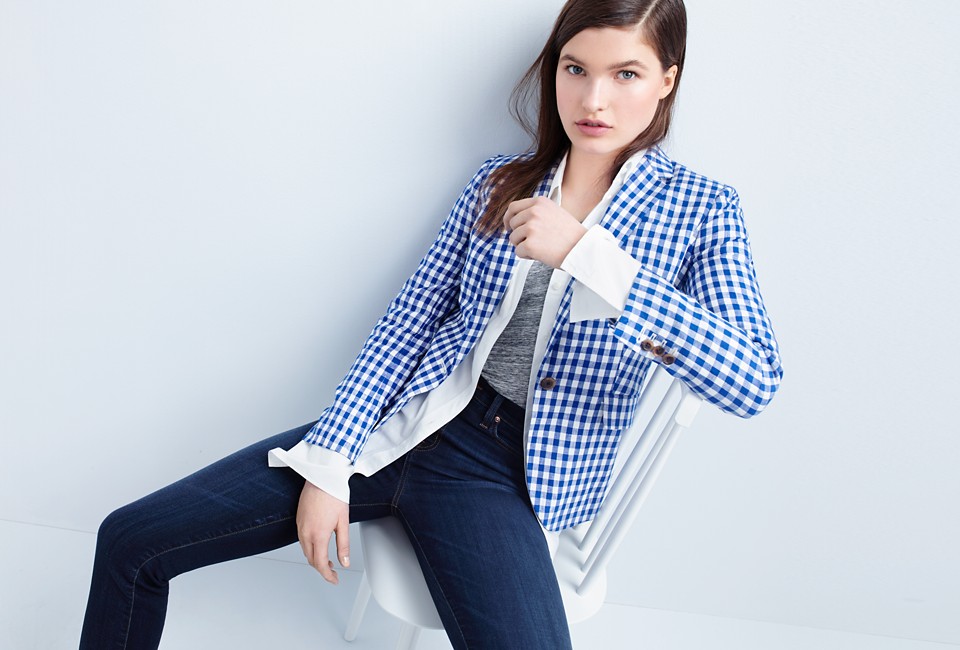 I am obsessed with this Gingham blazer from J. Crew.  I love the look with a straight jean, white button down and flats.  To me that is the quintessential casual Friday look for your office. Think of how great this look would be with a denim shirt and white jeans ( straight leg of course) just to change it up!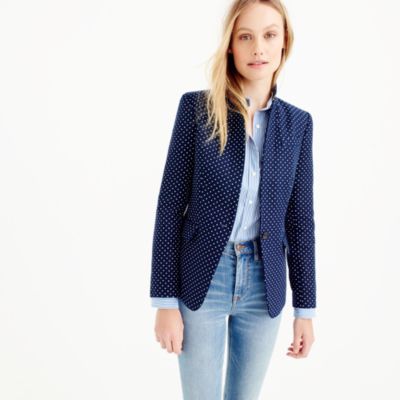 J. Crew also has a polka dot blazer that looks almost as good with straight leg jeans too.  I am simply obessed with this classic yet modern look!
But since skinny and straight are really the same family let's move on.
Boyfriend jeans: Who doesn't love boyfriend jeans.  They have been a perennial spring jean look for the last couple of years.  This year they are strong again and especially in colors like white and faded chambray and are also being embellished with embroidery and patches.  I really like boyfriend for a casual look. Maybe with runners of espadrilles
like these fades skinny KUT from the Kloth Catherine boyfriend jeans.  If you are short wear your boyfriends a little skinnier for casual, a wider boyfriend will only make you look shorter with a runner.
But lots of women look fabulouse in a boyfriend, dark wash with a heel.  These are also KUT from the Kloth and dark wash, even distressed if you want, with a heel can make your legs look miles longer.  Pair boyforiends with a top you either tuck in as above or one that hits you right at the waist
like this Shdow Leaf tank from Ann Taylor.
Flare and Wide leg Jeans: We started to see this look last fall and it has really taken off this spring.  You are seeing flares and wide legs everywhere and not just in denim. I think it's important in a wardrobe if you want them.  Sometimes a wider bootcut can suffice if you don't want to go into flares.  But it is an important look for spring.
The look for Flares is just what it was in the 1970's if you remember them.  Higher rise, fitted through the hip and thigh and then flaring out from the knee.  These jeans absolutely need a heel or a wedge and really don't suit flats at all. Tops tucked in are a must because you want to create the illusion of a very small waist to balance our the width at the hem.  You can also wear a fitted top or T-shirt tucked in and get the same streamlined look on top. Along with Flares comes the wide leg jean
which are more like these 7 for all Mankind and look more like a trouser because they are wide from the thigh all the way down. Wide legs are a little tougher to wear and I dare say they really need to be worn with tops tucked in at all times. If you are a bit shorter ( like me) then maybe you want to go with the brand new look of cropped flares or cropped wide leg jeans.
These are from AG denim, they are the Jodi cropped slim flare jean.  The slimness of this jean could be the biggest boost for them looking good on a petite frame.  It balances out the wideness above the ankle. 
You can go all out and do a culotte look like these from Top Shop.  But I really think since I remember wearing these in high school I am going to pass, but if you want them at least go and try them on and see how they look on you.
Wide leg crops will come up again when we talk about spring pants, so I will leave it for then to explain the rest of this look.
Denim dresses and skirts: I am a huge fan of sportswear made out of denim.  I think that a cute denim dress can take you almost anywhere.  Same thing with a denim skirt. I love denim dresses so much that I have about three in my closet right now. Denim dresses can be whimsical 
like this embroidered shift from Paul and Joe, or they can be staight forward and maxi like this
Kut from the kloth Victoria maxi dress. I love denim shift dresses and denim shirt dresses.
This dark wash shift dress from Whitehouse Blackmarket can take you to work or dinner.  A little pricier but this caron callahan hadley dress at Madewell looks to me like the perfect summer denim dress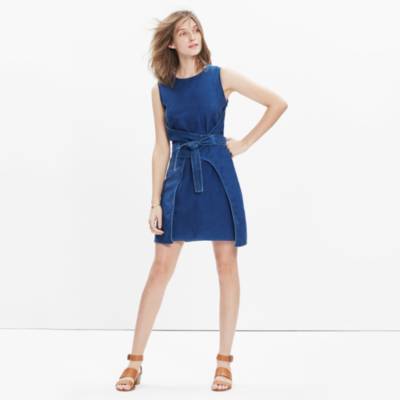 for when the weather is warm enough for sleeveless. Experiment with your denim dresses, wear them with leggings and flats or with strappy sandals, wedges and wood heels.  It all works and it works because the dress is made out of denim!
Denim skirts are also huge for spring. Maxi, midi and mini they are all in style and great in dark wash, white or a pale chambray. One of my favorites is this button front mini from Madewell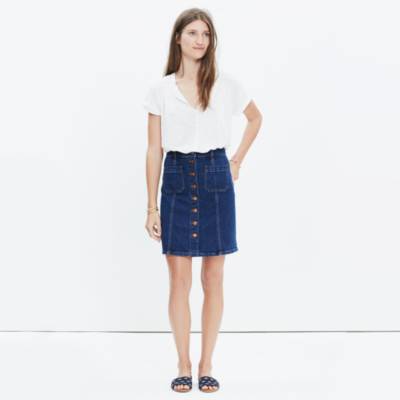 I love it so much it is on the way to me as I write this. Buy something in white denim for a different look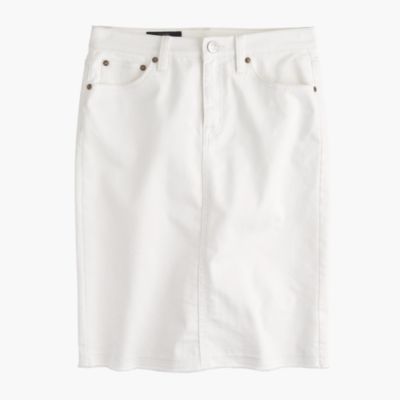 J. Crew's frayed denim pencil skirt will hit you right above your knee and work with heels, wedges and flats and look great all season long. Talbots is doing an A line denim skirt in 5 colors
and you are sure to find one that makes you happy for this spring.
You can even do a little tie waist denim skirt from Loft that will work for lunches and the office.  For the office skip the short mini's and go for lengths that hit just above your knee.
Denim shorts and tops: Denim really is everywhere this spring.  Denim shorts are in every website I visit. I am not a shorts girl, I live in skirts all summer but if you like shorts, denim is the way to go this spring. Treasure and Bond has short and rolled denim
or go frayed and distressed with Rag and Bone
.  If you want your denim a little longer NYDJ is doing bermuda's
in 5 colors. Or if you want a more conservative style Talbot's does their Flawless 5 pocket look in shorts as well 
.  WHBM has white bermuda's
and short distressed 'girlfriend' shorts 
that will fit the way WHBM always does.
For denim blouses one of my favorite's this season is from Ann Taylor
and it is so beautiful you can wear it to the office and our for dinner. Another one of my favorites is this scalloped top with grommets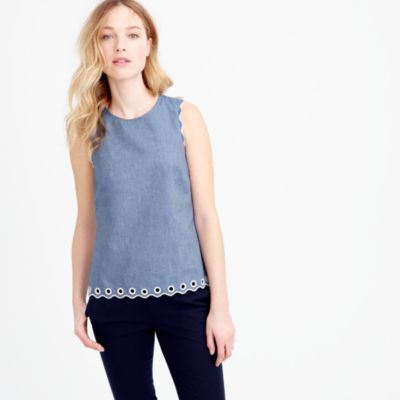 by J. Crew.  Both these tops are so much more interesting than your denim shirt.  Give something like this a try to punch up your spring wardrobe.
I am not going to extoll the virtues of the denim jacket.  I have talked so much about it the past year that if you don't have one yet you probably don't want one.  But to me a denim jacket is a great go to when the weather is warmer and a great layer when the weather is cold.
So that takes me to the end of my spring denim blog.  If you want to know about anything in more detail or have questions please feel free to email me directly.  I love it when I get your feedback!  There is lots more spring blogs coming and I welcome suggestions for topics if there is something you want me to cover.
For all inquiries or suggestions email me at suethefashionista@gmail.com You can also reach me at that email to advertise on this blog or set up a personal styling appointment.
That is about it for now. Until next time…