Just about now everyone is getting all sorts of invitations.  Weddings, graduations, birthday parties, school events and bar and bat mitzvahs.  What exactly do you wear for different occasions?  You may not want to be as dressed up for some things as you would for others but you still want to look and feel your best.
What I thought I could do is go through all sorts of different occasions that come up in Spring and Summer and give suggestions of what to wear to each with accessories, etc. Remember some of these occasions you will have to pack and fly or drive there.  So there is one thing I want to talk about first.
I own a portable steamer.  I worked in the Fashion business for years as a manufacturer's representative.  We steamed every sample we received.  I have to admit I am not a very good ironer, but I really can make any outfit look perfect with a steamer.  I bought the steamer from a local company that's sells them.  But you can find them at Bed, Bath and Beyond or any store like that.  In Canada we have Home Sense and Home Outfitters and they carry them as well.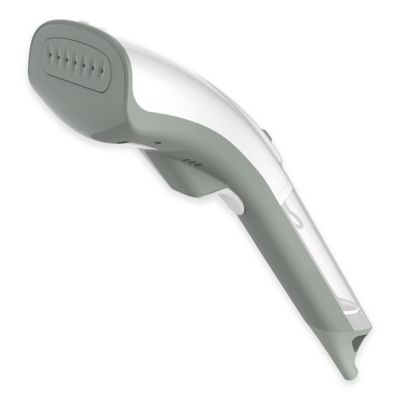 This is the SALVAT quicksteamer in grey.  Here is the link to the Bed, Bath and Beyond page that you can order one online. http://www.bedbathandbeyond.com/store/category/storage-cleaning/laundry/steamers/14168/ The one thing you are going to want if you have to travel to an event is a light weight hand held steamer with a big enough water resevoir to do a few items with needing a refill. I even use mine at home for touchups when I remove items from my closet before I wear them.  And I never travel without mine. Where ever you go, you will want to look your best and the worse thing is when clothing looks like it has been slept in. I even steam my husband's blazers after travelling.  A hand held steamer is a must!
Spring and Summer Weddings:
Weddings that are held in spring and summer mainly fall into three types of dressing styles: Formal, semi formal ( business formal) or casual. So I will go through each one.
Formal Weddings: A wedding that is formal is usually a bigger wedding with a venue that begins in a Church, Synagogue or place of religion and then moves to a hotel or fancy restaurant for the party. The Bride and her bridal party are all in long dresses and gowns. As a guest to this wedding it would be appropriate for you to wear a long gown as well. The last thing you want to do is out shine the bride or her bridesmaids or her mother or new mother in law, so I suggest not dressing in white or the colors that the wedding party is wearing.  And for a spring or summer wedding I also prefer something with a bit of color and ease to it like this Xscape foiled pleated jersey blouson dress from Nordstrom.com
It works because it is elegant and yet soft and feminine at the same time.  Great gold hoop earrings and a gold or bronze sandal and you are done.
I also like this like this Ellen Tracey embellished waist draped back jersey gown also from Nordstrom.com. It comes in 5 colors and would be easy to travel with and wear.  Go for the colors not just black. Most women look prettier with a little color and pink is such a huge color this spring.  Any metalic sandal would work. I would keep accessories to the minimum here as well. Maybe your diamond earrings and a tennis bracelet. Less is more when you are dressing formally sometimes.
You can also wear a shorter formal dress if you don't want to purchase something long and you don't think you will even wear it again.
Any beaded or lace dress could work formally as well. This one is also from Nordstrom.com. It is by Adrianna Papell and would be great with either a matching or metallic heel and diamond hoops.  No need for a necklace with this beautiful beaded dress.
I love lace! This beautiful lace Tadashi Shoji sheath dress is also at Nordstrom.com and it also comes in 5 or 6 colors.  A delicate necklace and heels and you are all set.
I truly believe that Nordstrom is one of the best places to buy a formal dress.  You can shop at other department stores as well, Macy's, Dillard's, the Bay.  But I really feel the best selection  and service is at Nordstrom.  If you have a specialty store that carries formal wear near you that is a great place to go as well.  I have one right here in Vancouver called After 5 and it is a great place to shop for occasion dresses.
One other accessory needed for your formal wear is a formal clutch or purse. Any store that carries formal wear also will carry evening bags or clutches.  I have collected mine over the years and have a couple of hand me downs from my mother.  But a great thing to own is a sparkly clutch.
This one is again from Nordstrom.com but places like Whitehouse Blackmarket and Ann Taylor or your local Kate Spade store have small bags that would work as well.
Semi Formal Weddings: A wedding that is a bit less dressy is what is the most common.  At a semi formal wedding usually only the bride and her bridesmaids will be wearing long gowns.  The mother and mother in law of the bride will be wearing shorter dresses or dressy suits.
For these occasions, you can wear a short dress or dressy skirt and top. You could even wear evening pants or dressy pants.
Whitehouse Blackmarket has lots of beautiful and well fitting dresses that could work for a semi formal wedding. I love this soft pink assymentrical layered midi dress.  It would work for your semi formal wedding and a plethora of other events. 
Or how about a casual maxi dress.  WHBM has those too and they would be beautiful if the wedding is outside.
One of my favorite styles at WHBM is the overlay maxi dress.  This dress can go formal or semi formal depending on your accessories.
One of the best spring collections I have seen this season is from Ann Taylor. They have absolutely beautiful things.  Not too much for a formal wedding but lots that you can wear to something that is semi formal or casual.
Here is their Begonia Lace Flounce dress that is so bang on for this season with color and details, I fell in love at first sight with it. A pair of navy or pink heels and you are all set!
You can do department stores for semi formal dresses, they will have tons and tons.  But I really love what Ann Taylor has for spring and WHBM you can never go wrong.
Casual Weddings: A casual wedding is one where even the bridal party could be wearing shorter dresses. Guests are welcome to wear anything and everything. These types of weddings are held in outdoor spaces or sometimes in decorated barns and warehouses.  Casual dresses are very appropriate as are pants or skirts. Men are usually dressed in jeans and a blazer.
I love the idea of a jumpsuit for this type of occasion.  This one is from Vince Camuto and it is on Nordstrom.com. Pair it with flats and you can dance and party all night. Any nice sundress works here or pretty skirt and top.
One thing I want to mention about all weddings and summer parties is bringing an extra pair of shoes. Start your evening in heels but how about bringing a beaded or detailed flat sandal for dancing.
I snapped this picture in the store at the Montelucia resort in Scottsdale. The store is Dulcinea women's boutique and they carry these Mystique Sandals. These would be perfect take alongs for your formal or semi formal event to change into for dancing.
Or go for something like these embellished flat sandals from Ted Baker at Nordstrom.com.
A beaded or lace flat works as well if you don't want to wear a sandal. These ones are from Lauren Lorraine at Nordstrom.com and they are under $100.
Any other things you want to know about weddings you can feel free to get in touch with me directly.  I always post how to get in touch at the end of every blog.  But we must move on.
Graduations:
Whether your offspring is graduating from high school, university or grad school there are always ceremonies and parties attached to it.  Chances are your son or daughter is excited about their grad and if it's from university you probably have to travel to get there. University and high school grads seem to differ in the types of occasions you need to dress for so let's look at each of them separately.
High School Graduations: If your son or daughter's school is anything like the one my boys go to there are a lot of events around their graduation. My sons go to a private boys school but in Vancouver a lot of high schools follow the same events as the private schools.  We had a mother son dinner, a dad and grad breakfast, the grad ceremony and reception and a formal dinner dance all in starting the month before grad. For the mother and son dinner, it was a casual event at one of the mother's homes.  Almost all of the mothers ( and there are some stunningly well dressed mom's in my older son's grad class, here are a few of my fabulous and fashion conscious friends).
wore either nice sundresses, maxi dresses ( that was me) or nice pants and a top.  It was warm and most of the evening was outside. I wore a long maxi dress by Monoreno that I bought on Hautelook.com and a pair of flat jewelled sandals and I was very appropriately dressed.
For the grad ceremony for high school, I recommend a nice day dress or suit that you can have a jacket or sweater with  because it may get cool outside or be inside an airconditioned theater.
I love this Ann Taylor belted dot dress for just this type of occasion. I wore a similar dress to this that Ann Taylor had last year. Pair it with a navy blazer of sweater.
I took this picture at the Ann Taylor in Scottsdale Fashion Park.  I love the versatility of this dress. For an outdoor graduation ceremony pair the same dress with flats or wedges instead of heels. I wore a block heel sandal last year and had no problem with the lawn that the ceremony was on.
Most high schools have a formal dinner dance that parents are invited to. Grads wear long gowns or suits and tuxes.  As the mother of the grad you can wear long gown if you want.  But stay away from anything your daughter or your son's date might be wearing. I have a dress I am planning to wear to my younger son's grad and it is very similar to the overlay maxi above from WHBM. Everything seemed to go at my son's grad dinner dance.  Mom's wore sequins, lace, long and short. Either of the short dresses I showed for a formal event above would work or how about something like this beautiful Ted Baker Floral
available at Nordstrom.com.  Heels are great since the grads dance more than the parents. And evening accessories like a dressy clutch and pretty wrap are all you need to finish the look.
University Graduations: I have been doing some research into what goes on at University grad ceremonies. I am sure every university will have their own unique events but I am going to give examples of what to wear based on the graduation events at Tulane University in New Orleans because the blog reader who asked for his post has a son/daughter at Tulane.
So at Tulane there are a few different things that go on.  And likely the university your son or daughter is graduating from has different ceremonies and picture taking times for the different fileds of study.  There is one unified comencement ceremony for all graduates during the graduation weekend ( most schools hold them in May). At Tulane their unified ceremony is held at the Superdome ( where the New Orleans Saints play) and it is not dressy.  In my opinion the most appropriate thing to wear to something like this is something you feel good in.  Either a nice sundress, pants or skirt with a nice top because there will be picture taking opportunities and you will want to look nice. If it's hot, and New Orleans will be in May, you want to wear something that you can be comfortable in outside and throw on a sweater on top for the air conditioned inside.
A casual lace dress in a pretty color with block heels or
a coral woven top floaty dress with wedges ( both dresses from Loft.com) are perfect for that ceremony.  You are dressed up enough for pictures and for the individual college of study school's ceremony ( where your son/daughter walks across the stage and gets their diploma) and you will be comfortable.  Comfortable shoes are key.  There will be a lot of walking, standing and sitting. Block heels are great
pick a neutral color like these Stuart Weitzman ones at Nordstrom.com.  
I love these suede block heels from Ann Taylor, but not for the New Orleans heat.  But I would wear these to a grad ceremony in Vancouver or Toronto or even Boston. If you go with a bright colored outfit stick to neutral shoes that you can wear with more than one outfit because you are travelling.
Wedges are also great.  Michael Kors has a lot of different ones but I have these fabric wedges with the espadrille style heel from last year and they are comfortable and look great with summer dresses. Be comfotable the grad ceremony day will be long.  You will go to the unified ceremony downtown and then back to campus for your child's field of study reception and then ceremony.  Lots of standing.
Tulane has one other event that is on the Friday night before all the comencement ceremonies. They call it Wave Goodbye.  It is a big outdoor party modeled after the spring festivals in New Orleans and it is outdoors and very casual. It will have music, food and some dancing.  My best suggestion would be to wear a casual skirt, top and flats.  Remember New Orleans has heat and humidity.  If your son/daughter's school is North or not as warm then jeans with flats and a nice top could be very appropriate here.
I have shown this before but I love this woven shift skirt from Loft. With a sleeveless top
like this lace inset top from Ann Taylor or
this eyelet trim tee from Loft you will be all set.  Add cute flats
either lace up (Dolce Vita at Nordstrom.com) or
strappy ( Steve Madden at Nordstrom.com) in a neutral color and a cross body cute bag
like this one from Michael Kors (Nordstrom.com) and you really are set for a night of frolic with your grad on the quad.
Spring parties and school events etc:
Every spring there are a number of events we are all invited to. This spring I am stressing color in the outfits you are putting together.  One of the things that I loved at Ann Taylor this spring is how versatile all their styles are for almost every event. I showed you a pink lace dress above but how about these great items that you can mix or match to cover off almost anything you need to go to:
I fell in love with these Devlin eyelet pants.  They are ankle length but look great with almost everything. 
I paired them with this floral top for a nicer event 
And a darling little flat bow shoe.  This top is so great, it works dressy and more casual with a blazer and soft denim as well.
The blazer comes in Navy and the same soft pink as the jeans.  The jeans are great.  They are cropped with a slight flare at the bottom.  They fit wonderfully as well. I absolutley loved the Spring collection at Ann Taylor.  They have a new designer and this is her first full season of styles.
I also fell in love with this fringe sweater jacket available in Navy and off-white.  It works over every look you could possibly need for a spring suit look.
What to wear to parties will really depend on the theme and mood. Garden parties can call for anything from jeans and a nice top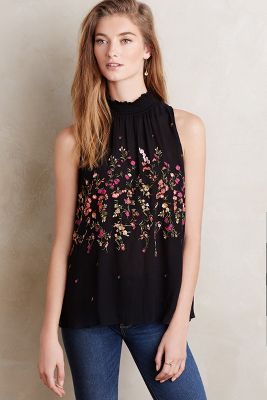 like this Lila embroidered top from Anthropologie.com.  Embroidery, Lace and color is huge so pick your tops with that in mind. Or you could wear a pretty floral dress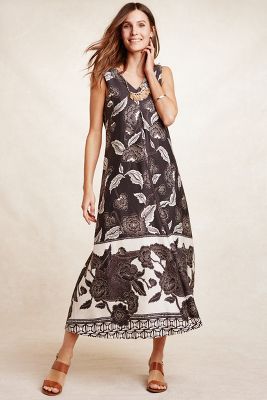 like this Soha maxi from Anthropologie as well.
Bar and Bat Mitzvah's, Sweet 16's and Quinceanera's:
These types of events take all through the gamut of what we talked about above. They can be as dressy as weddings or as casual as a garden party. Just remember one thing: dressing appropriately means not outshining your hosts or the special girl or boy that is being celebrated. Dressy pants and jumpsuits are definitely appropriate here. And usually the events are themed and the dress code is listed on the invitation, like 'wear your party clothes' or 'dress for a BBQ'.  So you will know exactly what to wear. Most of the time the hosts also tell you if the event is outdoors, so your shoes will be appropriate as well.  I have been to some of the best events held in tents and some had a floor and some you were on the grass.  Heels don't work on the grass.  Chances are you will want to dance all night at these events.  So here again, is where the 2nd pair of shoes will come in handy.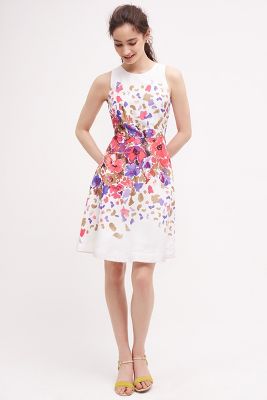 A dress like this Scattered posy dress from Anthropologie is fabulous for any of these types of occasions.  Here with flats or great with a colorful pair of heels
like these from Vince Camuto at Nordstrom.com.
For a charity event or dinner that you would be attending you should go a bit understated.  A nice lace knee length dress
like this Adrianna Papell from Nordstrom.com and pretty heels
like these pointy toe Ivanka Trump ones at Nordstrom.com and you are all set for an elegant look.
I realize that this is a very long blog, about twice the size of my normal ones. I am trying to be as thorough as possible and answer all the questions I have been asked about events lately.  I appreciate you reading it all. And I hope I covered a lot of the questions I have been asked about spring occasion dressing.
If there are more questions or if I haven't covered something you need to go to please email me at suethefashionista@gmail.com and I am happy to help you in whatever way you need. My styling appointments for April are full but I am booking for the end of May and June right now, so please use the email above to set an appointment. Rates are on my about page.
Where ever you have to go this spring I hope this blog has helped you to get there in style.
Until next time…