There has been so many different 'edgy' styles for women over the last couple of seasons that Edgy can mean almost everything.  But for the purpose of explaining this new and fresh style mix and how to wear it, let's define edgy as an extension of the Glam Goth trend we spoke about for fall.  So think leather, studs, metal details and black.  The key to the trend is taking some of those pieces and mixing it with the Pretty trend from this season.
So really it just gives you a whole new way to wear that great black leather jacket you bought.
When I hear the word 'Girlie' I really think of all the things that are happening for spring.  The soft pretty colors and styles.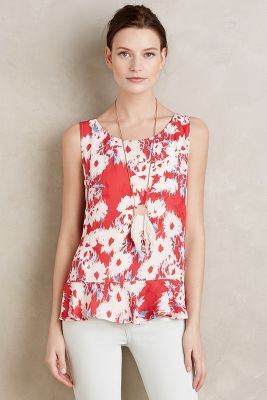 Like this Espellette Ruffle tank that is in Anthropologie right now.  I love it with the white jeans and I would also wear it with darker denim.  The peplum is so feminine and so is the print. And when I think of 'Edgy' I think of my Joe Fresh Moto jacket or any Moto jacket for that matter. 
Like this Trouve biker leather jacket from Nordstrom.  And to me this trend is about how to marry the two different looks together.
I would wear my Joe Fresh moto jacket with dark denim over a frilly blouse. Or take the same jacket and wear it with a very feminine dress.
But you don't need to do this trend to that extreme to get the effect.  Your leather jacket will be in season after season and some of the other styles may be fleeting.  So how do you take this trend and make it your own?
Why not try your leather jacket with skinny jeans and for a change put a lace top underneath?
This lacy matte jersey T from Ann Taylor maybe just the right piece to soften that look. Especially if your skinny jeans are a little bit distressed as well.  If you don't like lace maybe you have a ruffle top at home that you could do the same look with?
This matte jersey ruffle shell from Ann Taylor would look fabulous with that look as well.
It is basically about prettying up your edgy pieces.
Any pretty dress you already own, like this Chelsea28 shift dress from Nordstrom can be edged up with either a denim jacket
like this Paige Rowan distressed jacket ( Nordstrom) or leather jacket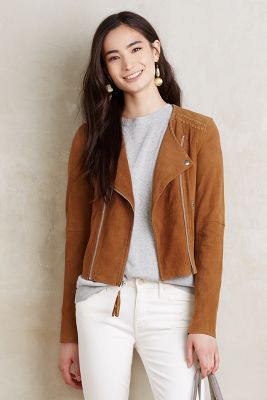 like this Paige leather moto jacket (Anthropologie) over top.  Mix up the colors, blue over pink or this light brown over pink.  Just use a darker shoe that is either black or the color of the jacket and you are set.  Take it up another level and throw on a scarf that blends all the colors together.
I like picking a print scarf that works with both pieces seperately as well. This is the Vince Camuto orchid moment square scarf from Nordstrom and it could do just that.
So now that you know how the look works, what are the key elements that you can mix with that can make it work for you?
First thing is your denim.
Pick an edgy pair of jeans. These are AG Ankle jeans from Nordstrom.  Distressed denim ( if this is something you like, I don't particulary like the look on me) is perfect for making an edgy statement.  If you are like me and don't want to do distressed then pick a pair of skinny fitted jeans and preferrable in a darker wash.  My personal two favorites that really fit a women's body are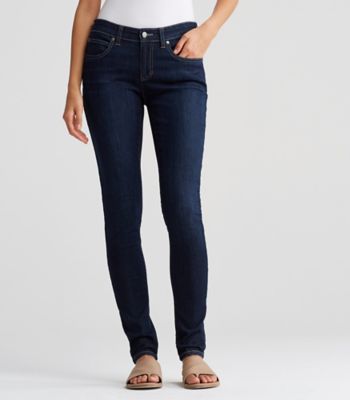 the Eileen Fisher skinny organic cotton stretch denim jean or
Talbots flawless 5 pocket jean.  Both really fit well and have a ton of stretch to hug all your curves. Remember the darker the denim, usually the more stretch they have. Everyone has a brand of denim they love.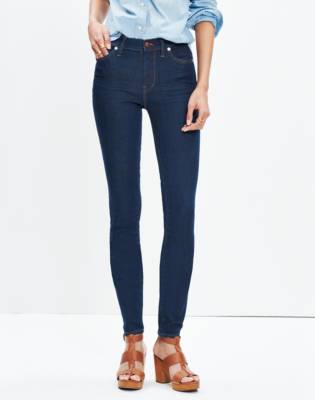 Madewell.com also has a skinny high riser jean that fits great. Lots of stretch and about 10 different washes and some even distressed if that is where you want to go with this look.
You can also work  a denim skirt or dress as the base piece to the Girly/Edgy mix trend. One of my favorites this season is Whitehouse/Blackmarket's denim shirt dress.
  I love the darker wash and shorter length.  But almost every line has a denim dress so find one that fits you best.
Loft has some great denim skirts this season.  I showed the button front one a couple of blogs ago, but I also love a short straight skirt, especially with this trend.
Last piece of denim that seems to be the right fit here is the denim jacket. Loft also has a great one (and at a great price)
. I believe everyone needs a denim jacket.  But it especially is great with this trend if you don't want to wear a leather jacket or vegan leather jacket all summer.
The next thing you need to add are soft, feminine pieces. Tops, dresses, pants and skirt.
( this dress is Hinge from Nordstrom) The more the floral or the frill the better.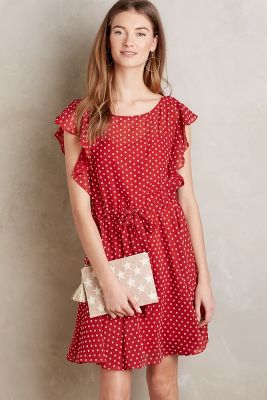 Like this pretty Fluttered Conchita dress from Anthropologie.
Take your lace skirt
like this floral full lace skirt at Ann Taylor
or even our classic black lace pencil skirt from Fall ( Talbots). You can also wear any pretty print in a skirt with this trend.
Like Ann Taylor's pretty Hibiscus print skirt or
a floral maxi Free People skirt from Nordstrom.The prettier the better. Any skirt with a ruffle works as well.
Like this Origami skirt at Nordstrom.
For tops, think of the lace and ruffled looks shown above.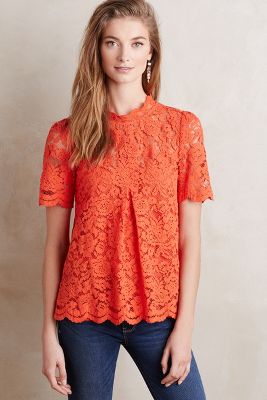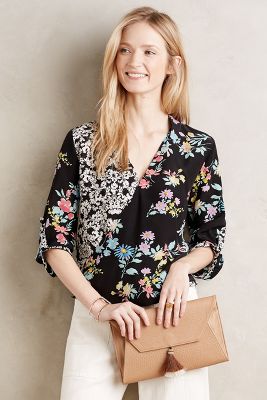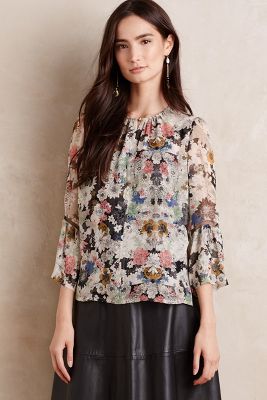 All of these tops are from Anthropologie, which is one of my go to places when I want a new top or shirt that I won't find anywhere else.
You can even tie in the Kimono tops we have been talking about here instead of a denim or leather jacket.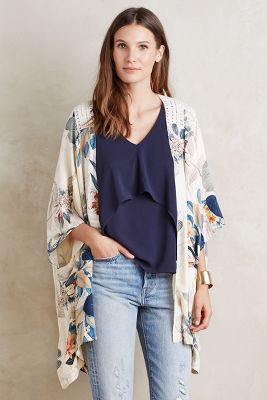 This one is also from Anthropologie.  I happen to love them.  They just add softness to every look.
Then you put the two very different looks together to make one outstanding outfit!
Both these outfits from Nordstrom's t.b.d shop  really illustrate the look with the edgy jacket and soft top underneath.
Here is Loft's version with a soft skirt and edgy denim jacket.
And here is the quitissential look I found on Pinterest feature Ann Taylor clothing. The one edgy piece (the jacket) works beautifully with the softness and dressiness of the rest of the outfit. If you go on the Whitehouse/Blackmarket website they do a slightly more sophisticated version
showing soft feminine tops with distressed and skinny denim.
Your accessories should be to either extreme to truly capture this look.  So you can go totally girlie and feminine, or pull out your moto boots and runners. Pretty floral sandals like these from Nordstrom
or sandals with a bow from Cole Haan.  Or simply a beautiful pump
like these Louise et Cie floral ones from Nordstrom will all give you a pretty.  If you want to go edgy
you could do a Jeffrey Campbell perforated bootie or
an edgy looking cut out bootie also from Nordstrom. And never forget the power of a moto boot
(Steve Madden) with a soft feminine dress.
For bags the same as shoes, go one extreme or the other.
Feminine and pretty like this Kate Spade bag or
black and tough with metal details like this Rebecca Minkoff bag.
The same with your earrings and necklaces.  One extreme of the other.
For edgy do hoops with detail. And for pretty think of a dangle
with a feminine twist. Tie your necklace into the same look as your earrings. Either simple and edgy
like a Lariat necklace or
do the complete opposite with baubles in a pretty and feminine color.
I hope you understood what I am trying to show you with this trend.  If you love the Pretty trend, which I do, then you can take one piece like your denim or leather jacket and hit this trend as well. I also love the look of a frilly top with skinny jeans and a heel.  I think almost every woman can pull this off and it looks modern and sexy.
Go to some of the websites of the stores I talked about and look at what they have on Pinterest and Instagram.  There are beautiful shots of this look done all sorts of ways and it will give you tons of endless inspiration.
As always I can be reached at suethefashionista@gmail.com for questions and comments. I try and answer everyone timely.  If you live outside the Vancouver area and want some personal styling I can do styling via skype and we can talk about a discounted price for that because you don't have me there with you.
Next week we are going to cover the New Sporty trend.  And then there has been a request for me to move my Spring occasions blog up a couple of weeks so that will happen the end of this month or the beginning of April.  And then I will go though each piece of clothing per week and talk about new trends for pants, skirts, dresses etc.
So until next time…