The first spring 2016 trend we looked at last week is what I referred to as the Pretty trend. I started with this trend because encompasses all the girly things that are being shown this spring for a reason.  It permeates through every other trend.  Spring 2016 is light, bright, sexy, soft, feminine and beautiful.  Last week we talked about florals, laces and ribbon embellishments, those details are going to be found in the New Boho trend for Spring 2016 as well.  It is being called the new Boho trend because it mixes what is traditionally Boho with girly and light elements. I think there is a little Boho in everyone, so here is how to rock your new Boho Spring 2016 looks.
One key thing I am going to let you know right now about the New Boho for Spring 2016 is that the key word in every look is Romatic.So take your traditional vision of Romance and let it become undone, that is the Boho look for Spring 2016: Romance undone.
The Spring 2016 Boho trend includes all the light colored denim that is on the market right now but it also includes all the printed pants, maxi dresses, floaty skirts and all the traditional Boho styling pieces as well. When I think Boho there are a couple of brands that I am immediately drawn to that are easily accessible for everyone.  The first one is Lucky Brand.  They have stores everywhere and easily found online in places like Nordstrom and Nordstrom Rack.  The other brand is Free People.  This brand to me embodies what the new Bohemian would wear.  Again they have stores everywhere and also have placement in Nordstroms.  Most of the examples I am going to show you today will likely be from one of these two stores.  But don't get me wrong, one of my very favorite shops is Anthropologie, and you will find pieces there as well.
So let's start with denim.  One of the things that is huge every spring is the boyfriend jean. I have a pair from Eileen Fisher ( my favorite denim) but you can find boyfriend jeans everywhere.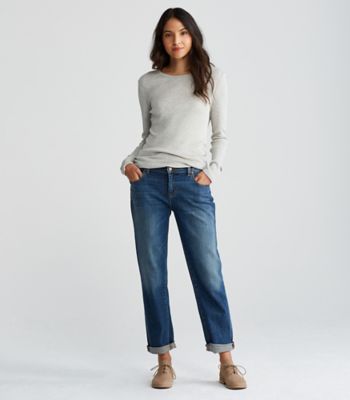 My Eileen Fisher boyfriend jeans are the color you see here.  But if you buy them online ( I bought mine in the store) they come in 5 colors.  Eileen Fisher jeans cost a bit more, but since I practically wear jeans everyday, I tend to not worry as much about price as fit. For over $100 less you can get a pair of boyfriend jeans from Lucky Brand
these are the Sienna Slim and they are distressed, which is so bang on for the New Boho trend.  
Lucky Brand also has a Vintage Straight Boyfriend.  All you need to remember is to find a pair that looks great on you and the paler the wash, the more it fits into Spring 2016.
The other big denim trend for Spring 2016 and it happens to fit right into the New Boho is the Flare leg in jeans. The spring flare is fitted through the thigh and then flares from the knee down. Lucky Brand is showing two styles of flares for spring
the Olivia mid rise flare, and it comes in 3 diffrerent washes from dark ( shown) to light. The other is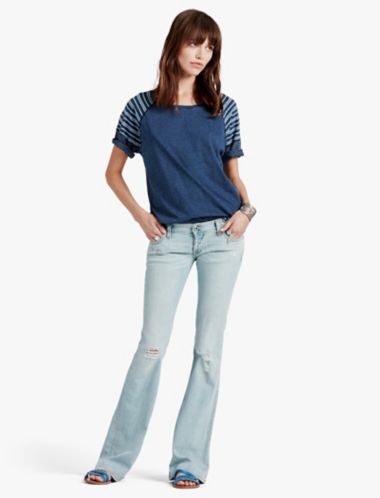 the Little Maggie Flare and it is a lower rise and comes in the same 3 washes. Almost every brand of denim is showing flare jeans for spring.  If you don't know which style of flare jeans will suit your body then your best bet is to go to a store where they carry multiple brands and try on jeans until you find the right pair for you.  A department store like Nordstrom or chain store like Anthropologie carries many different denim brands and you can find one that is right for you.
I like a wider leg in denim but I don't know if I am going to buy flares.  I am on the petite side and I prefer the leg of Bootcut jean on me.  You can find bootcut fits everywhere, even Talbots this spring has a great bootcut and modified Flare jean.  Just look for the lightest denim wash you can find if you want them to fit the Boho trend.
But denim jeans is just the very first piece in exploring this trend.  And don't forget about denim dresses and skirts.  They are just as important to rock the Boho trend.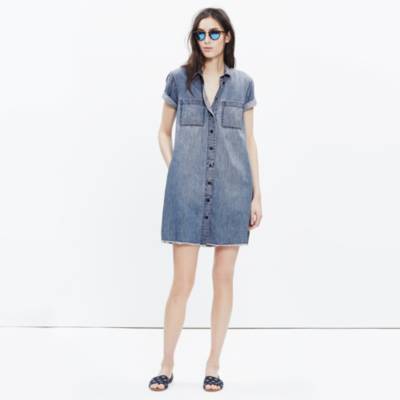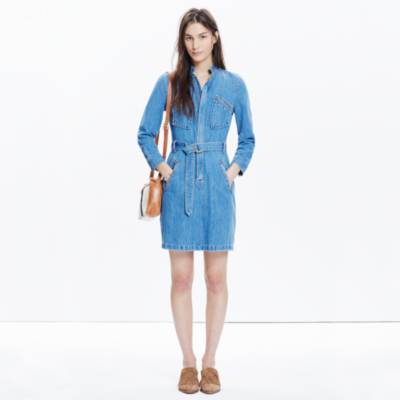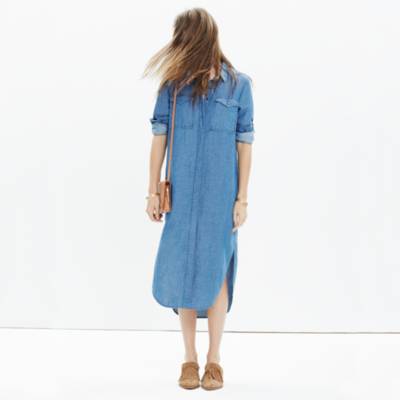 Madewell.com is showing 3 different denim dresses in their spring collection. Each very different but all fit into this springs Boho look.  I have a sleeveless one from their collection last year and I am planning to wear it again this year.  Remember to keep the wash light for spring. Loft has a great denim skirt that fits this trend beautifully
you will see button front slightly A line skirts in a lot of different places this Spring.  So if you need a new denim skirt ( I know I do) this one from Loft is on trend and won't break the bank.
I know I have spent a long time talking about denim. But let's face it, most of us live in jeans and you might as well have denim pieces that fit the season and the trend you want to wear.
Tops in the new Boho for Spring 2016 are flowy.  This 'Time of your life' top from Free People comes in 3 colors and just flows over your curves. Any peasant top you find will work in this trend.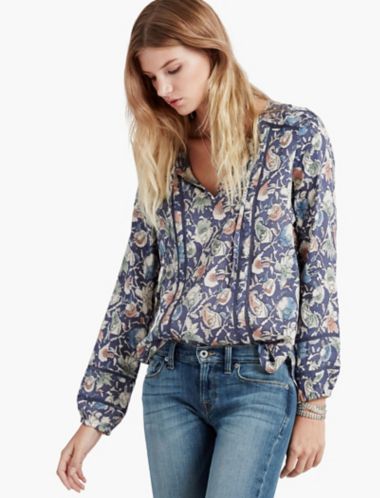 Lucky Brand is full of this type of look.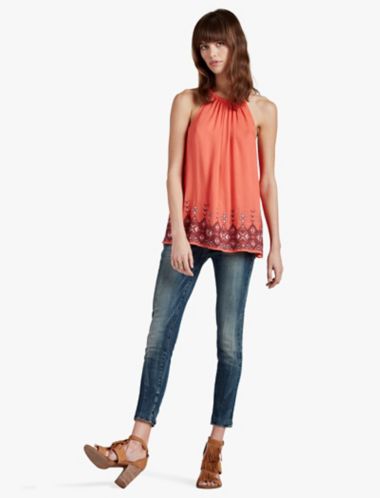 Their tanks, tees and shirts all have the right embroiderey and details to make it perfect for the New Boho trend.
Off the shoulder is also big in tops and dresses in this trend and here is a cute little crop top from Free People that works Boho style.  Floral prints work wonderfully here as well.
Go for a floral maxi dress, like this one from Loft.
Or add a bit of lace to your peasant shirt, also from Loft.
Or do an eclectic mix of floral and lace in this look from gypsy05 and really mix the Bohemian way. And wear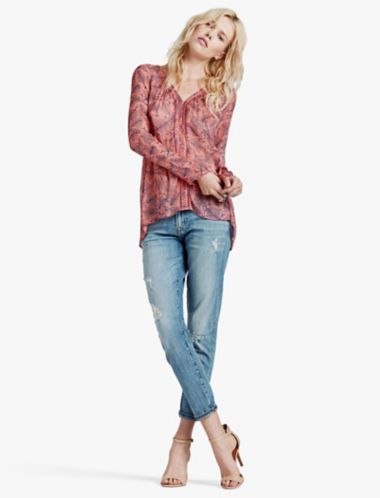 your light wash jeans with any Boho themed top from this season will have you exactly where you want to be.
Boho shoes for spring encompass all the tied up looks we talked about in week one of Spring blogs.
The more straps the better! 
And especially if it ties up! So all the gladiators you didn't get rid of are right back in style.  Any soft boot or bootie you can wear until the weather cooperates for sandal season.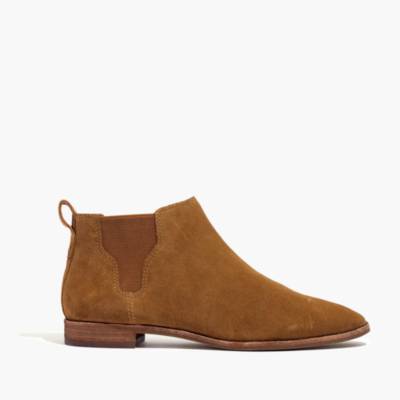 Like this Bryce chelsea bootie from Madewell.com in this wonderful truffle color or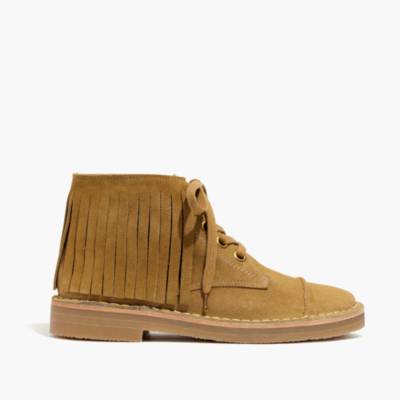 wear fringe booties like there darylkshawna booties also at Madewell.com.  And if you want to wear spring boots with flares and bootcut jeans, maybe try a little stacked heel bootie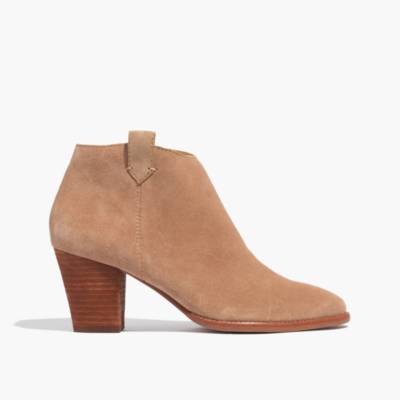 like the Madewell billie boot in the color otter.  A light color boot is the perfect shoe to take you from early spring into warmer weather.
Anything with an espadrille look like this Harris platform wedge at Nordstrom Rack works with the Boho trend. So feel free to wear your Toms, this is the perfect place for those wedges and flats.
Accessories are layered and fringed.  This is the place for your fringe purse and your saddle bag look from last season.
Just make sure they are in a paler shade that complements your outfit. This is the Sunstone cross body bag from Lucky Brand and it comes in 3 different leather shades from rust brown and dessert sun ( shown) to a copper orange.
Or find a tote that has the right color and a little fringe, like this one from Lucky Brand.
Throw on a pattered scarf and long flowy necklace and you will have the New Boho trend nailed. 
Don't forget how important the layered necklace look is in every trend this spring.  Make sure you find the right one to complement and enhance your look.
And what do you wear to top off your Boho outfit?  Well remember that kimono top I spoke about 2 blogs ago.
Long or short these two Kimono tops from Romeo and Juliet couture work beautifully with this trend. Or how about a poncho?
Loft is showing the perfect poncho this season in navy ( shown) and off white.  A great topper for your Boho look.
But to me the quitessential Boho topper is your denim jacket.  The lighter the wash the better with this trend.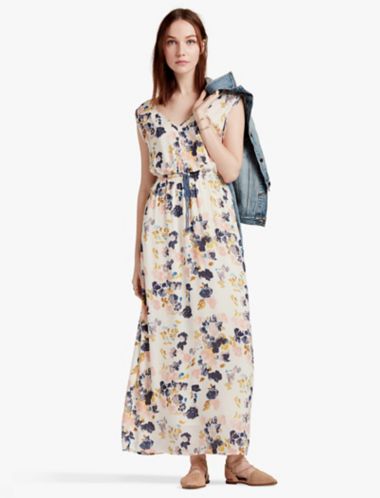 Nothing will top off your maxi dress/ skirt/jeans better.  This is also where you can wear all the light colored leather and suede jackets you have in your wardrobe
they will just work with the light colors in the denims and the prints and easiness of the pieces.
I hope I have given you a good idea of what The New Boho trend looks like for Spring 2016. You can absolutley mix this trend with the Pretty trend we spoke about last week.  Spring 2016 is all about feeling beautiful but you need to find what makes you feel beautiful in your own skin and in your own looks.  Next week we will go into the mixed trend of Girlie and Edgy for Spring 2016 and then we will finish talking about spring trends with the New Sporty. That should put us right about the last week of March or beginning of April when we break down all the styles, skirts, dresses and pants in detail for Spring 2016.
Please join me this coming Sunday
when I am the guest speaker at We Canadian Girl's Rock celebration.  It's a $10 cover and I know you won't be dissapointed if you come out and learn about skin care, style and how to manage your finances so you can spend more on you!  Email me at suethefashionista@gmail.com for more details or to let me know you are coming!
email: suethefashionista@gmail.com
Please feel free to email me with questions and comments.  I am booking appointments for April styling appointments so hurry before I am all booked. I have posted my rates on the about page for more info.
I hope to see you on Sunday and I hope you are enjoying my blog.  Until next week…