Everyone always hopes they look pretty.  And with the overwhelming availability of laces, florals and colours this spring you won't have to work that hard.  I have to say that this is probably one of my favorite trends in a long time.  This trend of softness and prettiness offers something for almost everyone!
The part of the trend I want to look at first is the Romatic prettiness of quite a few silhouettes for Spring 2016.  Now don't get me wrong, I am not advocating ditching your jeans and leggings for flowy skirts but the addition of a flowy skirt or lace detail dress into your wardrobe wouldn't hurt.  If you are anything like me you are still going to wear your jeans 90% of the time anyway.  But as we get a bit more mature, softer shapes and colors help to camoflage what needs to be covered. Everyone has something they want to make look better and quite a few of the flowy fabrics and colorful details can do just that.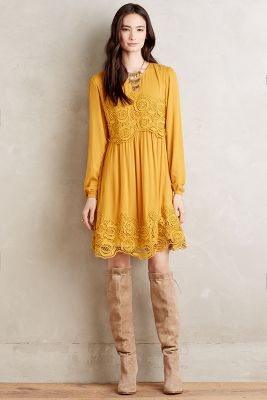 A pretty dress in a flowy fabric with lace details in a color that is unexpected does just that.This is the Lace Interlude dress from Anthropologie.   The eye is drawn to where the details are, the chest narrowing into your waist and your hem.  This sunny bright yellow will carry you all the way through spring.  I love it with boots for now and then later with a great neutral wedge or sandal.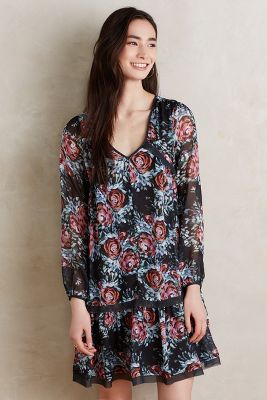 If you are buying a new spring dress choose a flattering cut and color that you can wear in a multitude of ways. This Augusta Swing dress is also at Anthropologie and I would wear it now with tights and boots and later with black wedges.  If you buy something in lace, lace details or with a floral print you cannot go wrong this spring. Not only that, florals are a huge part of the trends this spring, and almost everyone can find a floral that looks good on them. The dress above hits the right note with a darker floral that can be worn in spring transition and the soft ruffle of the skirt.
Sometimes you just need a piece or two to freshen up what you already have in your closet.  Then a new top or sweater would be the best place to start.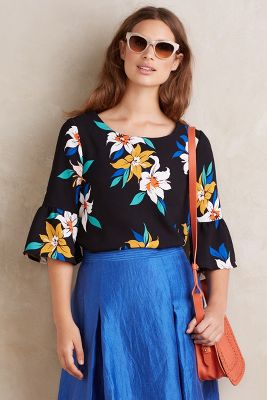 This Kalani blouse from Anthropologie would be fantastic. I love the look above, but it will be even better with a skinny dark washed jean and a little heel for evening or black ballet flat for day. It will be the perfect type of piece to say hello spring with.  Ruffle sleeves and a floral print.  Save the really light florals for May and June and jump head first into the dark botanical florals if you want to wear them right away.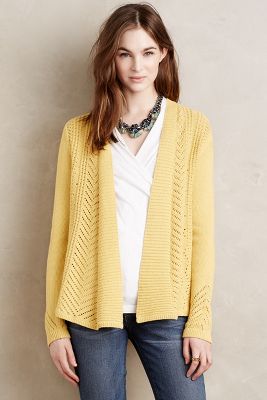 This adorable lace detail cardigan come in three colors at Anthropologie, the sunny yellow (fantastic with denim), a wonderful natural off-white and a dark indigo.  I bought the off-white because I loved the style and details and tend to wear my sweaters as I would blazers.  I like the softness the knits give me but also I feel I look better when the top layer is soft and not a s structured as a blazer.  Another piece I will be wearing for spring instead of a jacket and it happens to fall into the pretty trend as well is the kimono top.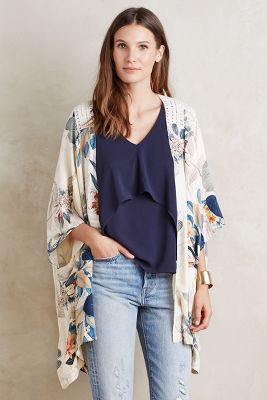 Here is one available at Anthropologie ( the Raya Kimono top) and it does exactly what mine does ( I bought mine at Courtney boutique in Kerrisdale) it creates a soft outer layer and draws the eye down, so it gives the illusion of being a little taller. I am going to try mine with a ruffle top underneath like above, just because I love the contrast of the softness on top and the prettiness it provides. It also dresses up your denim.  Notice the lighter color of the denim above.  Light colored denim is a big trend for spring 2016.  But don't get rid of your dark wash, that will never go out of style.
I want to focus on some other parts of the Pretty trend.  But a bit of a disclaimer before I start: quite a few of the trends for spring are interchangable this year.  There is a mix of trends that is tres chic going on.  So a lot of the things I talk about in the Pretty trend will cross over into the others, like the New Boho trend.  There is one trend for fall that is actually a mix of all the girly things in this trend with the tough edginess that we had in one of our fall trends.  But again I digress, let's get back to what we are focusing on this week.
What else is the Pretty trend about? There is more to it than lace and florals.  It is also about colors.  Rose Quartz is the new #1 color for Spring 2016.  As a matter of fact Pastel colors are huge for spring! 
Soft pinks and other soft colors are mixed with white or other brights.  This Halogen zip pocket tweed skirt is from Nordstrom and to find it online just click on Pastel Plus.
Pale pink is big for dresses, shown here the Astr lace up dress from Nordstrom with a tone on tone shoe.  But you can mix this soft pink and add a pop of bright 
on the bottom with this Vince Camuto shoe. Or maybe you want to add a new color in a soft sweater to wear with your existing tops and bottoms.  How about adding something like this cute little Mint colored Halogen cardigan
also from Nordstrom.  You can do whichever pastel color looks best on you with your skin tone.  I am likely going to stick to pinks this year, although I do love the sunny yellows as well.
Take a different approach if you don't love pastels.  Do your one pastel piece in a shoe or handbag
like this cute little Michael Kors bag that won't break the bank. And then mix it with what you want to wear this spring like Corals.
This is the Halogen floral top at Nordstrom and it also comes in a wonderful blue floral.  Use the pastel color in your bag or shoe as the new neutral and wear it with everything!
I have a Kate Spade pastel blue handbag that was a birthday present from my husband's parents a few years ago.  I am going to wear it as my neutral bag in the summer with all my brights and black and whites.
Speaking of neutrals, neutral color accessories tie right into the Pretty trend ( and almost every other one too) and are huge for Spring 2016.
This Turnlock bucket bag from Ann Taylor will be the right color of white to wear with anything you like this spring.
A couple of blogs ago I told you to keep all your block heel sandals from last year.  Well here is this year's version at Ann Taylor.  Neutral enough to wear with everything!
You can also switch it up and wear a neutral color on top, like navy or white and pump up your look with floral pumps.  They are everywhere this spring and this kitten heel is at Ann Taylor.
A lot of other accessories can work with the Pretty trend as well. Ribbons are big, ribbon detailing on clothing or wearing a ribbon in your hair or around your ponytail all work too.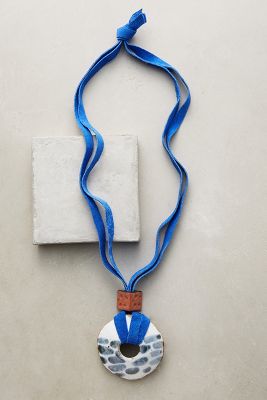 Or just tie one around your neck and hold a beautiful pendant with it.  All this is what is happening this spring.
The shapes of clothes in the Pretty trend are lady like.  Dresses are fitted and flared.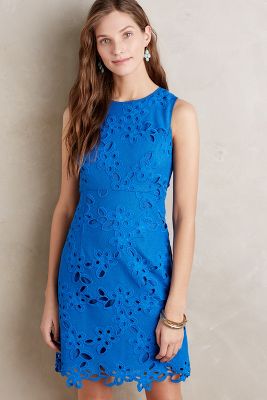 Whether they be lace, like this Arette Lace dress from Anthropologie or are pastel or bright
like this Chelsea28 Coral colored dress at Nordstrom. Blouses are ruffled and soft.  
Like the Ribbon tie blouse at Banana Republic.  All the shirts from spring in this trend are pretty, from floral
(the Poppy blouse at Ann Taylor) to
lace ( also from Ann Taylor).  Just make sure you feel pretty when you are wearing them.  I happen to think the softness of the silhouettes on top this season work on almost every body.
In the Pretty Trend pants are fluid.  They echo the same softness as the tops.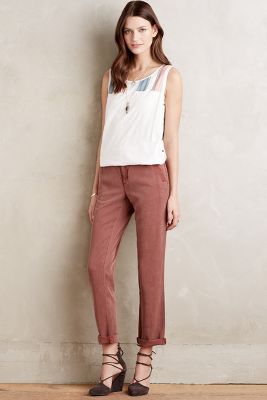 Whether they are cotton and rolled up ( Pilcro pants from Anthropologie) or long and wide
(the Olivia Palermo collection at Nordstrom), they all say the do the same things.  Make you feel pretty wearing them.  There is one other trend in spring pants that crosses many of the trends this spring and that is the cropped wide pant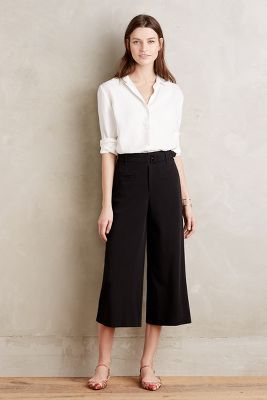 . This is the essential wide crop from Anthropologie.  A word of caution, not everyone can wear this trend.  If you are taller and want to try it go ahead, but if you are under 5'5″ or have a wide waist it is not the trend for you.  Try wider long jeans or pants, like the ones above instead.  And use that as your nod to this trend.  I actually think I am going to stay away from wide legs altogether, I don't believe they flatter me.  But if you want to go ahead.  If you are not sure send me a picture and I will be honest with you ( I promise).
I could go on about this trend for another 1000 words but I think I have gone on long enough. I just touched on a lot of the styles for spring while I spoke about the Pretty trend today, so after I go through each trend I will try and blog about each piece separatley.  So I can explain tops, skirts, pants, jackets and suiting all in detail. So please don't feel like this is it.
I want to remind you all again about the event put on by We Canadian Girls Rock coming up on Sunday March 13
. I will be one of the guest speakers and would love to have  many of my followers there. There will be lots of great give aways too!
Remeber that cleaning out your closet is important before you bring a new season  of clothing into your closet.  If you need help with yours just email me at suethefashionista@gmail.com and make an appointment. I am also booking personal styling appointments now for April and May, email me at the same address if you want to book.
And please don't forget I welcome your feedback and comments.  But I would prefer if you emailed them to me at suethefashionista@gmail.com.  I would love to hear from you!
I know it's grey and snowy still in most parts of Canada and the US but spring is just around the corner and I am looking forward to enjoying the season with you all.
Until next time…