A few weeks ago one of my followers asked me what skirt length is correct as you enter your late 40's and 50's.  And I have been thinking a lot about that very question. Fashion rules have literally gone out the window in the last 10 years.  My mother and her friends all wore their skirts longer as they matured.  And then there is the generation of women who are younger than our mothers but older than us and they tend to love their skirts a bit shorter, and that hasn't changed as they have gotten more mature.
Fashion used to be the wide leg pant was in period. The midi skirt was in period.  And you couldn't find a shorter skirt or skinny pant anywhere.  This decade with everything that comes in style, like a flare leg pant, you are also still seeing skinny ankle pants in the same line.  And the same goes for skirts. There are midi ( below the knee) and there are knee length and there are minis. The rules are gone.  A woman can wear whatever she wants.  But I have to add this, you must be your own best critic and if you do not have the legs to wear a mini you have to be honest with yourself and not wear a mini.  However for those of us with generous leg proportions I will tell you some tricks so you can wear a shorter skirt if you want.
Fashion is also very personal. What I love and what looks good on me, may not be right for you.  You may have different needs from your clothes.  My father, who was in the fashion business, used to say every woman at a certain age gives up jeans and tight clothes to wear matronly polyester double knit styles.  Well I know one thing now, my friends and I are maturing and we look as good as we did 10 years ago, some of us even better! And there is no point in my life where I am giving up, letting my waistline grow and putting on those pants. And I think most of my followers are in exactly the same boat.
But I digress, back to skirts.  For the last couple of Fall season's the slim, knee length skirt has been huge in stores.  And for the last couple of Spring season's we have seen flirty minis and rompers. The trends are not changing hugely going forward for this spring.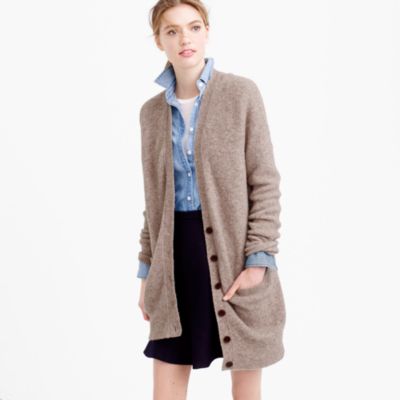 Every week I look for one outfit or one thing that gives me inspiration for my blog.  Here is the outfit that did it for me this week.  It is from J.Crew. Almost all of us have a black skirt that hits either at our knee or just above.  Here they are showing one with a bit of movement at the bottom.  A pencil skirt would work well as an alternative.  I have told everyone the virtues of a denim shirt in the past.  I own two.  One more fitted that I could put in the above look and one oversized a bit to wear with leggings.  The piece that J. Crew is promoting here is the cardigan. It hits at the hem of the skirt.  Now this skirt is above the knee.  To me a mini skirt is anything that is shorter than 18 inches long or 45.72 cm or let's just say 46 cm.  And for dresses anything shorter than 35 inches long or 88.9 cm I consider a mini.  Now I am 5′ 4″ ( 1.626m) so that hits me at above an inch or 2 cm above my knee.  If you are uncomfortable with this length of skirt, with this look you could have the skirt 3 inches or 7.62 cm below where the sweater hits.  You would get the same effect as the long lean look above.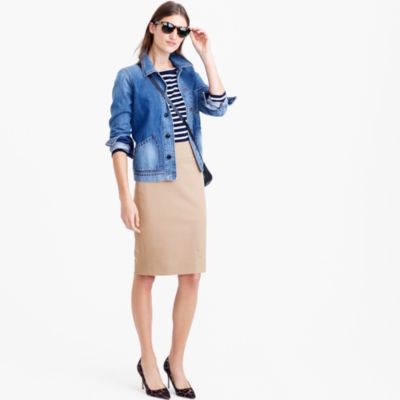 I want to talk about the virtues of a pencil skirt.  What I think I love the best about pencil skirts is that almost everyone can wear them.  Pear shaped women may have to stick to A line or looser fitting pencils ( I will talk aobut that next) but almost everyone else can wear a pencil.  This skirt is also from J. Crew. This is their No. 2 pencil skirt and it comes in 5 colors of bi stretch cotton.  This color is a great neutral for spring summer and early fall. It also comes in black and navy so you could wear it all year long.  A pencil skirt should fit your waist and hug you along the hip line and fall straight from there to your knee or just above or just below.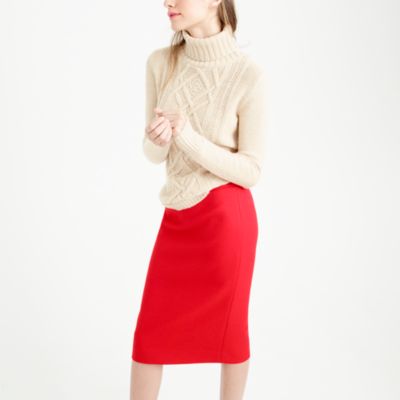 Here is another J. Crew Pencil that falls just below the knee.  It looks fabulous on women with long legs.  But for those of us who have short legs I am going to suggest a pencil skirt that hits your knee or slightly above.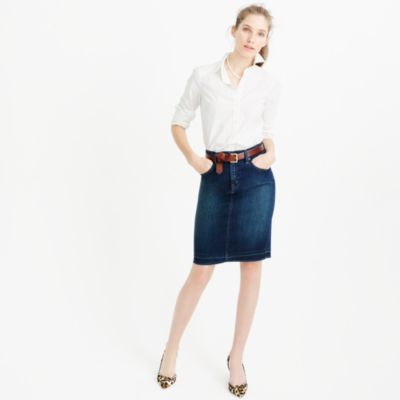 Like this denim version ( also from J. Crew).  My skirt wardrobe is mostly pencil skirts or versions of the same.  I have lace pencil skirts, ones with a little ruffle on the hem and knit ones.  But they all have the same theme.  They fit in the waist, hug me along my hip line and fall somewhere from 2 inches above to right at my knee.
The A line skirt is almost as versatile as the pencil.  And if you are generous in the hips and outer thigh area this is the skirt for you.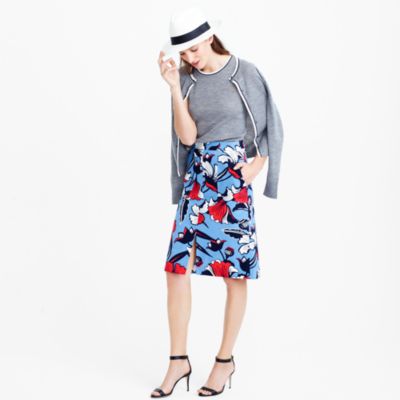 A classic A line skirt is one that fits in your waist and then goes out in an A shape to fall to your knee or slightly below.  The A line is not a skirt you would wear above your knee unless you are over 6 ft tall. The skirt above is from J. Crew's spring collection. You will see a lot of this style for Spring and most of the A line skirts everyone is showing are just below the knee.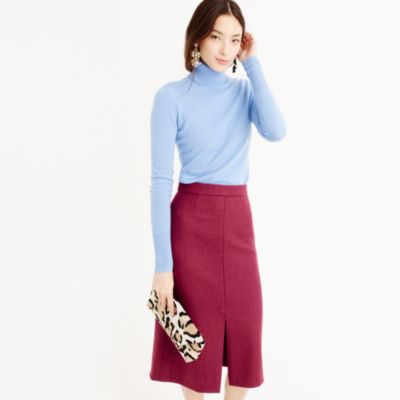 This is a great look if you work in a more conservative office and need to be modest in your dress.  A fitted waist jacket or shorter cardigan would be fantastic.  The reason you would need something that shows your waistline is that if you are wearing a longer A line, you don't want to be drowning in the length of your top over the length of your skirt.
Another more classic style of skirt is the midi skirt.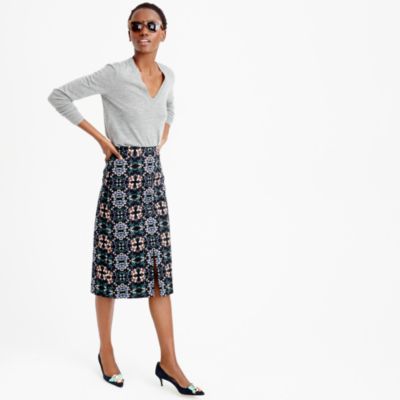 A midi skirt is either A line, pencil or pleated, the key is that it falls about an inch or two below your knee and hits around the middle of your calf. Last spring we saw a lot of dresses hitting mid calf and I believe you will see this again this year.  Personally, this is the worst length for me.  But I know so many women who can rock this look. It works on women who are taller or if you are shorter, just make sure you define your waist and you are all set!
One last silhouette I want to talk about is a full skirt. A full skirt usually has a defined waist and is full around the hips and thighs.
A classic version of the full skirt is like this lace skirt from Ann Taylor.  The waist is a band and the skirt is pleated or folded right at the waist and then opens up as it falls toward your knee. A modern version of the full skirt is this flared knit skirt
also from Ann Taylor. It marries the beauty of the full skirt with the up to date look of the pencil skirt.  It is knit so it gives room in the hips and thighs, were a normal pencil skirt would not.  When I was in high school, in sewing class we had to make a dirndl skirt.  That is the very essence of the full skirt. There are longer and shorter versions of the full skirt for Spring.  When you think long, think prints and light fabrics
and when you think shorter, think knit versions
that you could wear as the bottom of a suit look with a cropped or fitted round neck jacket.
The trick to wearing a shorter skirt in the winter is black tights.  Black tights are like magic. They make every single leg look longer and leaner and cover a multitude of sins where legs are concerned.  I swear by black tights and that is how I pull off skirts above my knee all winter long.
The key to shorter skirts in the summer is tanned legs.  It is true that tanned legs look leaner than white pasty ones.  So grab your self tanners, I am not advocating sitting in the sun, and make your legs a natural shade that works with what you want to wear. As a rule I never wear my skirts and dresses as short with bare legs as I do when I have black tights on.  But I have heavy thighs and am a bit self conscious about them.  So you have to do what works for your own body.  And longer in the summer works for me.
One last thing: Next week we will have a guest blogger! One of my friends Leslie Morris from Rodan and Fields skincare will be taking over to talk about how beautiful skin is always in Fashion. So I know for sure none of you will want to miss that one. Then starting the last week of February we will hit Spring and Spring trends for the next month or so.
I love the questions and comments so please keep them coming. This week's blog was because someone asked me a question about skirts.  If you have things you would like me to write about just email me at suethefashionista.com and I promise they will get discussed.
Have a wonderfully stylish week and stay tuned for Leslie's blog next week!