Last week I talked about how great it is to have basics in your wardrobe and how to shop on sale.  Well we are still amidst the 'Dog Days' of winter and we are still two months away from fair weather so how do we survive when we are sick and tired of wearing the same clothes we have worn since September?
First of all, since I live in Vancouver and January to March is probably the rainiest season we have, there needs to be things that make you happy beside blue sky.  I think it was just a couple of years ago that it rained absolutely every single day in January and this year, the nice days are far and few.  Sometimes it helps to look at the bright side, this weather is much better for your skin that dry cold or heat. That is why westcoast women have such amazing skin. But that gets old really fast. ( pardon the pun)
One thing I love to do is shop in my own closet. All the things you usually wear are sitting right there at the front.  The shoes and boots you wear are not in boxes any more and are probably looking a little worn.  How about delving deeper.  Maybe there is a great shirt towards the back that you haven't worn since November?  Maybe there is a great pair of pants that are not part of your jean routine that fit great but barely see daylight.  And maybe there are shoes and/or boots that you don't wear as often that need a turn.  I did that very thing today. I pulled out a shirt that I bought a few years ago.  It is blue and red flowers on an ecru background.  It actually looks fantastic on, but I hardly every wear it.
Sorry the picture is so giant.  I am still learning all the ins and outs of the the new WordPress updates.  It always makes me feel bright, even when it looks like it is night time outside all day long.  But it's winter so I needed something over top.
This wine colored pullover tunic, also from J. Crew a couple of years ago, seems to work great with the shirt above, a pair of jeans and brown ( rain proof ) boots.   So I guarantee that there is something like that in your closet too. You may just have to look a little deeper.
Now I am going to go back to the boots for a second.  Rain proof or water proof boots that don't look like gum boots are key to pulling of a fresh and sophisticated or stylish look when the forecast is another 2 months of winter.
Here are the pair I am wearing today.  They are Andre Assous 'Saddle up' boots available at Nordstrom.  They have a cute lace up detail in the back and are completely waterproof.  They also come in black. Blondo and Aquaitalia are also great brands for finding water proof boots that look stylish.  My favorite pair of Blondo are
their classic tall 'water proof' riding boot.  But they have a lot of different styles and heel heights.  I happen to love a black leather riding boot and it certainly doesn't hurt to have a waterproof one!
But I digress.  And since I am not showing pictures of bright rainboots, let's get back to what you already own ( or could own) to help you get though the rest of winter.  Last blog I showed you a picture of a waterproof rain coat.  And if you live in North America you really need one.  If you live in the Southern US you may not need a warm one, but you still need one.  To me a rain coat is no good if it doesn't have a hood. So look for one with a hood or at least a zip out hood.
Something like this three quarter jacket from North Face may be just what you are looking for. It also comes in black but the bright red maybe just what you need to stand out.  This is a great casual jacket and it will keep you nice and dry.  But I am one of those people who is always cold.  So I might prefer something with more too it. 
This guaranteed waterproof jacket from Patagonia ( it says it has a zip out hood) in this fern metallic green would certainly keep you warm, dry and bright! And last but not least for those of us who need something very classic,
the London Fog raincoat with a lining. It is a trench style and it has a detatchable hood.
So now that I have you warm and dry on the outside, let's go back to the inside.  How about adding to your sweater collection?  All the styles you loved but never bought are on sale right now.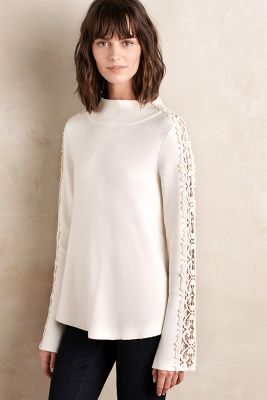 I happen to have this gorgeous sweater in black. It also comes in the ivory above and dark purple.  It is from Knitted and Knotted and available at Anthropologie.  It fits great and the lace detail down the sleeve is just what you need to take it from ordinary to extra ordinary.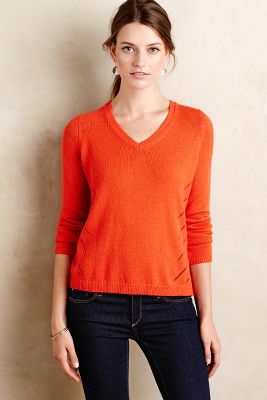 How about adding something brighter.  LIke this cute orange v neck, it by Moth and also at Anthropologie.  It has a cute little tie at the back of the necck so you can wear it a bit dressier as well.
One of my favorite shirt lines is a Nordstrom brand called Pleonie.  I have about 6 differents styles of shirts from them. 
Here is one of their basic styles.  It comes in about 8 different colors but surely a nice bight shirt like this is something to brighten up your blacks and blues. Another favorite Nordstrom brand of mine is Bobeau.  I happen to have a shirt just like this flocked floral one
but mine is in all black.  And something like this soft pink with black would be fabulous to wear now and take you right into spring.  Remember one of the big colors is a soft rose quartz.
And sometimes all you need to feel fresh is a denim shirt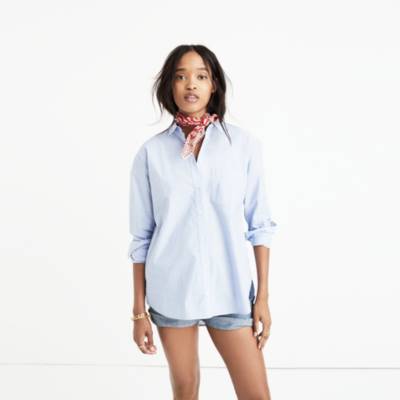 this one courtesy of Madewell and a great pair of jeans and some awesome boots.
Last note, just because the weather has you down don't forget to accessorize.  Now is the time to wear all those scarves and gloves.
A wonderful, colorful scarf could be all the pick me up you need. 
Pick a color a print that makes you smile and you are all set. It's not too late to still be wearing gloves either.  
Brighten your hands with fur trim or
a wonderful mettalic leather.  Everytime you grab your keys you will smile.  Years ago I bought black leather gloves with different colors in between the fingers, they still make me feel good!
Remember the key to surviving the next six or seven weeks will be to stay dry, warm and add a bit of color to make you happy!
As always I can be reached for comments and questions at suethefashionista@gmail.com.  I had someone ask me to blog about skirts for women who are over 30 and I haven't forgotten I am just waiting a couple more weeks when I speak about spring 2016.  If you have questions or an idea for something for my blog I would love to hear from you. Also if you want to get the jump on your wardrobe and do some styling in Feburary instead of waiting unti Spring I still have some appointments left, so please email me.