One of the things I always find this time of year is that winter seems to be dragging on and on.  Most of us aren't going to see any spring like weather until March at the earliest.  At least in February there is Valentine's day to look forward to and each province and state has a long weekend.  If you are lucky enough to live in New Orleans or going for a visit you have Mardi Gras to look forward to. That is something I would like to experience one of these days.  But meanwhile we are stuck in January.
SHOPPING ON SALE:
One good thing about January is that almost all fall and winter clothes are on sale! So knowing you are wearing winter clothes for another 2 months you could try and freshen up your wardrobe while taking advantage of the discounts.  Watch your local paper for who is having what kind of sale.  The big department stores need to clear out all their winter clothes because they start putting out spring clothes in February.  Other stores have sales on certain clothes but not all.  And pop up shops are completley clearing out and won't reopen again until March or April with spring merchandise.  So there are a few rules to shopping on sale that everyone should follow ( myself included!):
DON'T BUY SOMETHING JUST BECAUSE IT IS ON SALE. IF YOU WOULDN'T HAVE PAID FULL PRICE FOR IT, DON'T BUY IT NOW.  I am always reminding myself of this! You know, that great pair of designer shoes are 50% off but the only color they have left is purple, do yourself a favor and save up and buy them when they have the color you want in the right size.
TRY EVERYTHING ON WHEN IT IS MARKED DOWN BEFORE YOU BUY IT.  Most stores have an 'All Sales Final' rule when it comes to discounted merchandise.  So take it in the changing room and try it on, look for snags, missing buttons etc. The last thing you need is to get home and realize it is damaged or doesn't fit very well.
IF YOU ARE BUYING SALE CLOTHING ON LINE ONLY BUY FROM STORES YOU KNOW AND CLOTHING LINES THAT YOU KNOW WILL FIT YOU. Don't buy a size 8 if you are really a size 10 and plan to lose weight or workout to get into it.  It will just be something that sits in your closet and you will end up getting rid of it or giving it away for nothing.
Last one: DO BUY FROM YOUR FAVORITE STORES THINGS THAT YOU WILL NEED AND WEAR AND CAN PUT AWAY AND WEAR NEXT WINTER AS WELL. That means that if the favorite brand of jeans are on sale and they have your size, jump on it.  I usually wait to now to buy winter coats and then put them away for next winter because I always buy classic styles.
Use your time in the stores this month to replenish things you need or will need while they are on sale.  For example, I love cotton turtlenecks. Right now Eddie Bauer online has them on sale for $15 each.  So if they have the colors and size I want now would be a great time to get one for half price. That works with other things as well.  Nordstrom has things on sale and so does Anthropologie.  Lucky jeans have their jeans sale going to the end of the month. The one big purchase I might make in the next few days/week is a new winter rain coat. I live in the rain forest that is Vancouver and a waterproof, insulated, good looking raincoat might be just what I need to face the next month or so of rain until spring. I have had my eye on this 'Girl on the Go' trench from Eddie Bauer. The insulated version is on sale on line for $122.  Mind you that is US dollars.  So let's say $150 in Canadian dollars.  I just may have to jump while they still have my size.
One of the stores and brands I have a new crush on is Free People.  I love their tops.  Well right now all their fall styles are on sale. They even have stores here in Canada, so you can shop in Canadian dollars!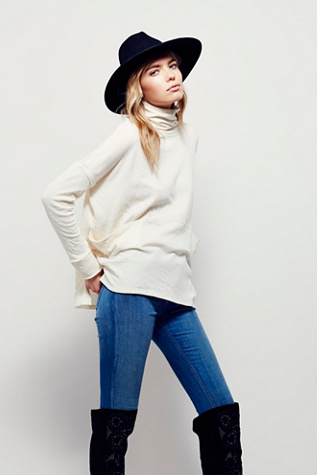 I have this top in black from fall and it is one of my go to's.  It certainly wouldn't hurt to buy another color especially if I can get it at a discount!
Now might be the perfect time to get that pair of boots you have had your eye on forever.  Especially if they are on sale.
Moto boots will certainly stay in style for another fall.  These waterproof Aquaitalia boots are half price at Nordstrom right now! What are you waiting for!
Just remember to follow the rules for shopping on sale and your will love your purchases and wear them again next year.
TRANSITION DRESSING:
Something that someone reminded me of this week is how important some basics are in your wardrobe. Especially to see you through transition times between seasons. Basics are the pieces that will take you through early fall into cold wintery fall and they do the same in taking you though late winter into spring.
Key pieces  should always be in your wardrobe's base colors. Why do I say in YOUR wardrobe's base colors? Because everyone is different and someone might have taupe as a base or navy. My wardrobe's base color is black. That is not saying it is all black. But most of my basic transition pieces are black or tie into black.
The one color that is universal in a transition wardrobe is denim. Yes that includes your jeans. Denim can be your best friend when trying to take other pieces from your wardrobe and wear them as transition pieces. One of the pieces I have currently purchased to be just that: a transition piece that ties back into black, is a denim shirtdress. Everyone is showing them right now. Mine is from Whitehouse Blackmarket .
This is a shift dress that is made out of denim.  There are lots of silhouettes in denim dresses right now. 
Here is a denim dress with a belt from Sanctuary.  It basically is the same shirtdress as above but if you need a waist defining belt,  it has one.  What I love about the shirtdress, and it doesn't have to be denim, is that you can wear it with boots now and sandals later. You can even wear it with tights and ballet flats if the silhouette of the dress lends itself to that look. Just be careful of the shirtdresses that don't come with a belt. If you carry weight around your middle you want the belt to enhance your waistline. A no waist dress sometimes makes a bigger girl look bigger. So please try it on before you buy it or make sure you can return it if it is not perfect for you.
Other pieces that can be used for transition pieces are light to medium weight sweaters. I love this look with denim or skinny black pants to wear right now with booties and then later with flats or sandals.
This bright sweater from Cotton Emporium can take your right though winter into fall, pair a bright color with your bottoms now so you don't feel so blah and later it will look chic as you wear it with a black dress and sandals.
A skinny black ponte knit pant will be something you will wear forever. Believe it or not, I bought some at Costco years ago that I am still wearing. Every line has one. You can find them from Joe Fresh to designer,
these are from Whitehouse/Blackmarket.  Trust me you won't be sorry if you own a pair. You can even wear them with a blazer to the office for a more casual look. Any long sleeve or ¾ sleeve blouse, sweater or top can be used as a transition piece. Right now you are layering your tops. Maybe a cami under your blouse or sweater, or a t shirt under your sweatshirt/pullover;
Like this look from Love Appella.
Or this wraped long cardi from Ceico.
Later you can take out the under layer when you don't need the added warmth. Then as the weather gets warmer you can take the underneath  layer ( the cami or t shirt) and pair it with a light breezy cardigan or one of the trendy for spring kimono tops.
So there you have it.  That's my best advice for shopping on sale and refreshing your basics wardrobe.  Maybe something to work on before you start to clean out your spring closet. That is definitely a project that will need to be done in February.
One little spring tip I will give you now is one of the main colors coming for spring, you can even find it in the resort wear in stores now, is Rose Quartz or a very pale pink.  If you have some pieces in that color you will want to save them.  But you know what that color looks fantastic with as we transition into spring? Denim and black.  So maybe work on your basics wardrobe while sale shopping.
Thanks for reading. I hope everyone is finding my fashion tips and suggestions helpful. If you have questions or comments or just want to see me talk about something in particular please email me at suethefashionista@gmail.com.  My blog is also uploaded to facebook and twitter as soon as I post.  Twitter handle is @shec61.  And please remember my special for personal styling and wardrobing only runs until Jan 31/16. So basically another 10 days and I still have a few spots left.
Until next time: Stay stylish!