Happy New Year everyone!  We are well into 2016 and I am sure most of you have made some new year's resolutions.  I am usually not one for resolutions but this year I am going to try one.  I have decided to try and be nicer.  Be nicer to my family, in my everyday life and be nicer in my comments online and of course in this blog.  So I was thinking what is the best way to empower every single person who reads this?  And it just hit me in a conversation the other day.  The one thing I can blog about that everyone can do is to be the best you and rock the best of you everyday!
It all starts with accepting who you are and what you like and how you do things.  For example, I always color my hair.  I make sure there is never a gray hair seen on my head.  But what if you want gray hair.  Well then Rock your gray hair!  Get the best cut you can, find the best style for your hair and your face and wear it well! Gray hair can be elegant and sophisticated or it can be edgy and playful. Just decide what suits you best and do that.
This model certainly looks like she is rocking her gray locks!  
Or go with this look Halle Berry wore when she played Storm in the X men movies.  Just be happy and comfortable with your look.
The same goes for clothes.  Really pick how you want to present yourself in 2016 and plan accordingly.  If you want to wear jeans everyday, then wear jeans everyday.  Buy a few pairs that fit you perfectly and rock whatever curves you want to rock.  Jeans can go anywhere.  You can use them from your most casual moments and then pair them with high heels and a dressy top and go out on the town.   I think I have told you all before my favorite jeans are from Eileen Fisher.  I also like jeans from Talbots.  Both of those brands hit a little higher on the waist and I don't have to worry about muffin top.  But find what fits you best.  NYJD is great and comes in petites, plus and regular.  I know they are at Nordstrom and at the Bay.  Lots of selection in both places.
These skinny jeans from Eileen Fisher are ones that I own.  they work as shown in the picture and are also my favorite jeans to tuck into boots.  There are a lot of jeans on sale now all over the place.  Now may be the very time to try a brand you thought was too expensive in September.  Jeans will never go out of style.  I buy jeans that are a bit more expensive because I wear them a lot and I want them to look good and last long.
Talbots flawless bootcut is on sale right now for 70% off and last week if you shopped at Talbots you got another 50% off of anything on sale.  So the denim is a bargain if they have your size.
A pair of jeans I love ( and own them) is the Talbots 5 pocket ankle jean in black.  It is actually a really great fitting pair of black pants for me that are styled like a jean.  I wear them with jackets and they are great with boots.  I love the look of a denim shirt and black jeans.  Pair it with a statement necklace and a great pair of shoes or boots and you will be looking fantastic!
What ever jeans you decide to buy wear them with confidence and make sure they fit. Now what looks best with your jeans?  Well that depends on you?  If you are a sweatshirt and jeans kind of girl, then go for sweatshirts that look great on your body.   Madewell is one of my favorite places for sweatshirts ( Nordstrom in Canada has a Madewell department in their stores).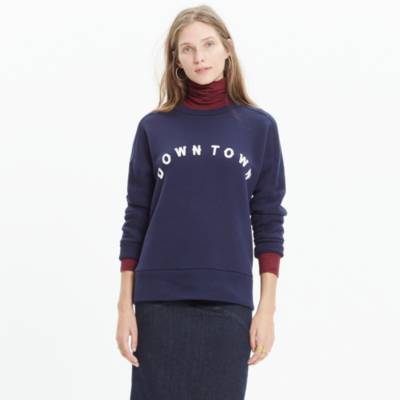 How about one with a super cute saying on it.  That is a sweatshirt that will carry you right into the 2016 trends.  My other favorite store for sweatshirts is Anthropologie.  They call them pullovers but you can get really nice ones there.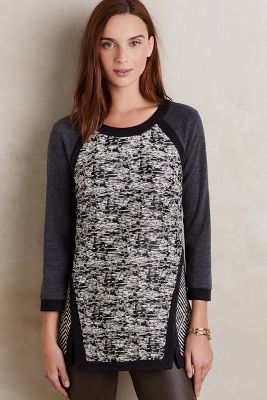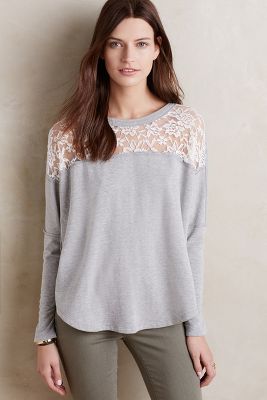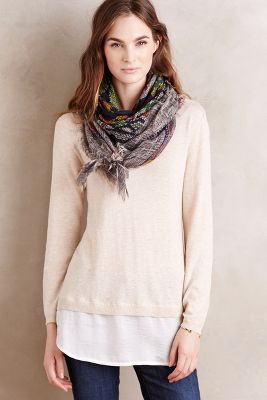 Here are 3 different styles I pulled off the Antropologie website.  I saw them in the store over the weekend.  I love all of them for a different reason.  The top image I love because of the black and white detailing.  It will look as good with black leggings as it will with jeans.  The second I love because of the lace detailing.  I bought a sweatshirt a few years ago at Anthropologie that had lace detailing and I still wear it quite a bit with jeans to this day.  And the last one I love because it looks like a layered shirt.  It vents in the back for that au courrant styling that will carry you though early spring and I love the look they put together with the scarf, sweatshirt and jeans.  Very chic and very you, if you are a jeans and sweatshirt kind of gal.    When I was at the store this weekend I bought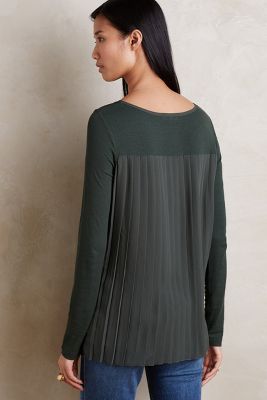 this top by Bordeaux.  I bought it in the other color but I love the back detailing and the clean front that is just waiting for a long dangly necklace.  I will wear this with my jeans and that is exactly the style I bought the top to wear with.  Jeans and boots.
Now if you need to get up and go to work every day. Then rock your best self and your own individual style every day at work.  One of the easiest ways to personalize a suit look or  a classic business look is with accessories.  Broaches and belts on blazers, tights with a pattern with skirts and pumps.  Just put on something that makes you smile.  I don't wear blazers often.  I have a hard time finding ones that fit.  I am a size bigger on top than on the bottom and have very athletic arms.  So when I find one I can wear it is usually a soft fabric or a knit blazer.  Or sometimes I wear a vest instead of a jacket.  One of the best looks I have seen this winter was on one of the sales associates at Nordstrom Vancouver on Boxing day in the shoe department.  She was wearing a fur vest
like this one from Trouve at Nordstrom, and black pants tucked into flat black booties and a black long sleeve t shirt.  Her hair was in a pony tail and she had on big hoop earrings and a large watch.  She looked amazing!  I can't wear these bulky fur vests but I do have two from Talbots that are not quite as big but look fantastic on my petite frame. I can't find an online picture to show you but I am sure if you scroll back in one of my blogs you will see the Talbots faux fur vest.  It is a little more sophisticated than the ones they are showing from last fall but it works just as well with all the looks. Another great way to individualize your work style is with a unique and pretty shirt or blouse.  I love the blouses at Anthropologie.  The blouses they have are both unique and work appropriate without being matronly.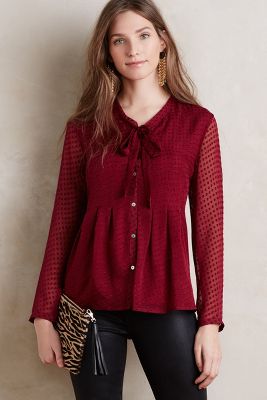 This clipdot tie neck blouse would be fantastic with pants or a skirt for work.  No jacket required to hide it.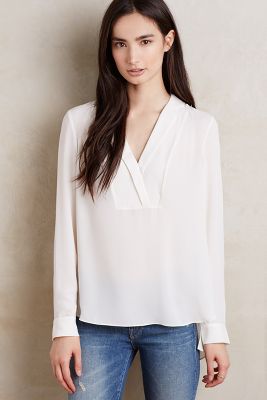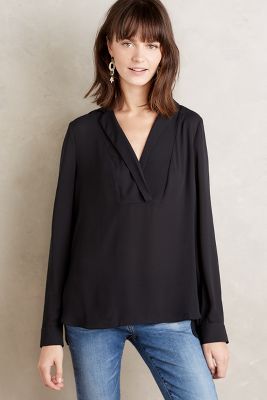 I think this is a wonderful look if you want something a bit more basic for work.  It is at Anthropologie and is by HD.  I love the softness of the neckline ( who doesn't look good with a v neck!) and it is great to leave untucked as well.  They have paired it with jeans but it works under suits, with pants and skirts. Just a great new style for an old favorite.
I am going to leave it here for this week.  Someone told me I could be a bit more concise with my blogging.  I also want to apologize if you find any spelling errors.  WordPress changes their blogging style and they no longer have a spell check so I will try and do my own spell checking – how very 1982!
Just remember to look great and have confidence in what you choose to wear.  Put your best foot forward and rock the best look and the best you!
As always I can be reached for comments or suggestions at suethefashionista@gmail.com and please don't forget about my styling and wardrobing specials that run until Feb 1 2016.  All my services are 50% off until Feb. 1! Just email me to set up an appointment.